Calling all coconut fans! Let's combine the beloved candy with the beloved dessert! These Almond Joy Coconut Macaroons has the classic toasted outside and fluffy coconut interior with an almond center and a rich chocolate shell.
These traditional bundles of coconut snowball joy are known for their toasted exterior and fluffy, almost marshmallowy, interior. We'll take things a step further by bringing in the Almond Joy candy with a bit of almond flavor, a whole almond center and that tempered chocolate shell.
If you're a coconut fan, you can also give this Coconut and Blackberry Pound Cake a try!
Macaroons
Macaroons can be made two traditional ways. The first is only egg whites and sugar to create a meringue mixture to hold everything together. And while this is good, swapping the granulated sugar for sweetened condensed milk gives us a much more fluffy and soft center.
Macaroons vs. Macarons
A quick note here, macaroons and macarons are two different desserts and are often confused together because they are so close in spelling. In reality they couldn't be more different. These double-O macaroons are coconut snowballs. Macarons, on the other hand, are the small, French almond-sandwich cookie. Both delicious, both so different!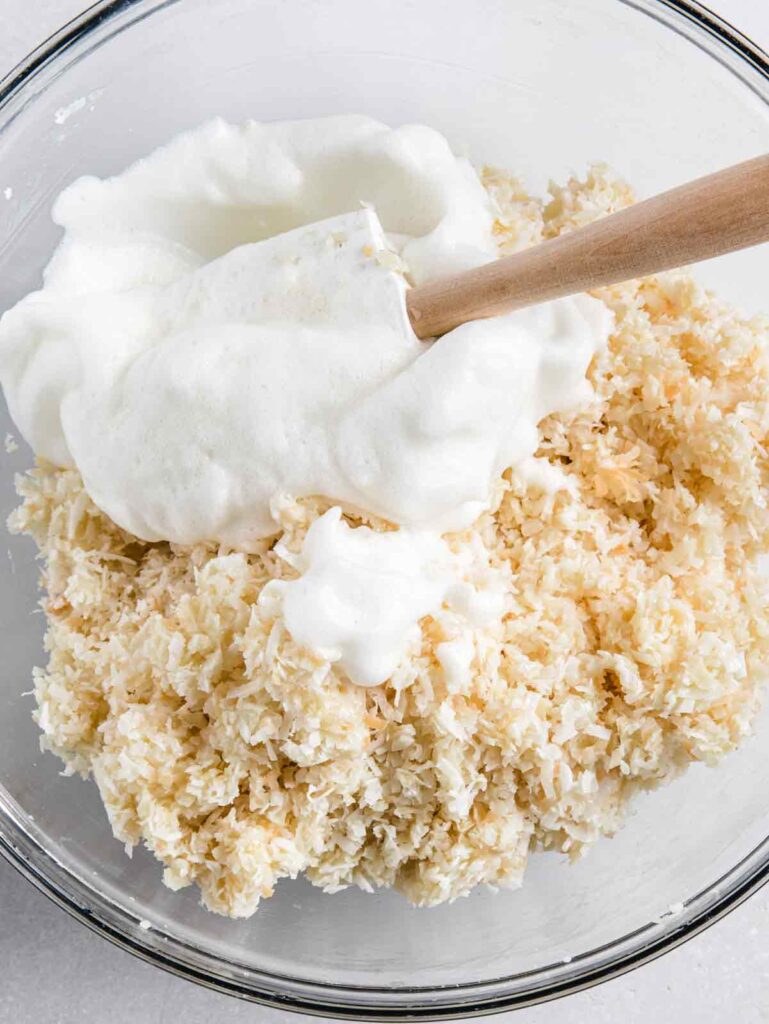 Coconuts
I strayed a bit from the classic sweetened, untoasted, coconut here. I wanted to bring a bit of extra depth to these macaroons. I used half sweet and half unsweet shredded coconut. I also decided to toast the sweetened coconut. The toasted coconut has just another kind of flavor to it, and I didn't like that just being on the outside.
So, I recommend toasting the sweet half of the coconut mixture and leaving the unsweetened coconut untoasted so you can really get that soft coconut texture coming through the interior.
I also recommend shredded coconut here. I tested with coconut flakes and it just had too big of coconut pieces and it lost that light and fluffy center.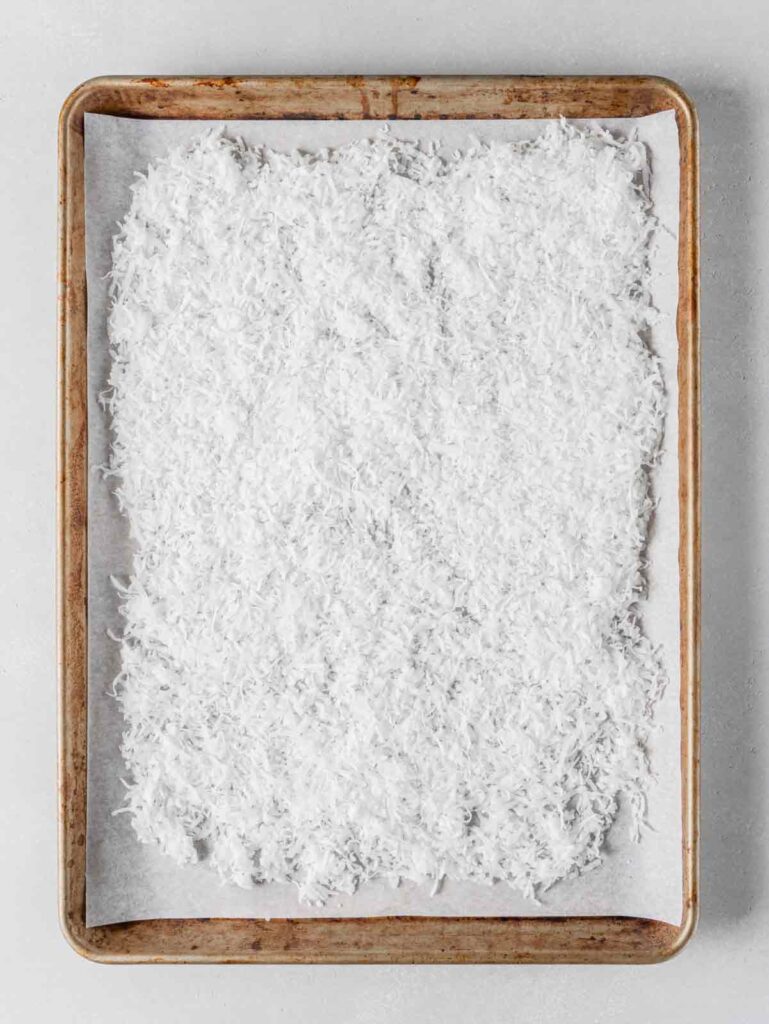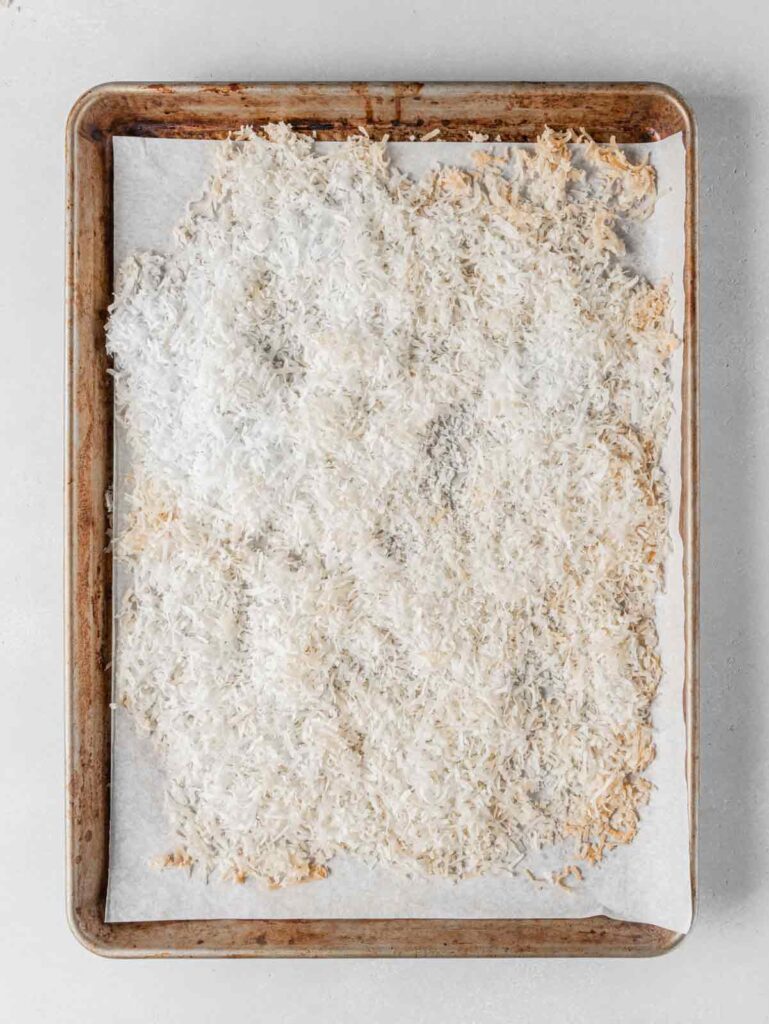 Making it an Almond Joy
Almond Joys have that quintessential coconut filling, a whole almond, and a milk chocolate coating. To replicate that, we will add a bit of almond extract to the filling to bring out the almond flavors, add in a whole almond and give the macaroons a chocolate shell. Expect I prefer a semi-sweet chocolate as the coconut is already so sweet. In my opinion it balances better.
The easiest way to make the almond center is to utilize your cookie scoop! After scooping out the mixture, while still in the scoop, create a little tunnel in the center of the mixture with just your finger. Place a whole almond in the tunnel, then push the mixture back over the top of the tunnel, packing the mixture tightly. This will help to retain the perfect coconut macaroon snowball shape with an almond right in the center.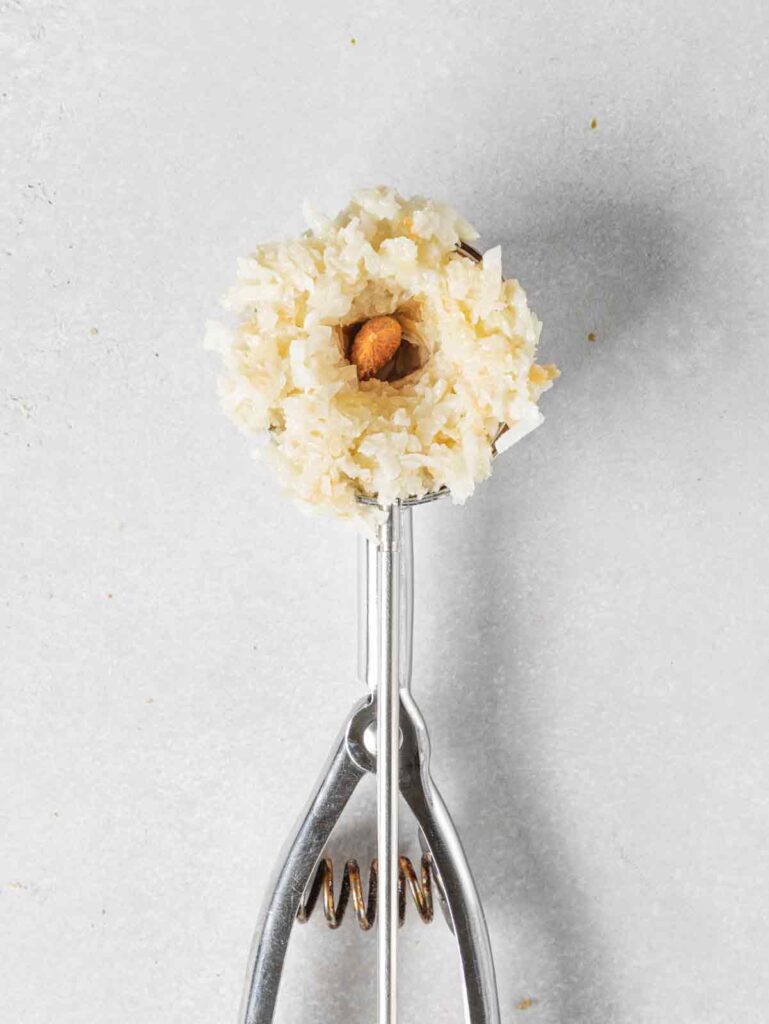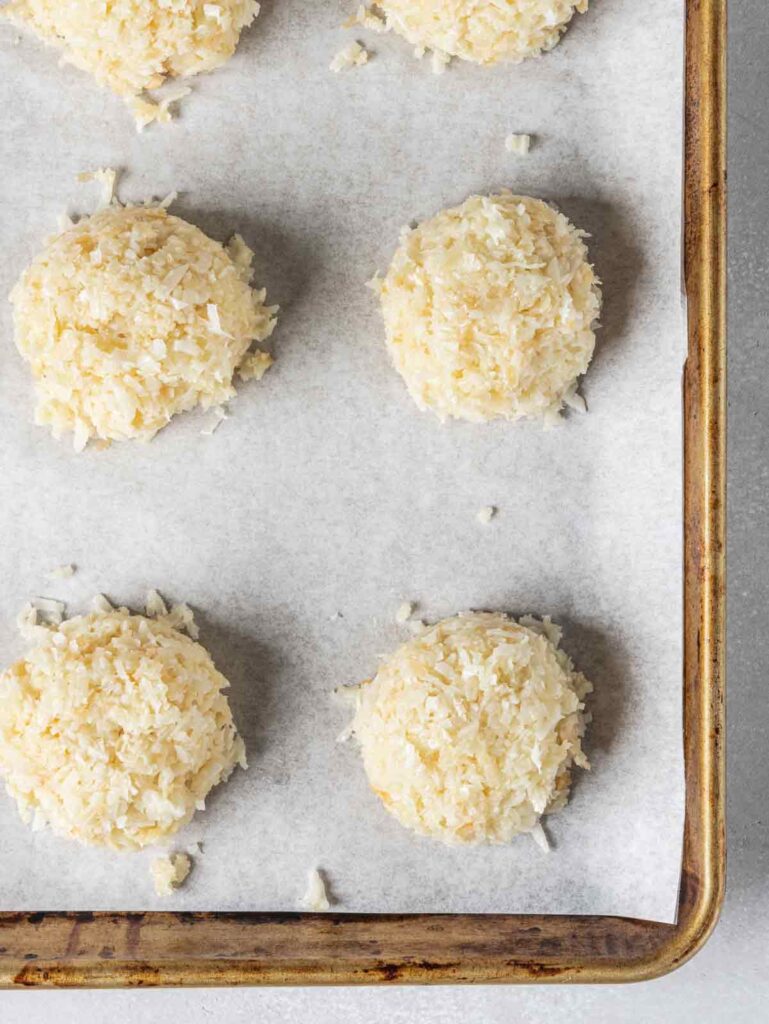 Chocolate Shell
I tested this recipe with three types of chocolate dips. I tested plain melted chocolate, a chocolate glaze dip, and a quick tempered chocolate.
For my money, the tempered chocolate was worth the extra effort. That light crack of the chocolate really added to the texture of the macaroon.
I'm using a quick temper here, as opposed to a full temper outlined in this How to Temper Chocolate Guide. This has a few less steps, but is also not as hard of a shell, which I think is better with our coconut snowballs.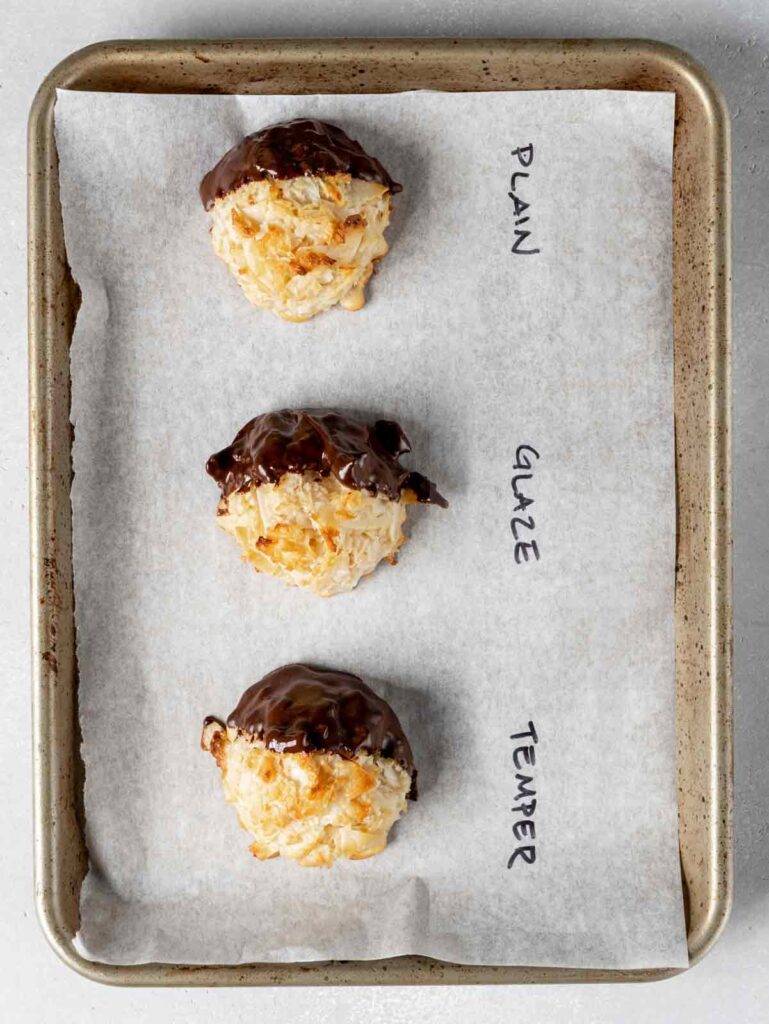 How to Quick Temper Chocolate
To quick temper our semi-sweet chocolate, we are going to use something called the seeding method. This means we will add cooled tempered chocolate into our melted chocolate to create more tempered chocolate!
We need to use a quality chocolate bar. This will not work with chocolate chips. Use a baking chocolate bar or even a couverture chocolate if you have it! Finely chop the chocolate so it melts quickly.
Create a ban marie to gently warm up the chocolate by placing the 3/4 chocolate in a bowl above a simmering pot of water. Make sure the water doesn't touch the bottom of the bowl and that the bowl fits securely over the pot to reduce steam.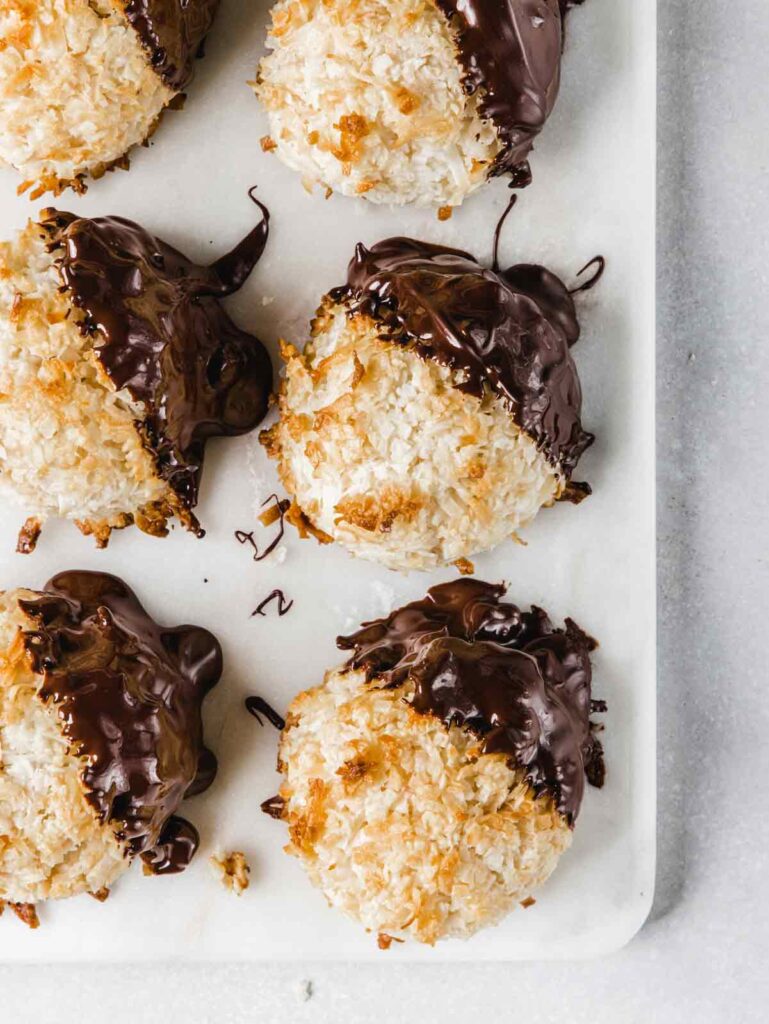 Gently swirl the chocolate until it reaches 122°F on a digital thermometer. Once it reaches temperature, remove from the heat and seed in the remaining 1/4 of chocolate and keep swirling until the mixture reaches 86°F. This will take some time to cool down, so pack your patience as my family says. A larger bowl and placing the bowl on a stone countertop will help bring the temperature down faster. Dip and let cool!
Frequently Asked Questions
Do I have to temper the chocolate?
Not at all! This is just the icing on the cake to create a nicer crack to the chocolate. You can use just melted chocolate if you prefer. You can even skip the chocolate all-together if you're a coconut purest.
Make I make these a traditional macaroon instead?
Absolutely. You can make these more traditional by leaving the almond and almond extract out. The chocolate is a optional addition.
How do I store macaroons?
Store these in an airtight container at room temperature for up to one week.
Why does my tempered chocolate has white/light streaks?
This is called chocolate bloom, and it can happen if the chocolate gets a bit out of temper. Sometimes the chocolate gets a touch hot, there's streaks that weren't tempered into the chocolate completely, or the humidity has hit the chocolate. Chocolate is finicky. It's 100% still safe to eat, and 100% delicious, it's purely aesthetic.
Print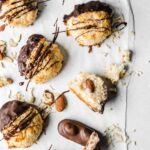 Almond Joy Coconut Macaroons
Author:

Theresa | Quiet Baking Day

Prep Time:

25 minutes

Cooling Time:

20 minutes

Cook Time:

35 minutes

Total Time:

1 hour., 20 minutes

Yield:

12 macaroons

Category:

Desserts

Method:

Intermediate

Cuisine:

American
---
Description
These Almond Joy Coconut Macaroons combines the classic fluffy macaroon with the favorite almond and chocolate candy.
---
199

g

(7 oz. bag) sweetened shredded coconut*

199

g

(7 oz. bag) unsweetened shredded coconut*

1

cup

sweetened condensed milk**

1 teaspoon

vanilla extract

1 teaspoon

almond extract

1 teaspoon

salt

2

egg whites

12

whole almonds

170

g

(6 oz.) semi-sweet baking or couverture chocolate, chopped fine
---
Instructions
Preheat oven to 325°F. Place sweetened coconut in a single layer on a sheet pan and toast until light brown. About 15 minutes. Stir mixture if edges are browning too quickly.
Transfer to a large bowl and add unsweetened coconut, sweetened condensed milk, extracts and salt.
In a separate bowl, whip egg whites until frothy and stable. Fold into the coconut mixture.
Using an ice cream scoop, get a tightly packed scoop of the coconut mixture. With mixture still in scoop, poke a hole with your finger, place an almond inside, and recover with the coconut mixture. Transfer to a parchment-lined baking sheet. Repeat to make 12 coconut macaroons.
Bake at 325°F for 22-24 minutes until golden brown throughout.
Tempering Chocolate***. Bring a small pot of water to a simmer. Place 3/4 of chopped chocolate in a bowl slightly larger than the pot. Bowl should not touch water and fit tightly over the pot. Stir slowly and heat to 122°F. Remove from the heat and stir in remaining 1/4 of the chocolate. Stir until temperature reaches 86°F. Dip macaroons and let cool.
---
Notes
*Shredded is preferred over flakes
**This is not quite a full can, be sure to measure 1 cup
***You can skip tempering and just dip macaroons in melted chocolate if desired.
Store in an air-tight container for up to a week
Keywords: coconut, individual desserts