This Blackberry & Coconut Pound Cake has a quintessentially moist coconut cake with a ribbon of blackberry jam running through the center. This pound cake is sure to be a crowd pleaser, and the best part, you can completely justify having it for breakfast, lunch or dinner.
Coconut is one of a few truly classic flavors out there. It tastes like absolutely nothing else. Pair coconut with a buttery soft pound cake, and you've got a real champion cake happening. Double pair that with a tart blackberry jam, and now you've got something truly special! I love it with a cup of tea in the afternoon personally, but who am I tell you can't have it as a breakfast pastry? 
If you're more of a coconut and chocolate fan, you can also try these Almond Joy Coconut Macaroons.
Making a Coconut Pound Cake
Coconut can be notoriously a little on the sweet side. To combat that, I've done two things. First, I've used unsweetened coconut flakes in the cake batter itself. They aren't quite as easy to find as the sweetened version, but they are available at most grocery stores. Second, I introduce blackberries to the party.
The tartness of blackberries pair wonderfully with coconut's natural sweetness. They both vibe heavily to tropical flavors too, so it's really a win-win. You are welcome to make your own jam if it's a good time of year for berries. Or you can use a quality jarred option. The trick here is to mix the jam with a bit of the batter, so the swirl works evenly through the center, and not just sink to the bottom of the pan.
What is a "Pound Cake"?
Back in ye olden times, pound cake was exactly what its name implied. It was a recipe with one pound each of flour, butter, sugar, and eggs. And yes, if you think that sounds like A. a ridiculously huge cake, and B. kinda not that great, you would be correct.
But this early base gave us what we know today. A decadently rich, a bit denser of a cake. It's a different texture than, say, a layer cake, which is usually more light and fluffy.
Due to this, you might notice a higher ratio of butter and eggs than typical in a cake, but the rest of the system for our coconut pound cake is pretty standard for prepping. First, we will cream the butter and sugar very well for several minutes.
Never skrimp on this step, you want a light and fluffy mixture here. Scrap the sides of the bowl as needed, don't just work the top third of the mixture! Next, add your eggs one at a time, just until they incorporate.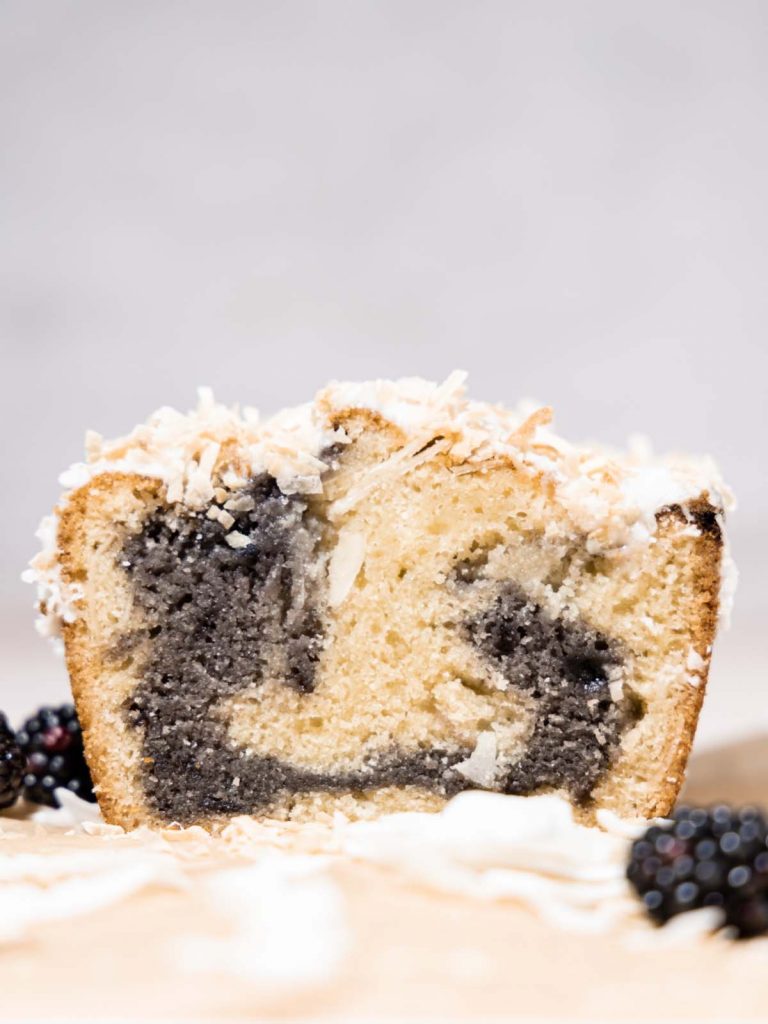 Now for the dry ingredients and liquid. In this case, because we're making a coconut cake after all, we'll use coconut cream instead of milk. Coconut cream is a bit heftier than coconut milk, similar to using heavy cream instead of regular milk. Because we're aiming for a denser pound cake, I preferred this option.
Begin by adding 1/3 of your dry ingredients into the mixer. Mix on low until the flour is almost gone. Add 1/2 of the coconut cream., 1/3 of the dry, 1/2 of the coconut cream, and the final 1/3 of the dry ingredients.
Alternating every other is a mandated holdover from culinary school: it ensures an even mix while not overworking the flour and making a tough cake, and not adding too much liquid at once to split the batter.
Preparing the Swirl
Here's where things get fun. Take you cake batter and separate 1/3 of the batter into a small bowl and mix your blackberry jam through thoroughly. In the remaining 2/3 of the batter, add your shredded coconut.
Pour 1/3 of the coconut batter into a greased loaf pan. Add the blackberry batter and spread it evenly on top and then your final layer of the coconut batter.
If some of the blackberry batter migrates to the top, it will be just fine, don't fret too much! If you like, take a butter knife straight up-and-down and give the layers a quick swirl. I did just a few turns for my version.
Now it's time to bake, and I do mean bake! This is a dense mix and it will take a very long time in the oven. You will likely need to cover it with foil after about 30 minutes to make sure the center is fully cooked before the top is too browned.
Once a toothpick comes out clean, remove from the oven and let stand in the pan until it's cool enough to handle. Turn it out onto a wire rack and let cool completely before glazing. Top with flaked toasted coconut if desired.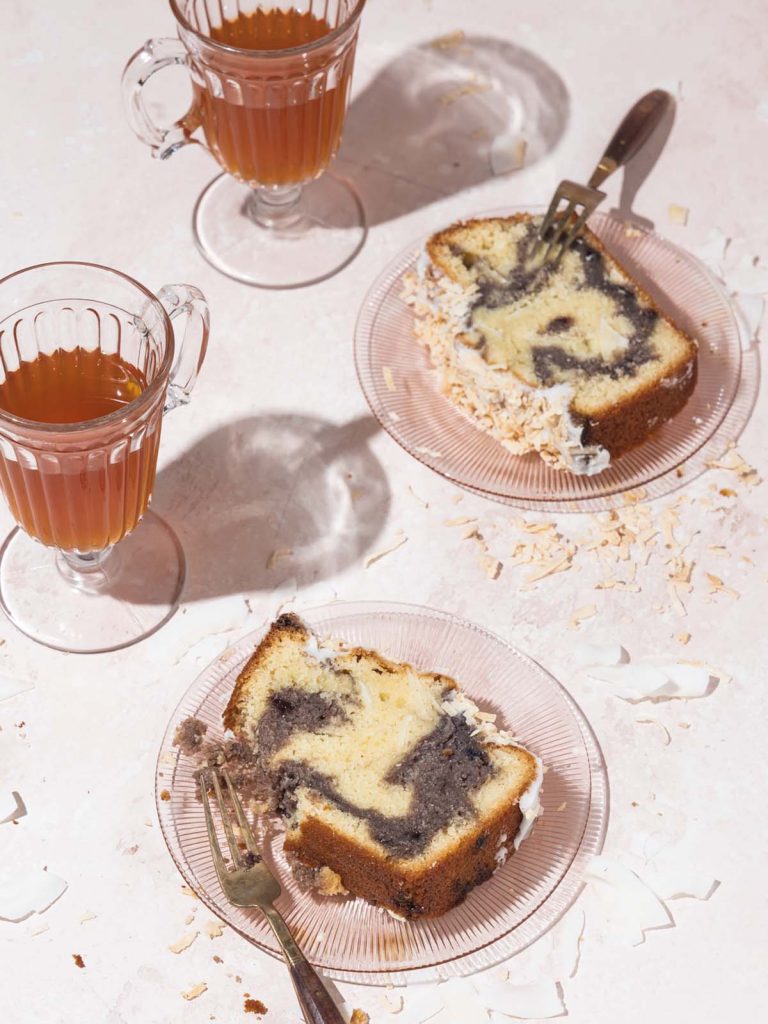 Looking for Other Berry Delicious Desserts?
Print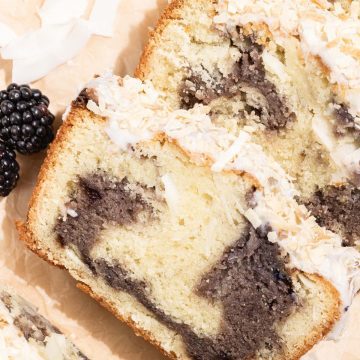 Blackberry and Coconut Pound Cake
Author:

Theresa | Quiet Baking Day

Prep Time:

10 minutes

Cook Time:

80 minutes

Total Time:

90 minutes

Yield:

10 slices

Category:

Cakes

Method:

Easy

Cuisine:

American
---
Description
Tangy blackberry jam comes together with sweet coconut flakes to create this swirled Blackberry & Coconut Pound Cake.
---
Coconut Pound Cake
210g

all-purpose flour

1 1/2 teaspoons

baking powder

1/4 teaspoon

salt

226g

unsalted butter, room temperature

250g

granulated sugar

3

large eggs

1 teaspoon

vanilla extract

1/2 cup

unsweetened coconut cream

30g

shredded unsweetened coconut

100

g

blackberry jam
Coconut Glaze
85g

powdered sugar, sifted

2

–

3

tablespoons unsweetened coconut cream

Additional toasted coconut flakes for topping, if desired
---
Instructions
For the Coconut Pound Cake: Preheat oven to 350°F, grease a loaf pan and set aside.
Sift together the flour, baking powder and salt in a medium bowl.
In the bowl of a stand mixer or with a hand mixer, mix together the butter and sugar on medium-high for 5-7 minutes until mixture is light and fluffy. Scrap the sides as needed.
Add the eggs one at a time on low, fully incorporating one before the next. Add the vanilla extract.
Alternating between the dry ingredients mixture and the coconut cream, add 1/3 of the dry ingredients. Once nearly combined, add 1/2 of the coconut cream. Continue to alternate until all ingredients are nearly combined. Use a rubber spatula to mix the last bits of flour by hand to avoid over working.
Separate 1/3 of the cake batter into a separate bowl and mix in blackberry jam. In remaining 2/3 of the batter, stir through the shredded coconut.
Spread 1/3 of the coconut batter into the prepared loaf pan. Next, spread the blackberry batter evenly on top. Top with the final 1/3 of the coconut batter, spreading into an even layer. If desired, swirl the mixture with a knife.
Bake for 75-80 minutes, until a toothpick comes out clean from the center. Check the color of the top as you are baking, after 30 minutes if the top is browning too much, tent lightly with aluminum foil until the cake is fully baked.
Remove from the oven and let sit in pan until just cool enough to handle. Transfer to a wire cool to allow to cool completely.
Glaze: Once cake is fully cool, whisk together powdered sugar and coconut cream to the desired consistency. Spread over the top of the cake and immediately sprinkle coconut flakes on top. Allow to set before slicing.
---
Notes
The baked cake may be sliced and frozen. Wrap individual slices in plastic wrap and place in a freezer bag. Allow to warm to room temperature before enjoying.
Keywords: berries, brunch