There's no pan here, no crimping, no intricate weaving and cut-outs. Just a flaky crust, packed with toasted almond flavor, and a sweet gooey blueberry filling. Pop a scoop of vanilla ice cream on top, and you are set with a stunning, charming, Almond and Blueberry Galette dessert!
Summertime is the time of year where I can't wait to start making pies. At least until I remember how annoying making a pretty pie can be, with the crimping and the lattice work…pass. If you're like me and want a pie, without the hassle of a pie, I'd like to introduce you to the galette, pie's rustic cousin.
Almond-y Dough
To amp up the flavor of this galette a little, some of the flour is swapped for almond flour. Spread the almond flour out on a sheet pan and toast it in the oven first to really bring out that nutty almond flavor.
You want the almonds to be fragrant and just golden brown, but seriously, do not walk too far away from the oven – they can go from golden and delicious to sad and burnt quickly.
To compensate for the natural oils in the almonds, we will cut back on the other fats in the dough. I still recommend a mix of butter and shortening for the best flavor/texture combination, but we need less of it than a traditional, all-flour, pie crust.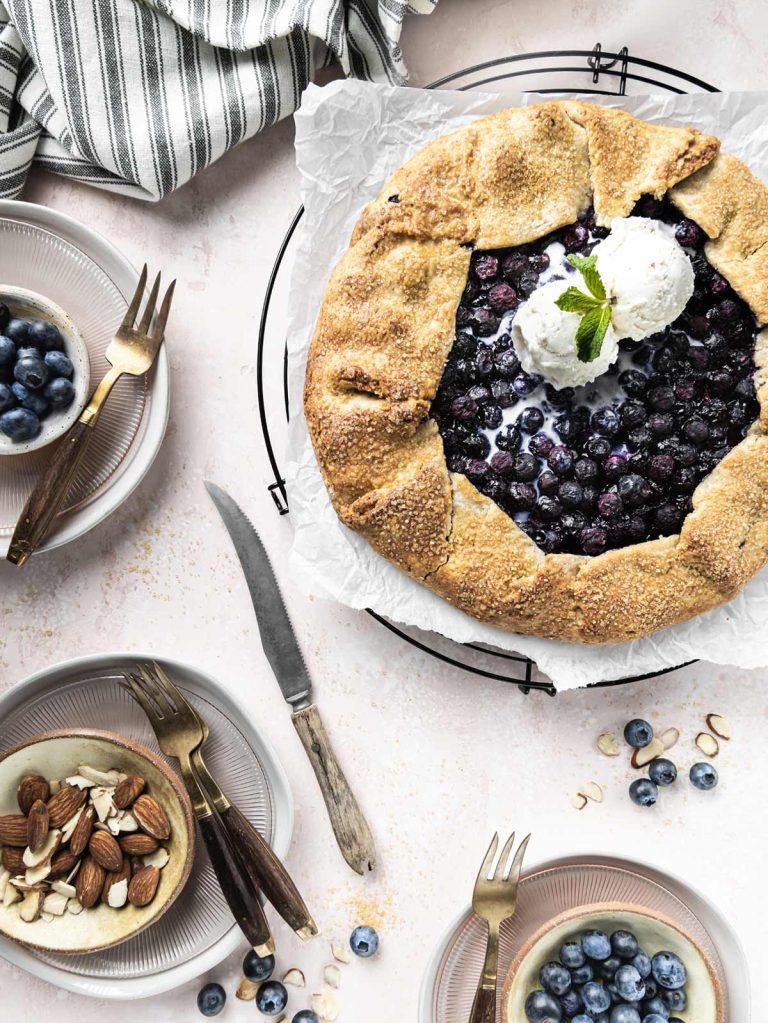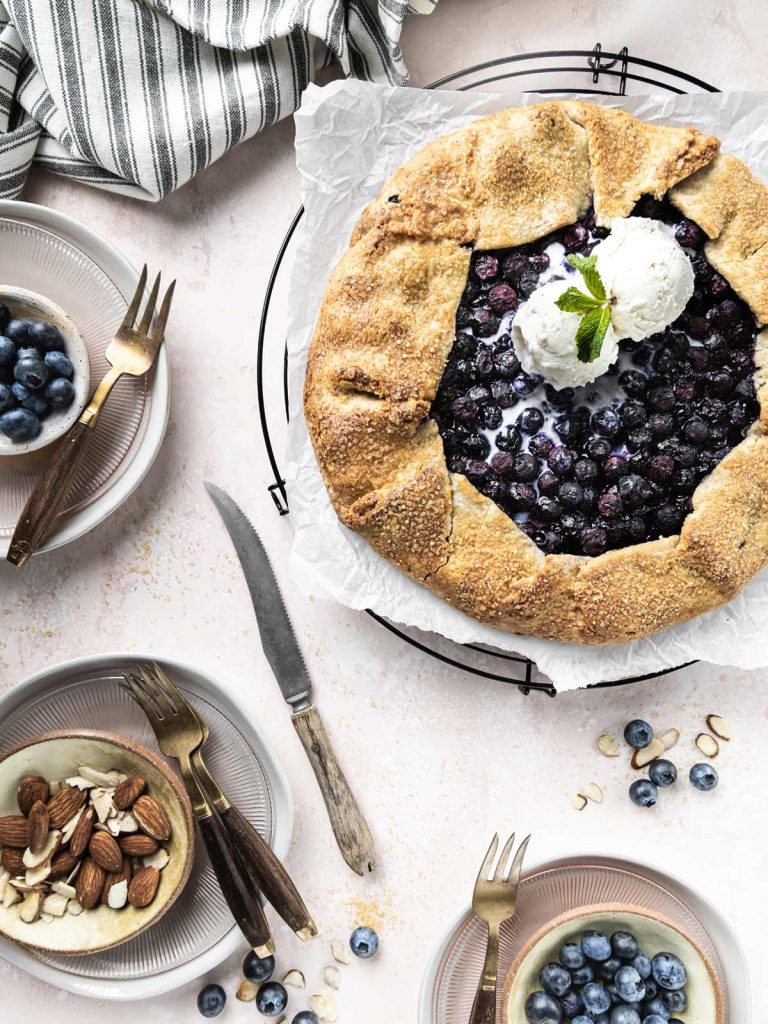 Putting It All Together
Because the almond flour in this blueberry almond galette does not have the same gluten structure as traditional flour, it does make the dough a little less forgiving to work with. It's totally worth it for the final almondy, flaky crust and I found that less movement is better.
Rolling your dough on the surface you will bake it on saves any transfer concerns to the pan, simply roll on top of a piece of parchment or silicone mat, slide it on to the baking sheet when you are ready, and bada-bing-bada-boom, you are good to go!
Next, pile in your blueberry filling. Fresh or frozen berries work great here, so if the fresh ones are not looking their best, grab a bag from the freezer section which are typically flash-frozen at the peak time. I'm a bit of a blueberry snob and get really bummed out if the are way too tart. If you're a blueberry fan in general, don't miss these Jumbo Blueberry Peach Muffins too.
Helpful Tips
When making pie doughs, cold is the name of the game. Keep your butter and shortening in the fridge until you are just ready to incorporate. I will cube them first, then place them back in the fridge until they are up to bat.
For your ice water, fill a cup with water and ice, and allow to sit for 5 minutes. Then measure out 1/4c. of water. This amount is just a guideline, you may not need exactly this much, or you may need a little more. It depends on a lot of conditions in the weather, your butters, your flour. Only use what you need to just bring the dough together. I used only about two tablespoons when making mine on a humid Charleston day.
Galettes are not meant to be perfectly precise, so don't stress if your circle is a little more oval or your edges are rough. They are charming with the imperfections. I split the difference and trimmed a little of the more scraggly pieces off, but left plenty of the character. Those little nooks and crevasses are the best parts!
Useful Tools
I prefer a straight Rolling Pin without handles for this type of dough.
Silicone Baking Mats will allow you to roll directly onto of the mat and transfer to the baking sheet without overhandling the dough
A Flat-Sided Cookie Sheet makes sliding the galette on and off a total breeze!
Print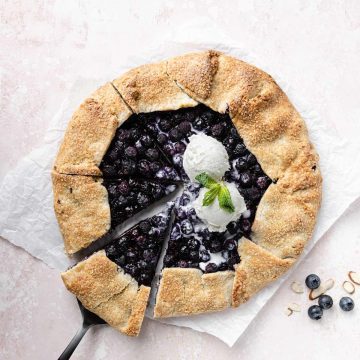 Almond & Blueberry Galette
Author:

Theresa | Quiet Baking Day

Prep Time:

25 minutes

Chilling Time:

1 hour

Cook Time:

45 minutes

Total Time:

2 hours, 10 minutes

Yield:

8 slices

Category:

Desserts

Method:

Easy

Cuisine:

American
---
Description
This make-ahead, summer sensational blueberry galette gets a makeover with toasted almond crust. 
---
Almond Crust
163

g

all-purpose flour

96

g

almond flour

2 tablespoons

. granulated sugar

1 teaspoon

salt

56

g

unsalted butter, cold, cubed

46

g

shortening, cold, cubed

1/4

cup

ice-cold water
Blueberry Filling
1

pound

blueberries (fresh of frozen-and-thawed)

2 tablespoons

cornstarch

66

g

granulated sugar
Zest of

1

lemon

1/4 teaspoon

. salt
Egg wash (1 egg + 1 tablespoon water)
Turbinado sugar
---
Instructions
Almond Crust: Preheat over to 350ºF. Spread almond flour on sheet pan and toast until fragrant and golden brown – about 10 minutes – keep a close eye!
Transfer almond flour to a medium-sized bowl and allow to cool before adding all-purpose flour, sugar, and salt. Whisk until combined.
Rub in cold butter and shortening using your finders until the mix resembles pea-sized crumbles. Some larger chunks of butter can remain. 
Add ice-water 1 tablespoon at a time until the dough just holds together. You may not need all the water, so go slowly!
Transfer dough onto a piece of plastic wrap, knead 2-3 times until you have a smooth dough, wrap tightly and chill for at least 1 hour.
Blueberry Filling: While dough chills, combine blueberries, cornstarch, sugar, lemon zest and salt. Stir until well mixed.
Preheat oven to 375ºF.
Once dough is chilled, roll out on a floured piece of parchment or silicone mat. Roll to about 14″-wide circle, 1/4″ thick. You can trim the edges or leave rustic.
Scoop blueberry filling into the center of the dough, spreading evenly, leaving 2″ border.
Fold edges of dough on top of blueberry filling. Brush dough with egg wash and sprinkle with turbinado sugar. Slide parchment or silicone mat onto baking sheet.
Bake at 375ºF for 45-50 minutes until the dough is golden brown, the filling is bubbling and the bottom is set. 
Optional – serve with vanilla ice cream!
---
Notes
Dough can be chilled overnight.
Other Galettes