Cinnamon is wonderful, but adding the extra notes of cardamom, ginger and nutmeg, really gives baked goods an extra boost. That's why I had to take the take the standard cinnamon roll, and turn them into Chai Cinnamon Rolls. One sniff and you'll be a convert too. And here's the best part: these are overnight rolls, meaning, you prep everything the night before and slide them into the oven in the morning, for brunch mode: easy!
I live by one simple rule. Anything that is cinnamon spiced can be made even better by making it chai spiced. It might be because I have a serious chai latte addiction. I can't pretend that's not part of it. But I think I'm right none-the-less. It's a smell that makes me weak in the knees – my literal kryptonite. It might explain why you can find these Chai Scones with Brown Sugar on the blog along with my Homemade Chai Spice Blend.
If you're interested in a real expert's take on chai, check out Shweta Garg's post at Masala and Chai and her Authentic Indian Masala Chai recipe. Her recipes are phenomenal and a real source on all things chai.
Cinnamon Roll Dough
Cinnamon rolls are not terribly complicated. They are a great way to introduce yourself into yeasted baking because they are really very forgiving. So, even if you're nervous about using yeast for the first time, trust me, this is the time to try it!
There are two basic types of doughs in the world. A standard dough, like for french breads, is made from flour, water and yeast. However, cinnamon rolls are made out of the second type of dough – enriched doughs.
An "enriched dough" means super delicious things are added into the dough. Ingredients like butter, eggs and milk are added so you get that soft pillowy texture we know and love with cinnamon rolls.
My cinnamon roll recipe includes an extra egg yolk which increases the softness. There's also some sugar as well, which helps make a sweeter dough, but also helps with browning the rolls.
The technical term is called "maillard reaction" which is basically "caramelization" which is basically "yum". I'm addicted to this dough, it's the same as this Orange Pull-Apart Bread too, which makes it super versatile.
Making the Dough
Cinnamon roll dough is very easy to make. To start, we're going to warm the milk just a bit. I prefer to heat it up on the stove because I always go too hot in the microwave. We want the milk to be lukewarm or 110º-115ºF if you have a thermometer.
Pour the milk into your mixing bowl and sprinkle the yeast on top with a scoop of your granulated sugar. Yeast LOVES sugar. With the warm milk and the sugar, the yeast will come alive (literally). Let it sit for 5 minutes or until you see the milk mixture become frothy. This means your yeast is activated and ready to go!
Once the yeast is awake, you'll add the remaining ingredients expect the flour and mix together quickly. Now we'll add the flour. Don't dump the entire amount all at once, you may not need all of it. A mixture of factors like humidity and flour brand will have an affect on how much flour you will need.
The less the better for soft, fluffy rolls. So, go slowly and only add as much flour as you need to make the dough come together. With the dough hook, let the mixer run on medium-high for about 8 minutes, until the dough is smooth. Transfer to a greased bowl and let sit for 1-2 hours, or until the dough has doubled.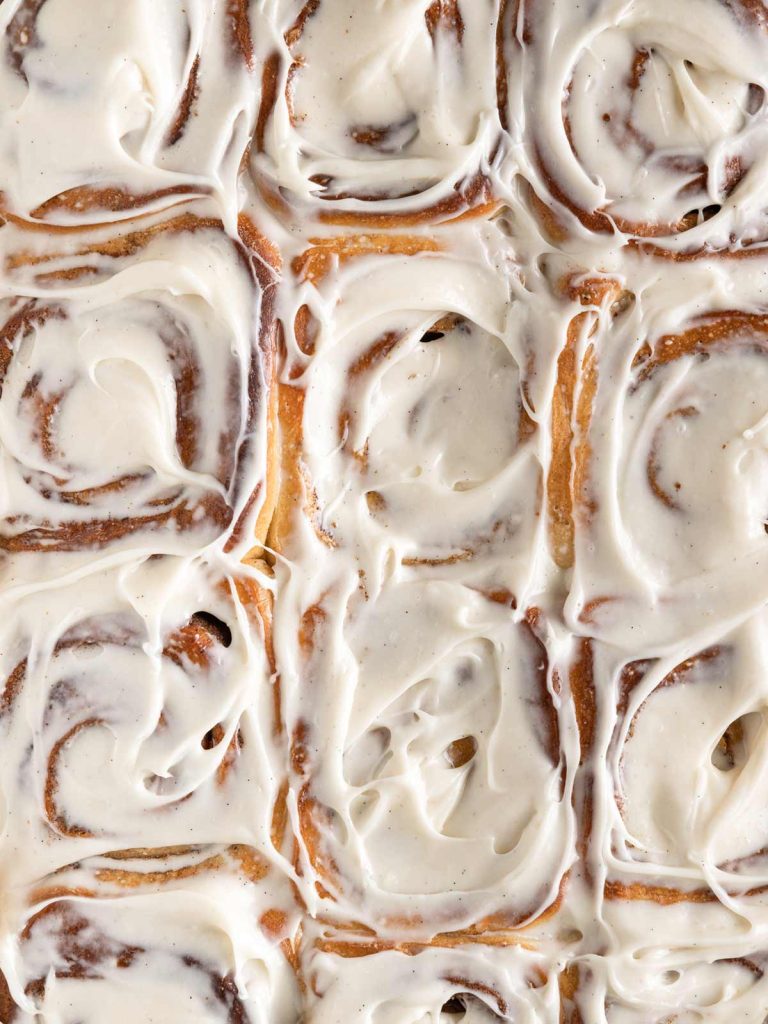 Shaping the Cinnamon Rolls
Now that your dough has doubled, you are ready to roll! Turn the dough out onto a well-floured cutting board or counter top. With a floured rolling pin, roll the dough out to a rectangle about 22″ x 16″.
It doesn't need to be perfect, there's no points for exact here. If your rectangle is really wonky, just trim it a bit to square it up. The long side should be facing you.
Next, slather the dough with soft butter. Soft, not melted, ok? Should be super smooshy and spreadable. Quite honestly, I think using my hands is the easiest way to accomplish this.
You should spread the butter right to three of the edges, leaving about 1/2″ clean on the farther long edge. This is so when you roll, the edge will seal.
Next, sprinkle with the chai cinnamon spices and brown sugar. It's going to look like too much. Just trust in me, you don't want a dry roll with no ooey gooey filling. Now, starting with the long edge closest to you, start rolling.
It doesn't need to be super tight, there should still be a litttleeeee room to allow the rolls to rise again. It doesn't need to be too loose either – Goldilocks it, right in between. When you get to the unbuttered edge, pinch it closed.
Before you slice, trim the ratty edges off so you have a nice clean roll. Now, you can slice them into 12 equal rolls. Some people like to use dental floss, and if you have non-minted and non-waxed floss around, good on you, but a sharp knife works just fine too.
Transfer the rolls into a greased and lined 13″ x 9″ ceramic or glass baking tray, cover with plastic and place in the fridge overnight. Why ceramic or glass? Metal pans can get too hot too fast and the sugar will harden as it bakes to create a crunchy caramel at the bottom instead of gooey rolls.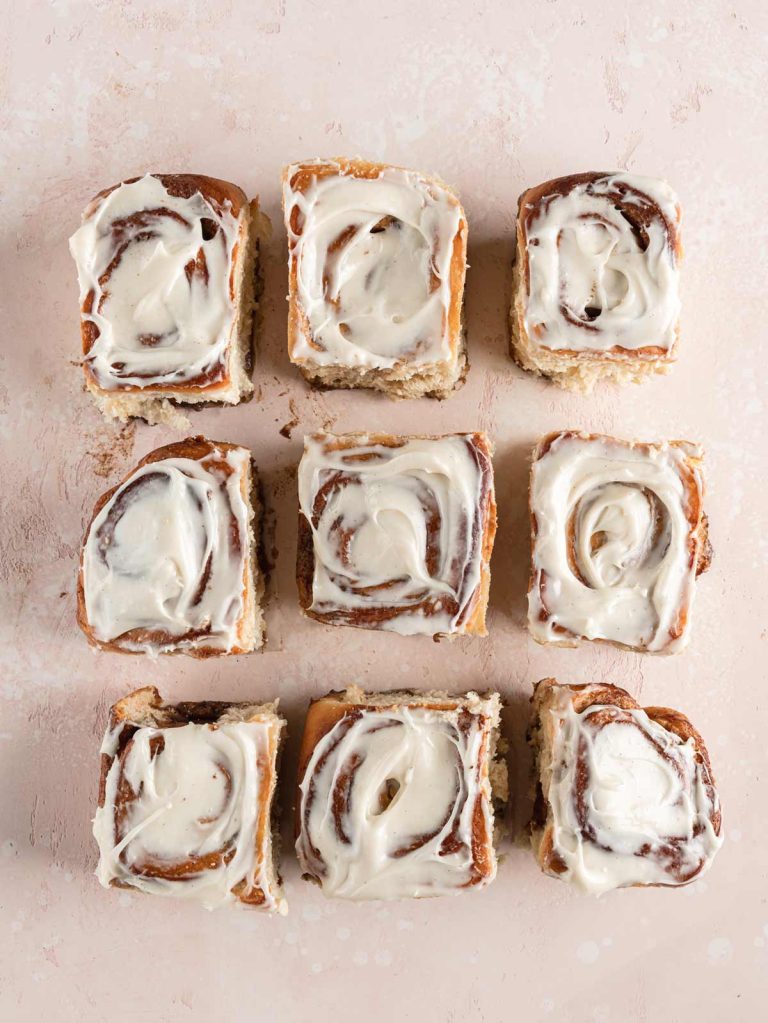 Baking
Cut to the next morning. Your rolls should have doubled in size with zero effort overnight. Set the rolls out on the counter to warm up while you heat the oven to 375ºF. Now, stay with me, because you're about to call me crazy.
But right before you bake, heat 1/2 cup of heavy cream just a bit – 20 seconds in the microwave – and pour it all over the cinnamon rolls. Yes, you read that correctly. No, I never pretended this was a health food. This will up the softness and the gooey center. Please, just try it, it's a trick of the trade!
Rolls didn't rise completely overnight? No worries. Just let the rolls sit out longer on the counter in a warm spot. Could take an hour to add a little extra rise.
When baking, the trick is to bake only as much as necessary. The technical magic number is 190ºF at the center of the rolls. But if you can stick a toothpick in the center and it comes out clean, you are ready to go.
Once the rolls are cooled, mix the icing ingredients, and ice away!
Variations
Want to bake the same day? Instead of placing the rolls in the fridge, cover and set in a warm spot to raise immediately. About 1-2 hours, or until doubled.
Not a chai fan? No problem, instead of the spice mix, simply use 3 tablespoons of cinnamon and brown sugar
Try a nutty filling with these Pistachio Sweet Rolls.
Helpful Tools for Chai Spiced Cinnamon Rolls
Print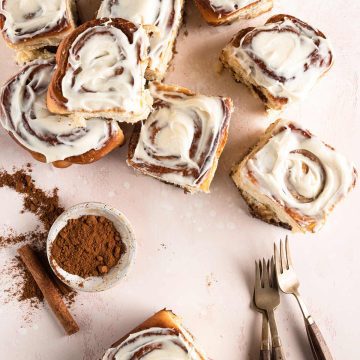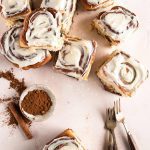 Chai-Spiced Cinnamon Rolls
Author:

Theresa | Quiet Baking Day

Prep Time:

20 minutes

Proofing Tim:

10 hours

Cook Time:

25 minutes

Total Time:

10 hours, 45 minutes

Yield:

12 rolls

Category:

Pastry

Method:

Intermediate

Cuisine:

American
---
Description
Level up your brunch baking with chai cinnamon rolls. The classic cinnamon roll is amped up with the extra spices of the fabulous tea. 
---
Rolls
1

cup

whole milk, warmed between 100-115ºF

2 1/4 teaspoons

(

one

packet) active dry yeast

2

whole eggs

1

egg yolk

75

g

unsalted butter, melted and cooled slightly

99

g

granulated sugar

1 teaspoon

salt

480

g

– 540g all-purpose flour
Filling
1 1/2 tbsp

cinnamon

2 teaspoons

cardamon

2 teaspoons

ginger

1/2 teaspoon

allspice

1/2 teaspoon

cloves

1/2 teaspoon

ground nutmeg

1/8 teaspoon

fine black pepper

213

g

brown sugar, packed

114

g

unsalted butter, softened but not melted

1/2

cup

heavy cream
Icing
113

g

(1/2 package) cream cheese, softened

2 1/2 tablespoon

butter, softened

170

g

powdered sugar, sifted

1 tsp

vanilla

1 1/2 tablespoon

strong chai black tea
---
Instructions
Dough: Heat milk to lukewarm, 110º – 115ºF. Place in the bowl of a stand mixer fitted with a dough hook. Sprinkle yeast on top of milk with a spoonful of the granulated sugar. Let sit until yeast is bubbling and frothy, about 5 minutes.
Mix in the rest of the sugar, eggs, butter, and salt. Stir to combine.
Add the smaller amount of the flour, 480g/4 cups to begin.
Begin to mix with the dough hook on medium-high. Only add as much flour as needed for the dough to come together to avoid dry rolls. Dough will be quite sticky.
Continue mixing until the dough is smooth and springy, about 8 minutes.
Transfer to a large, greased bowl. Cover lightly with a clean towel and set in a warm spot to rise until doubled in size, about 1-2 hours.
Filling: While dough is rising, make filling.
Combine all spices together. Measure 3 tablespoons of the spice mixture and combine with the brown sugar.
Rolling & Shaping: After dough has doubled in size, punch down to remove the air, and set on a lightly floured surface. Using a floured rolling pin, roll to approximately 22″ x 16″, with the long edge facing you.
Spread softened butter evenly across the dough, spreading to three edges, leaving 1/2″ of the farther long edge clean. Sprinkle brown sugar mixture evenly over the butter.
Beginning with the long edge closest to you, begin to roll the dough up into a spiral, pinching the clean edge to close.
Trim the sides of the roll, then cut 12 equal slices. Each roll should be about 1.5″ wide.
Place slices spiral side up in a 13″ x 9″ glass or ceramic baking sheet, greased and lined with parchment. Leave space between the rolls to allow room to rise.
Cover tightly with plastic wrap and place in refrigerator overnight.
Baking: The next day, remove rolls from the fridge and place on counter while oven preheats to 375ºF.
NOTE: if rolls did not double in size overnight, sit on the counter for longer to allow more time to rise. Up to 1 hour.
Just before baking, warm heavy cream slightly to room temperature and pour over rolls.
Bake uncovered for 22-25 minutes – until a toothpick comes out clean in the center or until it 190ºF by thermometer.
Icing: Mix all icing ingredients together.
Spread on cooled rolls. 
---
Notes
Want to make the same day? Instead of placing in the fridge after rolling, cover lightly with a clean towel and place in a warm spot to double in size, about 1-2 hours. Continue with remaining baking directions.
Keywords: brunch, spice, cinnamon