With literal swirls of cheese and pesto braided in, you will be amazed at how much flavor is packed into this pesto bread. Cheesy mozzarella is offset with garlicky, basil pesto. The best part? Because of how the bread is braided with the filling on the top, the cheese gets that amazing crispy bits. You know, those crunchy little bits of goodness the family fights over? The whole bread is topped with that. You're welcome.
What is a Pesto Bread?
My pesto bread is a riff on a classic pesto loaf bread. Creating this flatter, wider shape instead of the loaf shape allows for, frankly, more cheesy crisps on top.
I wanted a dough that would be soft and rich, so this recipe will be for an enriched dough. An enriched dough is a bread dough that has extras added in, like eggs and butter, to increase the flavor and texture.
I use a stand mixer with a dough hook attachment to make the dough, but you can also knead the dough by hand. Because we are using an active dry yeast, our first step is to activate the yeast, or wake it up. Warm the milk slightly in the microwave or on the stove.
Just barely above body temperature, 110° – 115°F. This will wake the yeast up, but if the milk is too hot, it will kill the yeast. Sprinkle a little bit of the sugar on top. Yeast LOVES sugar. Almost as much as I do. This will really perk it up.
After a few minutes, you should see the yeast start to froth up. If after 15 minutes, there's no change, you have dead yeast and you will need to start over with a fresh packet. Now, stir in the butter, eggs and remaining sugar to the yeast mixture.
Hold off on the salt and add that with the flour. Yeast, ever so temperamental, doesn't like salt. Adding with the flour will keep the two separated. Only add as much flour as needed. Start at the lower amount of flour, and add a spoonful more at a time until the dough is no longer wet and sticky, but still soft and squishy (all technical terms).
Continue to let the dough knead until smooth, about 5-7 minutes with the mixer on medium speed, or 10-12 minutes if kneading by hand. Let the dough proof, or rise, until doubled in size before continuing with the braid.
Making a Braided Bread
You might think this braided bread looks ridiculously complicated. I promise, it's not as fancy as it looks, and it's totally doable. If you've made a cinnamon roll before, you're already more than half-way there on the process.
Roll the dough out into a 12″ x 18″ rectangle, with the long edge facing you. Spread the pesto to three of the edges, leaving 1/2″ of the farther long edge clean. You can find my recipe for Homemade Pesto Sauce, or use a quality store bought brand. I like Raos, but there are other good ones out there! Sprinkle a bit of red pepper flakes on top if you like. Then spread the cheese evenly on top of the pesto.
Now comes the fun part. With the long edge facing you, begin rolling the rectangle up into a log. Dab a little water on the clean long edge to help seal the log together (just like with a cinnamon roll). With a sharp knife, slice the log down the center lengthwise, leaving the top 1″ in tact. You should have two strands attached at the top – think of a wishbone shape, or a friendship bracelet you made as a kid. Now, turn the strands so the sliced edges are facing up and the filling is exposed.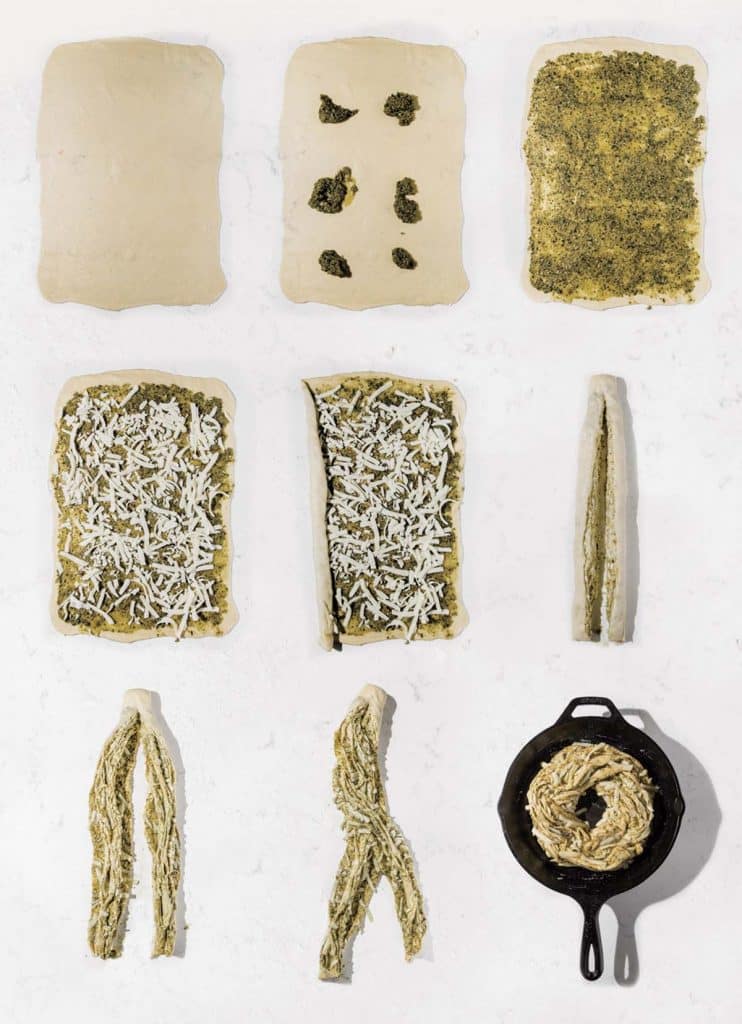 Gently lift one of the strands over the top of the other. Repeat, placing the bottom strand up and over the top. Repeat to the end. Press the two ends of the strands together before bringing the two ends of the log together to create a circle. Keep the sliced edges with the filling facing up the entire time.
Delicately transfer to a greased 9″ cast-iron pan. Or if preferred, work directly on a baking sheet with parchment paper. Cover lightly for a second proof before baking. Serve immediately or rewarm in the oven on 350°F for 5-7 minutes.
Print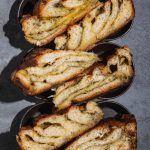 Cheesy Braided Pesto Bread
Author:

Theresa | Quiet Baking Day

Prep Time:

30 minutes

Proofing Time:

3 hours

Cook Time:

45 minutes

Total Time:

4 hours, 15 minutes

Yield:

8 slices

Category:

Savory

Method:

Intermediate

Cuisine:

American
---
Description
Filled with flavorful pesto and mozzarella cheese, this pesto bread has swirls of goodness. The best part, the crispy cheese on top.
---
Dough
1/2

cup

whole milk, warmed to 110° – 115°F

7

g

(1 packet) active dry yeast

1

large egg, room temperature

1

egg yolk, room temperature

3 tablespoons

unsalted butter, softened

2 tablespoons

granulated sugar

1/2 teaspoon

salt

240

g

– 270g (2 – 2 1/4 cup) bread flour, plus more for dusting
Filling
125

g

(1/2 cup) pesto sauce (homemade pesto sauce or store bought)

150

g

(1 1/2 cup) shredded mozzarella
Red pepper flakes (optional)
Egg wash (1 egg + 1 tablespoon water)
---
Instructions
Dough: Add milk, yeast, and a sprinkle of sugar to the bowl of a stand mixer fitted with a dough hook. Let sit for 5 minutes until frothy.
Mix in eggs, butter, and remaining sugar.
Add in salt and 240g (2 cups) of bread flour. Add up to 30g (1/4 cup) more as you knead if dough is sticky.
Mix on medium for 5-7 minutes until dough is smooth and springs back when touched.
Alternately, to make dough by hand, use a large bowl and wooden spoon to bring ingredients together as above. Transfer to a floured surface and knead by hand until a smooth dough forms, about 10-12 minutes.
Bring dough into a ball, and place in a greased bowl, turning once to cover all sides with butter. Cover tightly with plastic wrap and let sit for 1 1/2 – 2 hours in a warm spot, until dough is doubled in size.
Once proofed, transfer dough to a floured surface. Roll out to a 12″ x 18″ rectangle. Spread pesto over dough, leaving 1/2″ of farther long edge clean for sealing. Sprinkle with red pepper flakes if desired. Top evenly with cheese.
Start with closest long edge. Spiral the dough somewhat tightly to farthest edge, using clean edge to seal. Dab water on edge to help seal.
Slice the roll the long way down the center, leaving 1″ in tact at the top. You should create a wishbone shape.
Turn the sliced edges of the strands upward to expose the filling and lines of dough. Lift one strand over the top of the second. Repeat to the end, creating about 4 twists. Bring the ends together to make a spiral, placing the 1″ unsliced top underneath. Dough will be delicate, but does not have to be perfect.
Transfer dough to a greased 9″ cast-iron pan or baking sheet. Cover loosely and proof for 45-60 minutes until dough is puffed and nearly fills the cast-iron pan.
Towards the end of proofing, preheat the oven to 350°F.
Once dough is proofed, brush with egg wash and bake for 40-45 minutes. If bread is browning quickly after 20 minutes, tent lightly with foil to avoid burning.
---
Notes
To rewarm, place bread in a 350°F oven for 5-7 minutes.