These Chewy Ginger Molasses Cookies are double sized and thick and chewy. They stay that way for ages, so they are great for cookie exchanges, Christmas gifts or even to have around the house during the holiday season. You know those tins of cookies your mom would keep on the counter in the weeks leading up to Christmas? These are tin ready cookies!
What can be better for the holiday season than big soft chewy ginger molasses cookies? Sure, you can eat them any time of the year technically, but when you have that deep rich molasses flavor and the sharp ginger, these cookies just give off vibes of Christmas trees and fireplaces mantles hung with stockings. Place them next to these Red Velvet Shortbread Cookies and these Pistachio & White Chocolate Cookies for a serious cookie platter.
How to Get Chewy Cookies
So, how do we make these cookies so darn thick and chewy? Well, the answer a few key items. First, the molasses itself adds a lot of chewiness to cookies, and we use a lot of it in this recipe.
Second, we double down on the molasses by using only brown sugar, which is white sugar with molasses added. That's right, brown sugar isn't a different variety of sugar, its brown tinge comes from being mixed with molasses.
If you ever want to amp up the moistness levels of a dessert, a good place to start is to swap some of the sugar with brown sugar.
Third, a little cornstarch added to the flour lends to the chew factor. Cornstarch helps cookies hold their shape, and gives them a little boost in the thick and chewy area.
Fourth, and maybe most important, is chilling. Chilled cookies will bake with less spread because the butter is starting cold, it takes more time for it to melt in the oven. This means, by the time the cookies are set in the oven, the butter will not have a chance to spread out as much and the cookies will be thicker and chewier.
I like to do a double chill for these. Once after making the dough so it's easier to roll, and again after rolling.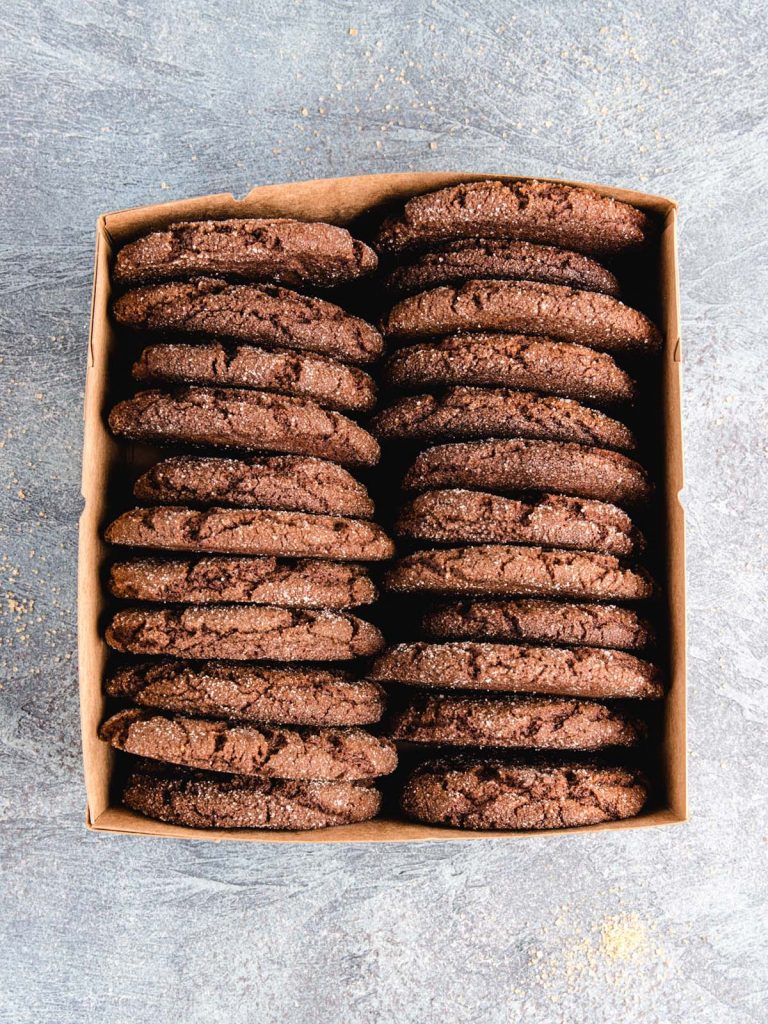 Making the Cookie Dough
I know the above can seem like a lot of steps just to get cookies. But really the actual recipe for these ginger molasses cookies is not very complicated. In fact, it's pretty straightforward. Starting with your dry ingredients, it's always good to give them a quick whisk together, no matter what you are making.
It's just a good standard practice of the kitchen. This breaks up any clumps of flour that has settled together, and makes sure that the add-ins are distributed evenly. You want to avoid a pocket of baking soda hiding in one cookie!
Next, we're going to cream together the butter and sugar. This is an important step, so don't give up on it too soon. You really want the mixture to be light and fluffy to get light and fluffy cookies. Give the mixer the full 5 minutes-plus and make sure the scrap those bowl sides down!
Now that we have nice fluffy butter, it's time to add in the eggs and molasses. And last but not least, the flour mixture.
I always let the mixer do 95% of the work to incorporate the flour, but will do the last 5% by hand for two reasons: I don't want to overmix the dough and end up with a tough cookie, and I want to be sure all the last bits on the bottom and sides of the bowl are well incorporated.
That's it, on to chilling, scooping and baking!
Shaping the Dough
Once the dough is chilled, for these ultra mega chewy ginger molasses cookies, I like to make them double sized. I use a standard sized cookie scoop, but double up the scoops for each cookie. I then roll the two together before rolling in sugar and chilling again.
Baking these guys can be a little tricky because they start out such a dark color. You can't see when they brown to the right color. So keep an eye on your oven, you just want the edges to be set but a little softness still in the center.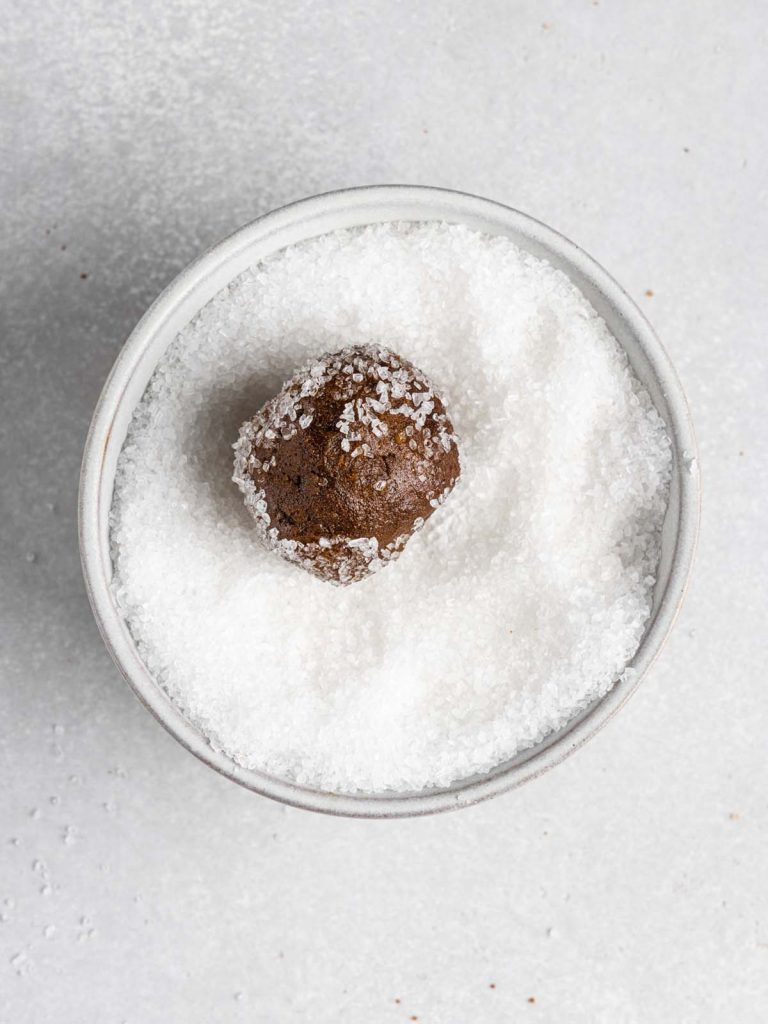 Molasses and Ginger
When buying molasses, you might find a few options on the shelf. Blackstrap and unsulphured are the most common. We are using the classic unsulphured molasses version in this recipe.
But what's the difference? Both types are made from boiled down sugarcane, but blackstrap is boiled down more than the traditional unsulphured variety.
This means it's thicker but also more bitter and has less sugar content. This recipe uses a lot of molasses, and less sugar so the blackstrap molasses would be too bitter in my opinion here. A
lready these cookies are on the verge of just sweet enough with that rolled sugar on the outside adding that little bit of extra sweetness needed to keep these from being bitter.
Now, these aren't only a molasses cookie, they are a molasses and ginger cookie, so we have to talk about the spices! These don't shy away from the ginger levels, you will feel that heat of the ginger in here. If I'm going to have a ginger cookie, I want it to taste of ginger! There is a bit of cinnamon and cloves added too, just to help round out the spices, but our main flavor is, you guessed it, ginger!
Helpful Tools
Interested in Other Gingerbread Recipes?
Try these other classic gingerbread recipes!
Print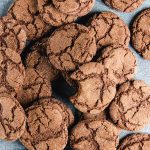 Chewy Ginger Molasses Cookies
Author:

Theresa | Quiet Baking Day

Prep Time:

10 minutes

Chilling Time:

2 hours

Cook Time:

20 minutes

Total Time:

2 hours, 30 minutes

Yield:

12 jumbo cookies

Category:

Cookies

Method:

Easy

Cuisine:

American
---
Description
Perfect for holiday cookie swaps and Christmas mornings, these chewy ginger molasses cookies are mega sized and pack a ton of flavor.
---
270

g

all-purpose flour

1 teaspoon

cornstarch

2 teaspoons

baking soda

1/2 teaspoon

salt

2 teaspoons

ground ginger

1 teaspoon

cinnamon

1/2 teaspoon

ground cloves

113

g

unsalted butter, room temperature

160

g

brown sugar, packed

1

egg, room temperature

1/2

cup

unsulphured molasses
Granulated sugar for coating
---
Instructions
In a large bowl, whisk together flour, cornstarch, baking soda, salt, ginger, cinnamon, and cloves. Set aside.
In the bowl of a stand mixer, combine butter and brown sugar. Mix on medium high until mixture is light and fluffy, about 5-6 minutes, scraping down the sides of the bowl as needed.
Add egg and molasses, mix until combined.
Add flour mixture, mix on low until just incorporated. Scrap the edges of the bowl as needed. Do not over mix.
Cover with plastic wrap and refrigerate for at least 2 hours or overnight.
When ready to bake, preheat oven to 350°F and line two baking sheets with parchment paper.
Using a standard cookie scoop, scoop a double amount of cookie dough to make jumbo cookies. Using your hands, roll the two scoops together into one ball.
Roll in each cookie in granulated sugar before placing on baking sheet with at least 2″ of space in between. Chill again for 20-30 minutes before baking for thicker cookies.
Bake for 18-20 minutes until edges are set but center is still soft. Rotate pans half way through baking as needed.
---
Notes
Use a single cookie scoop of dough for standard sized cookies. Shorten baking time 10-12 minutes.
Unbaked cookie dough can be frozen. Prepare through step 7. Place dough on a tray to freeze thoroughly before transferring to a ziplock bag. When ready to bake, remove from freezer and allow to thaw slightly before rolling in granulated sugar and continuing with baking instructions.
Keywords: cookies, spiced, chewy