These Chocolate Chip Muffins are soft and fluffy and packed with loads of chocolate chips. And the best part – these can be made in minutes without a mixer. Perfect for last minute Sunday brunches!
Let's be honest, we all know a muffin is just a naked cupcake that is completely acceptable to enjoy at 8am without judgement. And these are not a fruity muffin either, like these Jumbo Blueberry Peach Muffins or the Orange Muffins. These muffins are chocked full of scoops of chocolate chips.
Ingredients
These chocolate chip muffins have a few ingredients in them, but it's probably all ingredients you have on hand at a given moment!
All-purpose flour. Our cake base!
Baking powder and baking soda. Along with our oven temperature, these will give a good rise.
Granulated sugar. For sweetness.
Brown Sugar. Adds moisture and flavor.
Eggs. Adds structure.
Butter. Brings more flavor than oil alone.
Oil. Adds to the softness of the muffins.
Buttermilk. Gives a great background flavor.
Sour cream. Adds moisture.
Vanilla extract. Provides a richer flavor
Chocolate Chips. I used a combination of minis (1 cup) and standard sized chips (1/2 cup).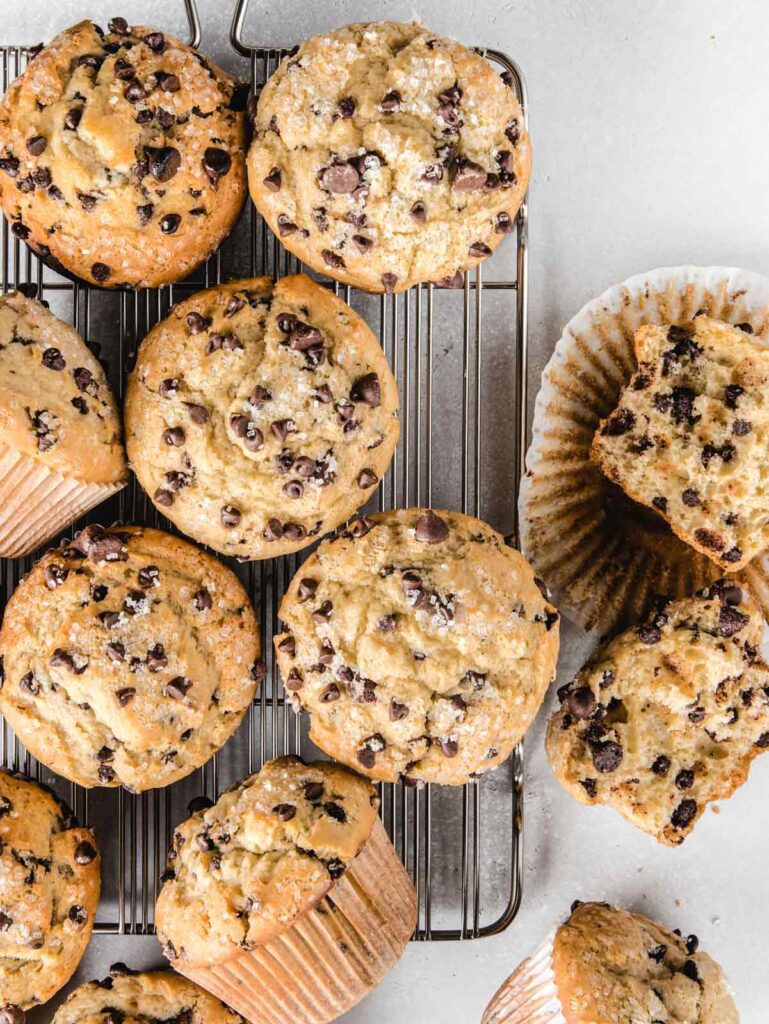 No Buttermilk?
You can easily make your own buttermilk with whole milk! Add 1 teaspoon of white vinegar or lemon juice to the 1 cup milk and let sit on the counter for about 5 minutes. This will cause an acidic reaction that will basically curdle your milk and create buttermilk!
Making Muffins
Funnily enough, muffins are made using the muffin method of mixing. You may have heard of the creaming method, which is commonly used for cakes and cookies, where room temperature butter and sugar is beat on high speed until the ingredients are light and fluffy. This creates a light and fluffy texture by incorporating a lot of air.
In comparison, the muffin method uses melted butter or oil which doesn't require any mixer to whip up. It makes for a slightly sturdier cake (I mean, muffin) but with plenty of other delicious ingredients like sour cream and buttermilk, we still end up with a fluffy, light muffin!
The Process
Whisk together all the dry ingredients in a large bowl.
Whisk together the wet ingredients in a separate bowl.
Pour the wet ingredients into the dry, and combine.
Stir in the chocolate chips.
Seriously, it's that easily! You should have a pretty sturdy batter that is easily scooped with an ice cream scoop. For the jumbo sized muffins seen here, I used two scoops for each muffin, filling the pan about 7/8 of the way full.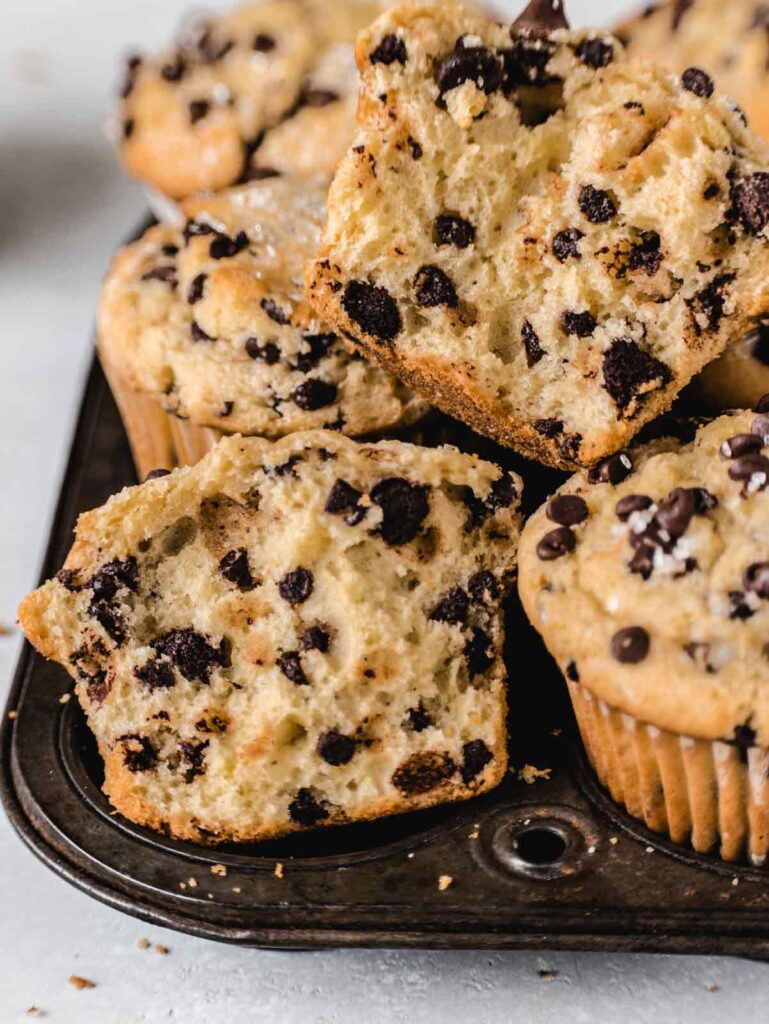 Baking Muffins
The best part of muffins is that characteristically domed top. To achieve that, we will use a two-stepped baking temperature. We will start with a hot oven, 425°F, to create a serious initial SPRING of the batter in the first 5 minutes. After that, turn the oven down to 350°F to bake the muffins the remaining time.
I prefer this method to baking at a higher temperature the entire time. We get that dome without drying out the entire muffin!
Frequently Asked Questions
Can I make standard sized muffins?
Absolutely. The recipe will make about 18 standard muffins. Fill the tins about 7/8 full. Bake at 425°F for 5 minutes, and at 350°F for 13-15 minutes until a toothpick comes out clean.
What can I substitute for sour cream?
You can swap in full-fat plain greek yogurt or use unsweetened whipped cream (whip 75g of heavy whipping cream to stiff peaks)
Can I freeze baked muffins?
Absolutely! Place baked and cooled muffins in a freezer-safe plastic bag and store for up to 3 months. Defrost on the counter for about 2 hours.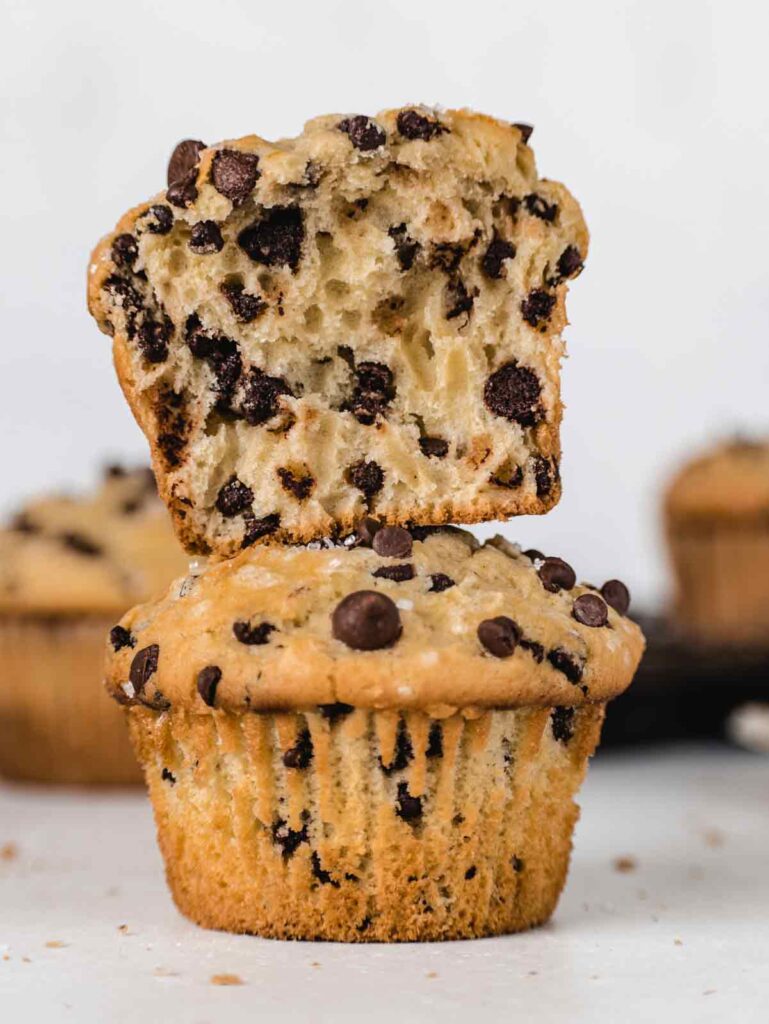 Print
Chocolate Chip Muffins
Author:

Theresa | Quiet Baking Day

Prep Time:

5 minutes

Cook Time:

25 minutes

Total Time:

30 minutes

Yield:

9 jumbo muffins

Category:

Cakes

Method:

Easy

Cuisine:

American
---
Description
A snap to whip up, these fluffy Chocolate Chip Muffins are bursting with mounds of chocolate chips and a sparkling sugar topping.
---
420

g

all-purpose flour

1 tablespoon

baking powder

1/2 teaspoon

baking soda

1/2 teaspoon

salt

83

g

unsalted butter, melted and cooled

1/3

cup

canola or vegetable oil

132

g

granulated sugar

106

g

brown sugar, packed

2

large eggs, room temperature

75

g

sour cream, room temperature

1

cup

buttermilk, room temperature

1 teaspoon

vanilla extract

260

g

(1 1/2 cups) chocolate chips, mini and standard mixed
---
Instructions
Preheat oven to 425°F. Line two jumbo muffin pans with 9 cupcake liners.
Sift or whisk together the dry ingredients – flour, baking powder, baking soda, and salt – in a large bowl.
In a separate bowl, whisk together the wet ingredients – melted butter, oil, eggs, granulated sugar, brown sugar, sour cream, buttermilk, and vanilla extract.
Pour the wet ingredients into the dry mixture. Stir together until the mixture just comes together. Avoid over-mixing. Stir in the chocolate chips.
Divide batter into the prepared muffin tins, filling each cavity about 7/8 full.
Sprinkle coarse sugar and additional chips on top if desired.
Bake at 425°F for 5 minutes. Turn oven down to 350°F and continue baking for 18-22 minutes until a toothpick comes out clean.
---
Notes
Store in an airtight container.
Standard Muffins. Fill muffin tins 7/8 full. Bake 425°F for 5 minutes, 350°F for 15 minutes. Makes approximately 18 standard muffins.
Keywords: chocolate, mixer free