A wintery spin on the classic cheese Danish, this Cranberry Cream Cheese Danish is filled with a sweet orange filling and a tart cranberry compote.
Cheese danishes are one of the great breakfast pastries provided to the world. They are great on their own, but adding a little fruit on top really kicks it up to the next stratosphere. Raspberry or blueberry is a typical option, but why not give it a little something special.
Cranberry compote is a great tart addition to the buttery and cheesy pastry. I decided to compliment the tartness with an orange cream cheese filling and glaze. A cranberry cream cheese danish is a great option for winter brunches and Christmas menus.
Planning Ahead
This recipe uses my Basic Danish Dough recipe for the dough base. Plan ahead as this dough is best made the day before. After a 2 hour initial rest, you will need about an hour to complete the laminating and at least another 30 minutes to chill, but overnight is best. Follow the directions on this recipe up to the final overnight rest. This dough will give light and flaky pastries, and just right for danishes.
Want to prep ahead? You can make the dough ahead, wrap tightly and freeze after you complete the final roll. Place it in the fridge the night before you want to bake your danishes.
Looking for a Dough Shortcut?
Don't want the time or hassle? Grab boxed puff pastry. An all-butter version is best, but these can be used straight from thawed, just skip the proofing before baking since these don't have yeast. The rest is the same!
Danish Fillings
We will have two fillings for these cranberry cream cheese danish. The first is similar to a cheese cake. We will make a cream cheese with a bit of sugar, flavoring, a little cornstarch and an egg, so it will puff as it bakes.
The second is a cranberry compote. Is it different than a jam or can-shaped cranberry sauce. We want a little bit of a looser saucy cranberry filling so it flows as it bakes instead of staying in one blob in the center. Place your cranberries in a small sauce pan with some sugar and orange juice and simmer on low just until the cranberries start to pop and releases their juices.
Add in a cornstarch slurry (a little cornstarch mixed with water) and simmer until the juices have just thickened. It's always best to use a slurry instead of adding the cornstarch straight in, it will guarantee to clump if it skip this step!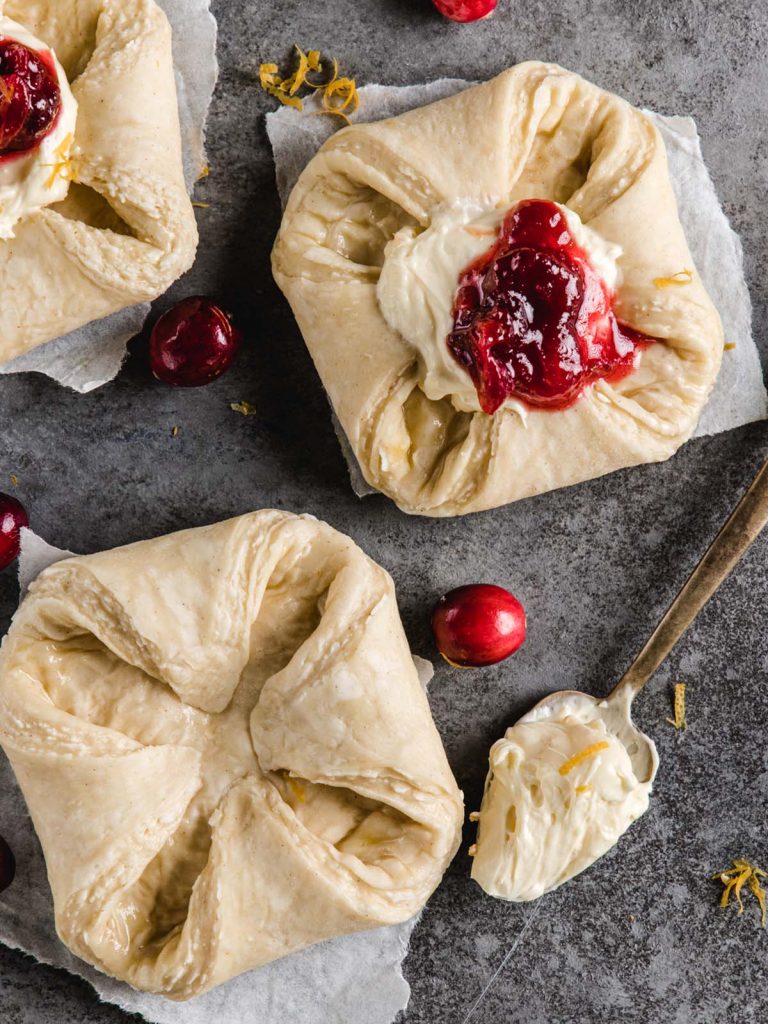 Shaping the Danishes
Slice your rested danish dough in half, keeping one half wrapped and in the fridge while you work on the first half (plus you can marvel at your beautiful butter layers!). Roll your dough out on a lightly floured surface to 1/4″ thick.
Trim off about 1/2″ of the edges and discard. This will remove the parts that weren't laminated as nicely and give you a square edge to work from. Cut 4″ squares and transfer to a parchment lined sheet pan, 6 squares on each pan.
If you have left over scraps of dough, stack them together and reroll. Don't ball them up or you will loose your layers.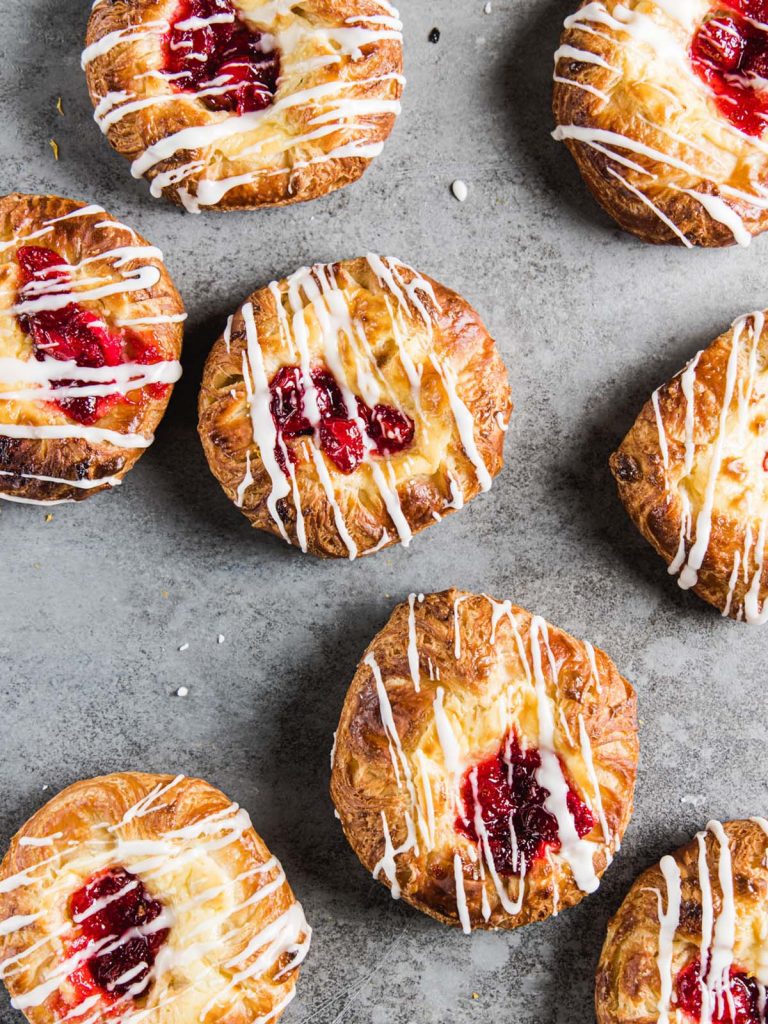 Egg wash the outer edges of your squares and bring each corner into the middle of the square, creating an octagon. Really smoosh the corners into the center, the yeast will fight you will no tomorrow to pop those edges back up. Lightly cover the pan with a piece of parchment and set in a warm spot to rise for 1-2 hours, until puffy. Repeat with the second half the dough.
Once your dough has risen, you are ready to fill and bake. With the back of a spoon, smoosh the center of the octagons down so you have a landing spot for your filling. I can almost guarantee a few of your corners will have popped up while rising, so smoosh those back down too.
Place a heaping spoonful of the cream cheese filling and spread out to about 1 1/2″ wide circle. You don't want to fully cover the pastry, you should have about 1″ open on each side. Add a heading teaspoon of cranberry filling on top. Egg wash any exposed edges and bake your cranberry cream cheese danish until deep golden brown, about 15 minutes.
Finishing the Pastries
Danishes are part of the Viennoiserie style pastry – a style of pastry originating from Vienna. And with a fancy name like Viennoiserie, you know we have to finish these guys with a final flourish. A quick orange glaze drizzled on top makes for an impressive decoration with little effort on your part.
Helpful Tools
A Straight Rolling Pin is my preferred style of pin.
Pastry Brushes are best for egg washing. I prefer bristle brushes over silicone which can be a bit aggressive on delicate soft puffy pastry. They are hand wash only, but I'd rather that over a squished pastry.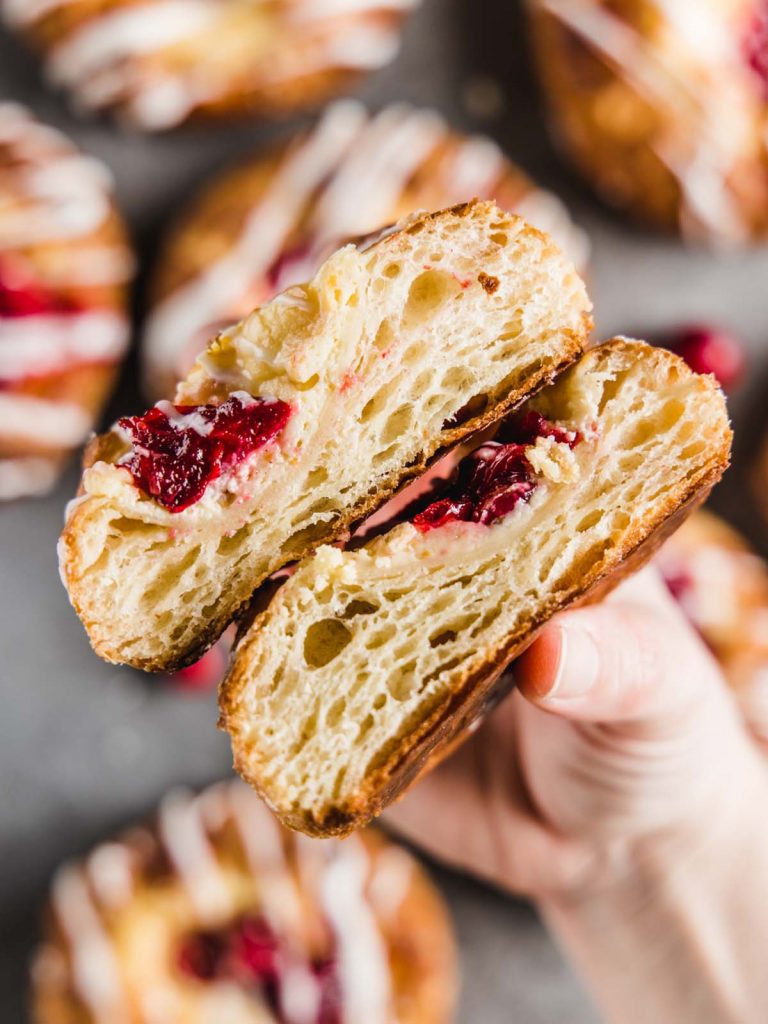 Print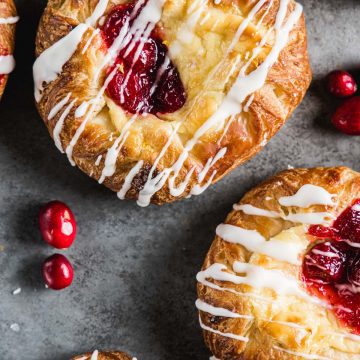 Cranberry Cream Cheese Danish
Author:

Theresa | Quiet Baking Day

Prep Time:

20 minutes

Proofing Time:

2 hours

Cook Time:

15 minutes

Total Time:

2 hours, 35 minutes

Yield:

12 danishes

Category:

Pastries

Method:

Easy

Cuisine:

American
---
Description
A wintery spin on a brunch classic, a cranberry cream cheese danish is a welcome addition to any cup of coffee.
---
Dough
Cranberry Compote
4

ounces

fresh cranberries

50

g

sugar
Zest of

1

orange

2 tablespoons

orange juice

1/2 teaspoon

cinnamon

1/8 teaspoon

nutmeg

1/2 teaspoon

salt
Cornstarch slurry (1 teaspoon cornstarch mixed with 2 teaspoons water)
Cream Cheese Filling
8

ounce

block of cream cheese, softened

1 tablespoon

granulated sugar

1 teaspoon

cornstarch
Zest of 1 orange

1 tablespoon

orange juice

1 teaspoon

vanilla extract

1 teaspoon

salt

1

egg yolk, room temperature
Glaze
227

g

powdered sugar, sifted

1 tablespoon

orange juice
---
Instructions
Prepare danish dough through final overnight chill.
Cranberry compote: Place all ingredients expect cornstarch slurry in small saucepan. Simmer on low until cranberries start to burst and release juices, about 10 minutes, stirring occasionally. Stir in slurry and let simmer until thickened, stirring occasionally. Let chill completely before using.
Cream Cheese Filling: In a medium sized bowl, whip cream cheese with electric mixer until softened. Add sugar, cornstarch, orange zest and juice, vanilla and salt. Whip to combine. Add in egg yolk, whip until just combined.
Shaping the Pastries: Prepare two sheet pans with parchment or silicone baking mats. Cut the prepared danish dough in half, keeping one half wrapped in the fridge while working. Roll the dough on a lightly floured surface to 1/4″ thick rectangle. Trim away outside 1/2″ of the rectangle and discard. Cut into 4″ squares, transfer to prepared pans, 6 squares to each pan.
Egg wash the outside edges of each square. Fold each corner into the center of the square, and press to seal.
Repeat with second pan. Cover pans loosely with plastic wrap and leave to rise in a warm spot until soft and puffy, about 1 1/2 – 2 hours. Preheat oven to 415°F towards the end of the proofing time.
Using the back of a spoon, dent the center of the squares to create a spot for the filling and replace any corners that may have popped open while proofing. Spoon a generous tablespoon of cream cheese filling into the center and spread out to a 1 1/2″ wide circle. Top with rounded teaspoon of cranberry compote.
Egg wash any exposed edges and bake for 15-17 minutes, until deep golden brown. Rotate pans for even baking as needed.
Glaze: Whisk together powdered sugar and orange juice, drizzle over cooled danishes.
---
Notes
Danishes are best served fresh. They can be stored in an airtight container for 2 days, or wrapped tightly and frozen. Refresh in 350°F for about 5 minutes.
Keywords: brunch, berries
Looking for other brunch recipes that feature yeast? Try this Cheesy Spicy Bagel too!