These Baked Strawberry Jelly Donuts are fluffy and light, packed with bright and tangy strawberry jam, and coated with a spiced sugar coating that adds an extra -oomph- to the classic flavors.
Well, hello there, my good old friend…there are few things that evoke so much nostalgia as the classic jelly donut. But here's the thing, as delicious as jelly donuts are, frying donuts is actually kind of a project. Don't get me wrong, there are days I love a project, like these Apple Cider Donuts, but maybe not every day.
Enter these baked donuts. These donuts are not only infinitely easier to make, but they are just as delicious as their fried counterparts, which makes these a perfect brunch addition.
Yeasted Dough
Donuts are not a complicated recipe, but they do require a little bit of patience because they are made with yeast, and yeast just loves to time to relax. This dough kneads (get it, kneads, dropping the puns around here) three total rests.
The first is a short 10 minute break as soon as you mix your ingredients together. This will allow the flour time to soak up all the liquid and allow time for the gluten in the flour to develop so the dough can be worked with.
Second, let your dough proof in one ball after kneading. This is called a bulk proof because it's the main rise of the dough and it's in one big bulky ball. If you have a "proof" setting on your oven, now is the perfect time to use it!
You can also let your bowl rest in a warm laundry room or your turned-off oven with just the light on. Ideally, the air temperature should be 80-85°, if possible.
Keep an eye on your dough, an hour is only a guideline, your dough should be doubled in size when you move onto the next step. If your room is a little cooler, it may take longer to proof. And conversely, if you are in a warmer environment, it may take less time.
For your third and final proof, your donuts should be all cut and shaped and ready for one last rise. Setting the tray on top of the oven while it preheats is a good spot for this. Your donuts should rise about another half as large before baking.
Kneading Donut Dough
This is the trickiest part of making donuts. Because we want a nice, light, final donut, we want to add as little flour as possible when kneading. This is a relatively sticky and wet dough, so you may want to get frustrated as you are starting out.
I find that using a plastic bench scraper is the best tool to use until you develop enough gluten that the dough becomes more manageable.
Holding the scraper in one hand, slide it halfway under the dough ball, pull out and over the top so you are creating a fold in the dough. Using your other hand, turn the dough 90° and repeat. Work quickly to avoid sticking to the board for too long.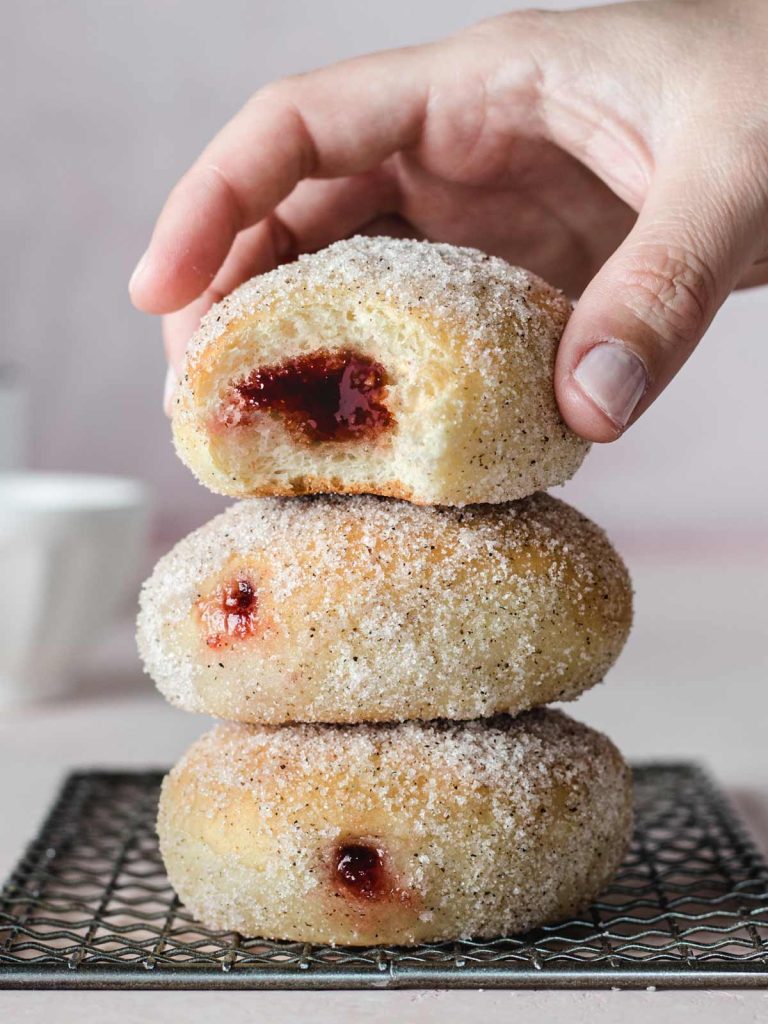 Recommended Tools
These tools are optional, but I find extremely helpful when creating this recipe
Plastic Bench Scrapers are great for working with bread. Flexible versions are the best for moving delicate doughs.
Large wooden cutting board
A Dowel Rolling Pin is my favorite pin type. It's just so much easier than anything with handles.
2.5" round cutter
Icing Bags are much easier to work with when using piping tips. You can use a ziplock bag, but the piping tips don't sit quite as well
Filling Tips are non-negotiable when filling donuts. Unless you want to slice and and sandwich the jelly, you really need invest in a filling piping tip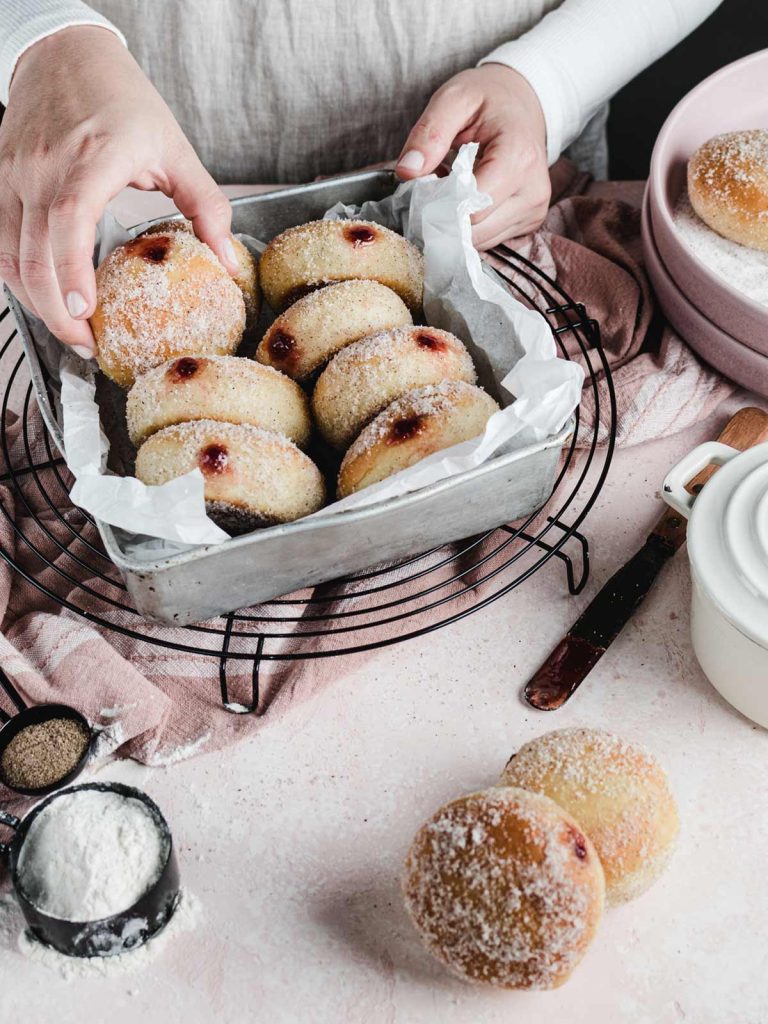 Interested in other amazing strawberry desserts? You can give these Strawberry Ice Cream Sandwich Cookies or these Strawberry Pop Tarts a try too!
Print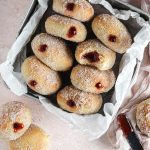 Baked Strawberry Jelly Donuts
Author:

Theresa | Quiet Baking Day

Prep Time:

50 minutes

Resting Time:

3 hours

Cook Time:

10 minutes

Total Time:

4 hours

Yield:

10 donuts

Category:

Pastries

Method:

Advanced

Cuisine:

American
---
Description
Baked Strawberry Jelly Donuts are so much easier for breakfast than having to fry donuts. And with a spiced sugar topping, they are still so special. 
---
Strawberry Jam
1

pound

strawberries, mashed (fresh or frozen)

396

g

granulated sugar

2 tablespoons

lemon juice, fresh
Donuts
240

g

all-purpose flour, + more for dusting

50

g

granulated sugar

1/2 teaspoon

salt

1

packet (7g) active dry yeast

2/3

cup

whole milk, room temperature

3

tablespoon. unsalted butter

2

egg yolks

1 teaspoon

vanilla
Cardamom Sugar Coating
1 1/2 tablespoons

unsalted butter

100

g

granulated sugar

1 1/2 teaspoons

cardamom
---
Instructions
Strawberry Jam: Make your strawberry jam ahead of time to allow time for cooling and setting before filling. Can be made days in advance.
Combine all ingredients into a heavy-bottomed saucepan.
Simmer over medium-low heat until sugar is melted and jam is reduced down, stirring often, until jam reaches 220°F, approximately 30-45 minutes. Be sure to scrape the bottom and sides well to avoid burning.
You may need to skim surface of the jam to remove any foam as necessary.
To test if jam is set, place a metal spoon in the freezer for several minutes. Once chilled, drip a small amount of jam on the spoon. If the jam does not run when touched, it is ready to go..
Allow to chill for several hours before use.
Donuts: In a large mixing bowl, whisk together flour, sugar, salt, and yeast.
Combine milk and butter in a small saucepan. Heat on low until the butter melts and the milk reaches 110°F. Remove from heat.
Add egg and vanilla to milk mixture and pour into the dry ingredients. Mix until well combined and no dry flour remains.
Cover with a clean towel and allow to rest for 10 minutes to develop the gluten.
Transfer the dough to a well floured surface and begin to knead. Dough will be quite sticky, but resist adding too much flour to avoid a tough donut. A plastic bench scraper is a great helper to lift and pick up the dough from the surface as you knead.
Continue kneading until the dough is smooth and springs back with poked, approximately 10-15 minutes, adding only as much flour as necessary.
Form dough into a ball and place in a clean bowl, cover with the towel and allow to proof in a warm, dry spot for about 1 hour, until dough has doubled in size.
Transfer dough to a lightly floured surface, and roll out 1/2″ thickness. Cut 2.5″ circles and place on a parchment lined baking sheet. Gather scraps and reroll only once for the best results.
Preheat oven to 375ºF.
Cover baking tray with towel and allow to proof for 1 hour before baking, letting the donuts proof to about 50% larger in size.
Bake for 10-12 minutes until donuts are golden brown.
While baking, melt 1.5 tablespoons of butter. Prepare cardamom sugar by mixing sugar and cardamom in separate bowl.
Immediately after removing from oven, brush warm donuts with melted butter and coat with cardamom sugar.
Once cooled completely, fill an icing bag with a round tip with strawberry jam. Poke a small hole in the side of the donuts and fill with jam. 
---
Notes
Jam can be made up to 2 weeks in advance.
Store donuts in an air-tight container
Keywords: berries, spiced, brunch