These rich, soft vanilla cupcakes are filled with creamy orange curd filling and topped with a silky, buttery orange buttercream – welcome to Creamsicle Orange Cupcakes!
There's few things in the world as childhood-memory invoking as cupcakes and Creamsicle popsicles. I know both were a staple of my summer pool parties. This ultimate mash up combines the flavors of those Creamsicles into the perfect cupcake packaging.
The Curd
Orange curd is not quite as well known as it's more popular cousin, lemon curd. However, it is still deserving of its own moment in the spotlight. The bright flavors of fresh orange juice really shine through in a perfect creamy filling for these cupcakes.
A little gelatin helps this curd set so the filling is thick and lovely without being gloopy. If you've never worked with gelatin before, it's not as intimidating as it seems. Packets can be found in the baking aisle of all the major grocery stores, and a little goes a long way.
Sprinkling the gelatin on top of the orange juice allows it to "bloom" so once heated is dissolves evenly. It's important to sprinkle evenly in a light layer, not dump the gelatin all in one spot. Otherwise, you may have some clumps that will be more difficult to whisk out later.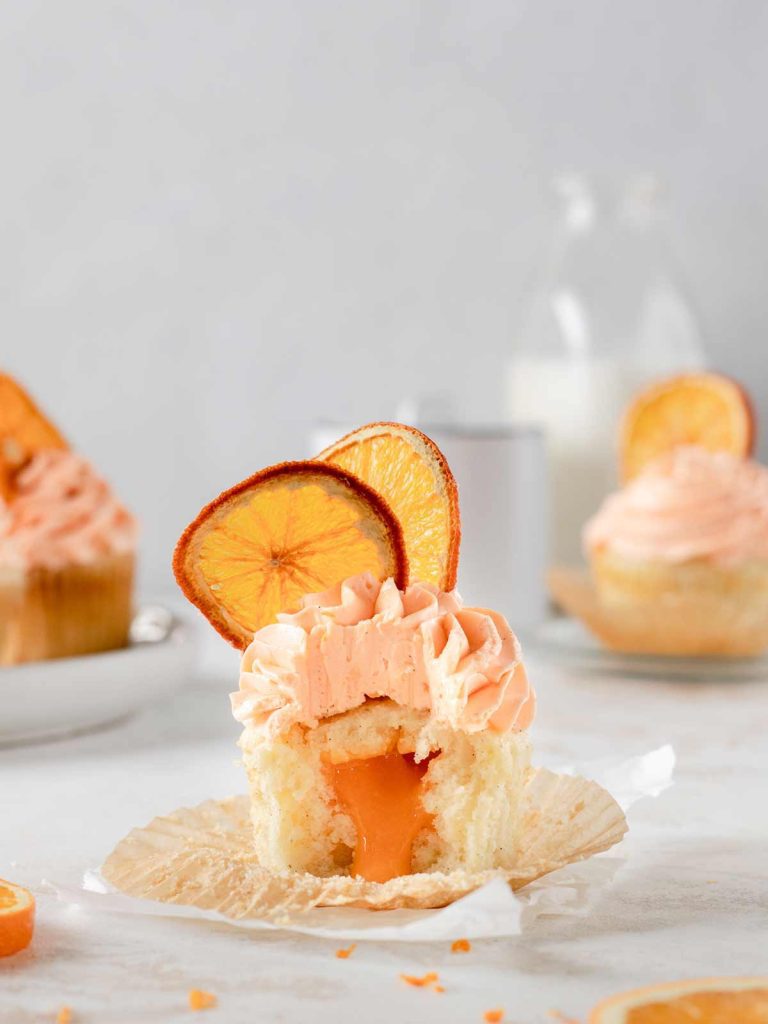 The Cake
The cupcake here is the vessel for all that lovely orange flavor. Adding sour cream and oil in this recipe helps these to be rich and moist, respectively—very important points for a cupcake. Because the main flavor here vanilla, it's not the time to skimp using imitation vanilla.
Vanilla beans can be very expensive, so I like to use vanilla bean paste. There's still the deep flavor of the vanilla bean seeds at a fraction of the cost.
Only fill the cupcake trays 2/3 of the way full so they do not overspill while baking. And the key to a moist cupcake is to not over bake. They should barely begin to brown and when you touch the top. The cake should spring back fully (if the cake remains dented, bake for another minute or two). If your oven is not the most even baker, rotate the pan halfway through baking for an even tray.
The Buttercream
There are three classic types of buttercream – American (powdered sugar and butter), Italian (egg whites cooked with a hot sugar syrup and butter) and Swiss (warmed egg whites and sugar with butter). American buttercream is the simplest buttercream, but can be overly sweet. Italian buttercream is rich and velvety, but can be difficult to work with. The goldilocks of buttercream is Swiss Meringue.
To make a Swiss Meringue Buttercream, first we need to make a Swiss Meringue. I know, I know, making an icing using egg whites is a little odd, but trust me, this silky smooth, buttery icing is worth the extra steps. First, we need to heat the egg whites so they are safe to consume.
Warming them gently over a simmering water bath transfers enough heat to your mixing bowl without actually cooking the eggs. However you must keep the egg whites moving or you will end up with an egg white scramble.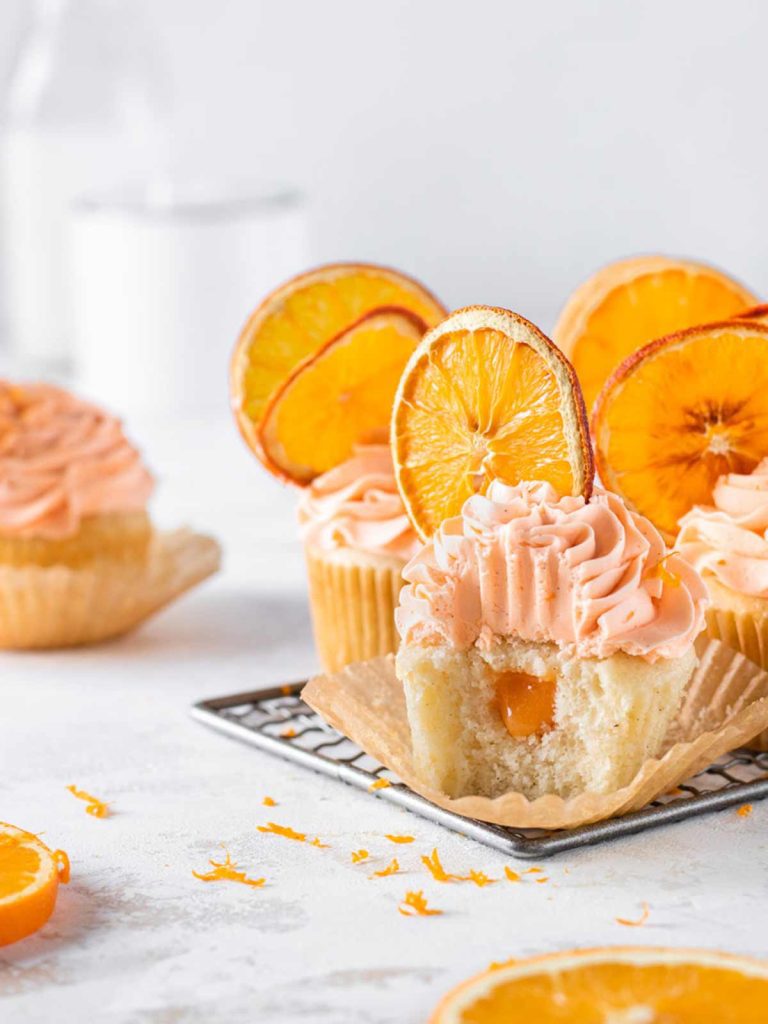 Once the egg whites are heated to safe levels, it's time to whip, whip, whip, those eggs. By the time you begin adding the butter, the egg whites should be a fluffy meringue and room temperature (or just barely above). Then it's time to whip some more. You'll see the butter begin to emulsify into the meringue – which might not look that appealing for a few minutes – then suddenly a perfect buttercream will emerge!
Spread the buttercream on with a knife or spoon, or go all out and pipe it on. A ziplock bag with a corner cut off makes a perfect substitute for a piping bag. I used a 1M Wilton piping tip for the ruffly swirls you see in the photos.
Buttercream Troubleshooting Tips
When heating the egg whites, if some bits get a little too hot and overcook, you may strain out any cooked egg whites before beginning to whip.
If, after adding the butter and letting it whip for 10-15 minutes, your buttercream has not fully emulsified, you may need to adjust the temperature:

If the mixture feels colder than room temperature, stop whipping and allow to sit on the counter for 15-20 minutes, then proceed to whip again
If the mixture feels warmer than room temperature, stop whipping and set the bowl in the fridge for 15-20 minutes, then proceed to whip again
Helpful Equipment
1M Piping Tip is the tip I used for the icing swirl
You can use a knife and cut out the center of the cupcakes, or you can amp it up a notch with a Cupcake Corer
Print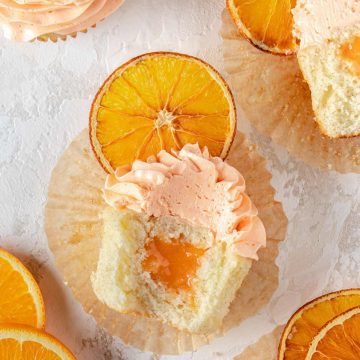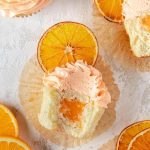 Creamsicle Orange Cupcakes
Author:

Theresa | Quiet Baking Day

Prep Time:

30 minutes

Chilling Time:

2 hours, 30 minutes

Cook Time:

40 minutes

Total Time:

3 hours, 40 minutes

Yield:

16 cupcakes

Category:

Cakes

Method:

Intermediate

Cuisine:

American
---
Description
A nostalgic summery treat gets a makeover in these Creamsicle Cupcakes. Citrus orange curd and vanilla cake are a perfect match.
---
Orange Curd
1/3

cup

orange juice (approx. 2 oranges)

1/4 teaspoon

powdered gelatin

75

g

egg yolks (4-6 eggs)

150

g

granulated sugar

4 tablespoons

unsalted butter, cubed

1/4 teaspoon

salt
Vanilla Cupcakes
240

g

cake flour

1 3/4 teaspoons

baking powder

1/2 teaspoon

salt

113

g

unsalted butter, room temperature

248

g

granulated sugar

1/4

cup

canola or vegetable oil

3

eggs, room temperature

2 teaspoons

vanilla bean paste

1/2

cup

whole milk, room temperature

113

g

sour cream, room temperature
Orange Swiss Meringue Buttercream
2/3

cup

egg whites

, room temperature

297

g

granulated sugar

452

g

unsalted butter, cubed

, room temperature

2 teaspoons

vanilla bean paste

1 teaspoon

orange extract
Zest of 2 oranges

1 teaspoon

salt
---
Instructions
Orange Curd: Begin by making the orange curd, reserving egg whites and orange zest for the buttercream.
Sprinkle powdered gelatin over orange juice and let sit for 3-5 minutes.
Meanwhile, in small saucepan, combine egg yolks, sugar and butter. Heat over low heat until fully melted, whisking constantly.
Pour in orange juice, continue whisking over low heat until curd is thickened and has reached 195°F.
Strain into a bowl and stir in salt.
Let chill in refrigerator for at least two hours, until mixture has thickened.
Vanilla Cupcakes: Preheat oven to 350°F. Prepare two cupcake tins with 16 cupcake liners.
Sift together cake flour, baking powder and salt. Set aside.
In bowl of a mixer, cream together butter and sugar on medium-high speed until mixture is light and fluffy, approximately 5-6 minutes.
Add oil and mix until thoroughly combined.
Add eggs one at a time on medium-low, mixing completely after each addition, scraping down the sides of the bowl as needed.
Add vanilla bean paste.
Alternating dry ingredients and milk, add 1/3 of the flour mixture on low. Once combined, add half the milk. Repeat until all ingredients are added, scraping down the sides of the bowl as needed.
Slowly stir in the sour cream.
Scoop batter into prepared cupcake tins, filling liners 2/3 full.
Bake until cupcakes spring back to the touch, 18-22 minutes.
Orange Swiss Meringue Buttercream: In the bowl of a stand mixer, combine egg whites and sugar.
Place mixing bowl over a small pot of simmering water to slowly heat the egg whites.
Whisk constantly until the sugar is melted and egg whites reach 160°F.
Transfer mixing bowl to mixer. Whip on high until meringue forms and cools to room temperature.
Once cooled, reduce speed to low and add cubes of butter slowly. After all of the butter is added, return speed to high and continue whipping until butter is fully incorporated and buttercream is a light and silky texture. Do not be worried if the mixture appears to be curdled, this is part of the emulsifying process! This may take 10 minutes or so. (See recipe details above for troubleshooting if necessary.)
Add vanilla paste, orange extract and zest, and salt, mix until combined.
Cupcake Assembly: Once cupcakes are cooled, and the orange curd is thoroughly chilled begin assembly.
Using a sharp knife or cupcake corer, remove the center of the cupcakes. Do not cut through to the bottom. Reserve centers.
Fill cupcakes with approximate 1 tsp. of orange curd. If desired, take reserved center of cupcakes, slice 1/4″ piece and replace on top.
Top with buttercream.
Optional: To make dehydrated orange slices: Slice oranges 1/8″ thick and place on wire rack on baking sheet and bake at 170°F for 6-8 hours, turning occasionally. (These can be made in advance and stored in an airtight container!)
---
Notes
Store in an airtight container for up to three days in fridge. Best to allow to sit at room temperature 20-30 minutes to soften the buttercream slightly before eating.
Looking for Other Citrus Desserts?
If you are a lover of all things citrus, make sure to check out this other recipes!