With a nutty cake base and a tangy cinnamon cream cheese icing, this Pistachio Cake is a real showstopper of a cake!
I have a serious passion for all things pistachio. If it's a flavor option on the board, it's the first thing I will pick, always. It has such a nutty unique flavor that I just adore. This cake really honors the humble pistachio. Three lovely moist layers of pistachio cake are paired with a subtly spiced cream cheese buttercream. I love this cake so much I made it for my last birthday.
Working with Nutty Cakes
Nutty cakes, like this pistachio cake are just a little different than a traditional cake. The process is different than simply adding chopped pistachios to a cake batter. We are actually going to replace some of the flour with our homemade "pistachio" flour.
Because the nuts contain more fat naturally than flour, we also need to adjust the butter, oil, and egg contains to balance out the final texture to get a nice moist fluffy cake, and not a dense claggy cake.
Pistachio flour isn't available on the grocery shelves like almond flour, and it's a crying shame! So, we'll just make our own! I use pre-shelled nuts (because who has the time) and I typically look for an unsalted option when I can find one.
I give the pistachios a quick toast in the oven to really bring out the flavor. Keep a close eye on the oven because nuts can go from lovely and toasted to burnt and sad very quickly. Once you start to smell the fragrance, you are good to go. Transfer the toasted pistachios to a food processor or blender and grind them into pretty fine powder.
I admit that I like to leave a few larger bits throughout for the texture. If you prefer a smoother cake, you can sift out any larger pieces. You just want to be sure you don't *over* blend and end up with a pistachio paste. While delicious (and the base for my pistachio gelato milkshakes) it's not what we want for our cake today.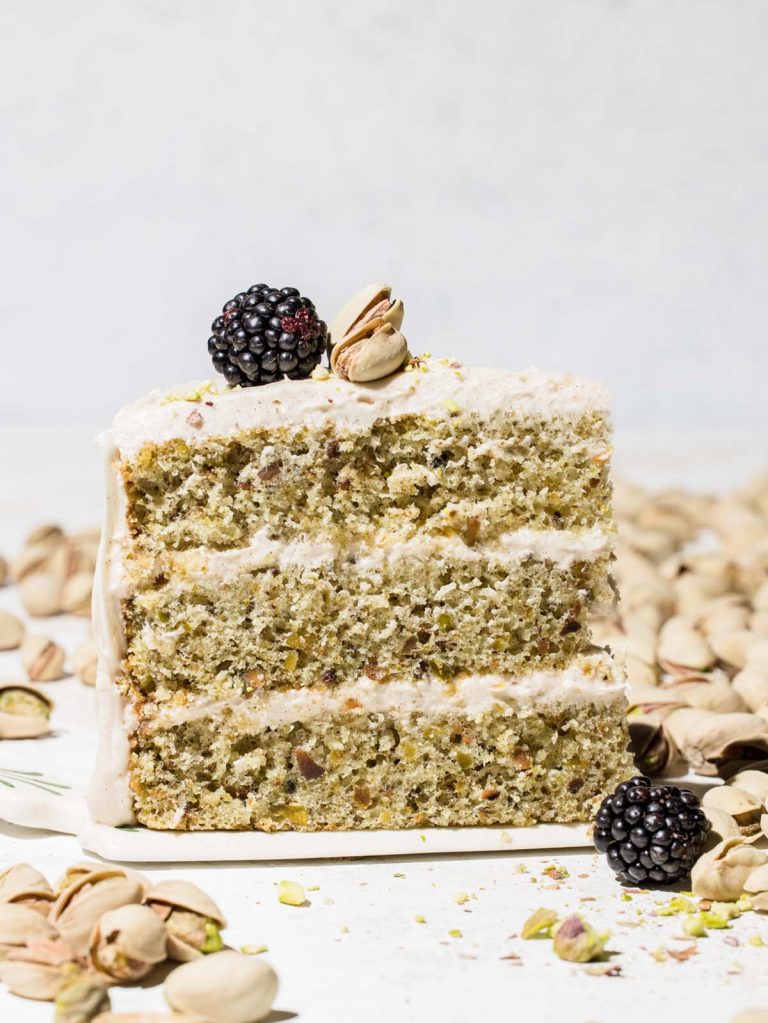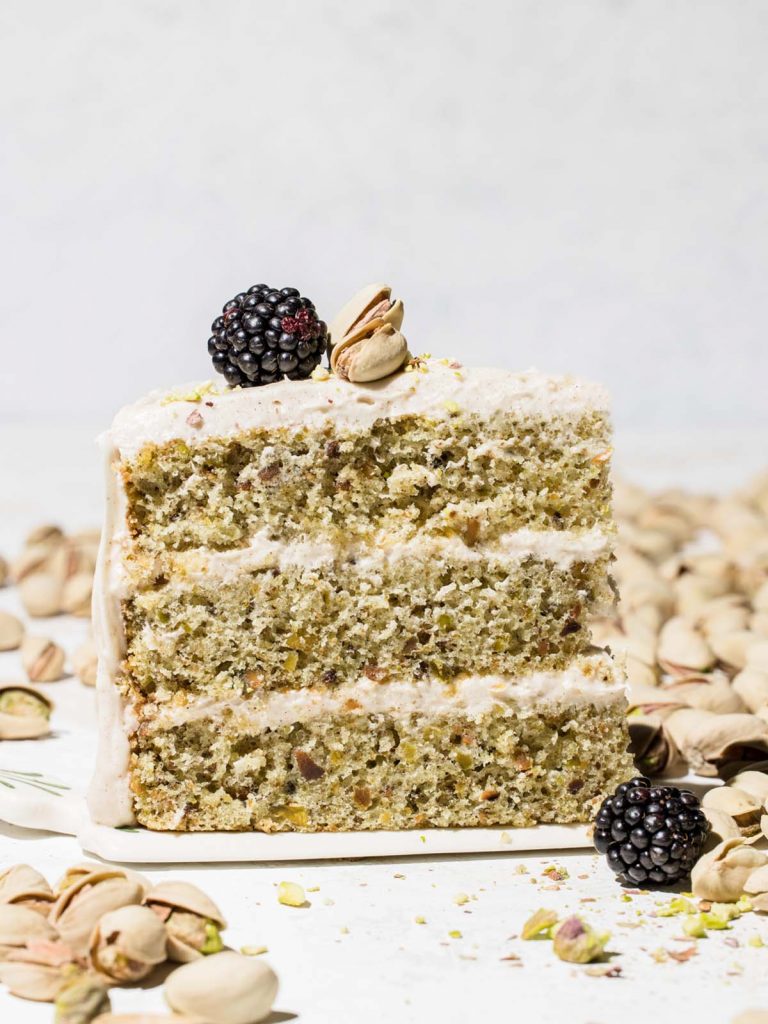 Making the Pistachio Cake
From here on out, the rest of the cake is made in the same process as a standard cake batter. Add your pistachios to your sifted dry ingredients. Meanwhile, really whip together the butter and sugar until you have a light and fluffy mixture.
It's important to give this the proper time to really whip to a lighter mixture for a lighter cake, so give it the full 5-7 minutes. Next add in the oil and combine well. I always use a combination of butter and oil in my cakes to balance the flavor of the butter and the moisture of the oil for a winning final result.
Slowly add your eggs in as well as your extracts. I have a bit of almond extract just to bring out the nutty flavor a bit stronger. Not too much is needed because the pistachios are already very flavorful. I also added a few drops of green food coloring at this point.
This is completely optional for aesthetics. I used about 4 drops of the little green squeeze bottles you can get at the store, nothing special. If you are using the food coloring, start with 1 or 2 drops and see how the mixture looks. I was just going for a light tinge of green, not Christmas tree green. When we add the pistachios it will also add green coloring, we're just helping it along.
Now, mix in your dry and wet ingredients in the classic cake process. On low, add 1/3 of your dry mixture. Once it's almost combined, add 1/2 of your milk. Repeat, alternating dry – wet – dry until you have just a few streaks of flour left. From here, I remove from the mixer and complete that last of the mixing by hand. This process ensures that everything gets incorporated evenly while avoiding over-mixing to a tough batter.
Separate into 3 cake pans and bake until a toothpick comes out cleanly, or if you touch the top the cake springs back. While baking, make the icing!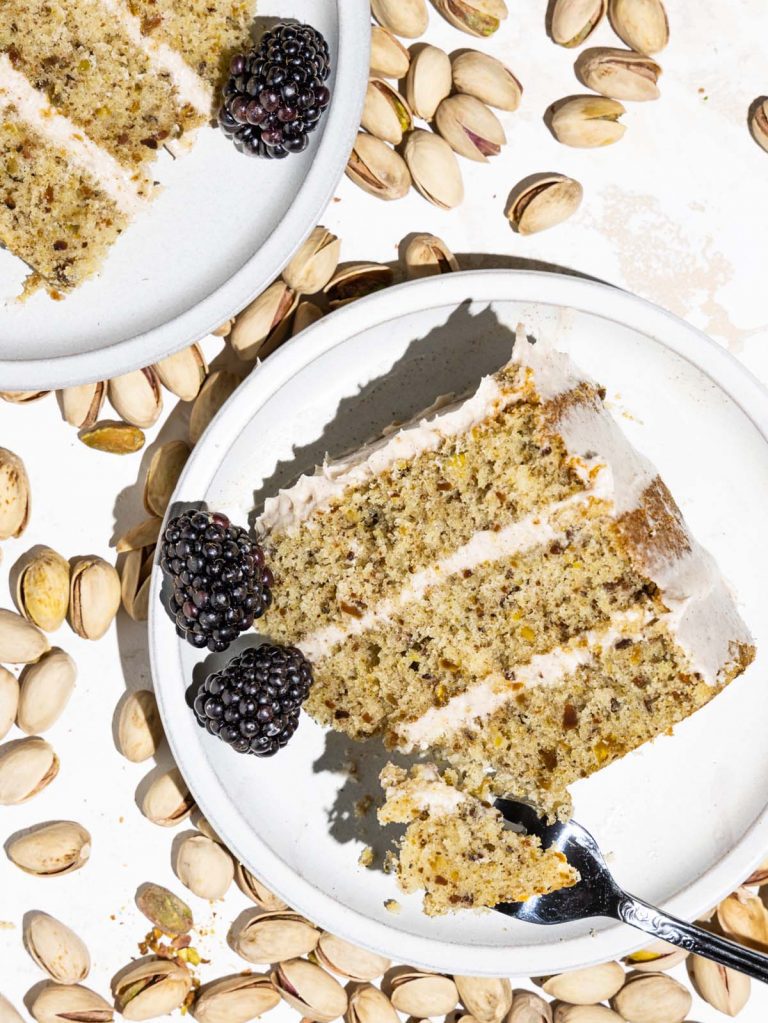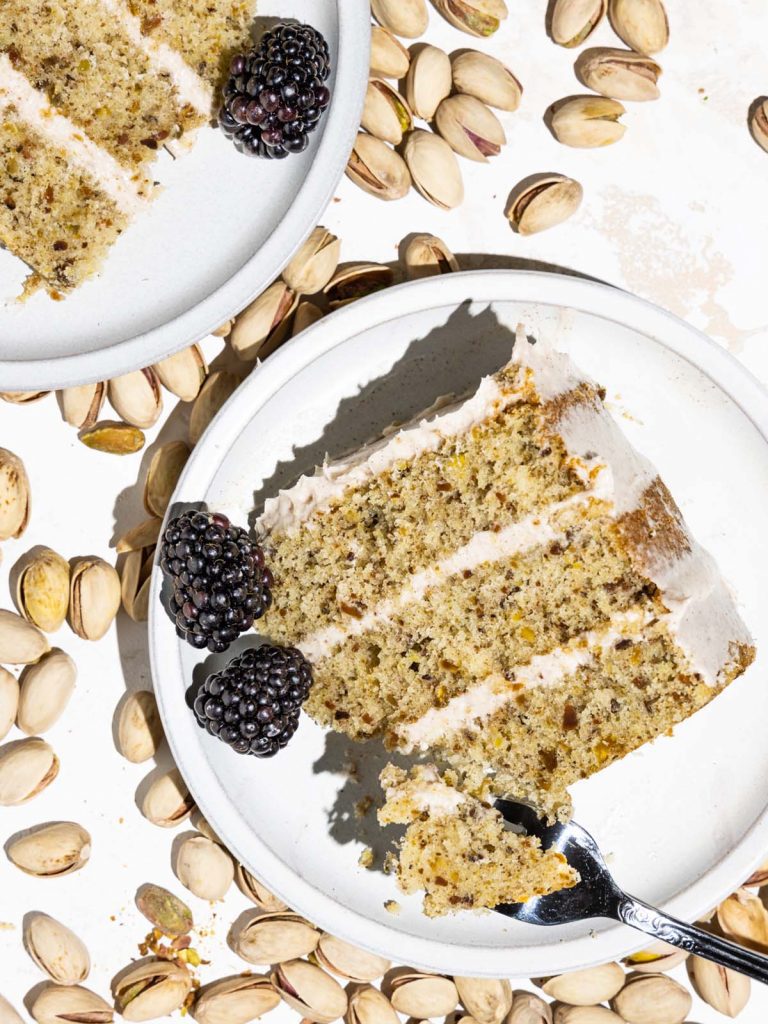 Cinnamon Cream Cheese Icing
This is a very quick, but deliciously flavorful icing. The most important part is to make sure your cream cheese and butter are at room temperature before starting, and that you sift your powdered sugar to remove any clumps so you don't get a grainy icing.
Whip your cream cheese and butter with the paddle attachment until they are nicely softened. Pro tip: use the cheap cream cheese. The good *extra* creamy brands are deliciously, but they are extra creamy due to extra liquid. And extra liquid makes for a wet icing. So use the cheaper store brand.
From here, add your powdered sugar, slowly to avoid a Scarface recreation. As well as the cinnamon. Cinnamon is just a winning flavor combo with pistachios. Along with the tangy cream cheese, this will perfectly balance with our cake.
I added about 1 1/2 tbsp. of milk, but use your preference. If you prefer a more stiff icing, you can omit completely.
This recipe makes enough to fill the layer and cover the sides of the cake. I ended up leaving this to be a semi-naked cake because I liked the pop of layers just peaking through.
Garnish with your preference! I used some extra pistachios and blackberries on top. But have fun with it! There are no rules to cake decorating.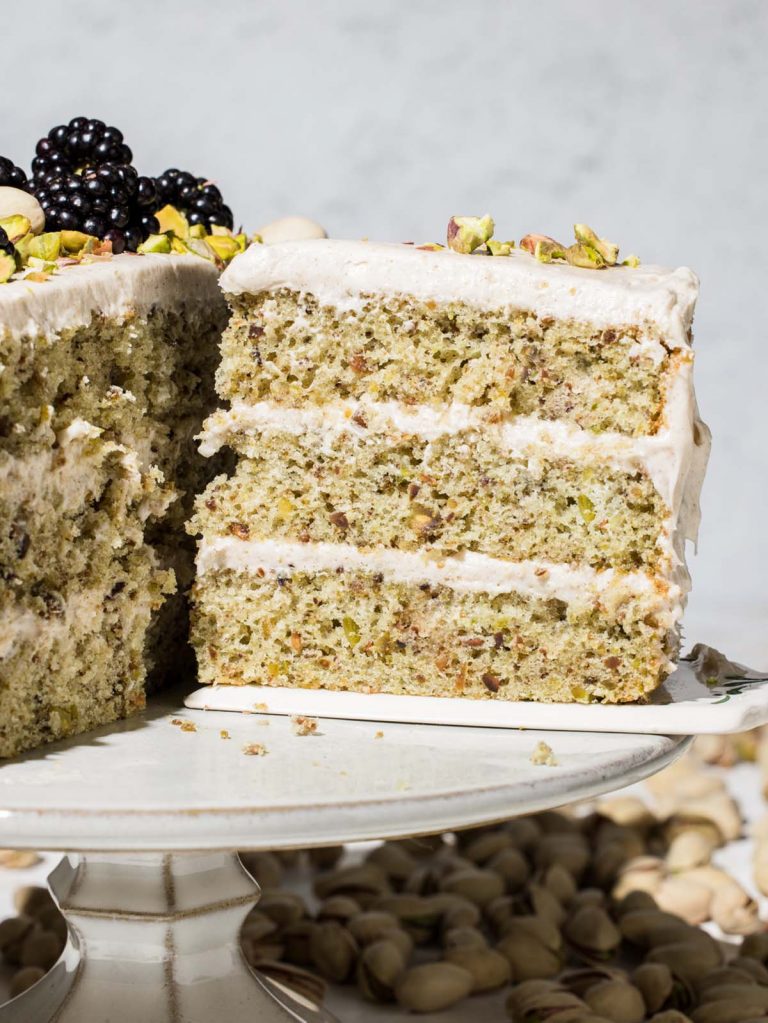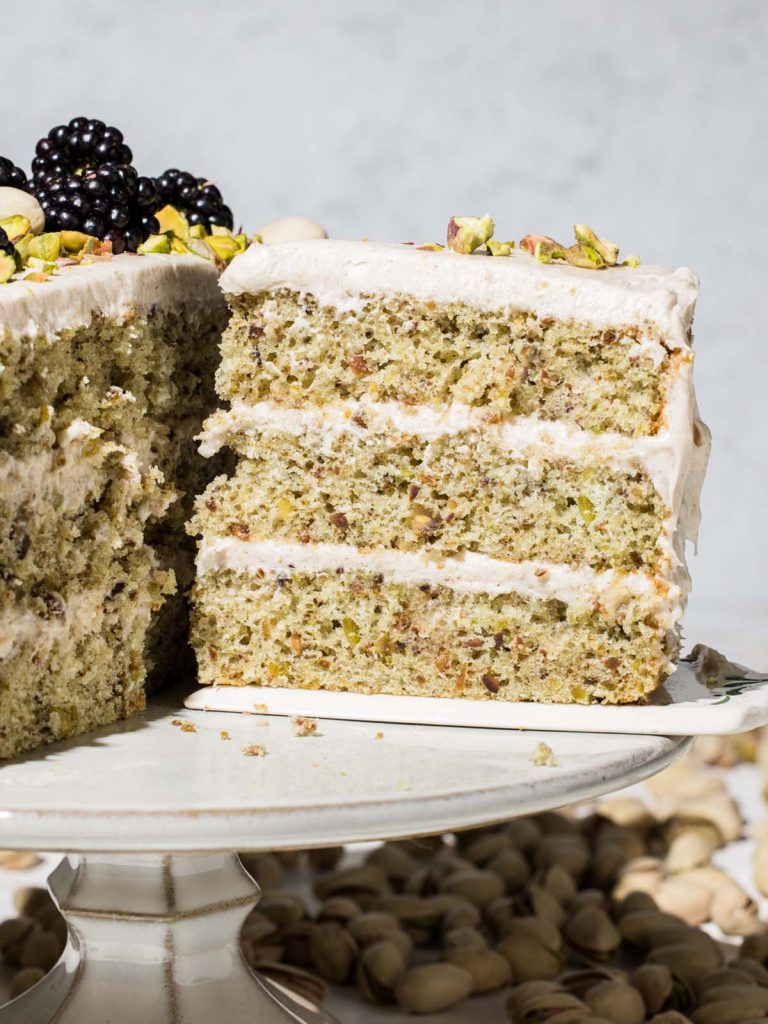 Looking for Other Pistachio Desserts?
Print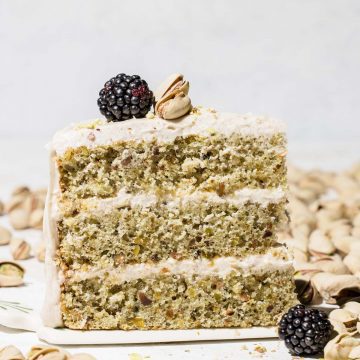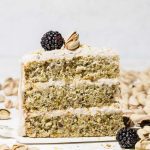 Pistachio Cake with Cinnamon Icing
Author:

Theresa | Quiet Baking Day

Prep Time:

25 minutes

Cook Time:

25 minutes

Total Time:

50 minutes

Yield:

12 slices

Category:

Cakes

Method:

Easy

Cuisine:

American
---
Description
My pistachio cake with nutty cake layer, paired with a cinnamon cream cheese icing, is sure to be a crowd pleasing cake!
---
Pistachio Cake
250g

pistachios, shelled

300g

cake flour

2 1/2 teaspoons

baking powder

1/2

teaspoon

baking soda

1 teaspoon

salt

1

teaspoon

cinnamon

113g

unsalted butter, room temperature

350g

granulated sugar

1/4 cup

canola or vegetable oil

3

eggs, room temperature

2

egg whites, room temperature

1 tablespoon

vanilla extract

2

teaspoons

almond extract

1 cup

whole milk, room temperature

55g

sour cream, room temperature

Green food coloring (optional)
Cinnamon Icing
500g

cream cheese (2 blocks), room temperature

113g

unsalted butter, room temperature

480g

powdered sugar, sifted

2

teaspoons

cinnamon


1

teaspoon

salt

2 teaspoons

vanilla

1

–

2

tablespoons

milk
---
Instructions
Preheat oven to 250°F. Place pistachios in a single layer on a baking sheet, and toast until fragrant, about 10 minutes.
Pistachio cake: Turn oven temperature up to 350°F. Grease and line 3-8″ cake tins.
Grind pistachios into a powder (not a paste). Measure out 1 1/2 c. (165g) of ground pistachios. Set any remaining aside for garnish.
Sift together dry ingredients — flour, baking powder, baking soda, salt and cinnamon — then stir in 1 1/2 c. of pistachios in a medium bowl.
In the bowl of a stand mixer, mix together butter and sugar on high until mixture is light and fluffy, about 5-7 minutes, scraping down sides of bowl as necessary.
Add in oil and thoroughly mix for one minute. Add eggs in one at a time on low speed. Add vanilla and almond extracts and 2-3 drops of food coloring if using.
Alternating dry-wet-dry-wet-dry ingredients, slowly add in 1/3 of the dry mixture. Once almost fully mixed, add 1/2 of the milk. Repeat until all flour and milk is nearly incorporated.
With a rubber spatula, stir in sour cream and incorporate any remaining streaks of flour.
Divide between the cake tins, bake for 23-27 minutes until a toothpick comes out clean and cakes spring back to the touch.
Cinnamon Icing: In the bowl of a stand mixer, beat cream cheese and butter with paddle until softened, about 5 minutes, scraping down bowl as needed.
Slowly add powdered sugar and salt.
Add vanilla and milk depending on preferred thinness of icing.
Assembly: Trim top of cakes if desired, spread icing evenly throughout each layer. Top with pistachios, blackberries, raspberries, white chocolate chips etc.
---
Notes
Cake layers can be prepared a day in advance and wrapped in plastic wrap in the fridge. Or freeze for up to 3 months.
Store leftover cake covered in the fridge for up to 3 days.
Keywords: nutty, spiced, layer cake