This Pistachio White Chocolate Bark is a great combination of roasted pistachio, strawberry and white chocolate. With a quick chocolate tempering guide and no need for a mixer, this comes together in a snap and looks beautiful to boot!
Welcome to the perfect quick and thoughtful gift! Pistachio white chocolate bark is not only stunning to look at, but it's also delicious and while this is one version, the options are truly endless. Our version today uses roasted pistachios and dried strawberries.
Quick Tempering Chocolate
Tempering chocolate frankly gives me flashbacks to culinary school, when a very, let's say, particular chef and teacher, demanded nothing but the perfect temper. He could back it up with some mad skills (I've never seen anyone else who can identify the exact temperature of chocolate down to the degree just by a touch to the skin) but chocolate was never my strong suit.
I usually ended up wearing more chocolate than made it to the trays. Eventually I got the hang of things, but traditional tempering still a bit of a process to be honest. That's why we're going to give this pistachio white chocolate bark a bit of a cheat tempering. It falls into that pretty darn good category.
Ok, but wait, what exactly is tempering? I go into full detail on my How to Temper Chocolate post, but the short answer is: You know when you get a chocolate bar, and it's super shiny and has the *snap* when you break off a piece? That's tempered chocolate.
Now think about the last time you melted and cooled some chocolate. It was kinda soft and melted in your fingers, right? That's an untempered chocolate. Tempering chocolate is a process of heating and cooling the chocolate to very precise temperatures that will set the crystal structure of the chocolate into that shiny, snappy chocolate.
For our purposes, we're going to use a 2-step "seeding" process. Seeding means we're going to heat 3/4 of our chocolate to a certain temperature, then "seed" in the remaining 1/4 chocolate to quickly cool to our temperature.
To do this, place your 3/4 of chocolate in a double boiler and heat to 110°F while slowly stirring. A double boiler means you set a heat proof over a slightly smaller pot of barely simmering water. This will slowly heat the chocolate without any direct heat that can burn the chocolate quickly.
Once your chocolate reaches 110°F, quickly remove from the heat and pour in the remaining 1/4 of chocolate. Keep stirring until the chocolate reaches 87°F then pour on to a sheet of wax paper or silicone. Work quickly to add your toppings, because tempered chocolate cools QUICK! That's our goal, anyway!
Chocolate not setting that quickly or snappy? It's truly not the end of the world, your end chocolate might be a little softer, there's no reason to stress. I'm not that chef teacher, you will not be graded!
Note: these temperatures only work for white chocolate. Dark or milk chocolate has different temperature requirements to achieve a temper. For a full chart, see my post, How to Temper Chocolate
Other Flavor Combinations
Pistachio and strawberry is one classic flavor combination, but like I said, the options are limitless. White chocolate is very sweet on it's own, so I like to use something a little salty to balance it, but there's nothing stopping you from going all in on the sweet.
Some options might be:
Pretzels and dark chocolate
Your favorite candy pieces
Any dried fruits and nuts
Unsweetened corn flakes (trust, it's like the center of a kit-kat. You can call it feuilletine which is the fancy french term)
Peppermint
Matcha
Helpful Tools
Silicone Baking Mats are perfect for working with chocolate.
Thermometer for checking exact temperatures. You can get pricey ones, or start with a less expensive option. If you go with the latter, I suggest making sure you check it's temperature before using. Either test boiling water to reach 212°F or icy water to reach 32°F. Adjust accordingly if it's not reading the right temperatures.
Print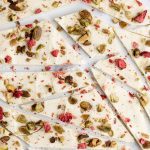 Pistachio White Chocolate Bark
Author:

Theresa | Quiet Baking Day

Prep Time:

5 minutes

Cook Time:

5 minutes

Total Time:

10 minutes

Yield:

1 lb bark

Category:

Desserts

Method:

Easy

Cuisine:

American
---
Description
Pistachio white chocolate bark was made for gift giving. With pops of dried strawberry and roasted pistachio, it's a stunner!
---
1

lb

. of quality white chocolate bars (not chips), finely chopped

1/4

cup

chopped pistachios

1 tablespoon

crushed dried strawberries
---
Instructions
Preheat oven to 350°F. Spread pistachios in an even layer on a baking tray, roast for 5 minutes until you just smell the pistachios
Prepare your space for your tempered chocolate, because it will set quickly once tempered. Have a silicone baking sheet or sheet of wax paper on the counter. Gather your chopped pistachios and crushed strawberries, along with an offset spatula or knife to smooth out poured chocolate.
Separate the chocolate, placing 3/4 of the chocolate in a heat proof, and keeping 1/4 of the chocolate in a separate bowl.
Place a pan of water on the stove top, bring the water to just barely simmering, and set the heat proof bowl with 3/4 of the chocolate on top. Ensure the bowl is not touching the water. Stir softly until the chocolate reaches 110°F.
Remove bowl from the heat and immediately pour in the remaining 1/4 of the chocolate. Keep stirring until the temperature reaches 87°F.
Pour the white chocolate on top your prepared silicone mat or wax paper. Smooth into a rectangle roughly 8″ x 12″. Sprinkle quickly with pistachios and strawberries. Press lightly in the chocolate.
Leave to set on the counter, chocolate should set quickly. After 1-2 hours slice or break into desired shapes.
---
Notes
Store in air-tight container