These chewy Pistachio & White Chocolate Chip Cookies are not only a quick mixer-free cookie, but they are sure to be a crowd pleaser. Pistachios are offset by the sweet chunks of white chocolate throughout the cookie. Plus, with a brown butter base, the nutty flavor goes throughout this hefty cookie.
A Brown Butter Base
Typically, cookies are made with softened butter that is creamed together with sugar. It's how I make my classic Chocolate Chunk Cookies. But in this case, we're going to make a brown butter cookie base that is stirred into the sugars.
The end result will not only have a nutty flavor from the browned butter, but the cookies will be nice and hearty and chewy. I personally like a cookie you can sink your teeth into, this base it just that.
To make brown butter, we are basically going to toast the butter. Add your butter to a small saucepan and set it over medium-low heat. Keep the butter stirring and swirling. You will notice that the butter first crackles and simmers.
That's the water in the butter boiling. Next, it will get a little foamy, then you will start to smell a nutty aroma as the butter "toasts" or browns and see like brown flecks appear. Because of this, I like to use a lighter color pan to see the color of the butter.
You want to stop when you see light brown flecks appear, but not blackened bits. If it's blackened, it's burnt and will bring a bitter flavor to the cookies. Once the butter just smells nicely nutty and the brown flecks appear, remove the pan from the heat and pour the butter into your mixing bowl to cool quicker.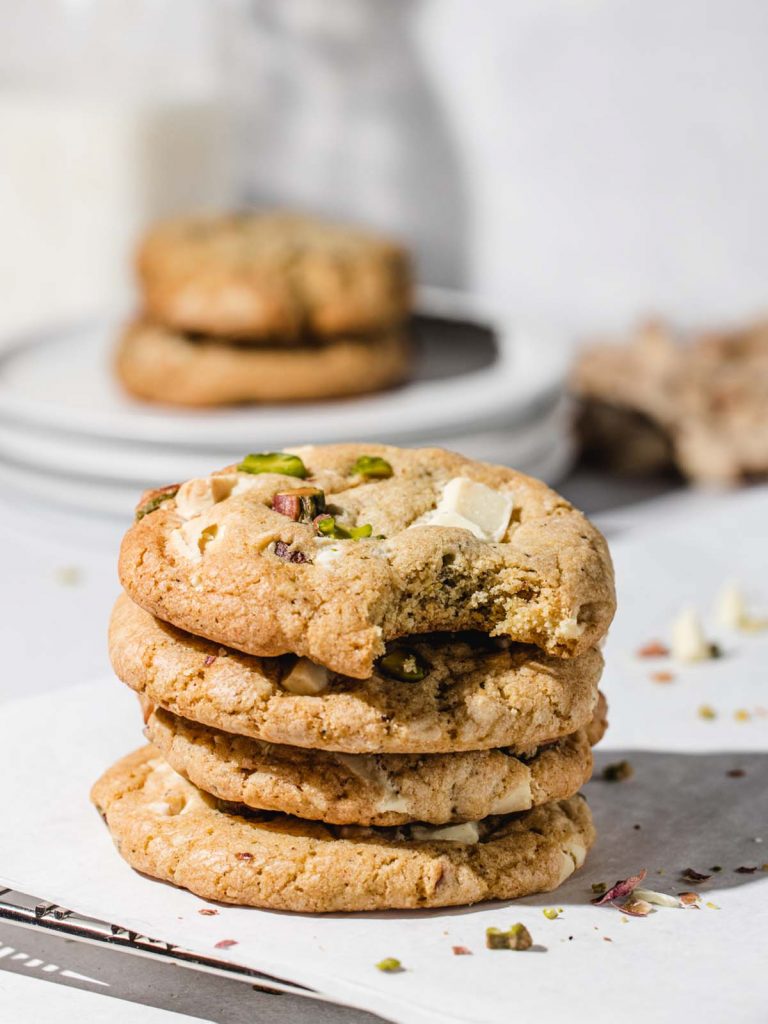 Making the Cookies
While your butter is browning, place your chopped pistachios into a preheated oven for about 10 minutes. This will help to bring out the nuttiness here as well. If we're going to make a nutty cookies, we're going to do it right!
Both the brown butter and pistachios should take about 10 minutes to toast, so you will have a little upfront prep effort, but the rest is smooth sailing. No mixer needed!
Now that you have cooled brown butter, and roasted pistachios, you are ready to make some cookie dough and it comes together quickly.
Whisk the sugars into the butter. Add the eggs and vanilla. Switch to a rubber spatula and stir in the dry ingredients, nuts and chocolate chip or chunks. I prefer to chop up baking bars of chocolate for cookies because I like the texture in cookies, but it's completely your preference!
Pro tip: If you like the way photogenic cookies look with all the toppings sitting nicely on top, here's how. Keep a small amount of your nuts and white chocolate off to the side as you are making the dough. Once you have your cookies scooped out, strategically place the extra pistachios and white chocolate on the top of the scoops before baking. This will keep those ingredients front and center as they bake! Fiddly and 110% optional!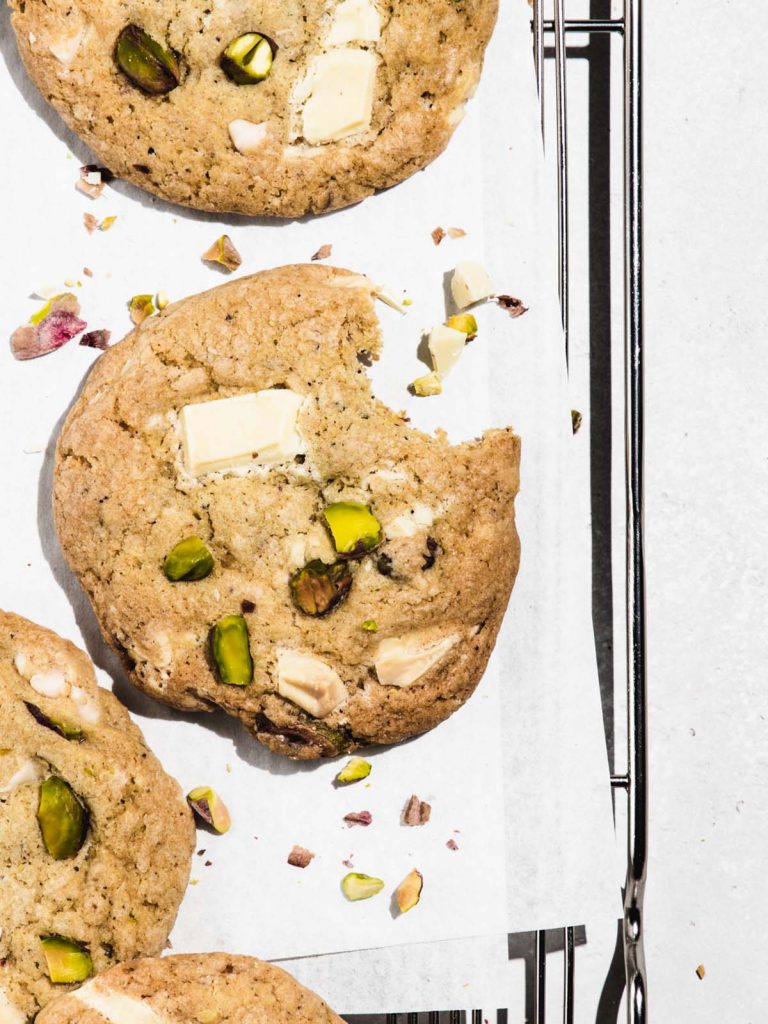 Scooping and Baking
I used the term "hefty" for these cookies and I wasn't lying. Using an ice cream scoop, scoop big portions of the cookies onto a baking sheet. Roll the cookies together, then flatten them into a disc.
These cookies do not spread much in the oven. That's going to give us that chewiness in the center. Spread your chilled cookie dough out onto 3 baking sheets and bake for 17-19 minutes. Until the edges are just starting to brown, but the inside is still soft.
I always like to bake one tray at a time, I just find better results, but if you are baking multiple sheets at once, be sure to flip and turn your pans midway through baking for even browning.
These cookies make a great Christmas option. Check out some others like these Chewy Chocolate Crinkle Cookies or Pistachio and White Chocolate Bark with Strawberries.
Print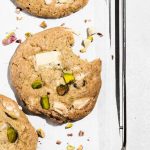 Pistachio & White Chocolate Chip Cookies
Author:

Theresa | Quiet Baking Day

Prep Time:

15 minutes

Cook Time:

19 minutes

Total Time:

34 minutes

Yield:

15 cookies

Category:

Cookies

Method:

Easy

Cuisine:

American
---
Description
With a nutty brown butter base, these pistachio and white chocolate chip cookies have a deep flavor with a soft and chewy center.
---
170

g

unsalted butter, chopped

100

g

(3/4 cup) pistachios, roasted and salted, unshelled

300

g

all-purpose flour

1 teaspoon

baking powder

1/2 teaspoon

baking soda

1/2 teaspoon

salt

159

g

light brown sugar

50

g

granulated sugar

2

large eggs

1 teaspoon

vanilla extract

170

g

(1 1/4 cup) chopped white chocolate or chips
---
Instructions
Preheat oven to 350°F.
Place butter in a small, light colored saucepan and set oven medium-low heat. Stirring or swirling constantly, brown the butter until you smell a nutty aroma and see light brown flecks appear. Butter will crackle and froth as it toasts, continue to stir. Remove from the heat once brown flecks appear and pour into a large mixing bowl. Set aside to cool, about 10 minutes.
While browning butter, place pistachios in a pan and toast for 10 minutes, until they are fragrant. Coarsely chop and set aside.
In a separate bowl, whisk together flour, baking powder, baking soda and salt.
Once butter is cool to the touch, whisk in both sugars. Then add eggs and vanilla.
Stir in flour mixture using a rubber spatula, then chopped pistachios and white chocolate.
Using an ice cream scoop, scoop 15 cookies. Roll the scoops slightly in your hands then flatten into a disc shape on 3 baking sheets topped with parchment paper.
Bake 17-19 minutes at 350°F, until edges are lightly browned and the center is soft.
Wait 5 minutes before transferring to a cooling rack.
---
Notes
To make smaller cookies, use a traditional 1.5 tablespoon cookie scoop. Bake 10-12 minutes. Makes 30 smaller cookies.
Cookie dough can be wrapped and chilled for up to 3 days before baking. 
Store baked cookies in an airtight container.
Keywords: nutty, chocolate, mixer-free