Focaccia bread is one of those tried and true classics that will always be a crowd pleaser. This Rosemary Focaccia Bread is has a rosemary infused olive oil and a little orange zest adds a little extra something on it's own, but the individual size of these is both too stinking cute and a dinner party showstopper.
It's not a secret that I love bread. Like all bread. Like Oprah Winfrey-level love bread. You'll find several bread recipes around here like this Easy No-Knead Olive Bread or Cheesy Braided Pesto Bread. But I always have a special place in my heart for focaccia bread. It's fabulous as a side or a starter, and great dipped in marinara sauce. In fact, this recipe was inspired by a focaccia starter served at a local restaurant in Charleston, SC, that serves theirs with a marinara and whipped ricotta dip. It's fabulous.
Making Focaccia Bread
Classic focaccia bread celebrates the wonderous Italian food group of olive oil. Use a flavorful brand here, this is no time to skimp of the cheapy stuff, we really want a deep rich flavor to the dough. But you don't necessarily need an extra-virgin olive oil.
Extra-virgin olive oil means the oil hasn't been heated during its creation. Because we're most definitely going to heat our oil, there's no need to spend extra money where it's not needed.
Literally the first thing we're going to do is heat the olive oil with a few sprigs of rosemary and orange zest and allow it to simmer for about 10 minutes. This way we have all the amazing flavors of rosemary and orange throughout the dough.
Fresh rosemary can be a little woodsy in texture, and adding orange zest to the dough can slow down the yeast, but we've avoided those concerns with our infused olive oil. After simmering, give the oil a quick strain and allow it to cool.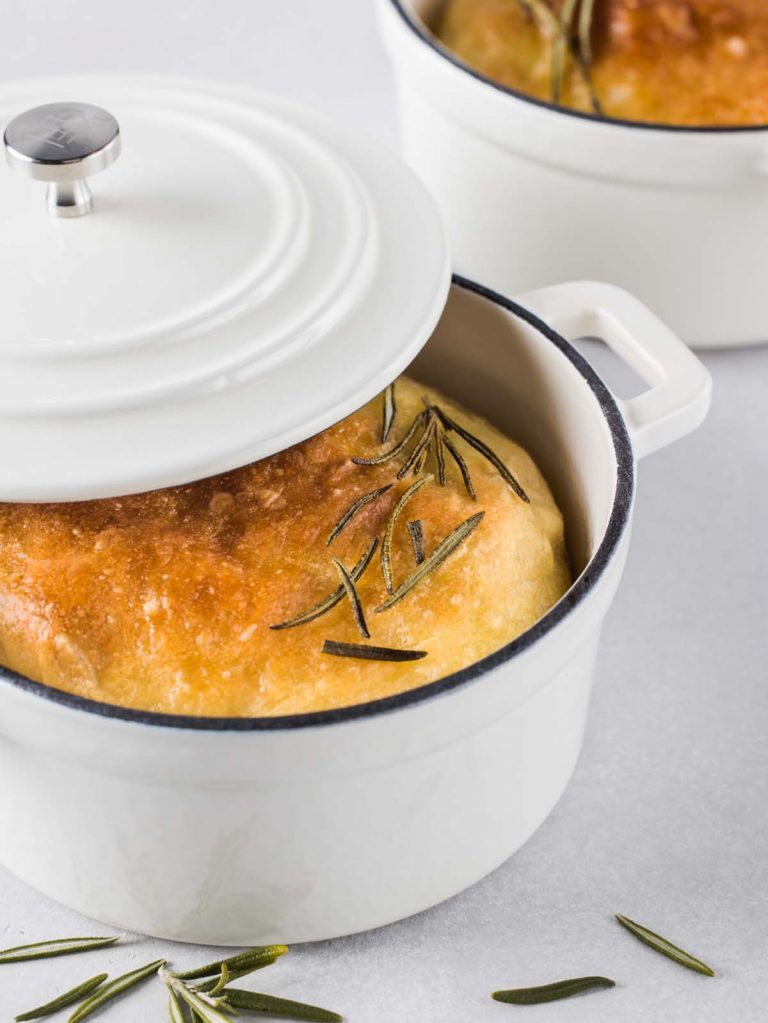 Working with the Dough
Now that we have our super flavorful infused olive oil, we're ready to use it throughout our dough! Focaccia dough is characteristically a wet bread dough. The wetter the dough, the lighter and airier the final result will be. When you think of a really soft breads with lots of bubbles, you are probably starting with a dough like this one.
First, we're going to give all the dough ingredients a good mix with a mixer and a dough hook, mostly to combine. Transfer to a greased bowl, cover with a loose towel and allow to rest for 20 minutes. This is going to help make the dough easier to handle because you can see it's a very loose dough.
After 20 minutes, we're going to do our first stretch and fold. Instead of a traditional knead to build gluten structure, we're going to stretch and fold. I think you can see why traditional kneading won't work for these, it would be a soupy mess and you'd have to add so much flour, you'd lose all that lovely airiness.
"Stretch and Fold" is just what it sounds like. Grab your bowl of dough. Pinch one side of the dough, about way half in, stretch it out, away from the dough as far as possible, and fold it in to the middle. Rotate the bowl 90° and repeat until you've stretched and folded all four sides. Cover and rest for 20 minutes and repeat the whole stretching and folding process once again.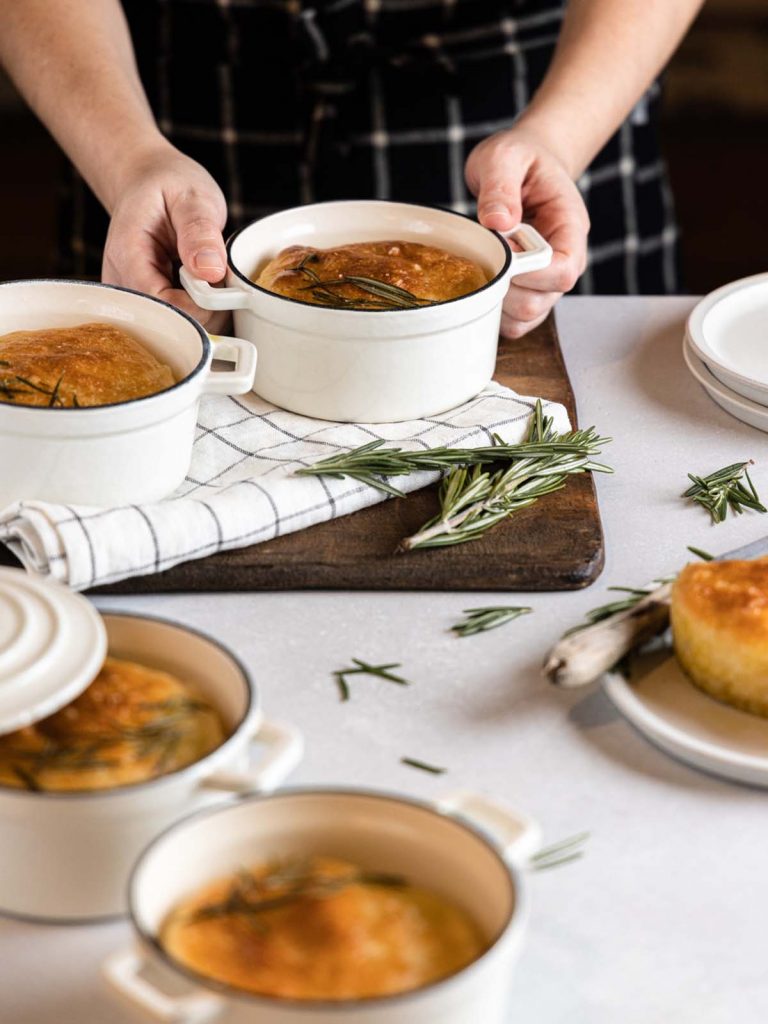 Shaping the Focaccia
After your last "stretch and fold" you should notice that your dough has a bit more structure to it. It won't be a stiff dough ball, but it should be workable. I decided to bake individual breads for this one, this was inspired by a favorite local restaurant, and really just too adorable to pass up.
So I'm using 6 cocotte sized dutch ovens, about 4″ wide. You can also use a square 9″x9″ pan if you don't want the hassle. No judgement here.
To prepare the pans, spray all edges with non-stick spray and drizzle about 1/2 tbsp. in the bottom of each. Tip your dough out to a greased surface and separate into 6 equal pieces with the help of a bench scraper. Using greased hands, gather lightly into a ball, and set into prepared pan. Cover and let rest for 10 minutes.
Now it's time to give the focaccia breads its quintessential dimples. We want these dimples to hold little pockets of olive oil love. Using greased finger tips, poke and prod your dough to the edges of your pan, leaving little finger dents in the top.
You don't want to stretch and drag it to the edges, more of a smoosh and push. Drizzle with another 1/2 tbsp. of infused oil and some flaky or coarse sea salt (and a few leaves of rosemary if desired) before covering and allowing one last rise.
Baking
After 35-45 minutes, you should see a nice puffy bread. Bake at 425° for 18-20 minutes until light golden brown. Immediately after removing from the oven, give the dough one more drizzle of infused oil to give that characteristic shiny top.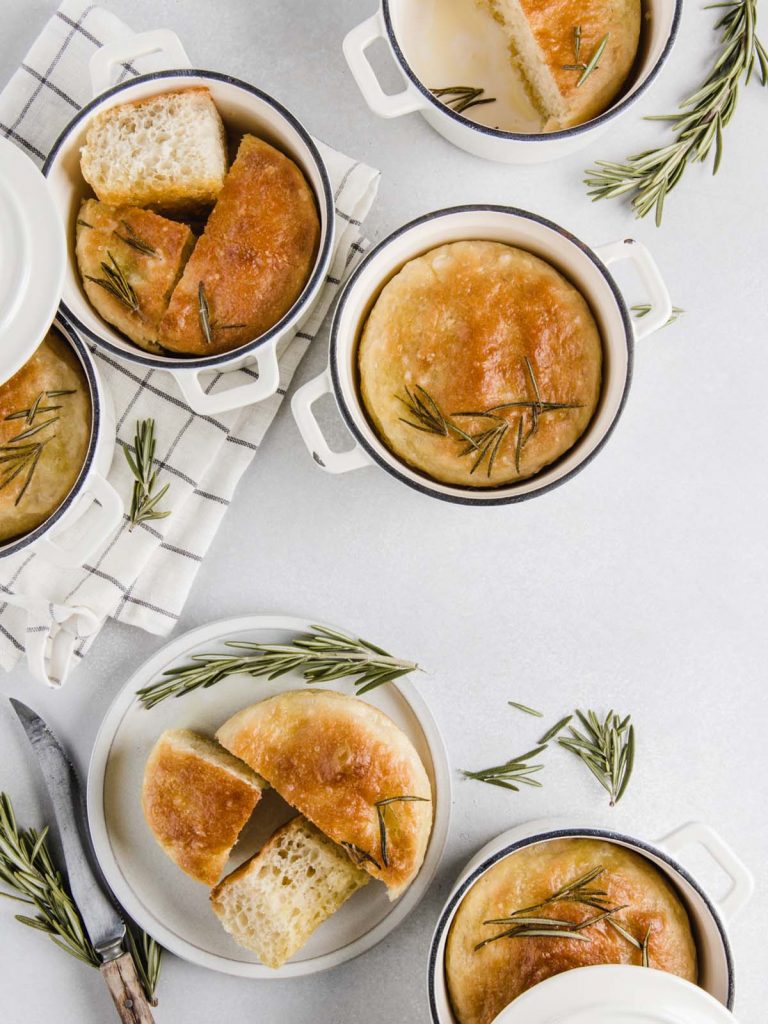 Helpful Tools
These cocottes are similar to the ones I used above.
A bench scraper is one of the most versatile tools in my kitchen arsenal
Print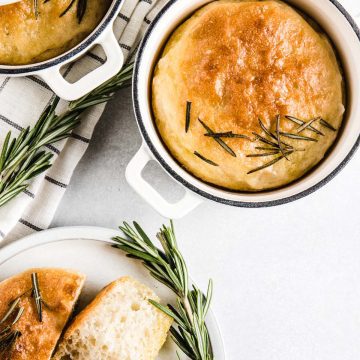 Rosemary Focaccia Bread
Author:

Theresa | Quiet Baking Day

Prep Time:

15 minutes

Resting Time:

2 hours

Cook Time:

20 minutes

Total Time:

2 hours, 35 minutes

Yield:

6 individual breads

Category:

Savory

Method:

Intermediate

Cuisine:

American
---
Description
A spin on a classic, this rosemary focaccia bread is made from rosemary and orange infused olive oil and baked in individual pans.
---
3/4

cup

olive oil

5

springs fresh rosemary
zest of 2 oranges

360

g

bread flour

3/4 teaspoon

salt

7

g

(1 package) active dry yeast

2 teaspoon

honey

1 1/4

cup

warm water (85-105°F)
Flaky/coarse sea salt
---
Instructions
Heat olive oil in a small saucepan with 4 springs of rosemary and orange zest. Simmer on low for 10 minutes to create an infused oil. Strain and set aside to cool.
In the bowl of a stand mixer, place bread flour, salt, yeast, honey, 1 1/2 tbsp infused olive oil, and water.
Mix on low for 1 minute, then on medium for 4 minutes.
Transfer to a greased bowl and cover with a clean towel and let rest for 20 minutes.
Stretch and fold the dough with the following process: grab one edge of the dough, stretch is away from the ball, then fold over the top of the remaining dough. Rotate bowl 90° and repeat the process three times so each side of the dough has been stretched out and folded onto itself.
Cover and let rest for 20 minutes. Repeat the stretch and fold process above. Cover and let rest for 20 more minutes.
While dough is resting, prepare 6 pans about 4″ wide by spraying liberally with non-stick spray, and place 1/2 tbsp. of infused oil in the bottom of each pan.
Once dough has rested, turn out onto greased surface. Divide dough into 6 equal portions. Gather into a ball and place into each prepared pan. Cover and let rest for 10 minutes.
Using greased fingertips, dimple and stretch the dough to the edges of the pan. Drizzle 1/2 tbsp. of infused oil on top with course/flaky sea salt and a few leaves of rosemary.
Cover and let rise 35-45 minutes until puffy.
While dough is rising, preheat oven to 425°F. Once dough has risen, bake for 18-20 minutes until golden brown.
Immediately spoon 1/2 tbsp. on top of baked focaccia after removing from the oven.
---
Notes
Dough can be baked in a large 9″x9″ square pan instead of individual pans. Bake 24-28 minutes.
Keywords: bread, savory, herbal