These Soft Pretzels filled with Spinach and Feta are exactly as good as they sound. Chewy pretzel dough is wrapped around a deliciously cheesy filling and baked to a deep golden perfection.
I'm going to say it, soft pretzels don't get enough attention. They are, no exaggeration, one of the most wonderful baked goods out there. They can be savory or sweet, they can have fillings or toppings, and they are great with dips of all kinds. Plus they are boiled in baking soda which is just fun.
Today, we're going to make a version that I have a food memory of from childhood, and lately I've been craving. So let's make some soft pretzels filled with spinach and feta together to satisfy my cravings and to get you hooked!
Making Soft Pretzel Dough
Like many breads, pretzel dough is made with yeast. I know that yeast can be a bit intimidating, but it's one of those things that practice makes progress, and the practice is usually still pretty darn delicious along the way.
This recipe starts off simple, with some warm water (to give the yeast a wake up call), active dry yeast (this yeast doesn't need to be "bloomed" in water, you can use it straight away), a little brown sugar (to help brown the pretzels) and a little butter (to add softness to the dough). Give those a quick mix before adding the flour and salt. One key rule to working with yeast – don't let the salt directly touch the yeast, it will kill the yeast.
Once everything is in the mixer, let a dough hook do the hard work. Let it mix for 5 or so minutes until the dough is smooth and springs back when you touch it. If the dough is not coming together, you can add a little flour a tablespoon at a time until you have a ball.
No mixer? You can do this by hand, but it's a soft dough and it'll be a little less fun. Start with a wooden spoon, then switch to a floured counter or board and knead until you have the same soft, smooth dough. 10-15 minutes.
Once your dough is ready, transfer to a lightly greased bowl and give it a turn over so that all sides of the dough have a light oil coating. Loosely cover with a clean towel and let the dough sit for about an hour someplace warm until it's doubled in size.
The Filling
While your dough is rising, make your filling. It's a pretty straight-forward filling, but they trick is to make sure the spinach is bone dry. Frozen spinach is already chopped and cooked down slightly, so it's an easy shortcut, but it can be quite watery. Defrost the spinach either the day before in the fridge, or in 10 second, low power bursts in the microwave.
Once it's thawed, squeeze out the water by hand before placing in a few paper towels and squeezing again. Getting out all the moisture will avoid soggy pretzels. Now you are ready to mix in your cheeses and spices and get ready to roll those pretzels.
Shaping Soft Pretzels filled with Spinach and Feta
Now comes the tricky part, the shaping. Follow the photos and the steps below, for the classic pretzel shape. Hate all of this? Just fill the pretzels and roll into a log shape and call it a day. No one will judge a straight pretzel instead of a twirly one, both will be delicious. Just keep an eye on your baking time since they will be a little thinner.
To make the classic pretzel shape, first divide your dough into 8 equal pieces. Keeping the others covered with a clean towel while you work, start by rolling your dough into an 18″ log. If the dough is fighting you and springing back, let it rest for a few minutes before coming back. I like to give each section the start of a roll, then come back and finish shaping.
Next, take a rolling pin and roll your log into a rectangle about 3″ wide, so you have an 18″ long and 3″ wide rectangle. Taking about 3 tablespoons of filling, sprinkle the filling evenly down the center of the rectangle. Working with the long side of the rectangle further away from you, fold the top of the dough down covering the filling and press the edges to seal. Roll the dough down once more to fully enclose the filling and create a log shape again. Give the log a quick roll to seal the edges.
Now it's time to shape! Take your log and bring the ends up to create an Uppercase U shape. Bring the ends to meet at the top, crossing one over the other. Repeat the cross so you have a double twist at the top leaving about 1/2″ of the ends free. Pull the twist down to meet the bottom of the U shape and press the 1/2″ of the ends into the U shape to hold them together. Phew, that wasn't so hard right? Close enough at the very least!
Boiling and Baking
I know, I said boiling and that's weird, right? Well, pretzels are boiled before they are baked. Traditionally they are baked with lye in professional kitchens, which we are going to skip because we're not crazy. Instead, we'll use the more friendly version of baking soda.
No eye protection or gloves needed with baking soda! Bring 1/2 cup of baking soda to a boil in 8 cups of water in a wide pot or dutch oven. My oval dutch oven can hold two pretzels safely at a time. Lower the pretzel in with a slotted spoon or spider. Boil for 30 seconds, splashing a little of the water on top of the pretzel as it boils. Remove from the water and place on a cooling rack while you boiling the remaining pretzels.
Once they are all boiled, transfer to a well-greased parchment baking sheet or, even better, a silicone mat. These guys will stick to ungreased parchment. Sprinkle some parmesan on top, or pretzel salt if you prefer, then bake until the pretzels are deeply brown in color.
Ok, so why did we boil the pretzels first? It's how they get that characteristic deep brown color with the chewy outer exterior, but soft and fluffy center. Baking soda is an alkaline compound, which means when the heat from the oven hits the outside of the pretzels with that baking soda coating, the reaction creates that deep, rich brown chewy exterior. Lye is much more caustic than baking soda, which is why you'll see it in professional kitchens, but again, we're not crazy.
Helpful Tools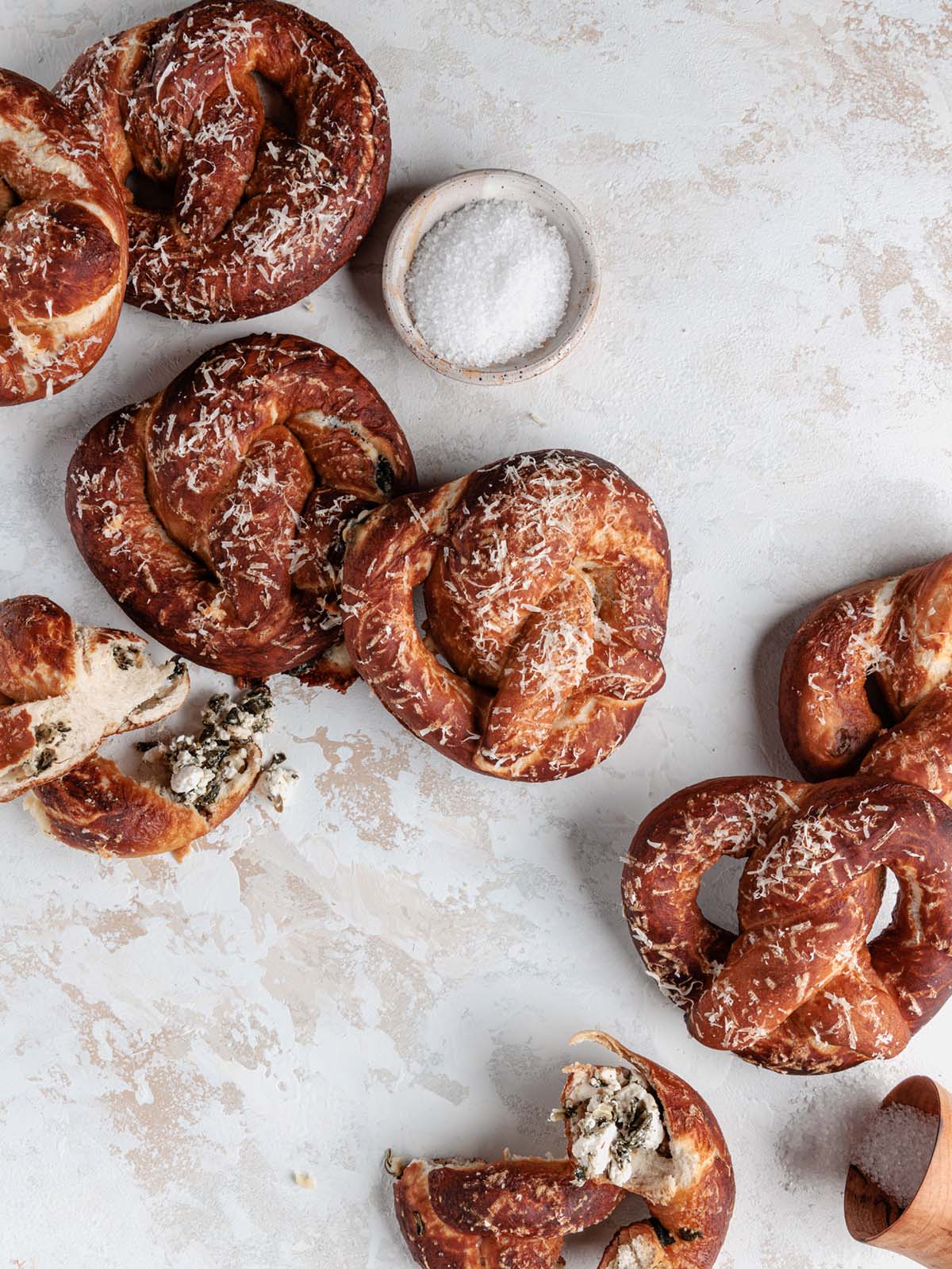 Looking for Other Bread Recipes?
You can also give these recipes a try!
Print
Soft Pretzels Filled with Spinach and Feta
Author:

Theresa | Quiet Baking Day

Prep Time:

20 minutes

Proofing Time:

1 hour

Cook Time:

30 minutes

Total Time:

1 hour, 50 minutes

Yield:

8 Pretzels

Category:

Savory

Method:

Intermediate

Cuisine:

American
---
Description
Soft pretzels filled with spinach and feta pushes the classic soft pretzel into the center of the limelight.
---
Pretzel Dough
1 1/2

cups

warm water (between 90°F and 110°)

1

packet active dry yeast (

7g

)

2 tablespoons

brown sugar

2 tablespoons

unsalted butter, melted and cooled slightly

1 teaspoon

salt

480

g

bread flour, plus extra for dusting

1/2

cup

baking soda for boiling
Filling
50

g

cream cheese, softened to room temperature

284

g

(10oz packed) chopped frozen spinach, thawed and thoroughly drained

4 tablespoons

grated parmesan cheese

2

garlic cloves, minced

227

g

(8oz package) crumbled feta cheese
Pinch of red pepper flakes
Black pepper to taste, freshly cracked preferred
---
Instructions
Dough: In the bowl of a stand mixer fitted with a dough hook, combine water, yeast, brown sugar, and butter
Add salt and flour. Knead on medium high until dough is smooth and springs back with touched. About 5 minutes.
Transfer to an oiled bowl, turning dough over once to coat with oil. Cover and let rise in a cool spot until doubled in size, about 1 hour.
Filling: While dough is rising prepare filling. Using a rubber spatula, beat cream cheese to lighten. Mix in spinach, parmesan and garlic. Gently stir in feta, red pepper flakes, and black pepper.
Shaping: Once dough has doubled, preheat oven to 400°F. Prepare baking sheet with well-greased parchment or silicone baking mat.
Dust counter with flour and place dough on top. Punch down and divide into 8 equal portions.
Roll one portion into an 18″ rope using your hands. With a rolling pin, flatten into a 3″ wide rectangle.
Sprinkle about 3 tbsp of filling down the center of the rectangle, leaving about 1/2″ clear on each short edge.
Starting with the long edge further away from you, pull over filling to cover, and continue rolling inward until you have a rope again. Continue rolling to ensure the edges are sealed and the dough is smooth.
To create pretzel shape, create a "U" shape with the rope. Cross one end over the other. Repeat to create a double twist. The twist should start about 1/2″ in from the tips of the rope. Pull the tips of the twist down to the bottom curve of the "U" and press together (see photos). Once pretzel is shaped, you may need to pull the loops apart to create a more airy shape.
While working on one pretzel, keep others covered with dish towel. If dough is springing back while rolling, set aside for a few minutes to work on another pretzel to let it rest.
In a wide dutch oven or pot, boil water with 1/2 cup of baking soda.
Working in batches of 2 or 3 depending on size of pot, gently place pretzels into boiling water for 30 seconds. Remove using a slotted spoon or spider. Place on a rack to drip while working on remaining pretzels.
Transfer boiled pretzels to prepared baking sheet. Sprinkle additional parmesan cheese on top if desired before baking for 20-22 minutes. Pretzels should be a deep shiny golden brown.
Let cool slightly before serving.
---
Notes
Refresh pretzels for 10 minutes on 350°F if necessary. Baked pretzels can be frozen. Reheat for 15 minutes if heating from frozen.
Keywords: soft pretzel recipe