Time to start making your own Homemade Pasta! With just 2 ingredients, and a little patience, you can make some seriously memorable meals.
If you can't tell by my last name, D'Alessandro, I'm a certified Italian. It comes with some less than ideal qualities – like my ridiculously short stature and rants that come out of nowhere – but it also has some really great qualities. One of those is the desire to make as much fresh homemade pasta as possible. Pasta is not difficult to make, but takes a lifetime of practice to master.
Making Pasta
To make your own pasta, you need exactly two ingredients: "00" flour and eggs. I also use a hand-crank pasta machine. It's at least 40 years old, and with no way of carbon dating, that's as close as I can guess. You can get fancier and add a motorized machine to your stand mixer.
You can also get more rustic with a large wooden cutting board or table and rolling pin. I find it hard to get thin enough results with the rolling pin, but not impossible. And frankly, I just never invested in the motorized version because my hand machine was a hand-me-down and still works perfectly.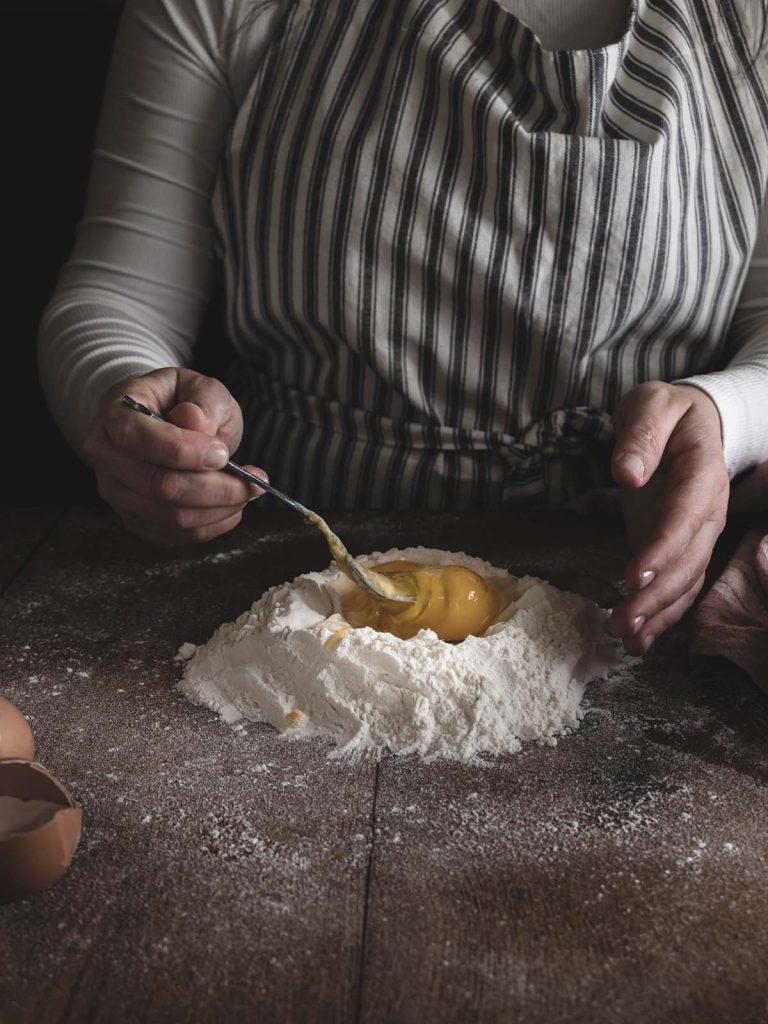 Making the Dough
The dough is simple. Pour your flour onto your work surface, and create a crater or well in the center, think of the top of a volcano. Add your eggs to the center of the well. Using a fork, beat the eggs (gently, you want to keep your eggs inside the flour) like you would when making scrambled eggs. Slowly begin to add the flour into the eggs.
Don't go too quickly or you will end up with runaway egg yolk. Eventually all the flour will be nearly incorporated. Switch to your hands and work the dough until it comes together.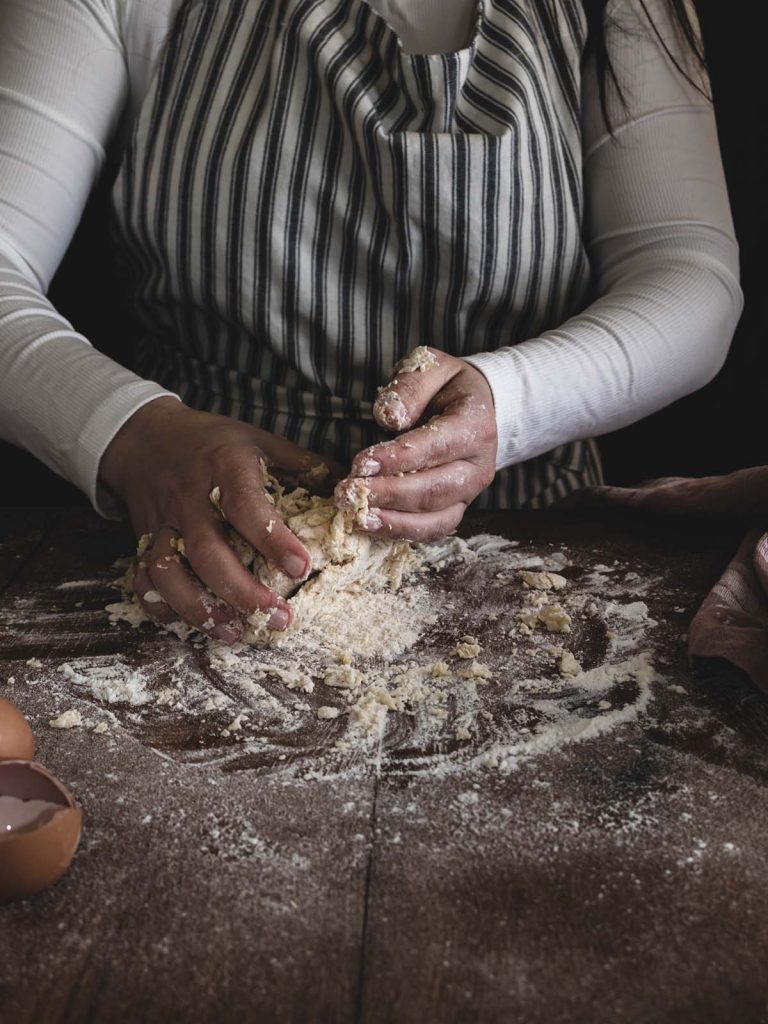 Move to a new area of your work bench, lightly flour, and begin to knead the dough. You want a nice smooth and springy dough. This will take about 7-10 minutes. If the dough feel very dry, you can add a few more drops of whisked eggs. If it's very sticky, a little extra flour. The goal is a soft, workable dough. Once achieved, place the dough under a bowl to rest for 20-30 minutes. This will let the gluten relax (and you too) and prevent tough pasta dough.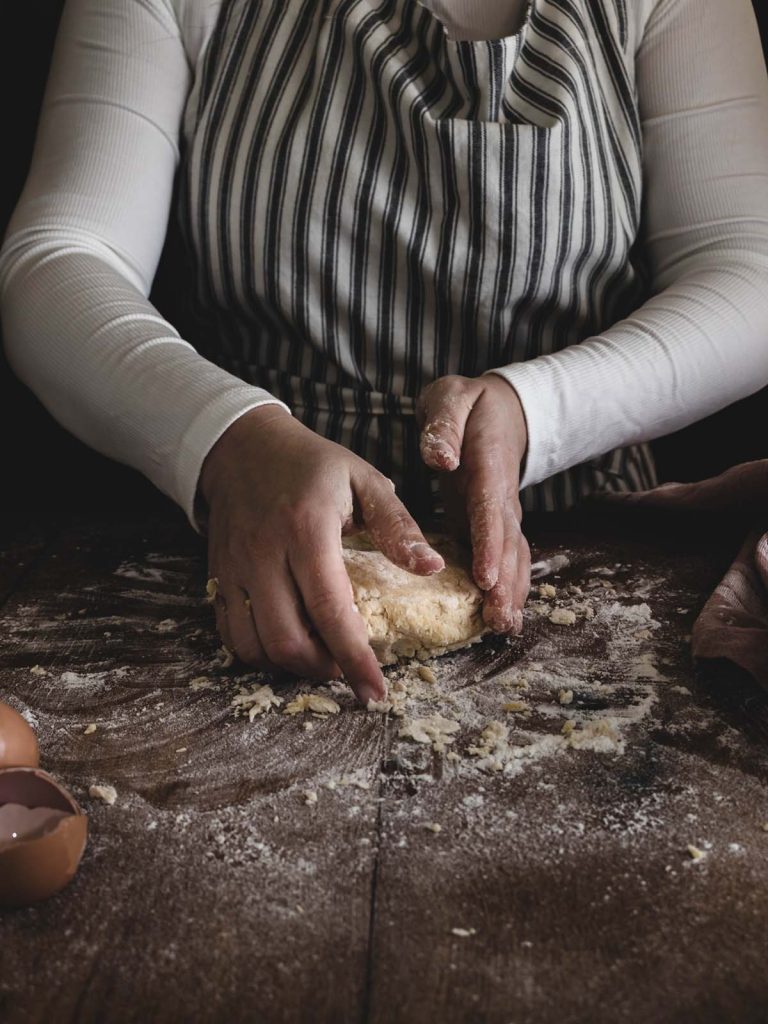 Rolling the Sheets of Dough
The Rolling Pin Method
If you are rolling out the dough with a pin, lightly flour a large wooden table or cutting board. Begin rolling out the dough until it's nice and thin, about the thickness of a quarter. If the dough is springing back as you work, cover with a clean towel and step away for a few minutes. This will again allow the gluten to relax so that once you start rolling again, it won't put up as much of a fight. Slice in strips to make pappardelle or fill for ravioli, tortellini, etc as desired.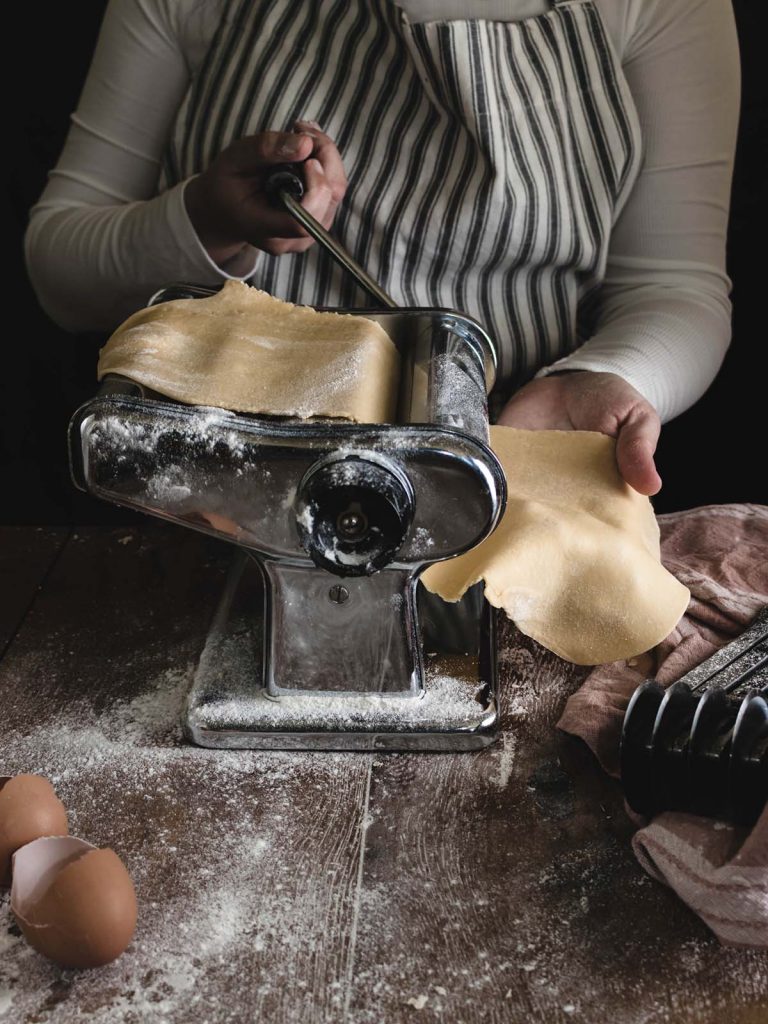 The Pasta Machine Method
The process for rolling out the dough is the same if you have a hand crank or motorized version.
Cut your pasta cut into four wedges. Keep the wedges you are not working on under the bowl. Lightly roll a wedge into a flat disc, just thick enough to fit into your machine. Using the largest setting, on most machines its an 8, run the dough through one time. Fold the strip in half and run it through the same setting, 8, a second time. You will run the dough through each setting twice before moving down a step.
Repeat this 2-step process on each setting, moving one smaller until you get a thin enough dough. On my machine, I stop at level 2.
Don't be afraid to flour the dough lightly as you go. You want to avoid sticking and gumming up the machine. If the strip of dough become too long as you work, feel free to cut it in half and work in sections. The goal is crank the machine with your dominant hand, and evvveerrrrr so lightly stretch and guide the dough through the bottom of the machine.
If you have a second person to help guide the top of the dough through the machine, you will likely be able to keep the strip longer than if you are working alone.
If you are making noodles like linguine or pappardelle, flour the dough somewhat generously before using one of the provided blades.
Prepping Fresh Pasta for Cooking
Whichever method you use, you will want to let the dough dry out slightly before boiling. For long noodles, I nest a well-floured handful together to create a little swirl and set on a cooling rack. You can also use a pasta drying rack or a mug tree if desired, but I just don't want another single-use item in my kitchen. If you are making a filled pasta, you can set them directly on the rack.
Let the dough sit for about an hour before boiling.
When ready to cook, boil a large pot of water. Once boiling, add about 2 tablespoons of kosher salt and boil for literally about 2 minutes. Start checking after about 90 seconds. And no, don't throw the pasta at the wall, I have no idea why people think that's a thing. Stop it, just taste the pasta! Drain and complete the dish as desired.
What to Make with Homemade Pasta
Fill squares with a spinach and ricotta filing for great ravioli
A meat filling for tortellini
While you're working on the pasta, make a long simmering bolognese
For a quick sauce, grab my Homemade Pesto Sauce recipe here
Print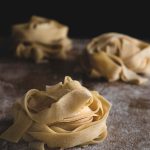 Homemade Pasta
Author:

Theresa | Quiet Baking Day

Prep Time:

45 minutes

Resting Time:

1 hour, 30 minutes

Cook Time:

2 minutes

Total Time:

2 hours, 17 minutes

Yield:

1 Pound Pasta

Category:

Savory

Method:

Intermediate

Cuisine:

Italian
---
Description
With just two ingredients and a little practice, you can create memorable meals with your own fresh homemade pasta dough.
---
300g

"00" Flour, plus more for dusting

3

Eggs
---
Instructions
Pile the flour onto a clean workbench. Create a well or crater in the center and pour the eggs inside.
Using a fork, begin lightly beating the eggs while slowly incorporating flour. Keep the well in tact as long as possible to contain the liquid eggs.
Once the eggs mostly incorporated into the flour, switch to using your hands, and work the flour and eggs until a dough forms.
Switch to a clean portion of your work area. Lightly flour the counter and knead the dough until smooth and springs back when poked. About 7-10 minutes.
Place a clean bowl over the dough and let sit on the counter for 20-30 minutes to rest before rolling.
Rolling Pin Method: With a large straight rolling pin and a wooden table or cutting board, roll the dough out until about as thin of a quarter. Be sure to lift and turn the dough frequently to prevent sticking. Fill and/or slice as desired.
Pasta Machine Method: Cut dough into 4 quarters. Working with one at a time, leaving the others under the bowl, roll the dough into a disc thin enough to feed into your pasta machine.
Starting on the largest/widest setting (typically Setting 8) run the dough through the machine once, fold the dough in half, and run it through a second time.
Repeat the same steps above, decreasing the thickness by 1 setting each time until your dough is at thin enough (typically Setting 2). You will run the dough through each setting twice, folding between each run. Flour the dough lightly as you go to prevent sticking.
Once your dough is at the preferred thickness, fill and/or slice as desired or run through the desired noodle blades on your machine.
Allow the dough to dry out on a cooling rack for at least 1 hour before cooking.
To Cook: Boil a large pot of water. Once boiling, add approximately 2 tablespoons of kosher salt. Add the pasta, stir gently, and boil for about 2 minutes. Stir gently frequently and taste test often to avoid over cooking. Complete meal as desired.
---