With only 6 ingredients, this Rigatoni with Sausage and Broccoli dish is a perfect weeknight meal that can be ready in about 30 minutes and has everything you need for a well rounded meal!
A good pasta dish is such a great weeknight meal. I love this dish because it doesn't require a ton of ingredients, and it covers all the bases for a great meal – pasta (a gift from the gods), vegetables in the broccoli and tomatoes, and protein in the sausage. It has everything you need all on its own, but you can add a crusty loaf of bread (like this Easy No-Knead Olive Bread) or a leafy salad on the side, and of course a glass of wine.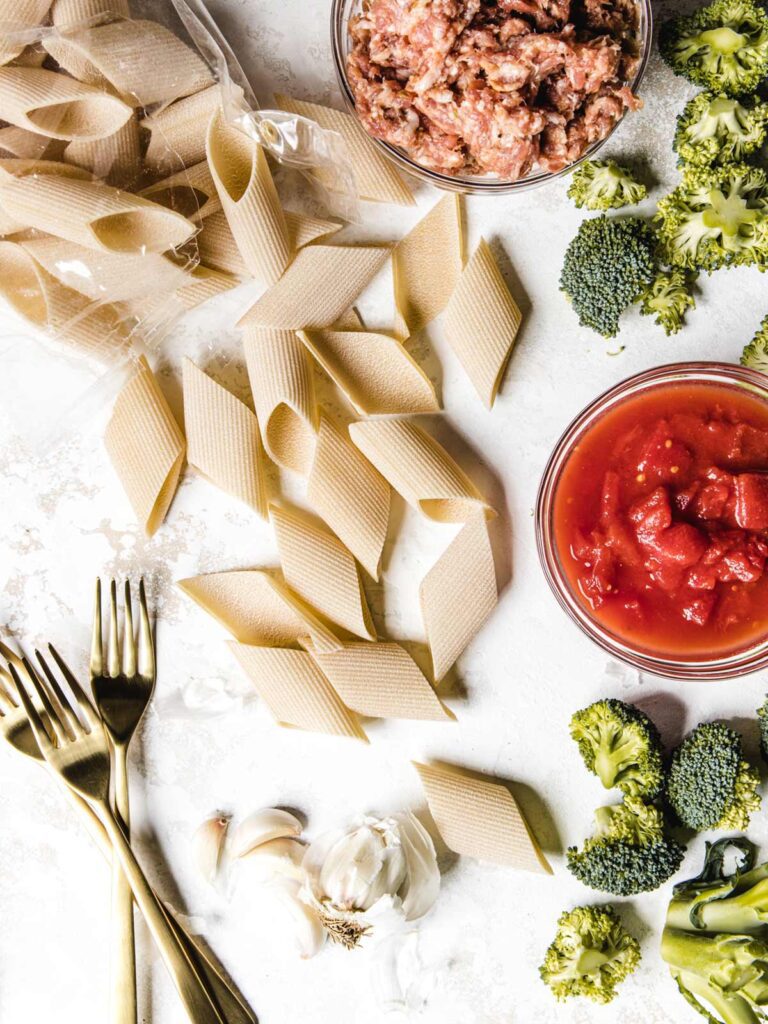 Ingredients
This dish requires only 6 ingredients (ok, plus salt and peppers). Here's what you need:
Rigatoni pasta. I don't have a good Italian market near me in Charleston, South Carolina (shocking!). So I order my pasta online because there's a serious difference in Barilla vs. a really hefty, textured dry pasta. Yes, my name is Theresa, and I'm a pasta snob. I order pasta from Ditalia. They are not a sponsor, I'm just a serious fan of their pasta options. If you're looking at the stores, look for a bronze-cut pasta. Bronze-cut pasta will have a rough and almost sand-paper texture to the pasta which helps the sauce grip better.
Broccoli florets. Cut the florets relatively small. Avoid frozen broccoli, and go for a fresh broccoli crown, for the best texture.
Sweet Italian sausage. I buy sausage links and remove the meat from the casing. There is an option to buy uncased sausage meat, but the brands I've tried have a chunkier texture, and I just prefer the more finely ground texture of the links. Your preference! Freeze leftover sausage for a quick sandwich in the future.
Diced tomatoes. Grab a quality canned tomato. I prefer San Marzano-style tomatoes because they are more flavorful and a bit sweeter. My favorite brands are Cento or the San Marzano brands.
Garlic and olive oil. Italian cooking staples.
Variations
If you're a bitter fan, swap broccolini or broccoli rabe for the broccoli florets
Use frozen meatballs instead of the sausage
Lighten up the dish by using whole wheat pasta and swapping in turkey sausage
Want to get fancy? Try making your own Homemade Pasta
How to Cook
This rigatoni pasta dish requires two pans. One large-sized sauce pot for boiling the pasta and the broccoli, and one skillet to make the sauce.
This is a forgiving meal, but the trick is to time everything just a little bit.
Start by heating your olive oil in the skillet, then turn on the water of your large pot of water. Start browning the sausage meat in the skillet, breaking it up with a wooden spoon, but let is brown nicely. This should take about 7-8 minutes.
In order for the sausage to brown, you have to leave it alone. Don't sit there swishing it around non-stop or it will never get a proper brown. And there's flavor in the brown. Add the minced garlic and let is melt into the browned sausage.
Season with salt, pepper and if you like, red pepper flakes. Then add in the diced tomatoes, including the juice. Let it simmer.
By now, your pasta water should be boiling. Add 2-3 tablespoons of salt to the water. This will season the pasta itself. Stir in the dried rigatoni.
Now is the slightly tricky part. Occasionally stir and taste the pasta for doneness. When the pasta is about 2 minutes away from being perfectly cooked, add the broccoli florets to the pasta pot. The broccoli will cook with the pasta.
Once the pasta is nice and al dente (this means to the tooth in Italian, which means the pasta is tender but still has a little bite to it) drain the water out.
By this time, the sauce should have reduced down a bit and is ready to be mixed into the pasta and broccoli. That's it! Top with grated parmesan or pecorino Romano cheese if desired.
Tips and Tricks
For a more "chefy" way to make the pasta, make the sauce in a large cast-iron dutch oven. Use a spider strainer to transfer the pasta and broccoli to the sauce 1 minute before it's ready and allow it to cook in the sauce to finish.
Don't trust the cook time on the pasta box, you will end up with mushy pasta every time. I rarely time my pasta, I taste it as I go. A good guideline is to take 2 minutes off the box time as a rough estimate. A thicker pasta will take longer to cook.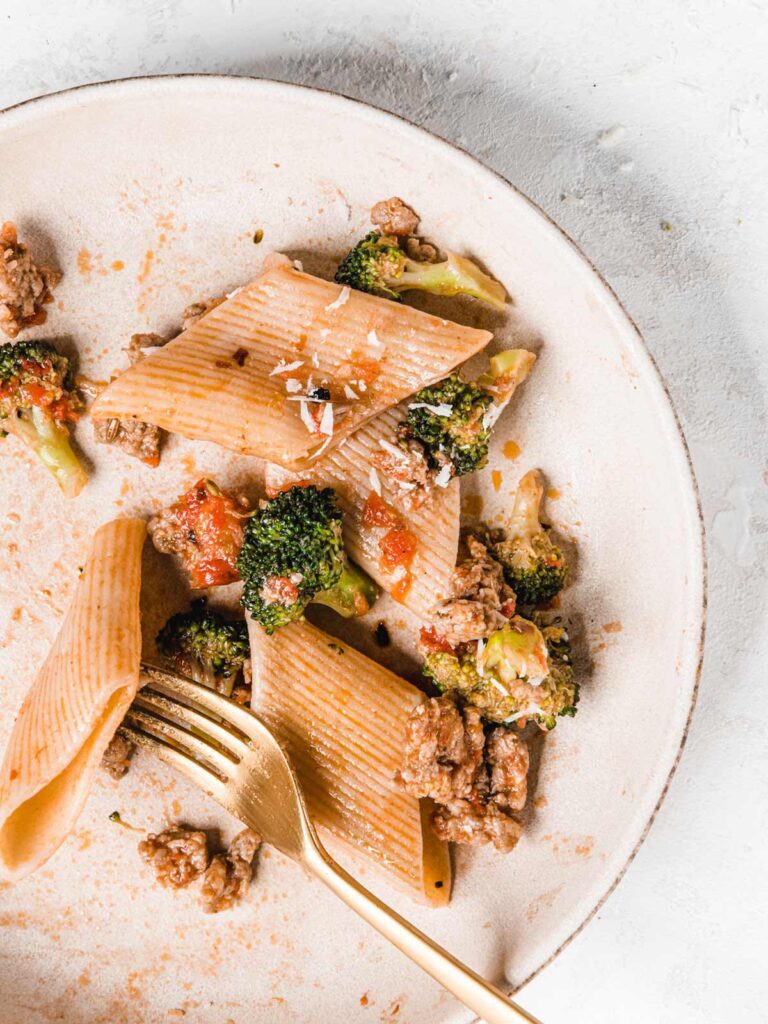 Print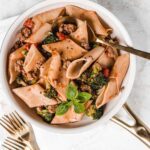 Rigatoni with Sausage and Broccoli
Author:

Theresa | Quiet Baking Day

Prep Time:

0 minutes

Cook Time:

30 minutes

Total Time:

30 minutes

Yield:

4 servings

Category:

Savory

Method:

Easy

Cuisine:

Italian
---
Description
An easy week-night go to dinner, this Rigatoni with Sausage and Broccoli dish only needs 6 ingredients and 30 minutes!
---
1 tablespoon

olive oil

12

ounces

sweet Italian sausage links (3 links), casings removed

3

cloves garlic, minced

14.5 ounce

can diced tomatoes
Salt & pepper to taste
Pinch red pepper flakes, optional

1

pound

dried rigatoni pasta

4

cups

of broccoli florets (about 2 medium crowns, stem removed)
Parmesan or Pecorino Romano cheese, optional, for garnish
---
Instructions
Heat olive oil in a large skillet over medium heat. Start a separate large pot of water over high heat.
Add sausage to heated skillet. Use a wooden spoon to crumble the sausage and allow to brown thoroughly, about 7-8 minutes.
Add minced garlic, salt and pepper, and red pepper flakes if desired. Stir in diced tomatoes (including juice). Turn heat down to low and allow to simmer.
Once sauce is simmering, and the pot of water is boiling, begin to cook the pasta.
Add 2-3 tablespoons of salt to the boiling water and add the rigatoni.
Stirring occasionally, cook the pasta until it is about 2 minutes away from being done. Add the broccoli to the pasta pot. Cook until both the pasta and the broccoli is tender.
Drain the pasta, return to the pot and stir in the sauce.
Serve with cheese if desired.
---
Notes
Store in an airtight container in the fridge for 3-5 days.