With a nutty pistachio filling and lots of cardamom, these fluffy pistachio cardamom rolls not only smell divine, they are packed with flavor. A topping of spiced cream cheese glaze makes them even more stunning.
Like the classic cinnamon roll, these pistachio rolls are all about the filling swirled in the center of an amazingly soft dough. I love this dough recipe, I use it not only in my orange bread, but also in some savory breads like this pesto swirled bread.
Ingredients
This dough is an "enriched dough" which means it's made with more than flour, water and yeast like most breads (like baguettes). We enrich a sweet dough with extras like butter, eggs and milk, we get that classic soft and fluffy, ooey gooey cinnamon roll texture we crave.
Ingredients for Sweet Dough
All-purpose flour. I prefer all-purpose flour in sweet enriched dough as opposed to a bread flour which has too much gluten and will make for a touch bread.
Active Dry Yeast. This give us the rise and lightness in the bread.
Egg, whole and an extra yolk. An extra yolk gives us an extra supple texture.
Melted butter. Brings the softness and the flavor to the bread.
Granulated sugar. Sweetens and helps the dough to brown in the oven.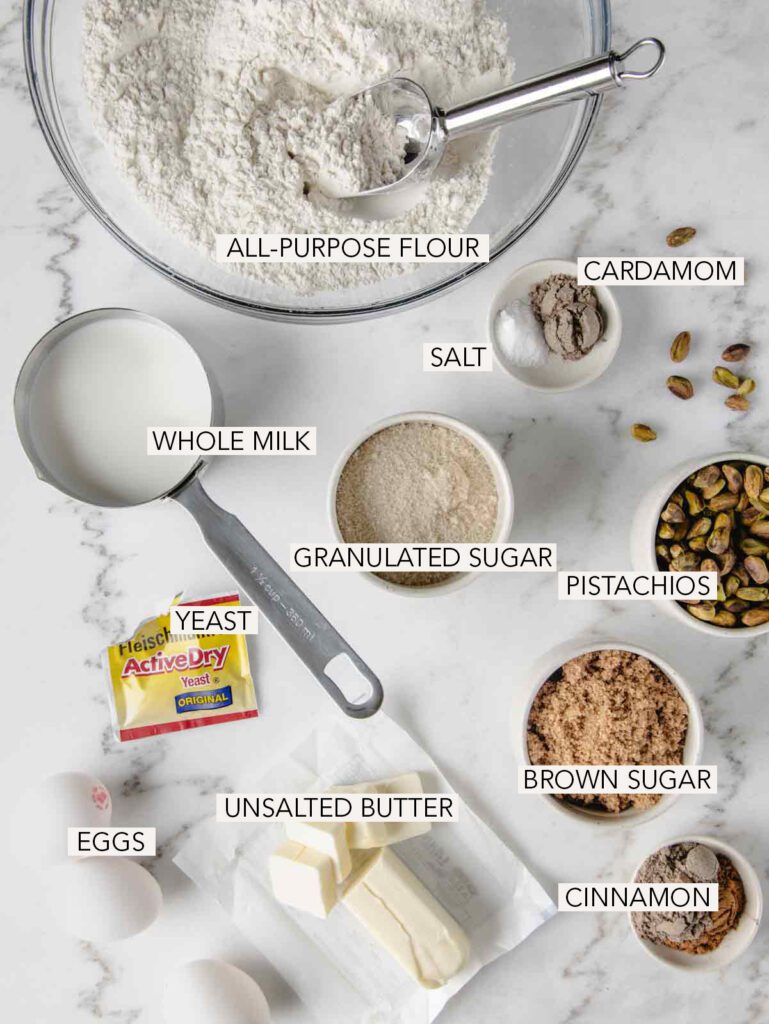 Ingredients for Pistachio Cardamom Filling
Pistachios. I prefer to look for unshelled and unsalted pistachios for baking. This way I can control the salt level and I don't have to spend ages cracking each one open. It is a little harder to find, so I often shop at online (I like Nuts.com)
Cardamom and cinnamon. Cinnamon is the classic filling. Here is takes a backseat to the cardamom which pairs so well with pistachio.
Brown sugar. We have to use quite a bit to get that ooey gooey center. if you've ever had a dry cinnamon roll, you'll know why!
Unsalted butter. This should be perfectly spreadable consistency. The dough is very soft, so the butter needs to be really softened to spread nicely and hold all that brown sugar goodness.
How to Work with Yeast
Yeast can be intimidating when you first work with it. But I promise it's a good thing and not nearly as scary as it sounds!
Used in nearly all bread recipes, when yeast is incorporated into a dough, it releases a gas that creates little air pockets. Those air pockets make the dough rise. Basically, yeast is farting its way into a light bread.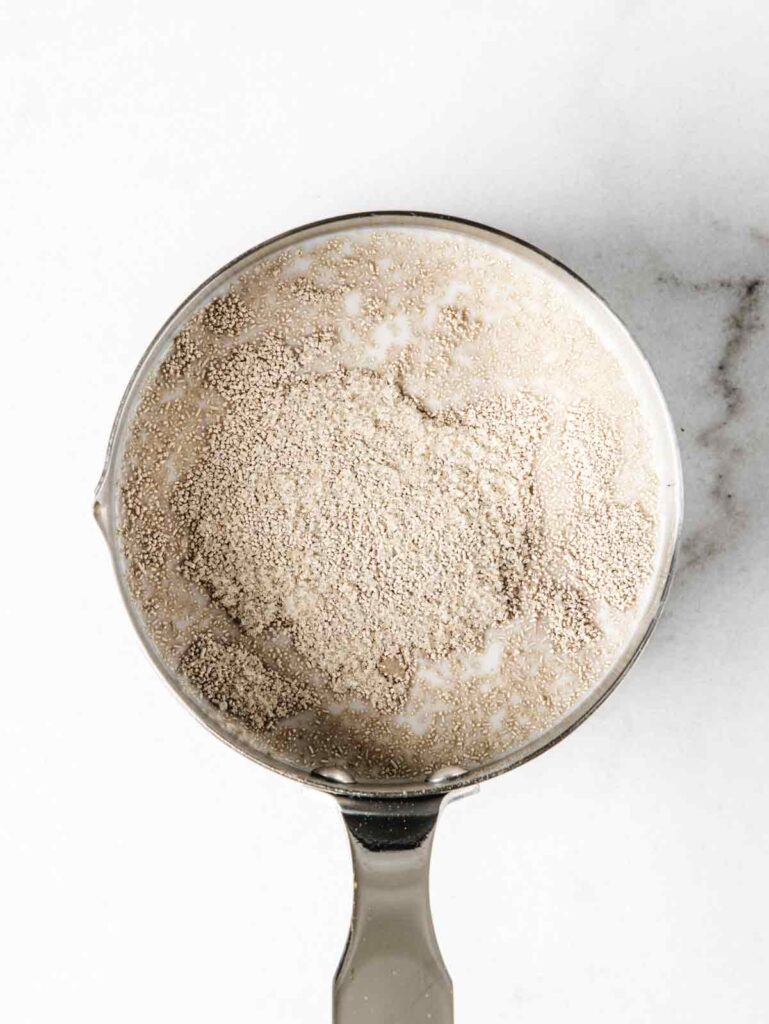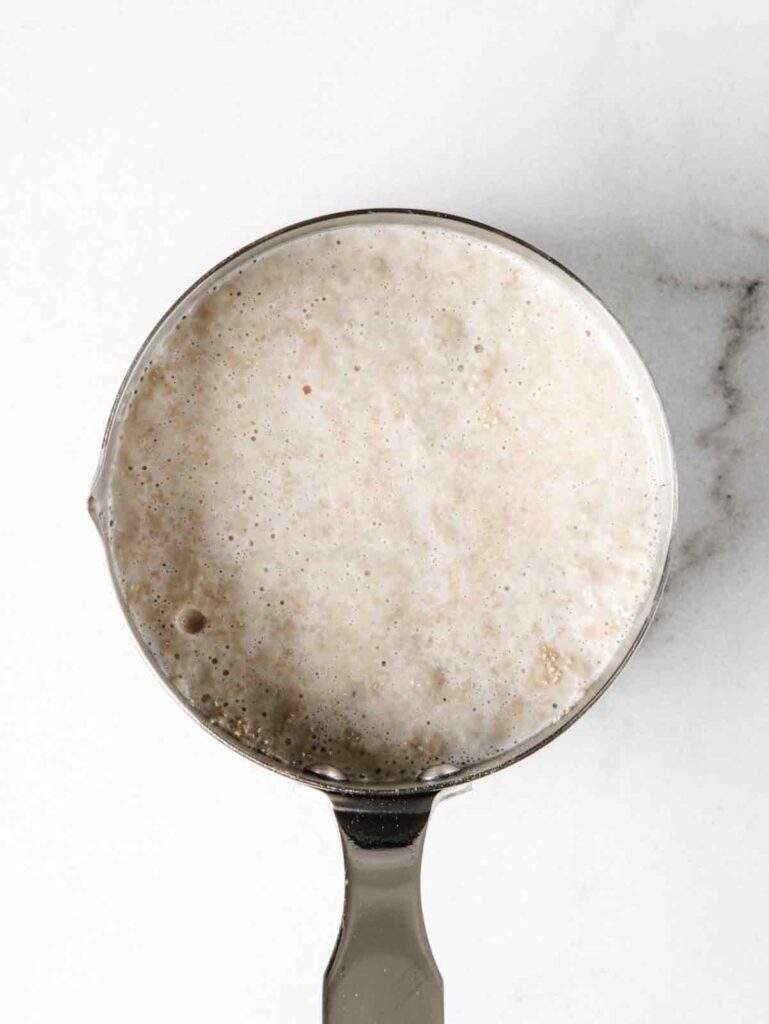 Tips for Working with Yeast
With a few helpful hints, using yeast is much less intimidating and will soon become your best baking friend, you BBF.
Yeast likes warm, not hot. When cold, yeast goes dormant, and doesn't do much. With warmer temperatures, yeast will wake up and start doing its job. But too hot, and you will kill the yeast. The ideal temperatures are between 85°F – 110°F – just slightly warm! When proofing, let the dough sit in a warm room (like a laundry room with the dryer running), near a sunny window, on or in your oven (when it's off!).
Sugar helps yeast, salt hurts. Yeast loves sugar, it makes it extra gassy! This is why we add a pinch of sugar to the yeast to get it kickstarted. However it's important to keep the salt away from the yeast as it can kill it. Never add your salt directly to the yeast. Always add it in with the flour.
Allow for the proofing time. The proofing time is the most important part of the process, this is when all those gas bubbles form and we get a light and airy loaf. The proofing times are just guidelines, if your yeast is going faster or slower, go by the visual! Under-proofed dough can be dense. Overproof and your dough will start to deflate and become flat. Perfectly proofed dough will have doubled in size and will not spring back when pressed.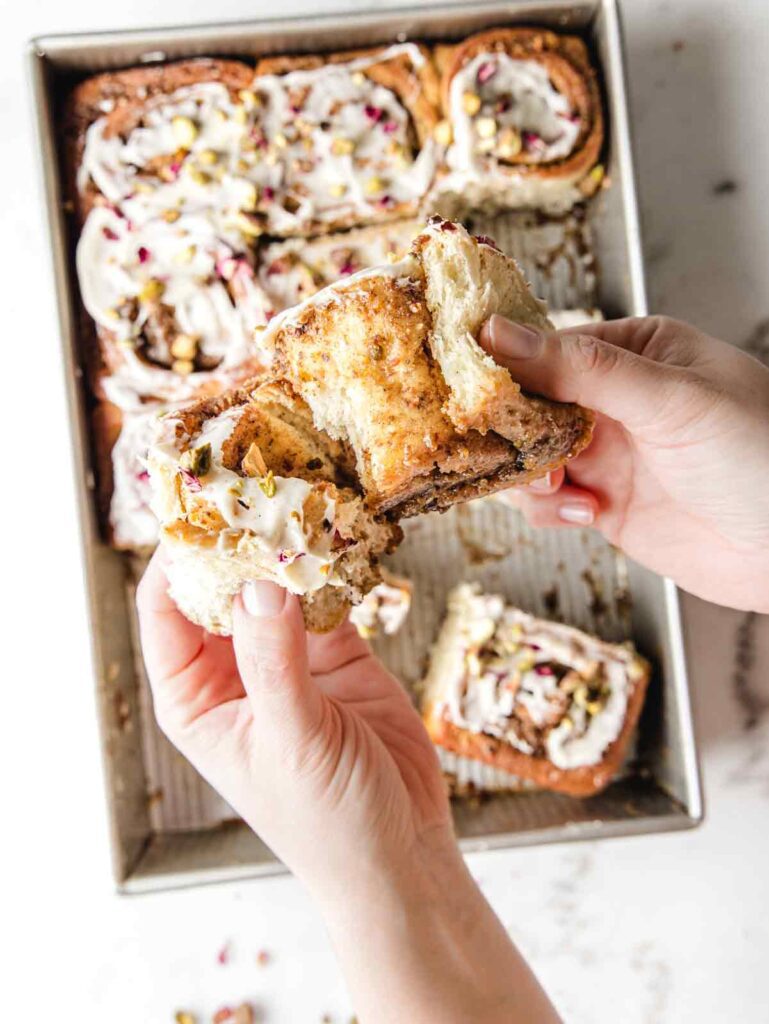 Making a Pistachio Swirled Roll
To create our pistachio rolls, we are going to follow the same process as a standard cinnamon roll. When our dough is ready, roll it to a large rectangle. Spread that super spreadable butter across 3 of the edges. You want to keep one edge clean so you can seal the roll up at the end.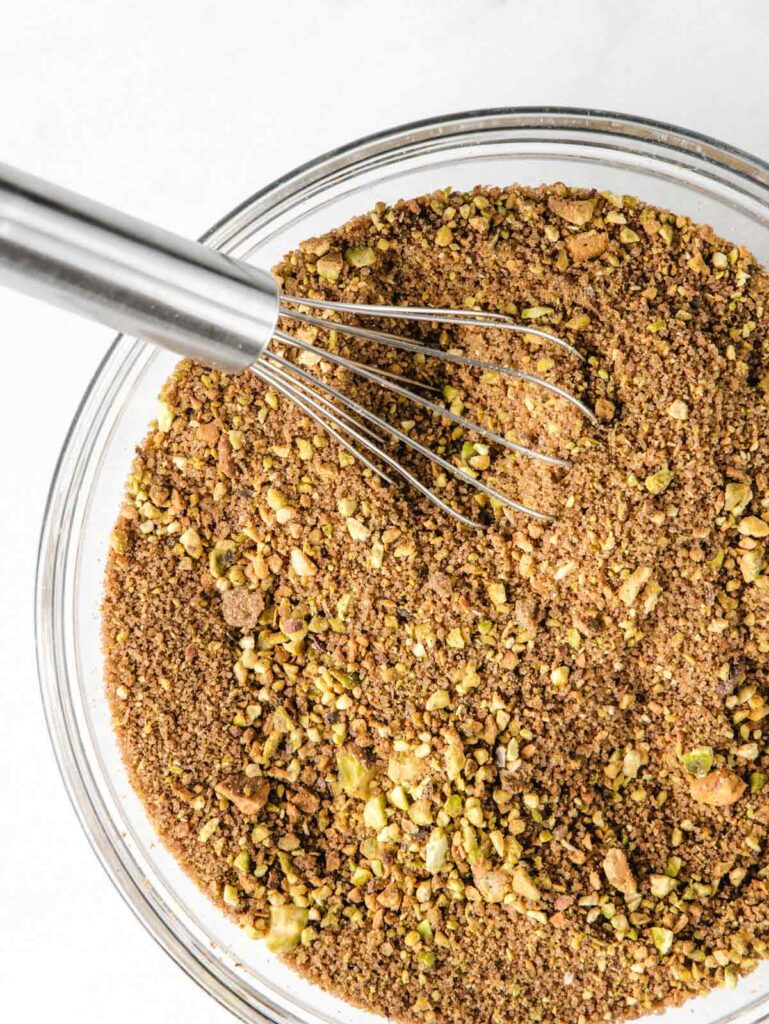 Next, top with the spiced brown sugar and pistachio mixture. Yes, this is a lot of filling. No, it's not too much. If you want that gooey center, we can skimp on the brown sugar filling!
Lightly roll the dough toward the clean end. You want give it a light roll so the yeast has room to groove when rising and baking.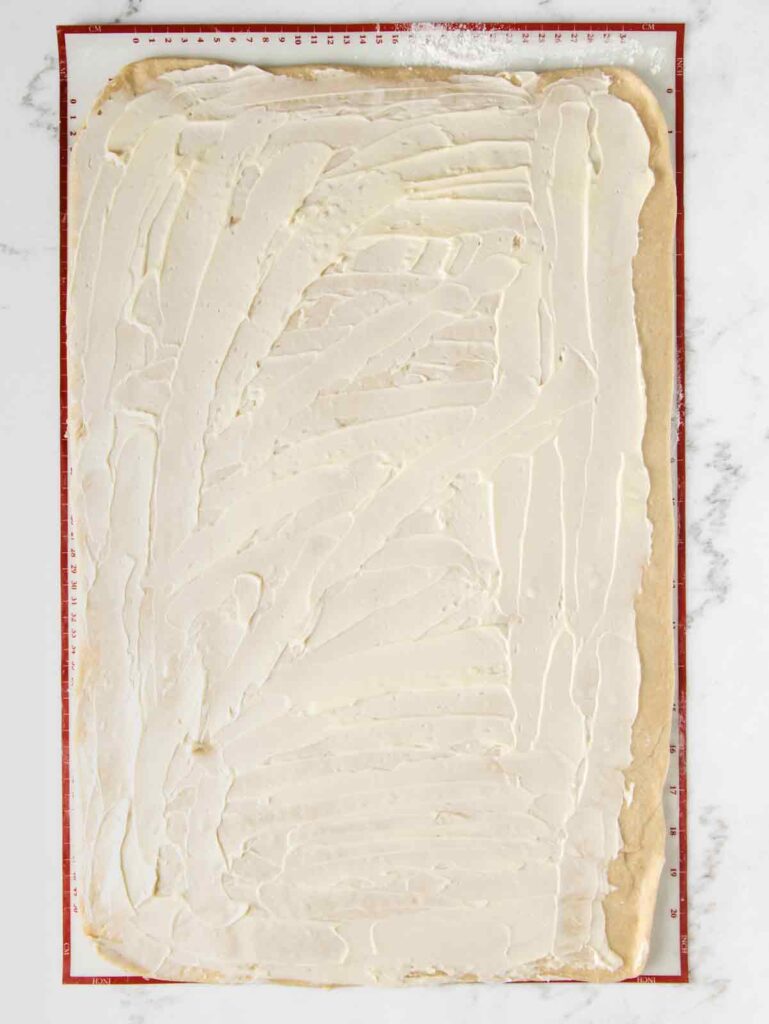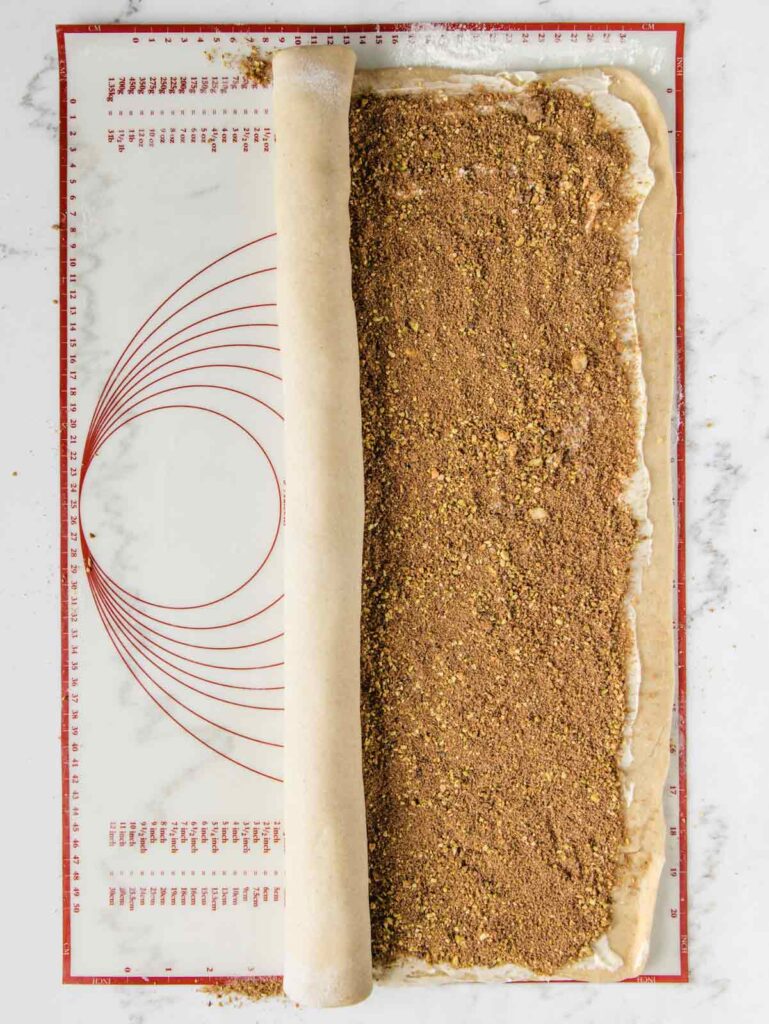 Here's the final trick is to add heavy cream right before baking. This is the trick of the trades. Adding that heavy cream will soak into dough and create and extra gooey filling.
Making the Cream Cheese Glaze
To make the final touch on these pistachio sweet rolls, a bit of spiced cream cheese glaze on top finishes them perfectly. Whip together your cream cheese and butter until they are well whipped and no clumps remain. Add the sifted confectioners' sugar and remaining ingredients. If you like a really thick cream cheese icing, skip the milk entirely.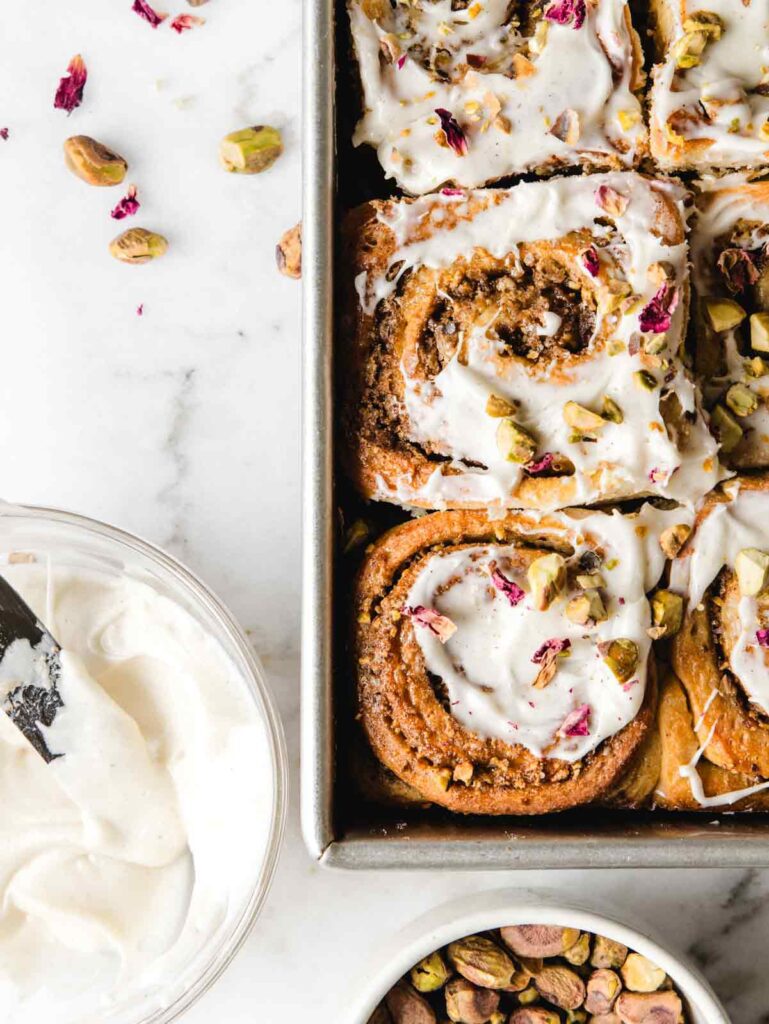 Variations
You can easily customize your pistachio and cardamom rolls!
Use a chai spice blend in the filling. It takes the cardamom a step further and adds some ginger and heat.
Add some orange zest and/or orange blossom water to the filling.
Stick with the classics, swap the cardamom for cinnamon.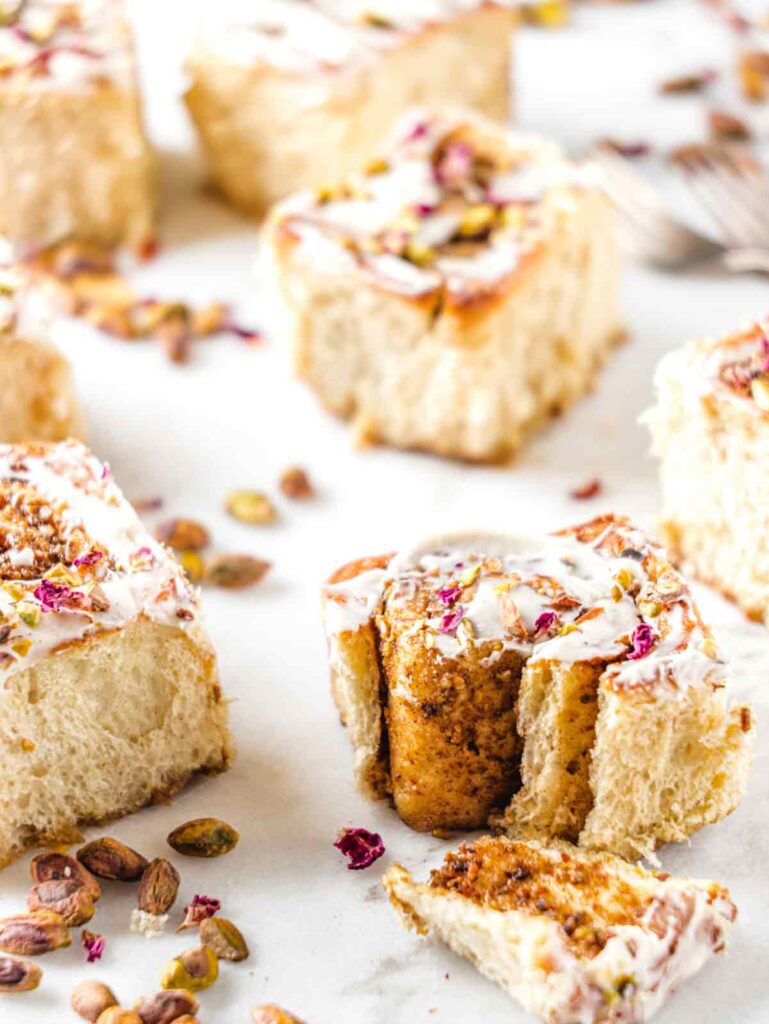 Frequently Asked Questions
My yeast isn't frothing in the milk, what do I do?
Add a bit more sugar and give the yeast a swirl. Wait another 10 minutes. If you still see zero bubbles forming, you may have a dead yeast. It may want to try another packet. Be sure your milk is warm to the touch, just barely above room temperature. If it's cold, the yeast will not wake up, if the milk is scolding hot, you may have killed the yeast.
Why did the center of my rolls pop up in the center?
Likely the pistachio rolls were initially rolled too tightly. The dough didn't have the room to spread out, so it spread up! No worries, they are rustic and beautifully unique.
Why do you add heavy cream before baking?
I know, it seems so weird to pour a bunch of cream on bread. But trust me, it will soak into the bread as it bakes and really helps to create that bakery style gooey cinnamon roll.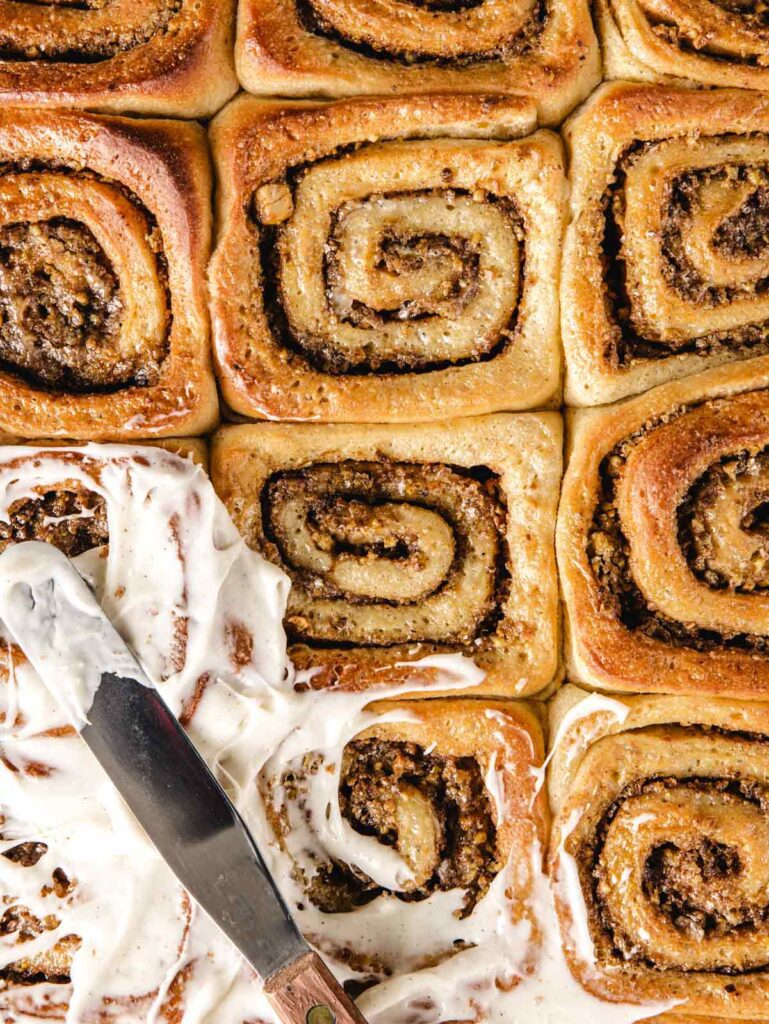 Print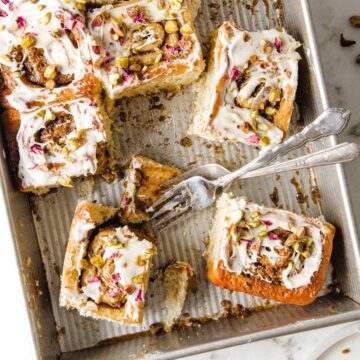 Pistachio Cardamom Rolls
Author:

Theresa | Quiet Baking Day

Prep Time:

20 minutes

Proofing Time:

11 hours, 30 minutes

Cook Time:

25 minutes

Total Time:

12 hours, 15 minutes

Yield:

15 rolls

Category:

Pastry

Method:

Intermediate

Cuisine:

American
---
Description
A spin on the classic sweet roll, these pistachio cardamom roll have a gooey pistachio filling with a cardamom spice throughout!
Equipment needed: 13×9 baking pan
---
Sweet Dough
1

cup

whole milk, warmed between 100-115ºF

2 1/4 teaspoons

(

one

packet) active dry yeast

2

large whole eggs

1

large egg yolk

75

g

unsalted butter, melted and cooled slightly

99

g

granulated sugar

1 teaspoon

salt

2 teaspoons

cardamom

480

g

– 540g (4 – 41/2 cups) all-purpose flour, plus more for dusting
Pistachio Filling
100

g

(3/4 cup) unshelled, unsalted pistachios

1 1/2 tablespoon

ground cardamom

2 teaspoons

ground cinnamon

213g

light brown sugar, packed

1 teaspoon

salt

142

g

unsalted butter, softened but not melted

1/2

cup

heavy cream
Cream Cheese Glaze
113

g

(1/2 package) cream cheese, softened

2 1/2 tablespoon

unsalted butter, softened

170

g

confectioners' sugar, sifted

1/2 teaspoon

ground cardamom

1 teaspoon

vanilla extract

1 teaspoon

salt

2

–

3

teaspoons whole milk, room temperature
---
Instructions
Sweet dough. Stand Mixer Method. Place warmed milk in the bowl of a stand mixer fitted with a dough hook. Sprinkle yeast on top and a pinch of granulated sugar. Let stand for 5 minutes until yeast begin to bubble lightly. Mix in eggs, remaining sugar, salt, cardamom and smaller amount of the flour. Stir on low until mixture comes together. Turn mixer up to medium-high and knead until dough is soft and smooth, about 8-10 minutes. Add additional flour only as needed to prevent dough from sticking.
Sweet dough. By Hand Method. Place warmed milk in a large bowl. Sprinkle yeast on top and a pinch of granulated sugar. Let stand for 5 minutes, until yeast begin to bubble lightly. Stir in eggs, remaining sugar, salt, cardamom and smaller amount of the flour with wooden spoon until mixture comes together. Turn dough out onto a floured board and knead by hand until dough is smooth. Add additional flour only as needed to prevent dough from sticking.
Place dough into a greased bowl, turn over once to coat, cover and let proof in a warm place until doubled in size, about 1-1 1/2 hours.
Pistachio Filling. While dough is proofing, preheat oven to 350°F. Toast whole pistachios until fragrant, 12-15 minutes. Blitz in a food processor until finely ground, chop by hand. Mix ground pistachios with brown sugar, cardamom, cinnamon and salt.
Turn risen dough on a lightly floured surface and roll into a rectangle approximately 22″ x 16″, with the long side facing you. Spread softened butter evenly over the dough, leaving the long edge nearest you clean for 1/2″. Sprinkle pistachio mixture evenly over butter.
Begin by lightly rolling furthest long edge toward you. Roll into a log, sealing at clean edge. Trim edges of roll. Slice into 15 equal pieces, about 1″ wide. Place swirl side up in a greased 13″ x 9″ baking sheet, leaving room between each roll. Cover and place in refrigerator overnight.
Baking the rolls. In the morning, remove from the fridge and let dough rise in a warm place until rolls are doubled in size, 1 1/2 – 2 hours.
Preheat oven to 350°F. Warm heavy cream slightly to room temperature and pour over risen rolls. Bake until golden brown, about 24-27 minutes. A toothpick should come out clean and the center of the rolls should be 190°F if tested with a thermometer.
Cream Cheese Glaze. While rolls are cooling, whip together cream cheese and butter. Add sifted confectioners' sugar, cardamom, salt and vanilla extract. Add milk to desired consistency. Spread over slightly cool or room temperature rolls.
---
Notes
Rolls are best the day of baking. Store leftover rolls covered in the fridge for up to 2 days. Reheat in a 325°F oven for 5-10 minutes to rewarm.
Rolls may be made in the same day, after rolling dough and placing in baking sheet, cover and continue with step 7 immediately.
Keywords: brunch, prep-ahead brunch