This Homemade Pumpkin Pie gets a boost from the classic with a lightly spiced pie crust and whipped cream topping.
It doesn't get much more cozy than pie. Pie is just one of those desserts that never get old and always make you feel quiet and comforted when you need a little alone time. One of my favorite pies to make is pumpkin pie.
Sure, there's plenty of store bought options to grab, but homemade pumpkin pie is so much better and isn't difficult to make. By adding extra flavor to the pie dough and whipped cream, your loved ones will know immediately this is no off-the-shelf common pie, this is a homemade with love pie.
Looking for a no-bake pumpkin desserts? Try this pumpkin cheesecake as an alternative!
Making Pie Dough
Pie dough gets a bad wrap for being persnickety to make. You might hear people saying it needs to be all butter or all shortening in the dough to get the best results. After much trial and error, I've decided that I like a combination of the two.
The butter people are right, it is great for flavor. The shortening people are also right, it is better for tenderness. Combining the two is the best of both worlds.
When making the pie dough, I whisk together the dry ingredients first, then add in cubes of the cold butter and shortening. Using either a pastry dough blender to cut the cubes in, or my finger tips (depending on if I want to wash an extra utensil that day,) I work the cold butter and shortening into the flour mixture.
The goal is to get the butter and shortening into a sandy texture with some pea-sized clumps remaining.
Next, add your water in small increments. The amount written is *probably* how much you need, but there are a ton of variables when adding your water. You only want to add enough water to bring the dough together.
Add teaspoons of icy cold water at a time until the dough begins to stick together. Give the dough a final few kneads before wrapping in plastic wrap to leaving to chill in the fridge.
Let's Just Chill
You might notice a theme here, how many times I said cold or chilled? Pie dough loves to be chilly. It helps it to keep its shape on the lovely fluted edges, but more importantly, the cold butter and shortening will steam when they go into the hot oven.
And the steam will create air pockets. And air pockets will create flakiness! And flakiness is what we want for pie dough.
Pumpkin Filling
The pumpkin filling is so darn easy. Basically as easy as opening a pre-mixed can. And here's what's neat: if you let the mixture sit a bit before baking, you will end up with a smoother and more flavorful silky pumpkin filling.
And really all you have to do is whisk everything together and then walk away when you get distract by something shiny. Unless that's just me.
Making Our Pumpkin Pie
Time to put the two together. First things first, we're going to avoid a soggy bottom by blind baking. Blind baking means we will bake the dough without a filling so we're sure the bottom of the crust is fully baked through.
Roll the dough out to about 12″ round and 1/8″ thick. The thinner the better. Line a deep pie dish with the crust and trim or flute the edges as desired.
Now, the theme of the day, rechill for about 30 minutes before filling with pie weights or dried beans. Bake for 15 minutes before removing the parchment and weights and return to the oven for another 5-8 minutes until the crust is lightly golden brown.
With this extra step, we'll ensure our homemade pumpkin pie has a lovely set crust.
Now to add the pumpkin pie filling and bake again until you have a set filling. Your goal is to have a knife come out clean in the center. Next is the hardest part, you will really need to wait for….you guessed it…..the pie to fully chill before enjoying.
Looking for other pie variations?
Print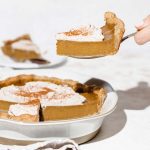 Homemade Pumpkin Pie
Author:

Theresa | Quiet Baking Day

Prep Time:

20 minutes

Chilling Time:

4 hours

Cook Time:

1 hour

Total Time:

5 hours, 20 minutes

Yield:

8 slices

Category:

Desserts

Method:

Intermediate

Cuisine:

American
---
Description
This Homemade Pumpkin Pie with a spiced pie crust and silky filling is so much more delicious than any store bought variety.
---
Cinnamon Pie Dough
180

g

all-purpose flour

1 tablespoon

granulated sugar

1/2 teaspoon

salt

1/2 teaspoon

ground cinnamon

56

g

unsalted butter, cold and cubed

70

g

shortening, cold and cubed

2 tablespoon

water, ice cold
Pumpkin Filling
450

g

(1-15 ounce can) pure pumpkin puree (not pumpkin pie filling)

3

large eggs

2 tablespoon

light corn syrup

1 teaspoon

vanilla extract

106

g

light brown sugar, packed

100

g

granulated sugar

1 tablespoon

cornstarch

2 teaspoons

ground cinnamon

1 teaspoon

ground ginger

1/4 teaspoon

grated nutmeg

1/4 teaspoon

ground cloves

1/8 teaspoon

allspice
Pinch of ground black pepper

1/2 teaspoon

salt

1

cup

heavy cream
Spiced Whipped Cream
1

cup

heavy cream

38

g

confectioners' sugar

2 teaspoons

ground cinnamon
---
Instructions
Pie Crust: Whisk together dry ingredients. Add cubed butter and shortening. Using fingertips or pastry blender, mix the butter and shortening until the flour becomes slightly sandy in texture and pea-sized chunks of the butter and shortening remain. Slowly add in teaspoons of the icy cold water, one at a time, until you have just enough to bring the dough together. You may not need the full amount. Once the dough holds together, turn out onto a sheet of plastic wrap. Form dough into a disc, wrap tightly and refrigerate for at least an hour.
Pumpkin Filling: While dough is chilling, make the pumpkin filling. In a large bowl, combine pumpkin, eggs, sugars and corn syrup. In a separate smaller bowl, whisk together cornstarch, salt, and spices. Add the dry ingredients into the pumpkin mixture. Whisk in heavy cream. Cover and let sit for at least 1 hour or up to overnight in the fridge.
Blind bake the crust: Once dough is chilled, preheat oven to 375°F.
Roll dough into a 1/8″ thick circle, about 12″ wide, on a lightly floured counter. Lift and turn frequently while rolling to avoid sticking. Carefully transfer to a deep pie dish. Trim edges or fold extra edges over and crimp as desired. Line the crust with a piece of parchment paper and return to fridge for 30 minutes.
Fill the crust with pie weights of dried, uncooked beans, making sure the weights fill to the corners and up the sides of the crust. This will ensure the crust stays in the right shape as it bakes.
Bake for 15 minutes, remove the weights and parchment and prick the dough several times with the tines of a fork. Return to the oven until the crust is lightly golden brown, about 5-8 minutes.
Pumpkin pie: Pour the pumpkin filling into the blind baked crust. Leave a bit of room for the filling to puff, so depending on your dish depth, you may not need all of the filling. Cover the crust edges with a pie shield or aluminum foil to prevent over-browning.
Return to the oven and bake for 50-60 minutes until a knife comes out clean in the center. Over-baking will create cracks, so begin checking early.
Remove from the oven and allow to cool completely for several hours before serving.
Spiced Whipped Cream: While pie is cooling, whisk together heavy cream, confectioners' sugar and cinnamon until stiffened. Spread over cooled pie, or serve on the side.
---
Notes
Pie dough can be made in advance. Tightly wrap dough disk in plastic wrap and place in freezer safe bag. Defrost overnight in fridge when ready to use.