With a creamy peppermint buttercream filling sandwiched between two incredibly chocolatey cakes, these Chocolate Peppermint Whoopie Pies are the perfect portable cake! Peppermint screams the holidays, which makes these a great choice for cookie exchanges, holiday parties and school gifts.
What is a whoopie pie you ask? It's an inside out cupcake, or a cake sandwich if you well. It's two cakes, shaped like cookies, with a filling between. It's portable because you can hold it without making a mess, but the cakes are still crazy fluffy and moist.
If you've ever broken the bottom off the cupcake and placed it on top of the icing so you can eat it easier, you've made a whoopie pie!
Ingredients
You will see the ingredients for the chocolate sandwiches are basically the same as a standard cake recipe. Standard chocolate cake batter tends to be a bit on the thin side. Our whoopie pie batter slightly more stiff which makes it scoopable.
All-purpose flour.
Dutch-processed cocoa powder. Chocolate is the star here, so using that rich dark chocolate makes a big difference. You might see this listed as "Special Dark" cocoa and it's available in most grocery stores.
Baking powder and baking soda. Because the dutch-processed coca powder is less acidic than traditional unsweetened cocoa, we use more baking powder since it doesn't rely on an acid to rise like baking soda.
Espresso powder. This is not a requirement, but it really brings out the flavor of the chocolate.
Unsalted butter.
Brown Sugar. This helps to make a very moist whoopie pie.
Egg. For our structure.
Buttermilk. The tang is perfectly paired with the chocolate.
How to Make Whoopie Pies
The great news is, making a chocolate whoopie pies is the same process as traditional cake batter. You cream the butter and sugar together well, meaning you really whip them until fluffy. This gives us a fluffier cake! Add the remaining ingredients as outlined below.
It's important to really sift the dry ingredients and whisk together, especially the cocoa powder. The cocoa powder is known to be pretty clumpy and if you don't have the ingredients evenly distributed, it will be especially noticeable when in such small scoops.
Scooping and Baking Whoopie Pies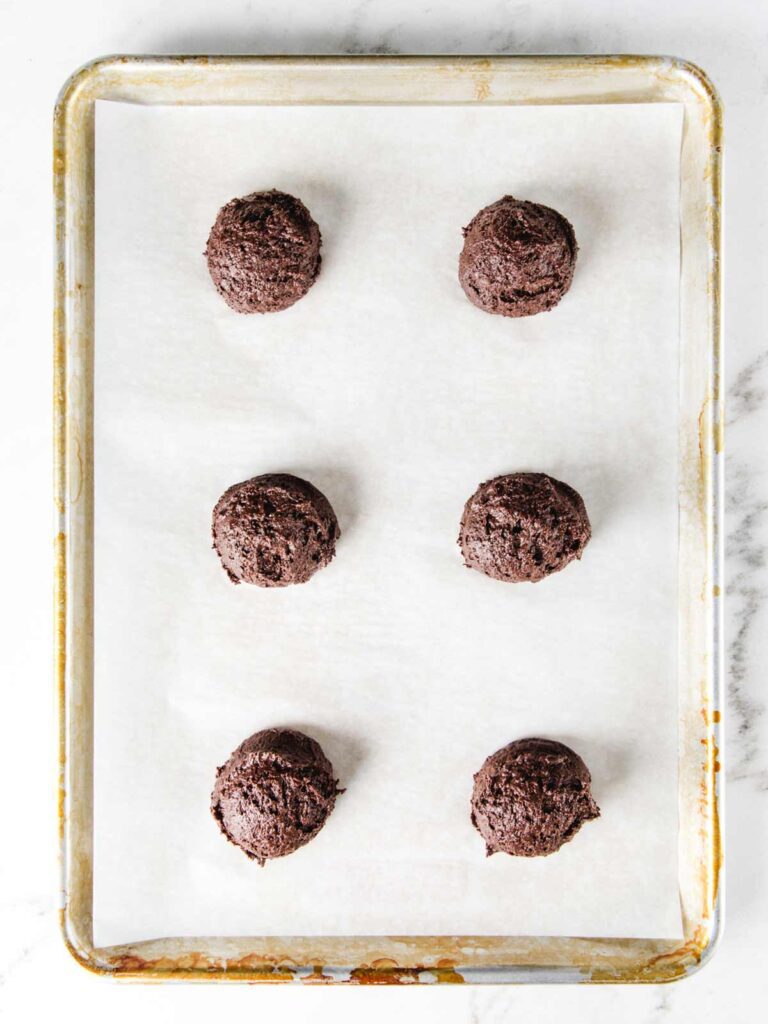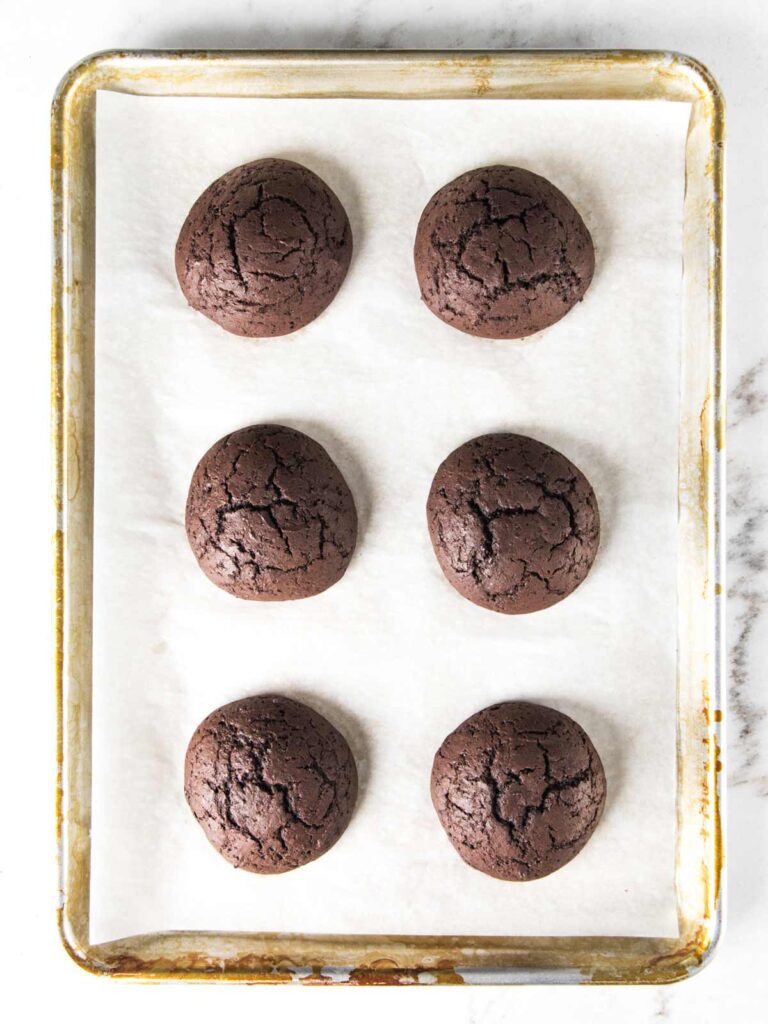 To make our whoopie pies, we are going to scoop these out basically how you would a cookie. Traditional whoopie pies originated in New England, and they are known to be big ol' honking hand pies. Ours will be no different. I use an ice cream scoop to make sure I get nice round, and consistently sized, cake sandwiches.
I use this exact one from OXO and have used it for too many years to say out loud.
Bake your whoopie pies on a parchment sheet and only bake 6 scoops at a time because they really grown in the oven.
Peppermint Icing
We can't have a chocolate peppermint whoopie pie without a peppermint filling! I tried a few variations with using a candy cane for this. Crushed candy canes were too grainy in the filling.
I also tried to melt the candy canes in a little milk. This not only made the icing too greasy, but it also thinned it too much and would require even more sugar to make it stable enough to sandwich.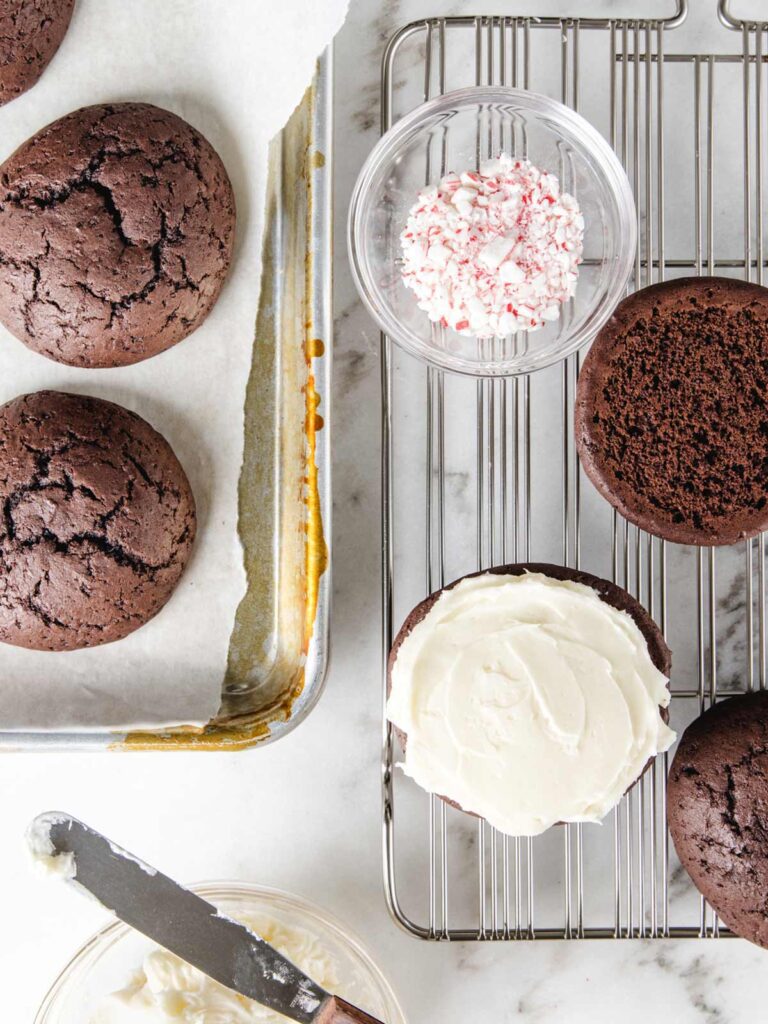 At the end of the day, the best way is just a quality peppermint extract since that's what flavors a candy cane anyway! Sometimes the juice just ain't worth the squeeze.
I know, peppermint isn't everyones cup of tea, it's a very divided flavor. If you're not a fan, skip it! Use vanilla instead.
Variations
Not a peppermint fan? Replace it with vanilla, or even almond, extract.
Make a marshmallow fluff filling, like you see in my Peanut Butter Fluffernutter Whoopie Pies.
Replace the crushed candy canes with mini chocolate chips or sprinkles.
Make minis! Use a 1 1/2 tablespoon cookie scoop and bake for only 10 minutes.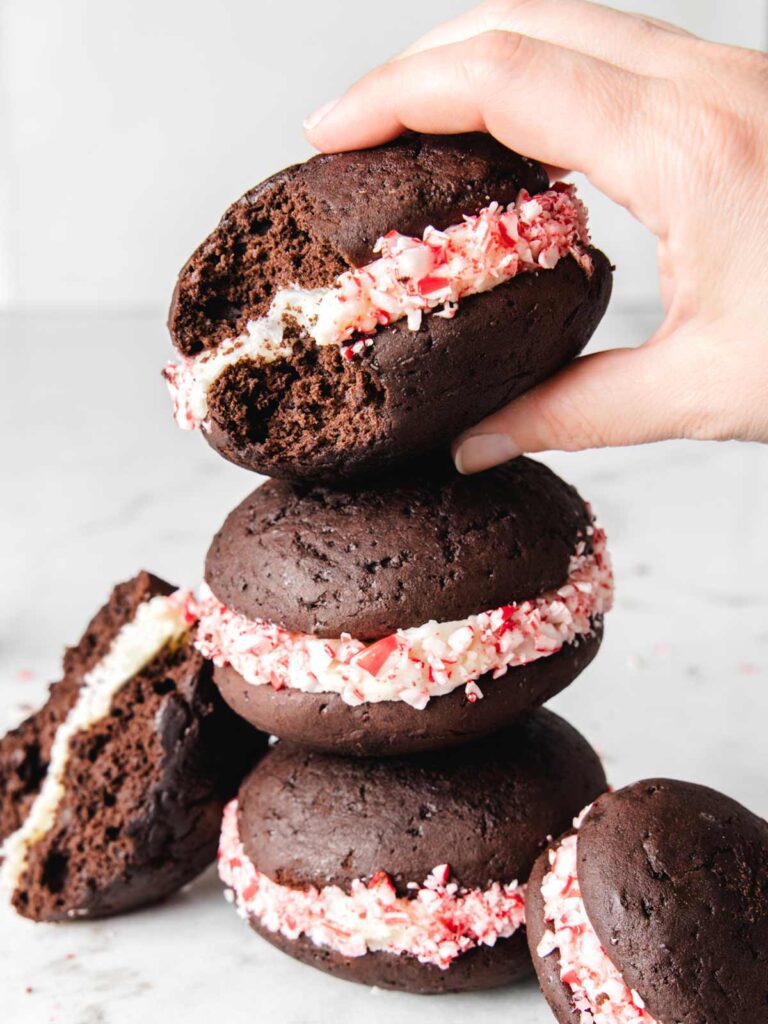 Frequently Asked Questions
What is the best way to crush the candy canes?
I like to place the candy canes in a ziploc bag and smash with a rolling pin. Using a food processor was too powdered. And chopping with a knife sent shards of candy across the kitchen.
Can I make these smaller?
Yes, you can use a 1 1/2 tablespoon standard cookie scoop and make perfectly mini versions. Bake for only 9-10 minutes.
Can I use this recipe for a large cake?
I would not recommend using this for cupcakes, the mixture is meant to be a bit more sturdy. I would recommend using a cake recipe, like this one in my Cookies and Creme Cake.
Can I substitute milk for buttermilk?
Yes, you can use regular whole milk, or you can make your own buttermilk. Add 1 teaspoon of white vinegar or lemon juice to the whole milk and let stand for 5 minutes. This is a quick buttermilk substitution!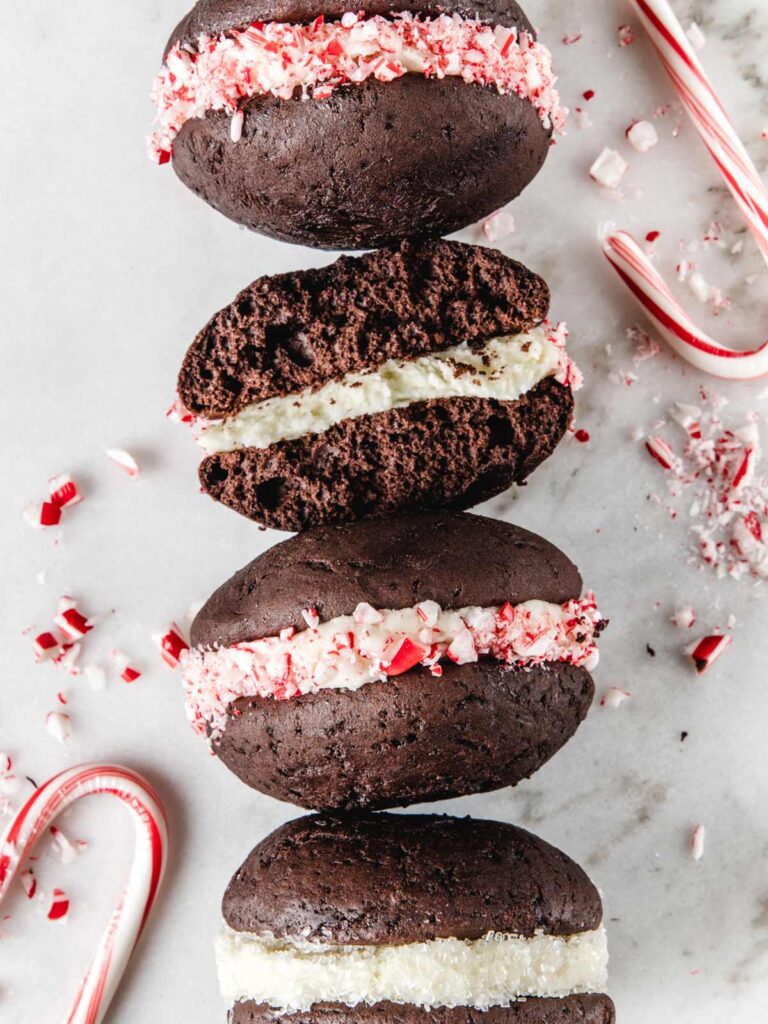 Print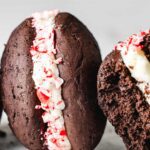 Chocolate Peppermint Whoopie Pies
Author:

Theresa | Quiet Baking Day

Prep Time:

15 minutes

Cook Time:

42 mintues

Total Time:

57 minutes

Yield:

7 whoopie pies

Category:

Cakes

Method:

Easy

Cuisine:

American
---
Description
This classic cake sandwich gets a holiday revamp with a peppermint twist in these Chocolate Peppermint Whoopie Pies.
---
Chocolate Whoopie Pies
310

g

all-purpose flour

56

g

dutch-processed cocoa powder

1 1/2 teaspoons

baking powder

1/4 teaspoon

baking soda

1 teaspoon

espresso powder (optional)

1 teaspoon

salt

1/2

cup

unsalted butter, room temperature

213

g

brown sugar, packed

1

large egg

1 teaspoon

vanilla extract

1

cup

buttermilk, room temperature
Peppermint Buttercream
141

g

unsalted butter, room temperature

320

g

confectioners' sugar, sifted

1/2

–

3/4

teaspoon pure peppermint extract

1 teaspoon

salt
Crushed candy canes or sprinkles, optional, for decoration
---
Instructions
Chocolate Whoopie Pies. Preheat oven to 350°F. Prepare 3 sheet pans with parchment paper and set aside. 
In a bowl, sift and whisk flour, cocoa powder, baking powder, baking soda, espresso powder, and salt until thoroughly combined and no clumps remain.
In a large bowl, whip butter and brown sugar on high until mixture is light and fluffy, about 5 minutes. Scrape down sides of bowl as needed. Mix in egg and vanilla extract.
With mixer on low, add 1/3 of the flour mixture. Stir until mostly combined. And 1/2 of the buttermilk. Repeat adding 1/3 of the flour, 1/2 of the buttermilk and 1/3 of the flour mixture until everything is mixed in. Switch to a rubber spatula and ensure all batter is incorporated and smooth.
Scoop onto prepared baking sheets with large ice cream scoop, no more than 6 per tray. Bake for 13-14 minutes until cake is just set and a toothpick come out without batter.*
Peppermint Buttercream. While cakes cool, prepare buttercream. Whip together butter, confectioners' sugar, peppermint extract** and salt until light and fluffy. 
When cakes are completely cool, turn 1/2 of the cakes over, spread the icing on flat side, and top with the other cake halves. Decorate the sides with crushed candy canes or sprinkles if desired.
---
Notes
*I recommend to bake one tray at a time for better baking consistency.
**Use the amount of peppermint you prefer. Some love a stronger flavor, some prefer more subtle.
Store leftover whoopie pies in covered in refrigerator for up to 2 days.
Keywords: holiday desserts, portable desserts