Who says you can't have chocolate for breakfast? Try these bakery-sized chocolate and orange muffins for the best of both worlds – chocolate and fruit! With a soft and fluffy muffin base and no mixer required, you'll be making these every weekend!
Is there anything better than a great cup of coffee and a freshly baked muffin on a lazy weekend morning? No, there isn't. I love a great muffin, like these chocolate zucchini muffins or these blueberry peach muffins. If you have a great muffin base recipe, the mix-ins are endlessly versatile and a great way to use what you have!
Ingredients
These muffins came about because I talked into a bag of oranges by a grocery store worker – they were fresh off the presses and looked amazing so I couldn't resist. But, like, 12 oranges is a lot a single gal. So, ta-da, chocolate and orange muffins came about.
This recipe uses my go-to muffin mix. It makes for an incredibly fluffy and flavorful muffin thanks to a combination of ingredients. Most of these you probably have in the pantry as we speak!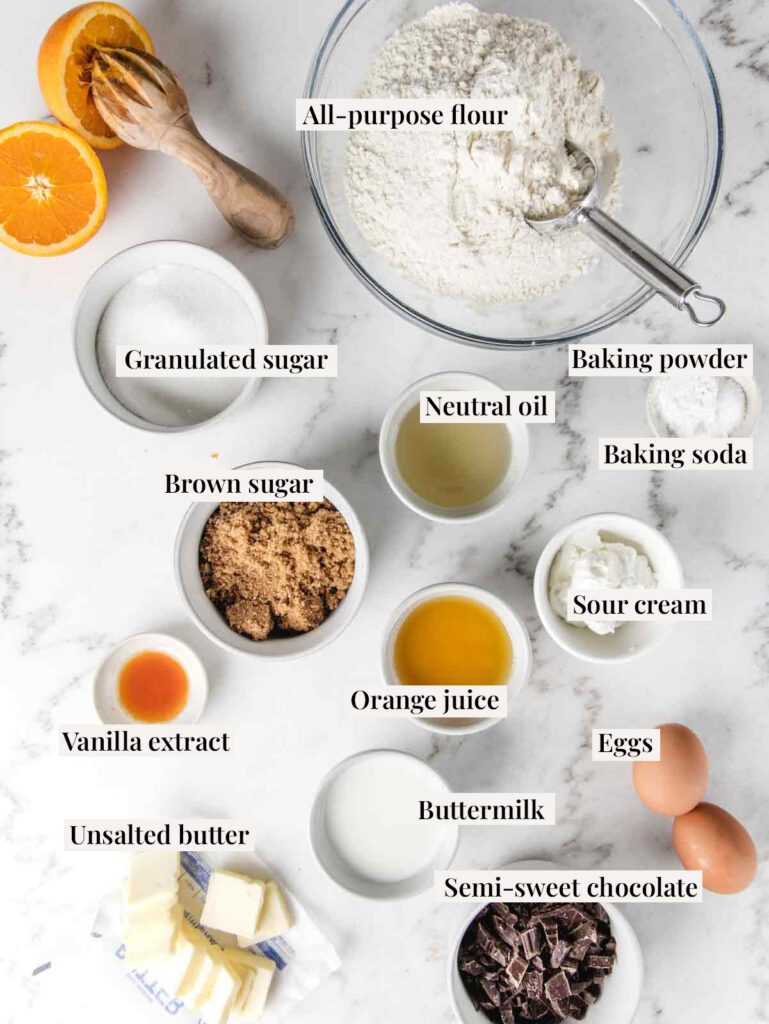 All-purpose flour. The perfect flour for muffins. Bread flour would be too tough and cake flour is too light for all our mix-ins.
Baking powder and baking soda. This gives us the lift and a classic domed top.
Unsalted butter and neutral oil. Using a combination of butter and neutral oil (like canola or vegetable – any oil without a flavor) gives us the flavor of butter and the soft and moist texture from oil.
Granulated sugar and brown sugar. Sweetens and helps to brown the top of the muffins.
Buttermilk. Provides the moisture and the tang.
Sour cream. The last bit of added moisture and softness to the mix. It also helps to activate the baking soda.
Orange juice and zest. Part of the buttermilk in the recipe was substituted for orange juice, which doesn't carry a ton of flavor on its own. We need to add the zest in too! A microplane is a great for this, it's one of my top 5 kitchen utensils.
Chocolate Chucks. I always prefer to use a chopped up baking bar instead of chocolate chips when I can. I love having the different sized chunks, plus the quality of chocolate is just better. Chocolate chips have added ingredients that helps them hold their shape, I'd prefer a puddle of all chocolate!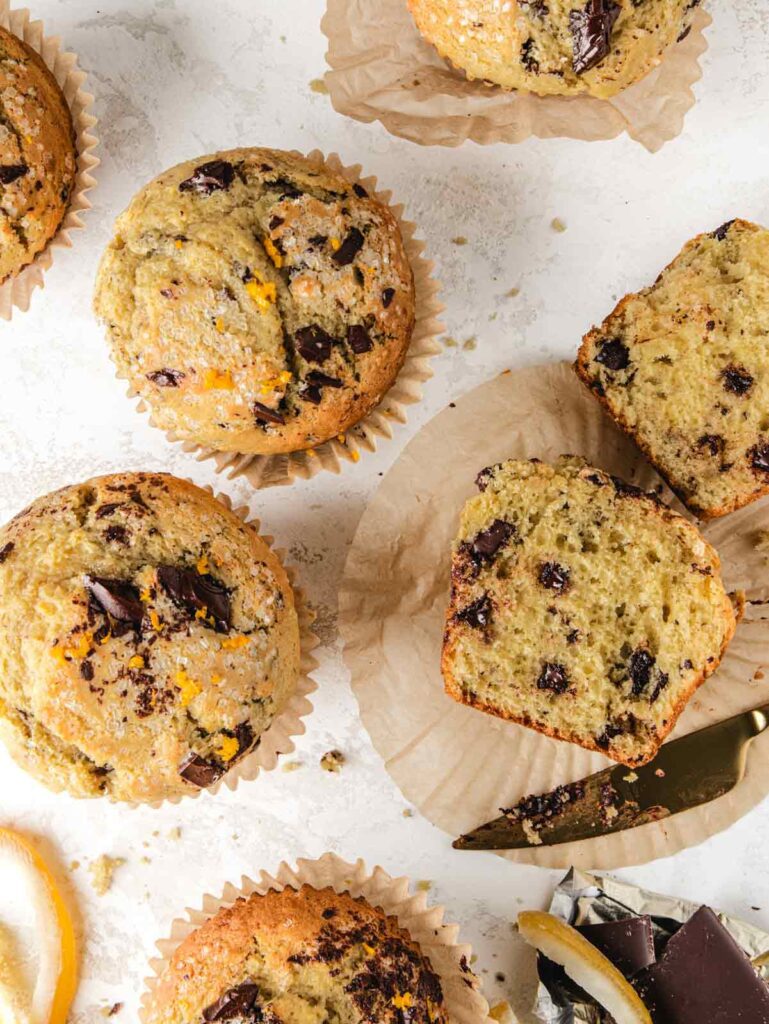 Making These Orange Muffins
I love making muffins because it's so easy and doesn't require a mixer! Two bowls, a whisk and a spatula is all you need. Funny enough, it's called the "muffin mixing method" in the baking world, and it's used for quick breads like pancakes, muffins, even some cakes.
In the first bowl, sift or whisk together you dry ingredients. If I'm not in a hurry, I like to sift the ingredients to make sure I don't have any flour clumps.
In the second bowl, whisk together all your wet ingredients. In this mixing method, sugars are considered a wet ingredient. This is because sugar melts in the oven, making it a liquid!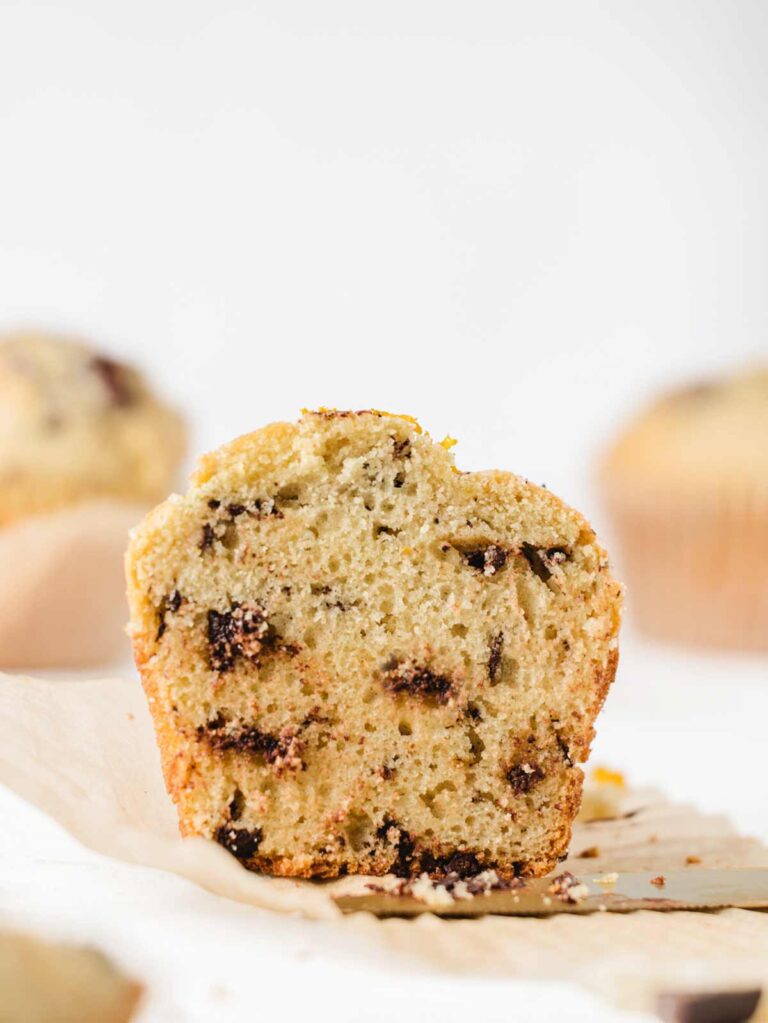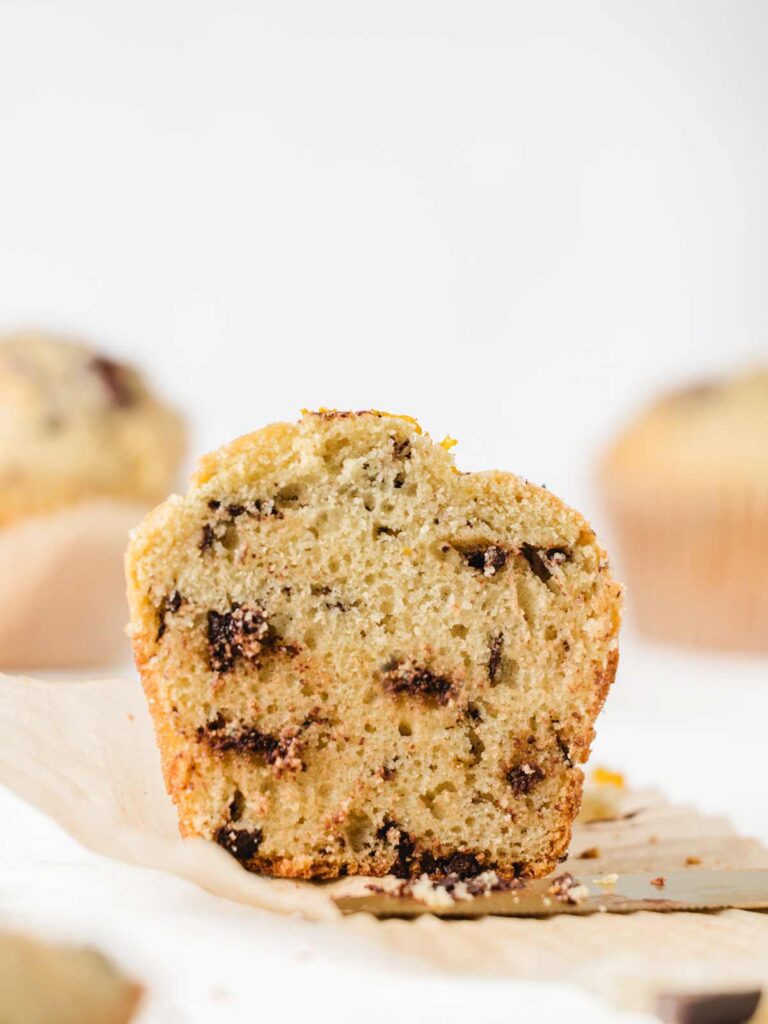 Next, combine the two bowls. Now is the time to switch to a spatula and gently fold the ingredients together. This means you want to gently scoop and turn the bowl until everything is all incorporated, not whip or beat it together, to prevent a tough muffin.
This can easily result in some flour pockets, so really take your time and make sure everything is nicely stirred together.
Finally, stir in the chocolate chunks. I left a few out of the batter so I could pop a few chunks on top after scooping into the muffin tins. Just for the aesthetics of it all.
Baking a Domed Muffin
The baking is very important for muffins. It's the only time you want that muffin top!
To achieve this, you'll see that we start with a very hot oven, 425°F. This is to give us that initial "spring" in the oven for a nice tall muffin dome.
But baking the entire time at this hot temperature will give us a dry, sad muffin. So after the first 5 minutes, we turn down the temperature to a more comfortable 350°F for the remainder of the time.
Frequently Asked Questions
If I have extra batter leftover, should I just divide it among the tins?
I don't recommend this, it's best just to fill the tins 75% full or risk overfilling and getting some spilled and ugly muffins. The exact amount of batter volume will differ depending on the size of the eggs, how hard you mix everything together, the size of the chocolate chunks, etc. If you have a bit of extra batter left after filling the tins, it's best to call it a loss or bake some smaller muffins.
Can I make these regular sized?
Absolutely, line a standard muffin tin with approximately 18 muffin liners. Fill each 75% full. Bake 425°F for 5 minutes, 350°F for 15 minutes.
Where do you get jumbo muffin liners?
Occasionally, you can find these in grocery stores, but it's not a sure bet. I usually grab them online.
Should my batter be clumpy?
In the muffin mixing method, it's totally normal to have some clumpiness in the batter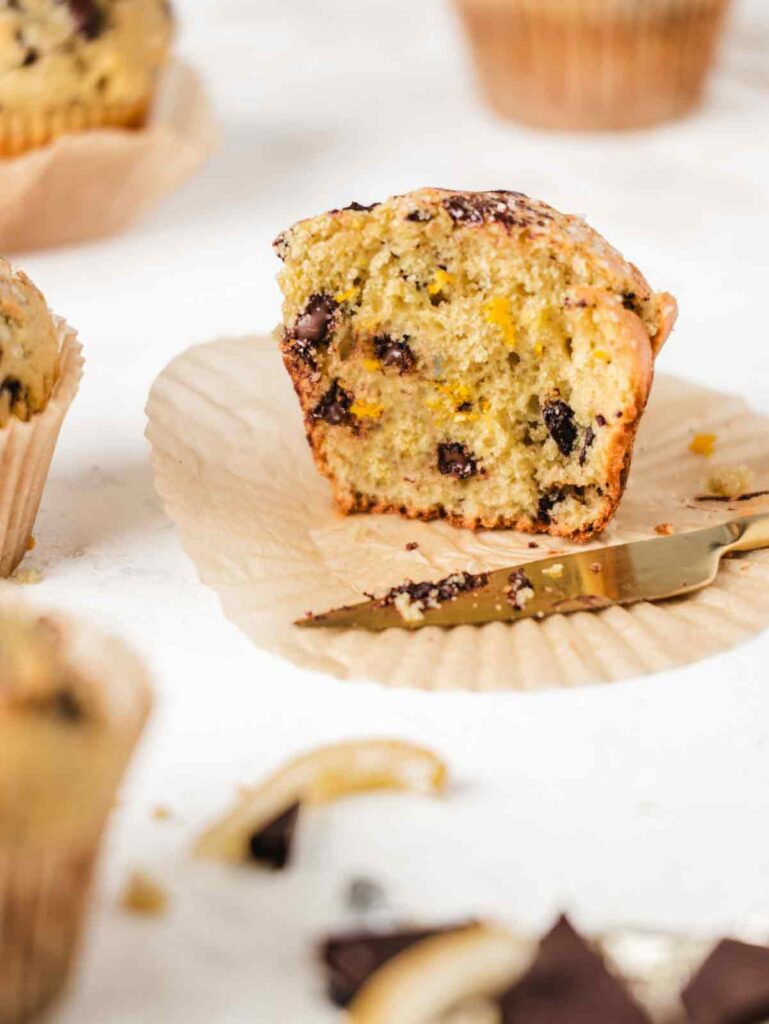 Print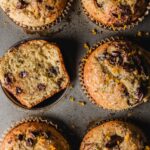 Chocolate and Orange Muffins
Author:

Theresa | Quiet Baking Day

Prep Time:

5 minutes

Cook Time:

25 minutes

Total Time:

30 minutes

Yield:

6 jumbo muffins

Category:

Pastry

Method:

Easy

Cuisine:

American
---
Description
Light, fluffy and bursting with flavor, these chocolate and orange muffins are the best way to start your morning.
Equipment Needed: Jumbo Muffin Pan
---
420

g

all-purpose flour

1 tablespoon

baking powder

1/2 teaspoon

baking soda

1/2 teaspoon

salt

83

g

unsalted butter, melted and cooled

1/3

cup

canola or vegetable oil

132

g

granulated sugar

106

g

brown sugar, packed

2

large eggs, room temperature

75

g

sour cream, room temperature

1/2

cup

buttermilk, room temperature

1/2

cup

orange juice
Zest of 2 oranges

1 teaspoon

vanilla extract

113

g

semi-sweet chocolate, chopped, or chocolate chips
Sparkling Sugar (optional)
---
Instructions
Preheat oven to 425°F. Line 6 jumbo muffin pan with liners.
In a large bowl, sift together flour, baking powder, baking soda and salt.
In a separate bowl, whisk together butter, oil, sugars, eggs, sour cream, buttermilk, orange juice & zest, and vanilla.
Pour wet ingredients into dry ingredients. Stir gently with spatula. Stir in chocolate chips.
Transfer to prepared muffin tin, filling each liner 75% full. Sprinkle with the sparkling sugar and a few extra pieces of chocolate if desired.
Bake at 425°F for 5 minutes, then turn oven down to 350°F and continue baking for 18-22 minutes until golden brown and a toothpick comes out clean.
---
Notes
Store leftover muffins in airtight container
For Standard Muffins. Fill muffin tins 75% full. Bake 425°F for 5 minutes, 350°F for 15 minutes. Makes approximately 18 standard muffins.
Keywords: mixer-free, brunch recipes, citrus desserts