These Buttermilk Scones are a little bit biscuit and a little bit cake. These require no mixer or fancy equipment can be made into an endless number of flavors.
Scone Testing
Scones are one of my favorite pastries. The first time I visited England, and enjoyed a "cream tea" – aka scones with jam, clotted cream and tea – I was hooked. When I returned home, I took to recreating buttermilk scones that still had the qualities of the traditional English-style scone that I loved. But that could be more playful like the scones we are used to in the States.
I tested batch after batch of scones. With milk and with heavy cream. Grated butter and cubed butter. Milk wash vs egg wash. At the end of day, my goal was something similar to a biscuit where jam or butters on top would be appropriate, but slightly cakey like you might find in an American bakery. Enter these buttermilk scones.
Flavors
I love this recipe for its easiness and versatility—they can be sweet or savory, main dish or side, classic or funky. Get crazy with your flavors and mix ins! Try a black pepper scone as a sandwich bread (my favorite is a pea puree, prosciutto, and shaved parmesan sandwich). Or a fresh strawberry and basil scone is perfect for summertime picnics. The options are endless. Shown above from top:
Orange Pistachio – Add zest of 1 orange, 1/2c. chopped pistachios, 1/2 tsp. orange extract. Glaze is 1c. powdered sugar, 2 tbsp orange juice, 1 tbsp honey

Romano & Rosemary – Add 1c. grated romano cheese, 1 tbsp. chopped rosemary, 1 tsp. thyme, 1/2 tsp. black pepper

White Chocolate Cardamom – Add 2 tsp. cardamom, 1/3c. shaved white chocolate. Dip in melted white chocolate.

Blueberry Almond – Add 3/4c. blueberries, 1 tbsp almond extract. Top with sliced almonds.

Snickerdoodle – Add 2/3c. cinnamon chips. Substitute brown sugar for granulated sugar. Top with cinnamon sugar.

Bacon Jalapeño Cheddar – Add 12 strips bacon (diced), 1 diced jalapeño, 1c. shredded cheddar
But don't stop there! Try these Apple Cinnamon Scones or Chai Scones with Brown Sugar Butter too!
Warm Ingredients Need Not Apply
The secret to making these scones is the temperature of the ingredients. The butter should be as cold as possible, as well as the buttermilk and eggs. I even like to freeze the dough for 20+ minutes or overnight before baking. This ensures the butter is completely ice cold.
How Much Buttermilk to Add
The second secret to these scones is to add the buttermilk slowly. The exact amount needed will vary due factors like humidity (crazy, right?!) and amount of mix-ins. Pour the buttermilk in small additions and only add enough to just bring the mix together to form a shaggy dough.
Tips for Success
Be playful with your ingredients, there's no wrong answer. Pepper, chocolate, berries, bacon — anything goes!
Add buttermilk to dough slowly, only adding enough to just moisten the dough
Freeze dough prior to baking – this cools the butter, slowing the spread of the scones. They will raise taller this way
Print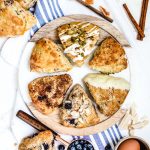 Buttermilk Scones
Author:

Theresa | Quiet Baking Day

Prep Time:

15 minutes

Chilling Time:

20 minutes

Cook Time:

20 minutes

Total Time:

55 minutes

Yield:

12 scones

Category:

Pastries

Method:

Easy

Cuisine:

American
---
Description
Buttermilk scones are beloved for their easiness and versatility—they can be sweet or savory, main dish or side, classic or funky.
---
375

g

all-purpose flour, plus more for dusting

50

g

granulated sugar (omit for savory scones)

1 tablespoon

baking powder

1 teaspoon

salt

150

g

unsalted butter, cold, cubed

1

large egg
1

1/4

cup

buttermilk, divided

1 tablespoon

vanilla extract (omit for savory scones)
Egg wash (1 egg + 1 tablespoon water)
Coarse sugar for topping (omit for savory scones)
---
Instructions
Whisk together flour, sugar, baking powder, and salt.
Rub cold butter into flour until the size of peas.
Add any desired mixed-in ingredients (fruit, nuts, etc.)
In separate measuring cup, mix together 1 egg, 3/4 cup buttermilk and vanilla.
Pour wet mixture into flour, mix using wooden spoon. Add remaining buttermilk as needed to just moisten flour to form a shaggy dough.
Tip dough onto heavily floured surface. Knead only enough to bring dough together.
Separate into 2- 1″ tall disks and slice into 6 wedges each. Alternately, use cookie cutters for round scones.
Place on parchment lined baking sheet and allow to chill in freezer for 20 minutes.
While dough chills, preheat oven to 425°F.
Once dough is chilled, brush the top with egg wash and coarse sugar.
Bake 18-20 minutes, turning pan halfway through.
---
Notes
Dough can be made ahead of time and store in freezer. Once fully frozen on sheet pan from Step 8, transfer to airtight container. Continue with Step 9 when ready to bake.
Keywords: savory, brunch, berries