This magnificently moist Apple Butter Pound Cake features apple cider and a wonderful swirl of apple butter in the in the center. Made with cream cheese inside and out, this cake is autumn perfection.
Apple picking season is one of my favorite seasons. Mostly because I can make all the apple butter. There's nothing like the smell of apples and cinnamon simmering for hours in the slow cooker to make a house a home.
I go through the steps to making an apple butter in my apple cider donuts recipe. And while it's not required to make your own (you can find lots of great brands in the stores) it's just one of the those quintessentials of fall for me. Plus, you can use it in other great recipes, like this apple compote cake or this apple sheet pan pie filling.
Ingredients
Traditionally, pound cake was originally made with 1 pound each of flour, sugar, eggs, and butter. And while, yeah, that makes a cake, it's just not a very good one. Things have improved since its introduction in the 1700s.
In our apple butter cake, we have definitely improved on both the flavor and texture:
The traditional ingredients: all-purpose flour, unsalted butter, granulated sugar and eggs.
Cream cheese. Here's where things stray from the traditional. Adding cream cheese is not only a great flavor with the apples, but it makes for an incredibly soft pound cake.
Baking powder. Traditional pound cake doesn't have any leaveners, which is why was so dense! We have just a touch in the modern pound cake.
Apple cider. Many recipes call for milk in the modern pound cake to prevent a dry cake. That's a missed opportunity for apple flavor! I recommend apple cider over apple juice which has a purer apple flavor. But if it's not that time of year, you can use apple juice too.
Apple butter. This is what the cake revolves around! Use a quality store bought or homemade version.
Walnuts. This is totally optional, but if you like a nice little texture in the cake, some chopped walnuts work wonderfully with the apples.
Making the Apple Cake
I love making loaf cakes of any kind, they are just so much faster to make than a layer cake. Don't get me wrong, I love a layer cake in all it's glory, but sometimes you just want to whip something together!
This apple pound cake is no exception! Start by whipping together the butter, cream cheese and sugar. Because of the cream cheese, this texture might not look the same if you are used to creaming butter and sugar alone for other cakes.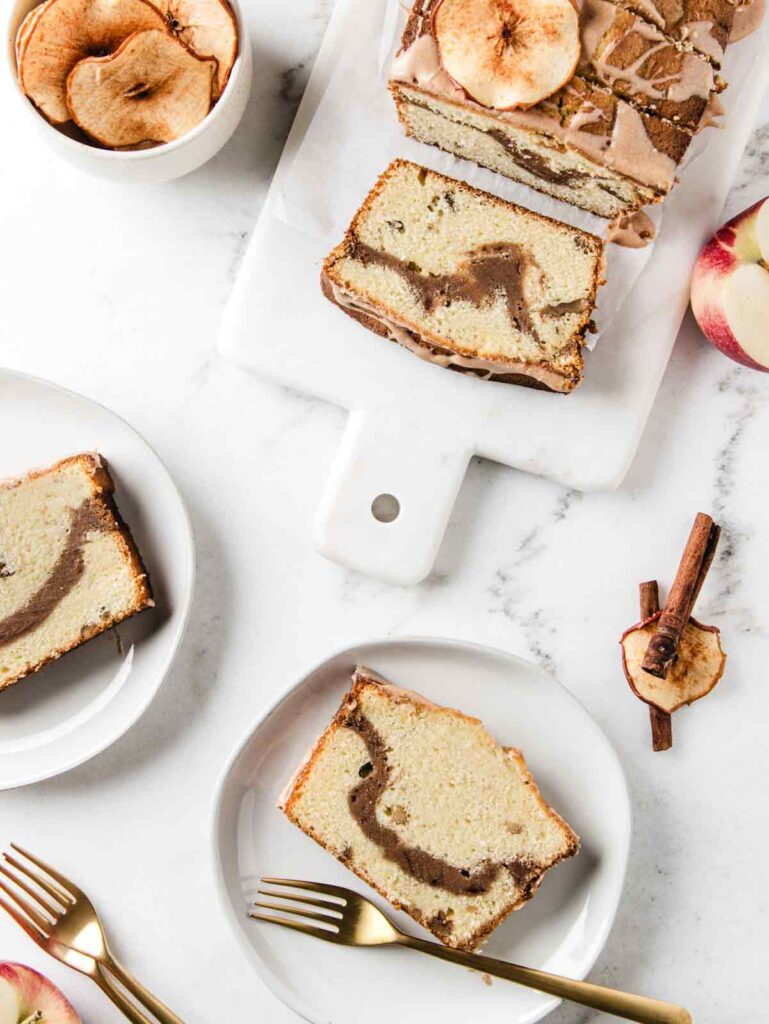 But the same theory applies you still really want to whip the fats and sugar together, so don't skip this step.
Next, add the eggs one at a time. This is a high ratio of eggs, but that richness really comes through in the final cake texture.
Alternate adding your mixture of flour, baking powder and salt with the apple cider. With the mixer on low, add 1/3 of the flour mixture, 1/2 of the cider, and continue until everything is incorporated.
Making the Apple Butter Swirl
In order to make the apple swirl in our pound cake, we need to lighten the up the apple butter slightly. On its own, it's a bit heavy and if we spoon it directly into the cake batter, it has a tendency to sink to the bottom.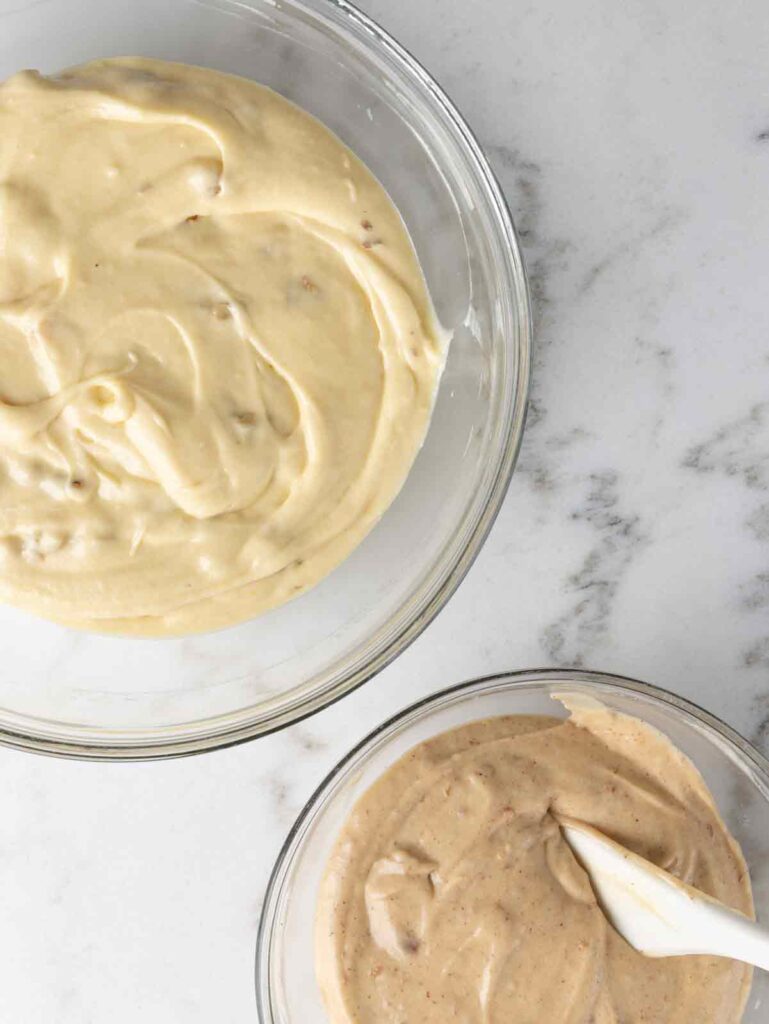 To combat this, we will lighten the apple butter by mixing it with some of the cake batter. Stir about 1/3 of the cake batter into the apple butter. No need to be exact here!
Baking the Pound Cake
This cake works in both a 8.5″x4.5″ or 9″x5″ loaf tin. I prefer the 8.5″x4.5″ size because I like a tall cake, but no wrong answers.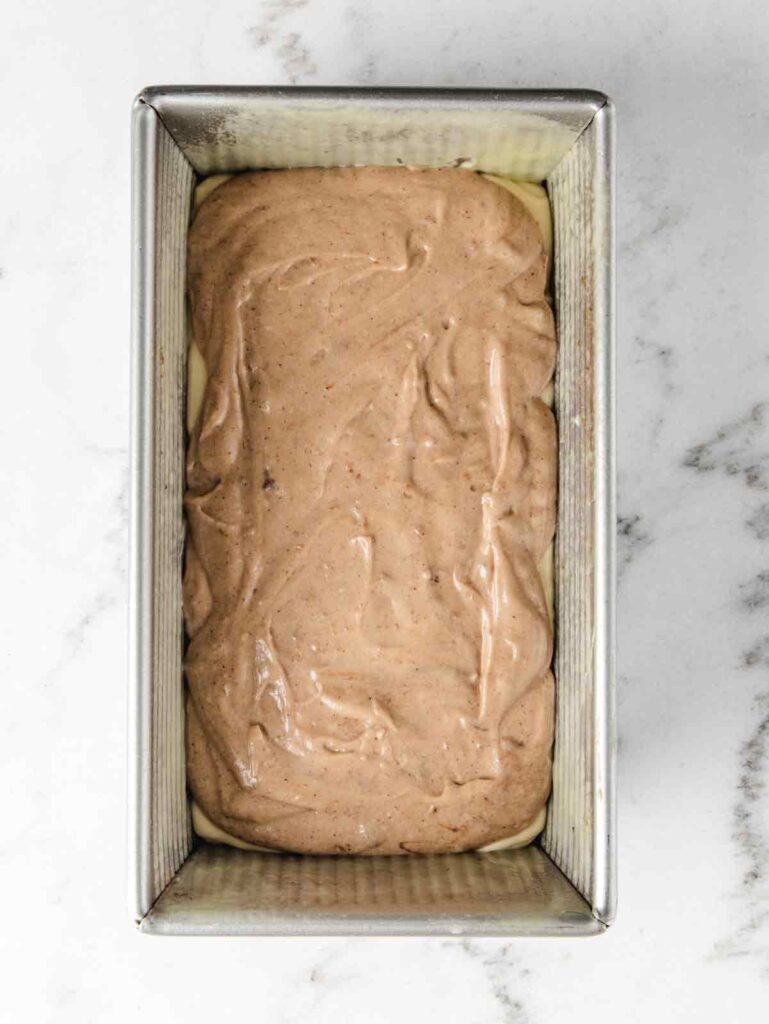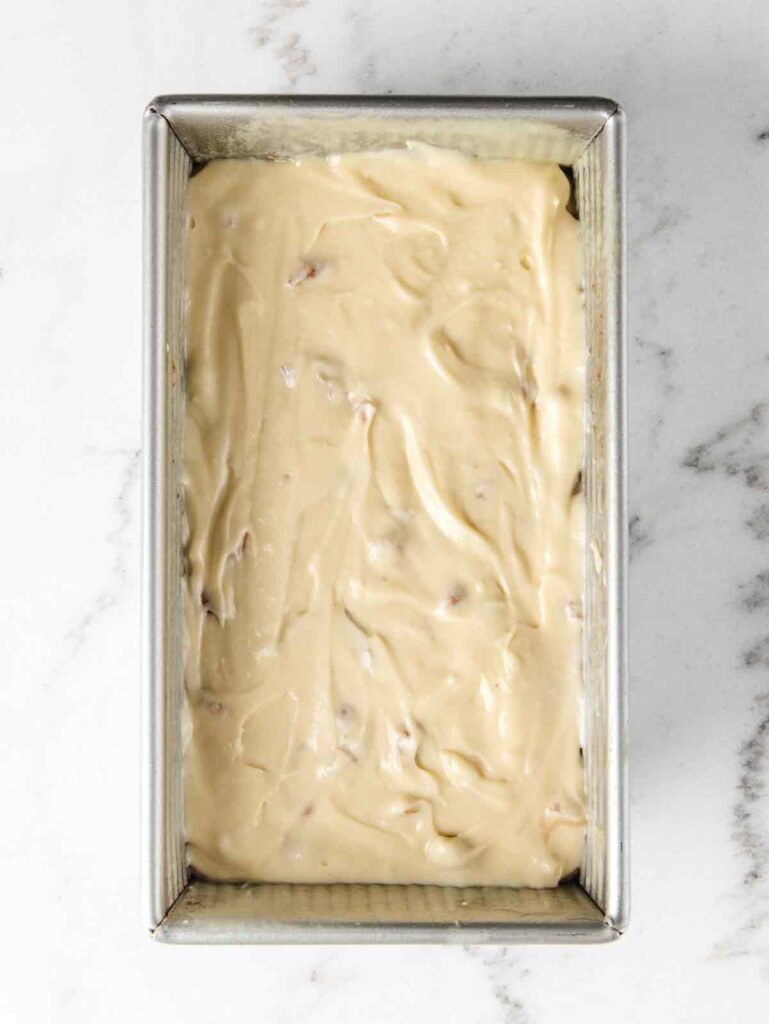 Spoon half of the plain cake batter into your loaf tin. Top it with the apple butter batter. Spoon the remaining half of the plain batter evenly on top. Be gentle as you spoon to preserve a nice center of apple swirl.
Baking this cake will take some time – it's a tall and dense cake. Because it will take nearly an hour, you will likely need to cover the top of the cake with an aluminum foil tent halfway through to prevent overbrowning the top.
Keep an eye out after about 30 minutes into baking. When your top is starting to brown, it's time to place a piece of aluminum lightly on top. Don't secure it down or you will create steam.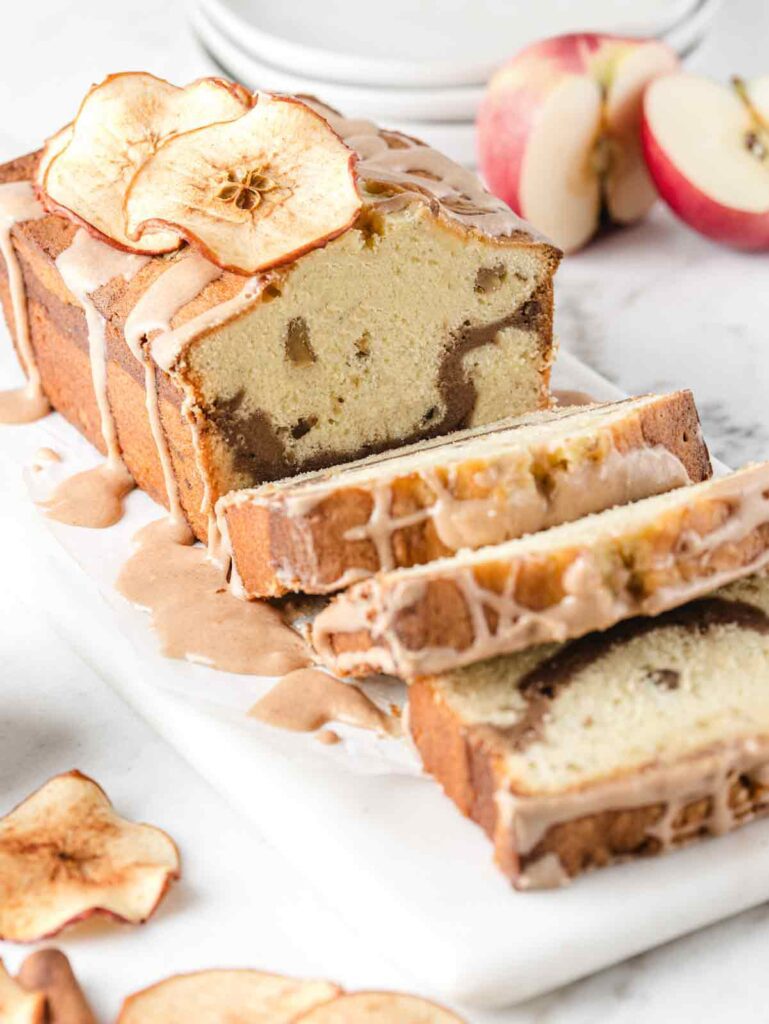 Glazing the Cake
This cake is great on it's own, but a quick glaze takes it over the top.
I like a hand-mixer for this, but you can use a stand mixer or make it by hand too. Begin by whipping together the butter and cream cheese to soften. Add confectioners' sugar, apple cider and cinnamon. The confectioners' sugar will help the glaze to set nicely on the cake.
Feel free to adjust the consistency to your preference. Adding a bit more confectioners' sugar will make it a thicker glaze. A bit more cider will make it a thinner glaze.
Frequently Asked Questions
How do I store this apple cake?
Store in an airtight container at room temperature for up to 3 days.
Can I use store bought apple butter?
Yes! Use store bought or homemade apple butter!
My swirl batter is a bit pale, how do I make it stand out more?
A little pro tip: adding a pinch of cocoa powder will darken the apple swirl just a touch for a bit of extra contrast in the swirl without adding flavor. Not a requirement!
What do I do if my glaze is clumpy?
Two things can cause this, either clumpy confectioners' sugar or cold butter. Confectioners' sugar should be sifted through a fine mesh sieve before whisking. If your butter is a bit cold, you might see small clumps. You can warm on the lowest setting in the microwave in 10 second bursts and keep whisking until smooth.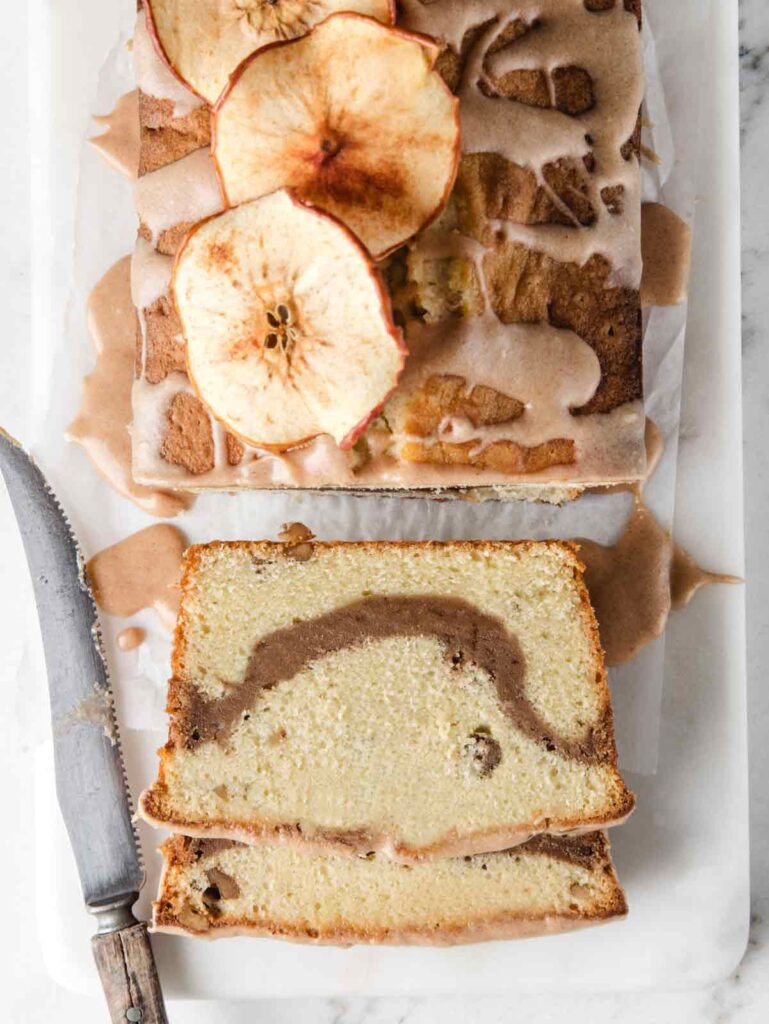 Print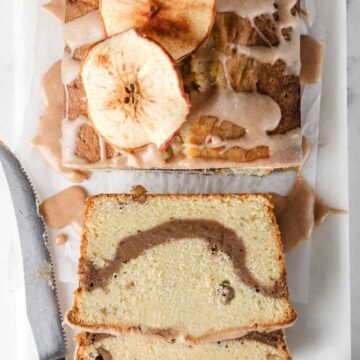 Apple Butter Pound Cake
Author:

Theresa | Quiet Baking Day

Prep Time:

15 minutes

Cook Time:

70 minutes

Total Time:

1 hour, 25 minutes

Yield:

8 slices

Category:

Cake

Method:

Easy

Cuisine:

American
---
Description
With a swirl of apple butter and a cinnamon apple cider glaze, you'll be celebrating the best of autumn with this Apple Butter Pound Cake.
Equipment: 8.5″x4.5″ or 9″x5″ loaf pan
---
Apple Butter Pound Cake
210

g

all-purpose flour

1 1/2 teaspoons

baking powder

1/4 teaspoon

salt

113

g

unsalted butter, room temperature

113

g

cream cheese, room temperature

250

g

granulated sugar

3

large eggs, room temperature

2 teaspoons

vanilla extract

1/2

cup

apple cider

100

g

apple butter

55

g

chopped walnuts (optional)
Glaze
28

g

cream cheese, softened

1 tablespoon

unsalted butter, softened

56

g

confectioners' sugar, sifted

1 1/2 tablespoon

apple cider

1 teaspoon

ground cinnamon
---
Instructions
Apple butter pound cake. Preheat oven to 350°F. Grease and flour a 8.5″x4.5″ or 9″x5″ loaf pan.
Whisk or sift together flour, baking powder and salt, set aside.
In the bowl of a stand mixer, or with a hand mixer, cream together butter, cream cheese and sugar on high until color is light and fluffy, 3-5 minutes. Scrape down bowl as needed.
Add eggs, one at a time, on low. Add vanilla extract.
Alternate adding flour mixture and apple cider. Flour – cider – flour – cider – flour, allowing for each addition to incorporate before adding the next.
Separate 1/3 of the cake batter and mix with apple butter. Stir walnuts into remaining 2/3 of the plain cake batter.
Spread half of plain cake batter into prepared pan. Top with apple cake batter and spread evenly. Top with remaining half plain cake batter and smooth.
Bake for 65-75 minutes. After 30 minutes, begin checking color of cake. If top begins to brown, lightly tent with a piece of aluminum foil. Bake until a toothpick comes out clean.
Allow to cool in pan until cake is cool enough to touch. Remove from tin and place on cooling rack until cooled completely.
Glaze. Once cake is cool, make glaze. whip together cream cheese and butter. Add confectioners' sugar, apple cider and ground cinnamon. Spoon over cake.
---
Notes
Store in airtight container for up to 3 days.
Substitute pecans for walnuts if desired.
Keywords: fall desserts, fall baking