This Zucchini Galette has a buttery, flaky, and cream cheesy crust filled with a blend of ricotta cheese, zucchini slices, and a pop of lemon. Plus, this galette is just as delicious warm from the oven or room temperature, making it the perfect make-ahead vegetarian brunch option!
Made with a combination of four, yes four (!) cheeses, this galette still feels like a light and refreshing summer option. A super fool-proof cream cheese crust is flaky and flavorful on its own. But the combination of mozzarella, ricotta and Parmesan in the filling takes this to the next level. The sliced zucchini and lemon zest takes this to the next level after that!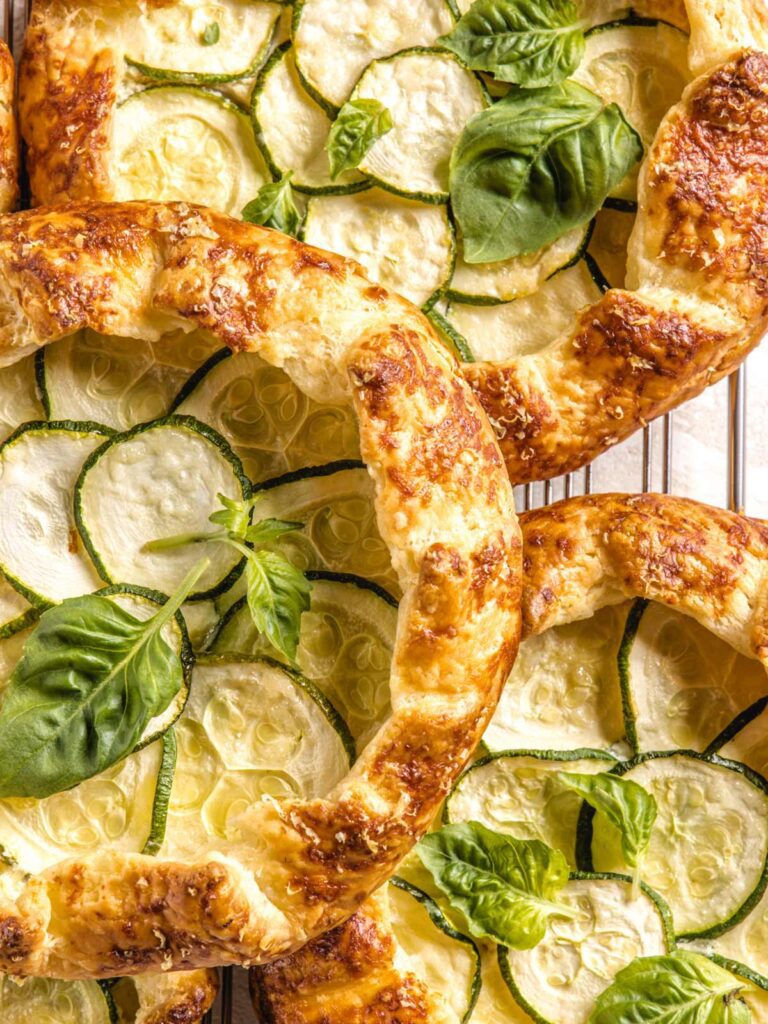 All About Galettes
A galette is something between a tart and a pie. But it's their more casual and rustic cousin. They can be sweet like this Almond & Blueberry Galette, or savory. Typically using a standard pie crust, the dough is rolled out flat, a layer of filling is placed in the center, then the dough is folded over the edges to create a crust.
A galette just needs a baking sheet, so no special pans for baking. The crust is encouraged to be a bit scraggly and uneven to give it a little character. Phew, no complicated lattice work or braiding is needed here!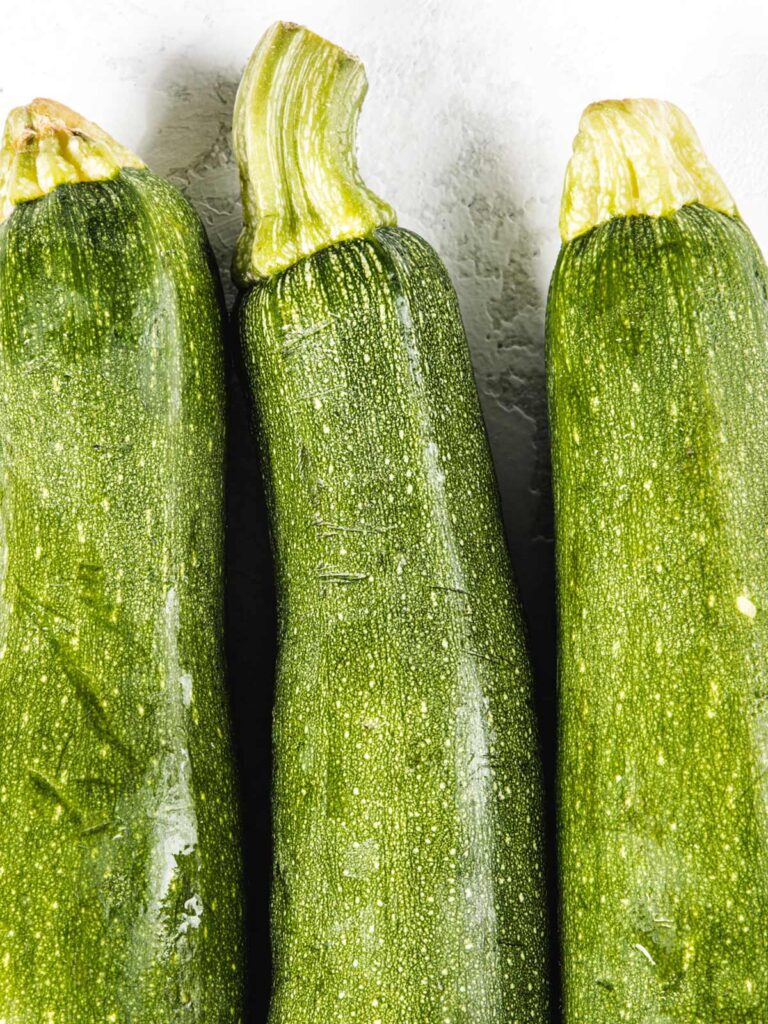 What Makes this Zucchini Galette so Special?
There's a few things that makes this particular zucchini galette so delicious.
The cream cheese crust is so flavorful on it's own. But as an added bonus, the cream cheese in the crust makes the dough incredibly easy to work with. The final baked crust is super flaky with a bit of tang from the cream cheese and not a trace of greasiness.
The zucchini is the star of the show. Slices of zucchini is arranged all across the top of the galette. The pretty pop of green and the shingles of zucchini coins look as lovely as a great summer squash tastes.
The filling is a blend of three cheese: mozzarella, ricotta and Parmesan. Together, these cheeses are do not overpower the subtle zucchini flavor, but actually enhance it.
Taking this galette over the top is the lemon zest and bit of red pepper flake in the filling. It really makes it POP off the plate.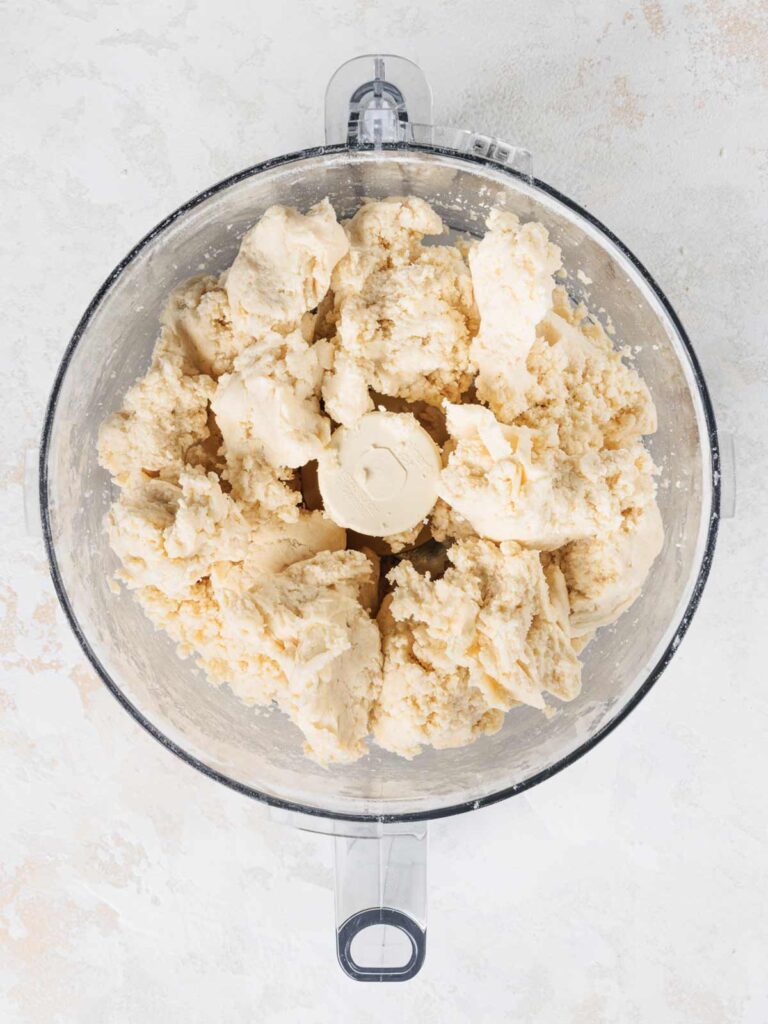 Serving
I personally think this galette works any time of the day. It's great for a brunch dish, light enough of a lunch, but can be amped up for dinner with a side salad or a delicious bread (like this Cheesy Braided Pesto Bread). Add a glass of white wine or, even better, Prosecco, and you have literally one of my favorite meals of all time.
Here's the best part, this zucchini galette happens to be just as delicious warm straight from the oven, room temperature, or chilled. It's the perfect make-ahead dish for your brunch or dinner party.
Ingredients
This recipe has a few simple ingredients that combine to let each other shine.
Cream Cheese Crust
All-purpose flour.
Baking Powder. This is a little unusual in crust doughs, put this give the final crust a little extra puff and lift in the flakes
Cream Cheese and Butter. The cold butter will create the flakes while the cream cheese will provide the flavor and texture.
Vinegar. Vinegar helps to prevent overworking the dough and is a neat little trick for pie crusts. You can read more about it at King Arthur Flours' article Vinegar in Pie Dough.
Heavy cream. Brings the dough together. Sometimes water is used, and can be in a pinch, but the heavy cream brings a richness to the final crust that I love.
Egg Wash. And egg wash (egg mixed with 1 tablespoon of water) will provide a nice golden brown crust. Without it, you will have a sad, pale little galette.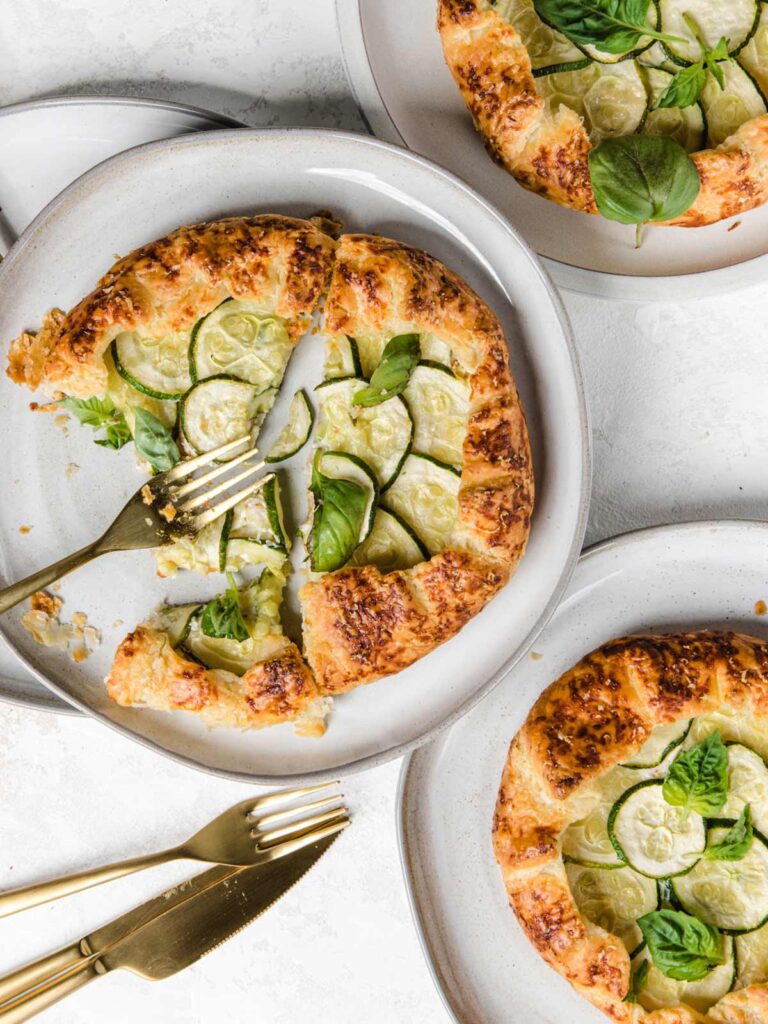 Ricotta Filling
3 Cheeses: Ricotta, Mozzarella and Parmesan. The rule of cheeses – freshly grate when you can and use the whole milk stuff, especially with ricotta. Skim milk ricotta is very watery and not very flavorful.
Seasoning. Don't skimp out on the lemon zest, lemon juice (use fresh!), salt and peppers. This give things a real boost!
Pro tip: Zest your lemon directly into the bowl of cheeses. Zest has all of the flavor in the oils in the rind and a lot of the oils will stay on the first surface, so make that your dish! Only zest the yellow rind, the white pith is very bitter. And zest before slicing to juice!
Egg. Ricotta can be a bit loose when warmed. Adding an egg will help hold the filling together and give everything a little puff.
Zucchini
Sliced Zucchini. 1/8″ thick slices are the ideal size. A mandoline slicer is perfect for this task, but a sharp knife and a little concentration will do the trick too.
Salt. Zucchini is notoriously a bit watery. And watery is the death of pasty. In order to combat that, lay the zucchini slices in a single layer on a paper towel, sprinkle with salt, and let sit for 30 minutes. The salt will pull all the water out of the zucchini, leaving just the delicious flavor texture.
Print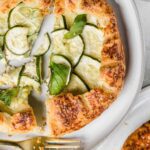 Zucchini Galette
Author:

Theresa | Quiet Baking Day

Prep Time:

15 minutes

Chilling Time:

1 hour

Cook Time:

35 minutes

Total Time:

1 hour, 50 minutes

Yield:

6 galettes

Category:

Pastries, Savory

Method:

Easy

Cuisine:

American
---
Description
This Zucchini Galette is bright and summery with a lemony ricotta filling and fresh zucchini slices wrapped in a flaky and totally fool-proof cream cheese crust.
---
Cream Cheese Crust
270

g

all-purpose flour

1 teaspoon

salt

1/4 teaspoon

baking powder

283

g

cream cheese, cold, cubed

170

g

unsalted butter, cold, cubed

1 teaspoon

apple cider vinegar (or white vinegar)

1 1/2 tablespoons

heavy cream
Zucchini Ricotta Filling
2

large zucchini

2 teaspoons

salt

100

g

(1 cup) mozzarella

250

g

(1 cup) whole-milk ricotta

15

g

(1/2 cup) fresh-grated Parmesan + extra for sprinkling

1

egg, beaten

2

cloves garlic, minced
Zest of

1

lemon

2 teaspoons

fresh lemon juice

1 teaspoon

red pepper flakes
Black pepper + salt
Egg wash (1 egg + 1 tablespoon water)
Fresh basil for topping (optional)
---
Instructions
Cream Cheese Crust: In the bowl of a food processor, pulse together flour, salt and baking powder. Add in cream cheese and pulse until blended through.
Add cubed butter, and pulse until large chunks of butter remain. Stream in vinegar and heavy cream and pulse until the dough just begins to come together.
Transfer to a lightly floured board and knead a few times to bring the dough together. Divide dough into 6 equal discs (about 125g each), wrap in plastic and let chill for and least 1 hour.
Cream Cheese Crust by Hand: If not using a food processor, whisk together flour, salt and baking soda. Using fingers or a pastry blender, rub in cream cheese then cold butter until the texture is sandy. Stir in vinegar and heavy cream with wooden spatula. Continue with Step 3 above.
Zucchini Ricotta Filling: 30 minutes into chilling time, slice zucchini into 1/8″ thick slices. Lay in a single layer on a paper-towel-lined tray. Sprinkle salt on top and let sit for 30 minutes.
Preheat oven to 400°F. In a small bowl, mix together mozzarella, ricotta, Parmesan, beaten egg, garlic, lemon juice & zest, red pepper flakes and salt & pepper.
Remove 1 disc of dough from the fridge at a time. Roll on a floured board to 1/8″ thick, about 7 1/2″ wide circle. Place 1/6th of the ricotta filling (about 1/4 cup) in the center and spread in an even layer, leaving about 1″ edge clean.
Using a paper towel, blot the top of the zucchini slices to pull out all moisture. Repeat as needed with additional paper towels. Place zucchini in slightly overlapping circles on top of the ricotta filling. Fold 1″ edge over filling to create a crust. Brush with egg wash and sprinkle top with Parmesan cheese. Transfer to a parchment lined tray.
Repeat with remaining dough to create 6 galettes.
Bake at 400°F for 30-35 minutes until the crust is golden brown and the bottom is set.
Let stand at least 5 minutes before serving. Serve warm or room temperature. Top with basil if desired.
---
Notes
Cream Cheese Crust can be made ahead of time. After separating into discs, place in a freezer bag and freeze for up to 3 months. Defrost in the night before ready to use.
Leftover galettes can be stored in the fridge, they are great cold! Or reheat in the oven at 350°F for about 5 minutes.
To make one large galette, keep dough in a single disc, roll out to 1/8″ circle. Fill and place zucchini on top in the same manner as above. Bake 40-50 minutes until bottom is golden brown.
Keywords: vegetables, mixer free, brunch
Looking for other savory brunch options? Try this Jalapeño Cheddar Bagel too!