Let's rejoice for the summer season with these Strawberry Ice Cream Sandwiches. Made with a triple layer of strawberries, these mixer-free sandwiches showcase the berries in the cookies, the jam swirl and the strawberry ice cream!
Nothing screams summer to me like berries, berries, and more berries. I don't know about you, but I look forward to the summer berry season all winter long. You can find a lot of berry recipes in these parts like my Mini Blackberry Tarts, and especially strawberry recipes like these Fryer-Free Strawberry Donuts or Strawberry Pop Tarts!
What Makes These Ice Cream Sandwiches So Good?
Ice cream sandwiches are already one of the greatest gifts for summer. Anytime I can enjoy two desserts at once, I'm a happy camper. We're taking our sandwiches up a notch from the classic vanilla variety.
Strawberry Cookies. A spin on my Brown Butter Cookies, these cookies use powdered freeze-dried strawberries. Freeze-dried strawberries are wonderful for baking because they can provide a lot of natural strawberry flavor without the problematic liquid in fresh berries.
Strawberry Ice Cream. I don't personally have an ice cream churner, so I opted to use a quality store-bought strawberry ice cream and put my own spin on it! I used a local gelato from Oh So Gelato.
Strawberry Jam. Taking that store-bought strawberry ice cream up a notch, we're going to add a swirl of our own fresh berry jam. This swirl is what brings it all together for me!
Incredible Toppings. We're not finished there. I suggest topping these with either a white chocolate dip or some chopped pistachios. And why say "or" when you can say "and"!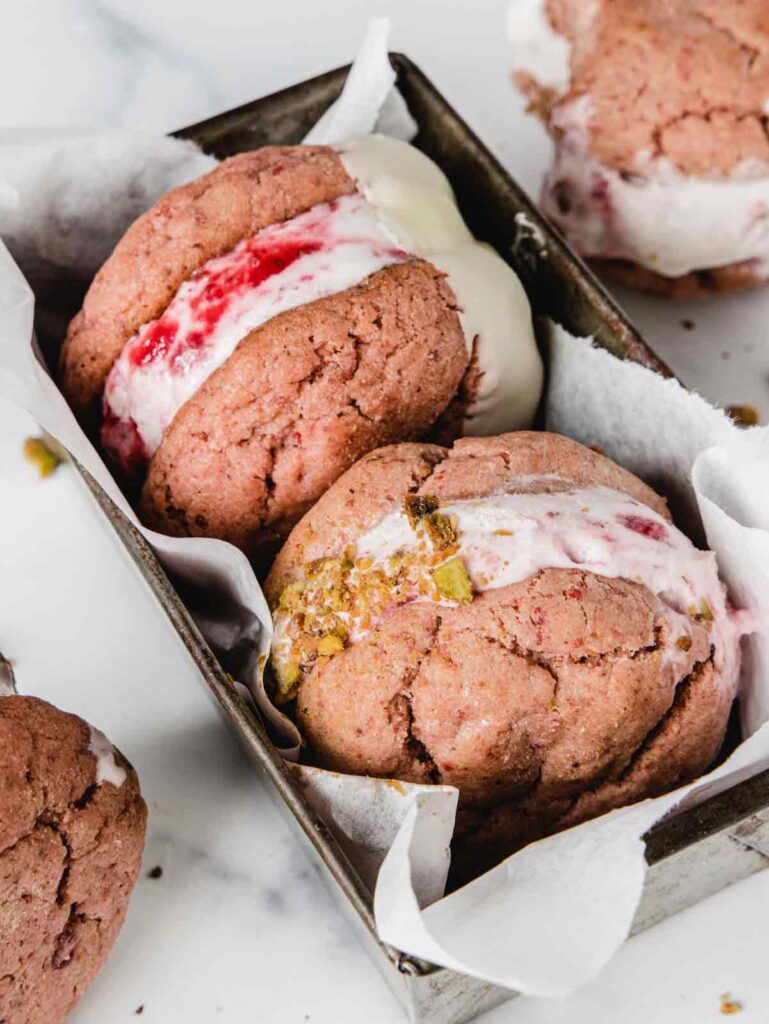 Making Strawberry Cookies
Cookies for an ice cream sandwich require just the right texture. Too soft and they don't hold up well, too hard and the ice cream squidges out when you take a bite.
I thought that my brown butter cookie base would be the ideal combination of soft and chewy but still hearty enough to hold up to the ice cream.
To take my classic cookie base up a notch, I replaced some of the flour with powdered strawberries. You can find freeze-dried strawberries in most stores these days, like Walmart or Target. I blitzed the berries in a food processor, but you can also smash them up into a fine powder.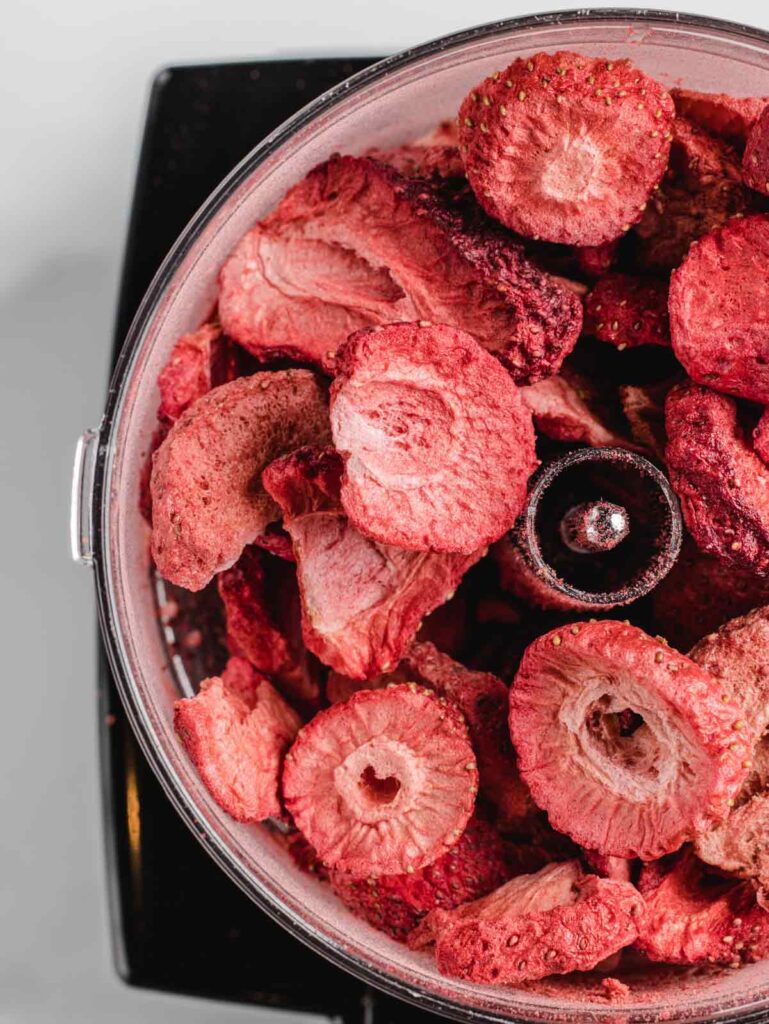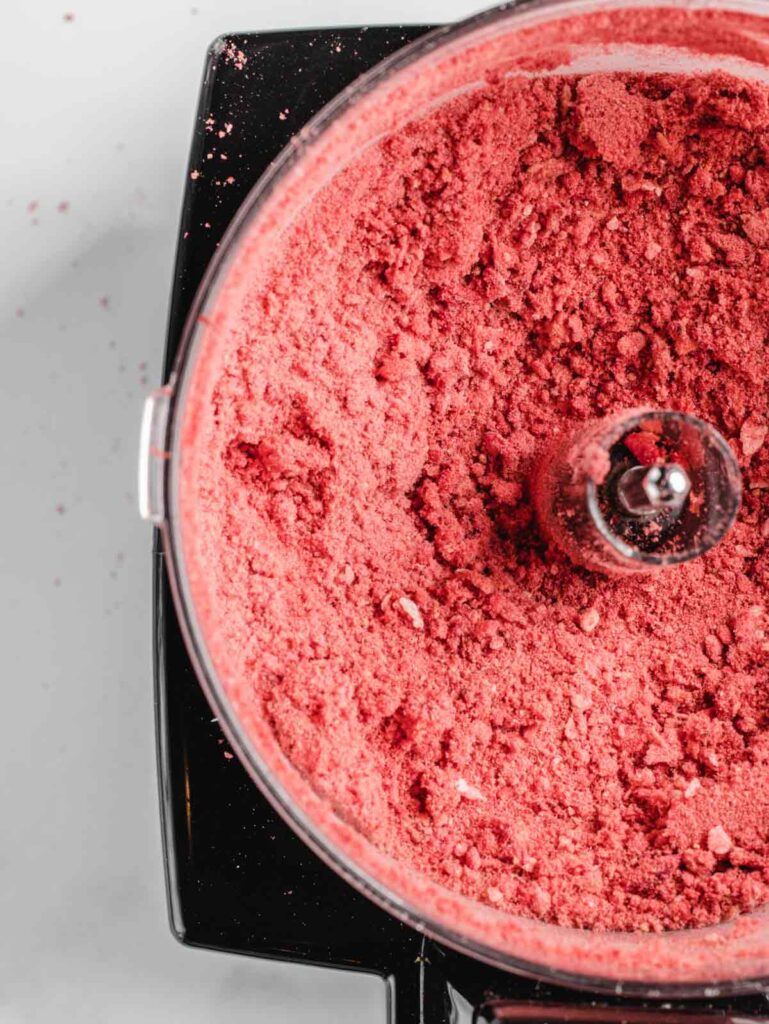 The strawberries will be sifted together with the rest of your dry ingredients (I still added any larger pieces into the dough). Separately, we're going to brown some butter. Don't worry, it's an easy process! Place your butter in a small pot on the stove over medium heat.
Stirring occasionally, let the butter melt and boil until you see little flakes of brown at the bottom of the pot. Pull the butter off the heat when you see brown, but not black! flakes.
Combine the butter with the remaining wet ingredients – sugars, egg and vanilla. Now you can combine the dry mixture and the wet mixture into your dough!
Scoop, bake and let cool!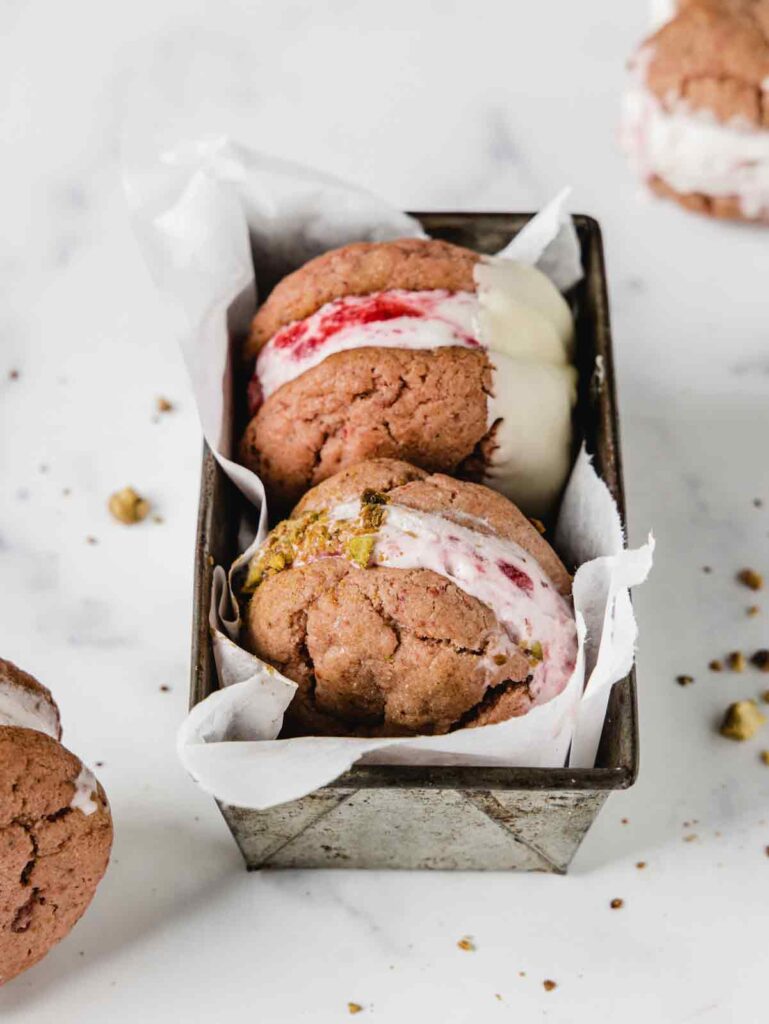 Homemade Strawberry Jam
Making your own jam is so super easy! With just 3 ingredients – strawberries, sugar, and lemon – you can have a jam! Place sliced fresh or thawed strawberries in a medium-sized pot and add the sugar and lemon.
The sugar amount I give is a good baseline amount. The best thing to do is taste your strawberries first. If you have very sweet berries, you can reduce the amount 50g (1/4 cup). If they are a bit unripe, you can increase the amount of sugar 50g (1/4 cup).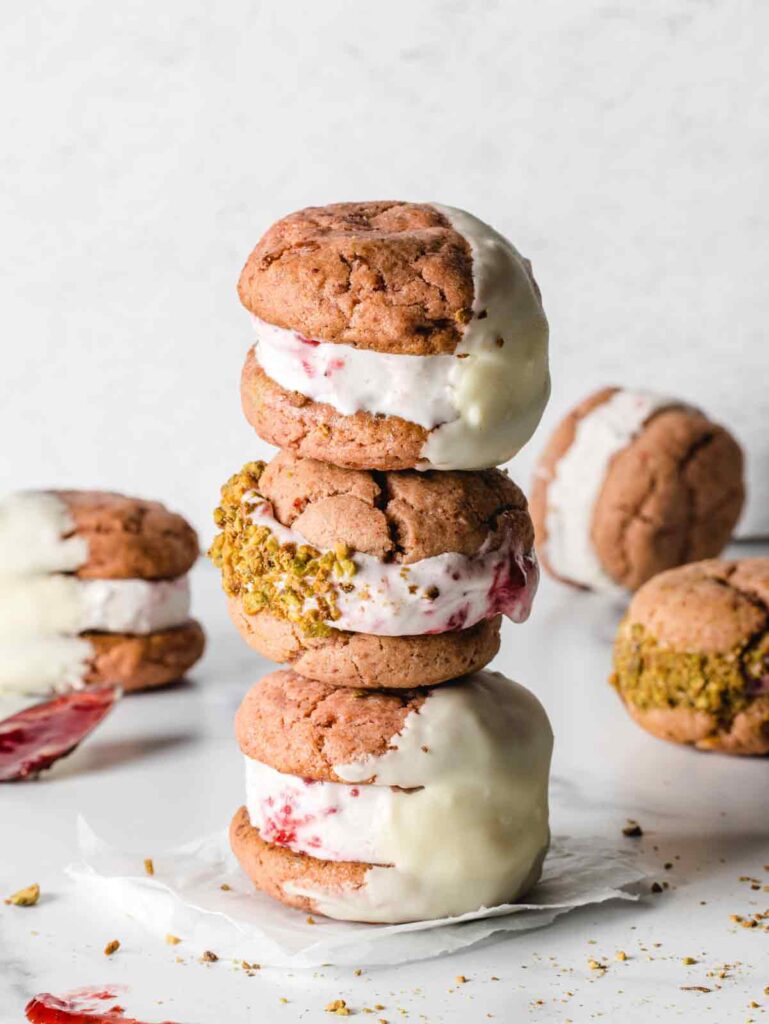 The third ingredient is lemon. Lemon juice and lemon zest not only make the strawberry flavor pop with the acidity, but it also helps the jam set. Strawberries are low in "pectin" which is a starch found in fruits. With a low amount of pectin, the fruit alone won't set into a jam, it will be a sauce.
With all the ingredients in the pot, let your jam softly boil until you see it start to set up and reach 220°F on a thermometer.
Pro Tip: Easily check if your jam is set by placing a spoon in the freezer for 3+ minutes. Remove and drizzle a bit of the jam on the back on the spoon. Run your finger through the jam. If the jam sets and doesn't flow back, you are ready!
Making the Sandwiches
Once your strawberry components are ready to go, it's time to build your sandwiches!
Allow the strawberry ice cream to soften just enough to be able to stir into a spreadable consistency, something like a buttercream. Drizzle in spoonfuls of your cooled jam in and stir a few times just to swirl it through.
Spread the ice cream into a foil-lined pan and smooth into a flat layer. Refreeze ice cream until set firm, at least 2 hours.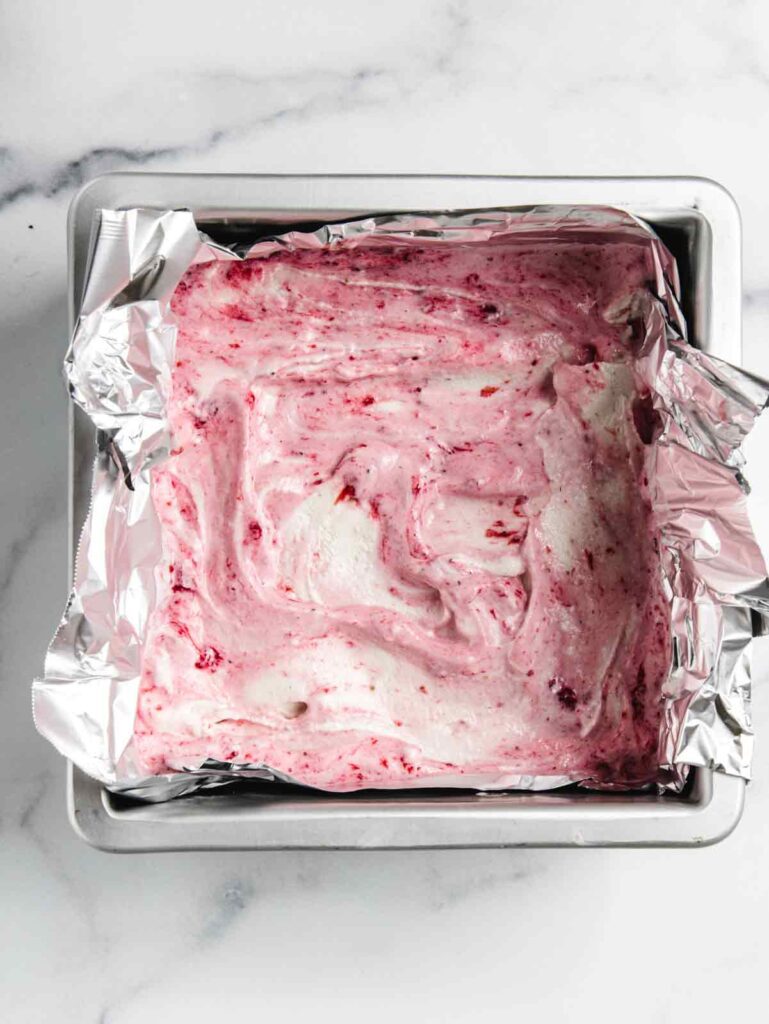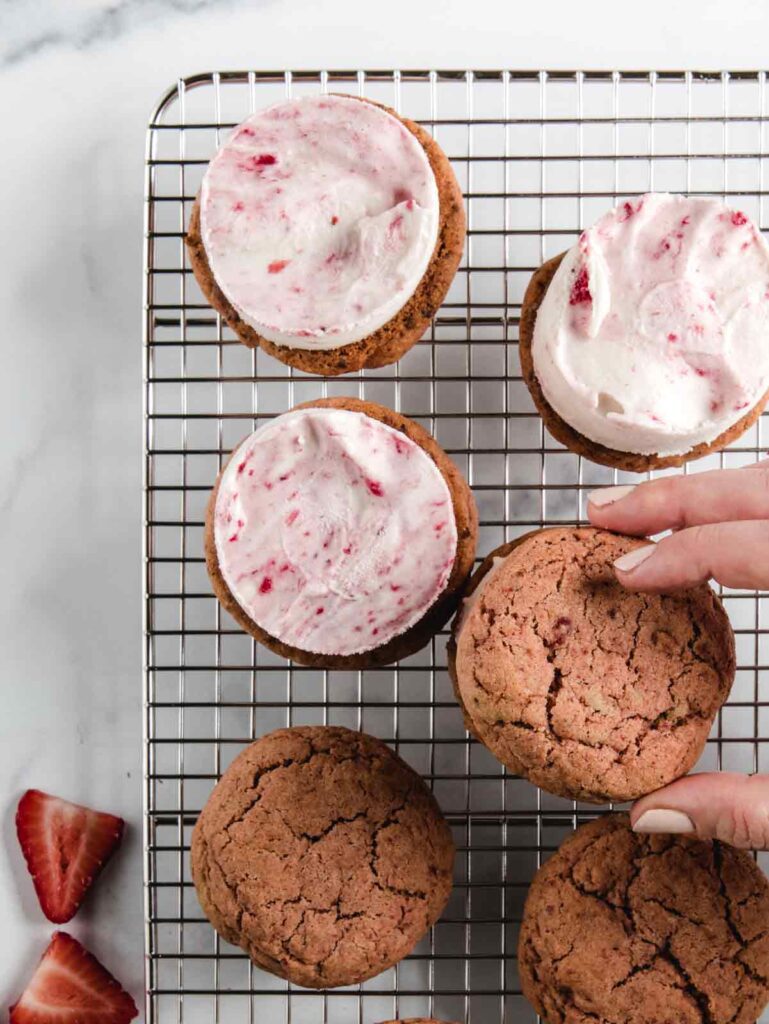 Choose a round cookie cutter just as wide as your cookie, or a bit smaller. Cut out rounds of the ice cream and place between two cookies. Give a light press to hold everything together and you are ready to go!
Ice Cream Sandwich Toppings
I like these strawberry sandwiches with a white chocolate dip and a bit of pistachio, just to take things to the next level.
To make the white chocolate dip, warm quality white chocolate baking bars until melted and add a bit of oil. This will keep the chocolate from hardening too much and have a nice set shell. It's important to use a baking bar instead of white chocolate chips.
Sprinkle pistachios on the white chocolate. Or you can skip the chocolate and cover the edges in pistachios. No wrong answers.
The white chocolate will set quickly. Place back in the freezer until ready to serve, or enjoy immediately.
Store leftover sandwiches in an airtight in the freezer for up to a month. Let sit at room temperature for about 5 minutes before serving.
Frequently Asking Questions
Can I use fresh strawberries in the cookies instead of freeze-dried?
I do not recommend using fresh strawberries, the liquid in the berries will affect the texture of the cookies.
Is my butter supposed to bubble and froth while browning?
Yes, this is common. The water is evaporating from the butter and allowing the fats in the butter to toast and brown. Stir consistently.
Can I use frozen berries in the jam?
Absolutely! Let the berries defrost and pat dry before making the jam.
What is the foam on top of the jam?
This is the acidity burning away. It's perfectly safe to leave, but for the best flavor, I use a small spoon to skim this off the top.
Can I use store-bought jam instead of making my own?
Yes! Choose your favorite brand and away you go! You may need to stir the jam a bit to loosen enough to swirl into the ice cream. If it is still too stiff, try microwaving a few seconds to loosen the jam up.
Can I use white chocolate chips instead of baking chocolate?
I do not recommend using chips for any melted chocolate recipe. Chips have included ingredients to prevent them from melting so they keep their shape while baking. When melted, they will be very gloopy and unpleasant for dipping.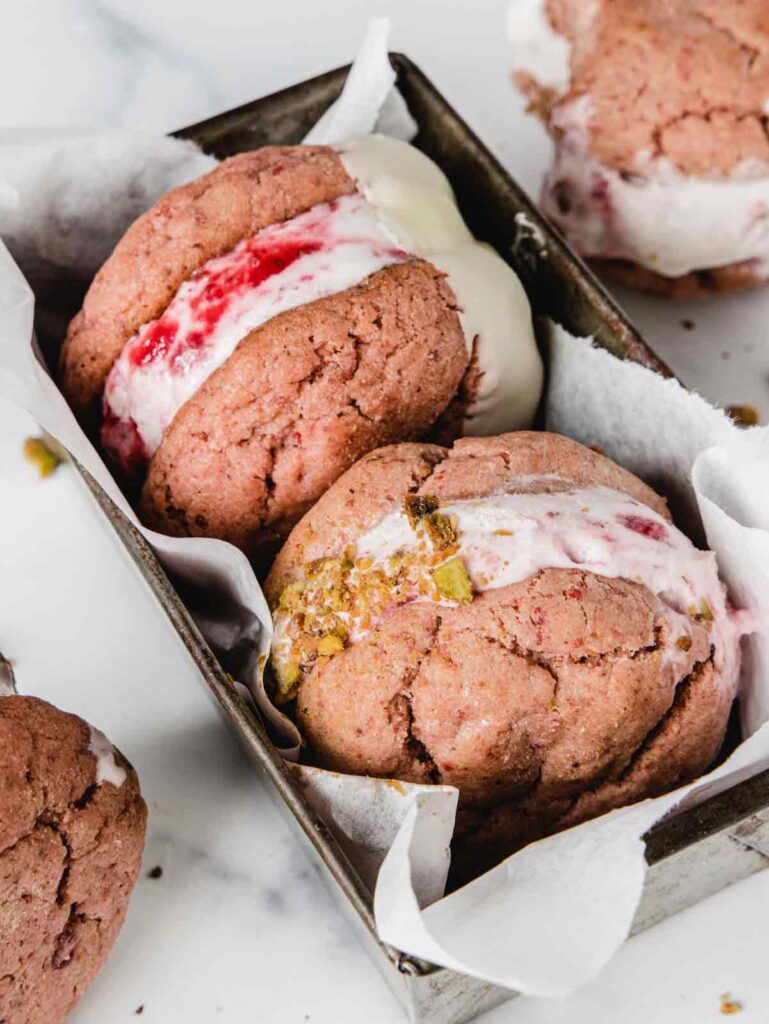 Print
Strawberry Ice Cream Sandwiches
Author:

Theresa | Quiet Baking Day

Prep Time:

1 hour

Chilling Time:

3 hours

Cook Time:

12 minutes

Total Time:

4 hours, 12 minutes

Yield:

4 sandwiches

Category:

Desserts

Method:

Easy

Cuisine:

American
---
Description
Celebrate summer with these triple Strawberry Ice Cream Sandwiches with strawberry cookies, jam and ice cream.
---
Strawberry Jam
450

g

(1 lb. package) strawberries, leaves removed and sliced

150

g

granulated sugar*
Zest and juice of 1/2 lemon
Strawberry Cookies
85g

unsalted butter, chopped

12

g

(1/4 cup) freeze-dried strawberries, crushed fine**

135

g

all-purpose flour

1/2 teaspoon

baking powder

1/4 teaspoon

baking soda

1/4 teaspoon

salt

80

g

light brown sugar, packed

25

g

granulated sugar

1

large egg

1 teaspoon

vanilla extract
Drop red gel food color (optional)
Strawberries Ice Cream
700

g

(4 cups) strawberry ice cream

90

g

(1/3 cup) strawberry jam
White Chocolate Dip
113

g

(1-4 oz. baking bars) quality white chocolate

1 teaspoon

canola oil
Chopped pistachios (optional)
---
Instructions
Strawberry jam. Make-ahead. Place strawberries, sugar, lemon zest and juice in a medium pot. Place over medium-low heat and stir regularly until mixture comes to a boil. Mash or blend berries with an immersion blender until smooth. Continue to stir regularly, making sure to scrape the bottom of the pot, and allow to boil lightly until mixture starts to set and reaches 220°F, about 25-30 minutes. Test by dripping jam on an ice cold spoon (set spoon in freezer for 5 minutes). If jam sets on spoon it is ready. Allow to cool completely, at least 1 hour in fridge or store up to 2 weeks in an airtight container.
Strawberry cookies. Preheat oven to 350°F. Prepare a baking sheet with a piece of parchment paper. Place butter in a small saucepan. Place over medium-low heat. Stir regularly until butter starts to get small brown flecks, but do not burn (5-10 minutes). Remove from heat and allow to cool to the touch.
While cooling, sift together freeze-dried strawberries, flour, baking powder, baking soda, and salt in a large bowl. In a separate bowl, whisk together cooled, melted butter, sugars, egg and vanilla and drop of red gel food coloring (if using). Pour wet ingredients into dry and stir to combine with rubber spatula.
Separate into 8 cookies (about 45g each) and place spaced evenly on prepared baking sheet. Bake 11-13 minutes until edges are set. Tap pan on counter if cookies are puffy immediately after removig from the oven for an even layer. Allow to cool.
Assembly. When ready to assemble, place ice cream in fridge for about 30 minutes to soften. Place into a bowl and stir until ice cream is smooth and spreadable. Drizzle spoonfuls of strawberry jam in and stir a few times to only swirl the jam through. Transfer to an 8″ square baking pan (or equivalent size) lined with aluminum foil. Spread into an even layer and freeze for at least 2 hours.
Cut 4 circles out of the ice cream, about the same size of the finished cookies (I used a 2.5″ cutter). Place each ice cream disc between the inside of two cookies. Press lightly. 
White Chocolate Dip. Chop chocolate and melt in 10 second bursts in the microwave. Stir in canola oil. Dip frozen sandwiches and top with pistachios if using. Serve immediately or replace back in the freezer.
---
Notes
*Use as a baseline sugar amount. Sweet strawberries can decrease the amount by 50g, tart berries can increase 50g.
**Pulse strawberries in food processor to powder, or crush by hand.
Store sandwiches in airtight container in freezer for up to one month. Allow to sit at room temperature for about 5 minutes before enjoying.
Keywords: mixer-free desserts, make-ahead desserts