Let's take the classic pop tart up a notch with these Homemade Strawberry Pop Tarts! Packed with tons of fresh jam, these flaky pastries are sure to make you forget all about those boxed versions!
What is more nostalgic than a pop tart? The bad news is, when you have them as an adult, they really aren't so great. So while these Strawberry Pop Tarts are inspired by the original, I can't call them a copy cat because they are actually delicious! They are really closer to a strawberry hand pie, like these Cherry and Berry Hand Pies. But I promise, you will not miss the store-bought ones!
What Makes These Pop Tarts So Special?
There are 3 basic components to any good pop tart – crust, filling and icing. That's it! So if we're going to make something simple on paper, we need to make a good version of it.
Flaky cream cheese crust. I love this crust because it's fluffy, flaky and crispy and full of flavor all at the same time. The secret ingredients are cream cheese and a little baking powder. (I don't want to say the boxed version tastes like the cardboard box is one of the secret ingredients in the crust, but I'm thinking it!)
Fresh strawberry jam. A homemade jam has so much more berry flavor in it because you can really taste the berries. And it's so easy to make. Just let a pot simmer for a bit and give it a stir now and then!
Strawberry flavored icing. No ordinary icing here. We keep the strawberry train rolling with some jam added right into the icing too!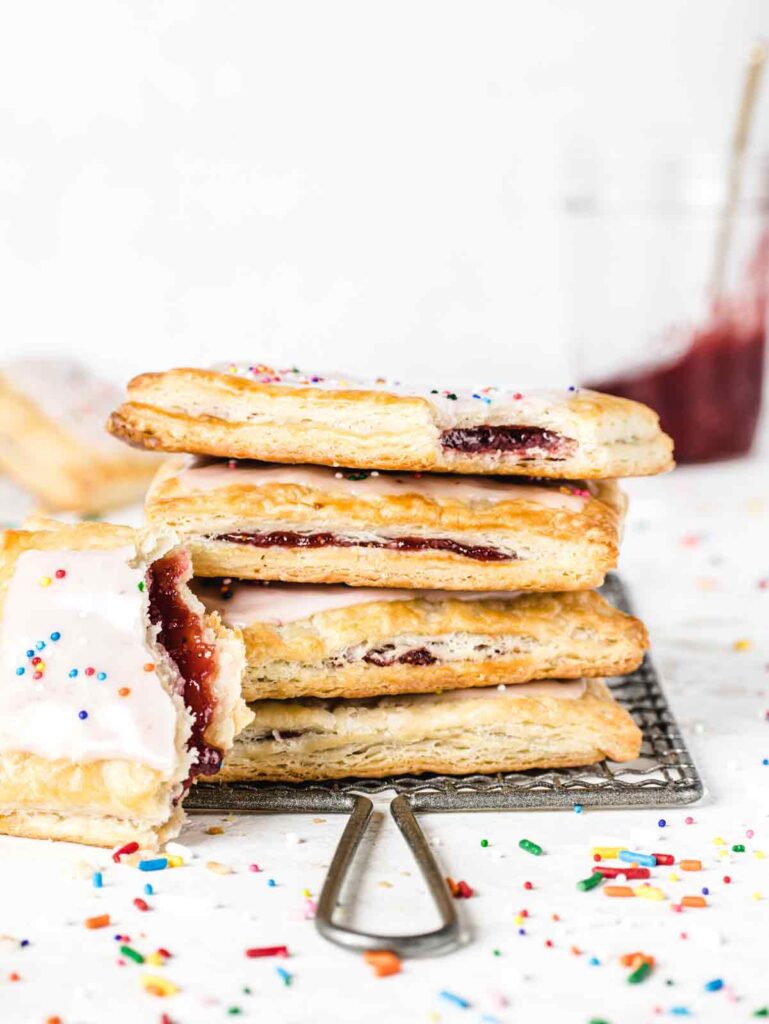 How to Make a Cream Cheese Crust
A cream cheese crust is often my go-to variety. The cream cheese not only add a great flavor, but it also makes the dough very easy to work with. As an added bonus the addition of the baking powder gives the pastry a small lift, making it extra flaky.
To make the dough, simply place the flour, baking powder and salt in the bowl of a food processor and blitz it with the butter and cream cheese a few times. Add in the vinegar and sour cream and pulse a few more times just until the dough starts to clump together. Tip it onto a board and smoosh it together into a smooth dough, and that's it! Chill the dough until ready to use!
No food processor? No problem! Use your finger tips or a pastry blender to rub in the butter and cream cheese into the flour until you have a crumbly texture, but some bigger pieces still remain. Add in your wet ingredients, and stir until you can't anymore with a spatula, then switch to your hands to bring the dough together. Chill!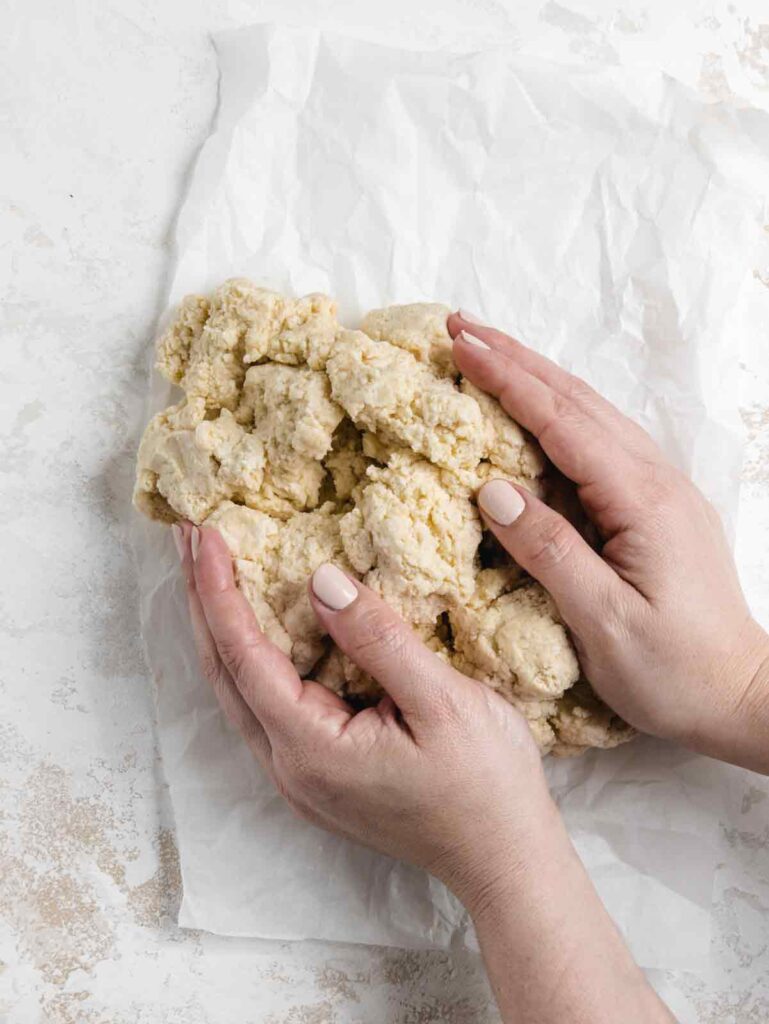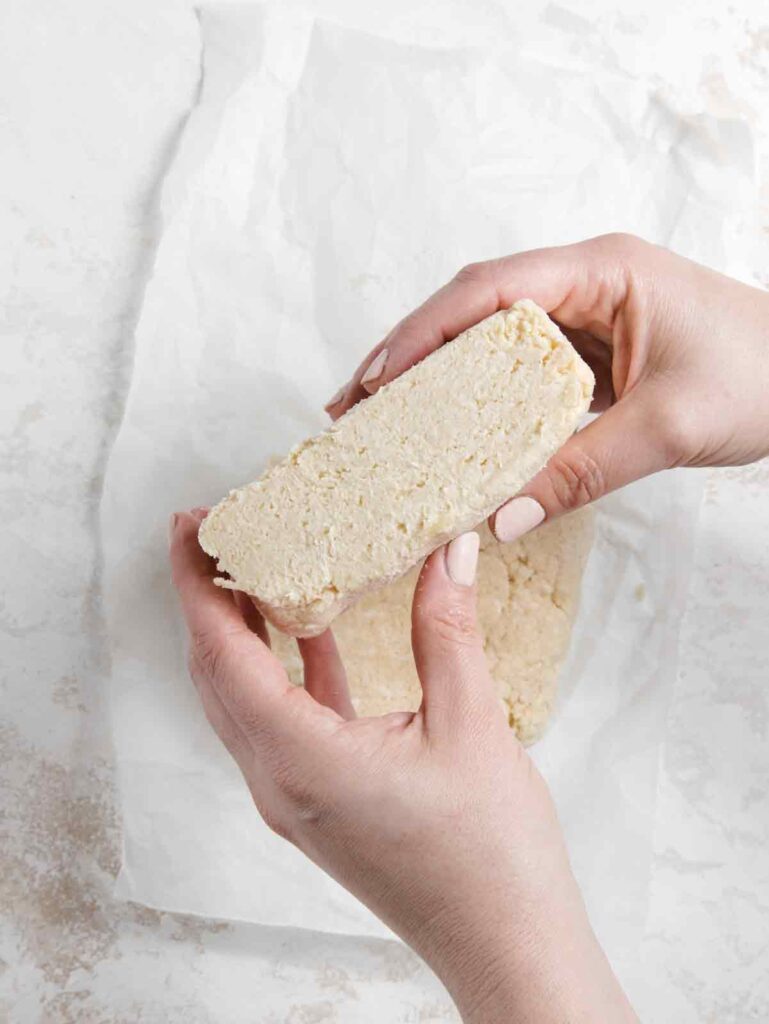 There's two important take-aways when making your crust.
Don't overwork the dough. This means you want to still see some larger pieces of cream cheese and butter in the dough. And you don't want to muscle it too much to make it into a dough. The less you work the dough, the softer and more flaky the final product will be.
Don't skip the chilling times. I know, it can be a pain to wait for dough to chill, you just want to jump ahead! But it's important you let the dough chill for two reasons. One, warm dough is a nightmare to work with – it sticks and smudges and is not terribly fun. Two, to get the flakes in the crust, the butter needs to be cold when it goes into the oven. The hot oven against the cold butter creates steam, which makes flakes!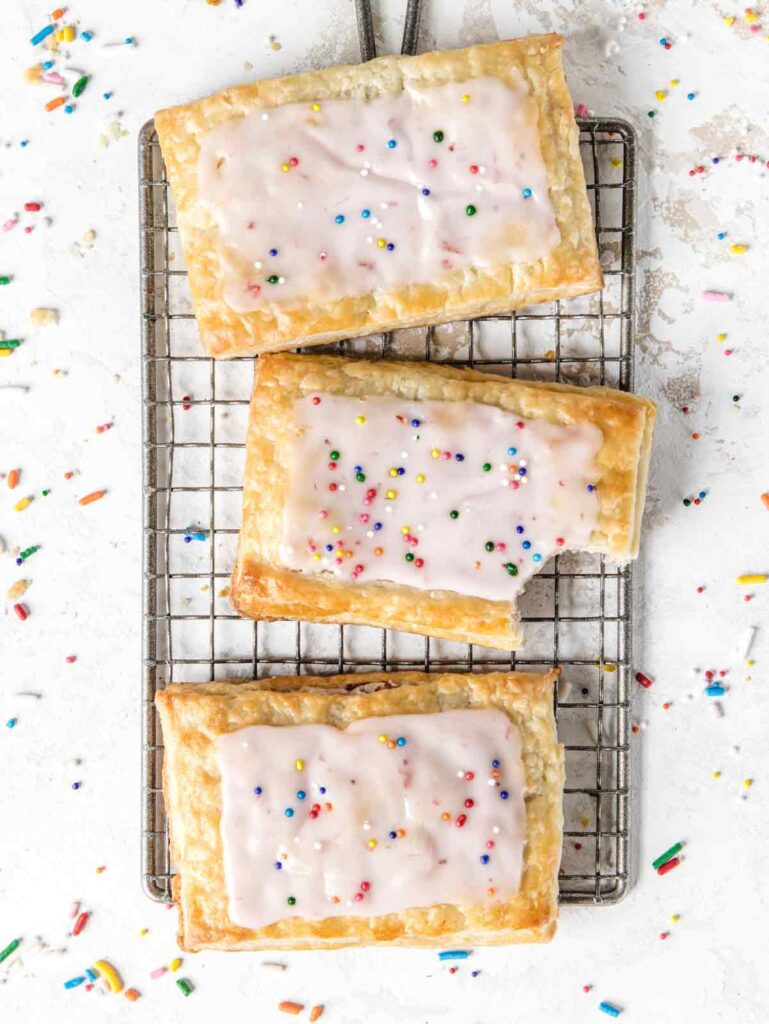 How to Make the Strawberry Filling
The filling in this pastry is a thickened jam. Typically when I make jam, I do not add any other thickener other than lemon juice with the berries and sugar. However, for the filling of these pop tarts, I did add some additional cornstarch to prevent the filling from leaking or spilling out. The filling really needs to hold when in hand-held position!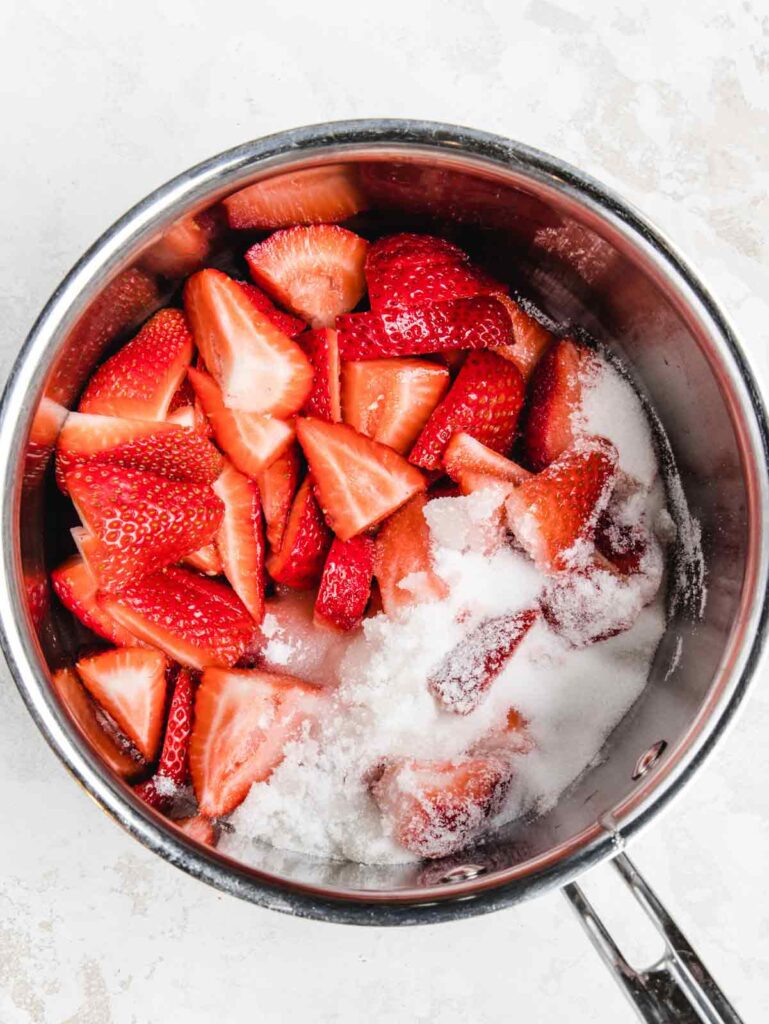 To make the jam, place sliced berries, sugar and lemon into a medium saucepan and allow to simmer. Smash the berries as small as possible with a potato masher, or use an immersion blender to blend completely. A smooth jam is key here. Keep simmering the jam until the jam is set, about 25 minutes.
It should reach 220°F on a candy thermometer. Or you can place a spoon in the freezer for a few minutes and drop some jam on the back. If the jam sets and does not flood back when you slide your finger though the drop, your jam is ready!
At this point, add in your "slurry" which is a mixture of cornstarch and water. Keep stirring until the mixture comes to a boil again and allow to boil for at least 2 minutes before removing from the heat and allowing to cool completely.
The cornstarch needs to come to a complete boil or it will not thicken properly and leave a taste behind.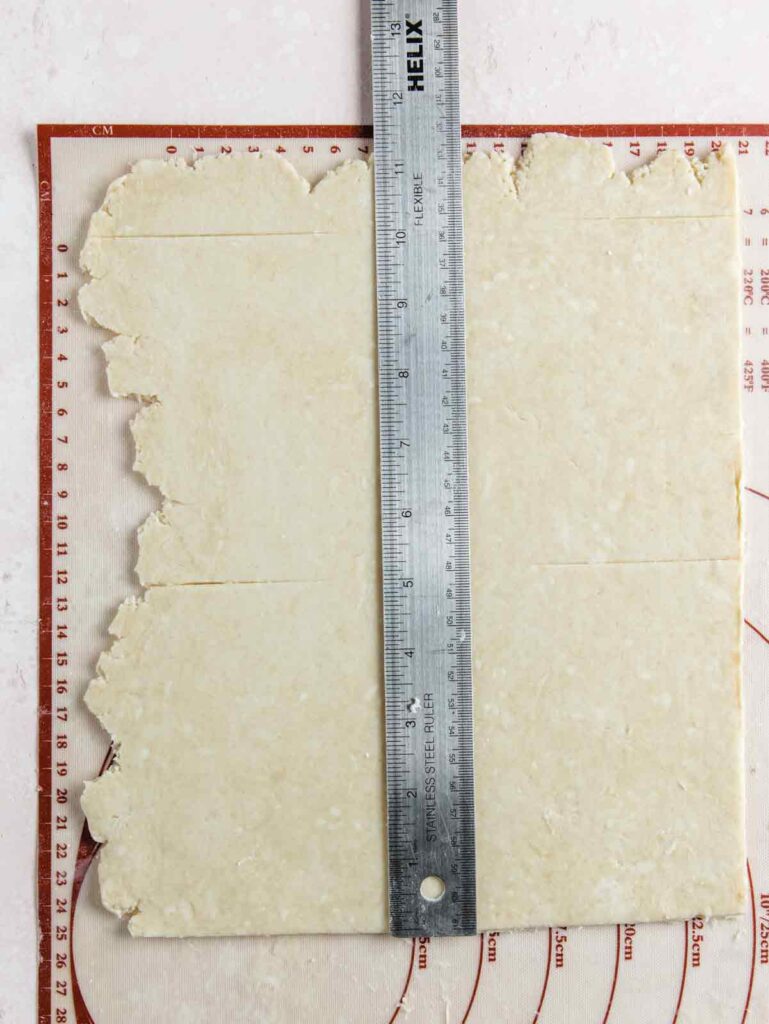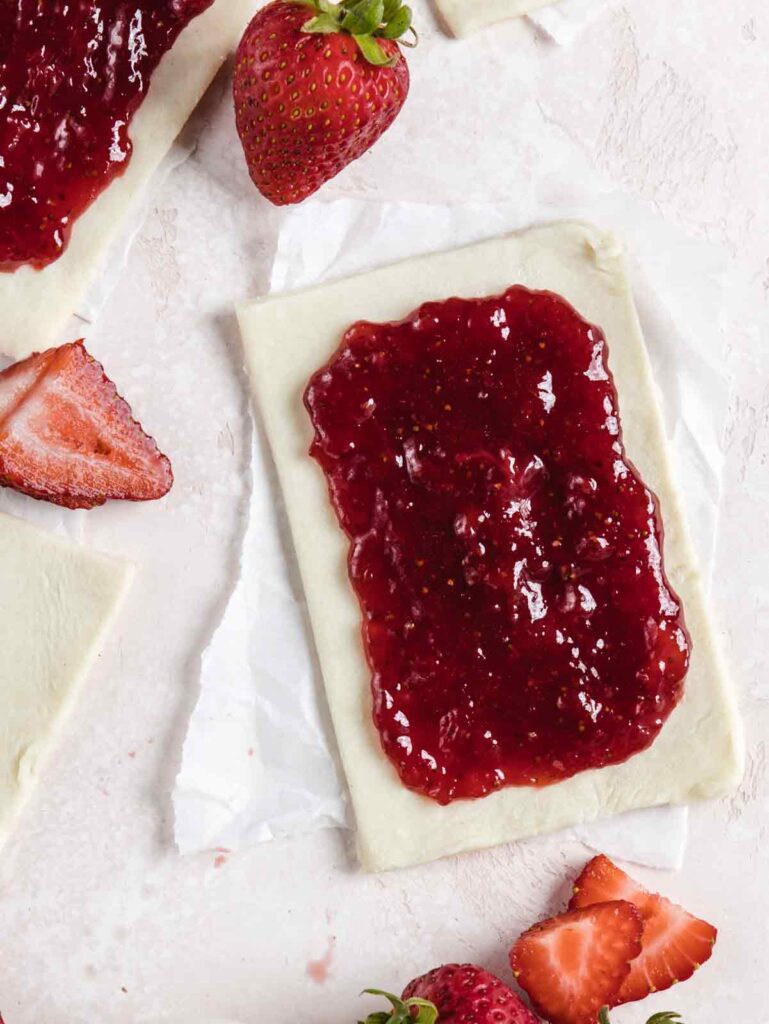 Strawberry Icing
What homemade pop tart doesn't have icing? It's a necessity! This icing was inspired by the King Arthur Flour cookie icing recipe. This includes a bit of corn syrup in the mixture to help "flood" the icing. As you are spreading the icing, you will notice the mixture will hold together, that's the corn syrup working for you!
It's very complicated to make this icing. Ready? Whisk the ingredients together and spoon it on the strawberry pop tart. You are done and ready to go!
Frequently Asked Questions
Why is there vinegar in the tart dough?
Vinegar helps to keep the dough flaky and tender and prevents it from getting tough!
Can I substitute the sour cream for something else if I don't have any?
I've successfully also used heavy cream, or even water, to bring the dough together.
Can I use store-bought jam?
Absolutely, but I would thicken it a bit still. Place the jam in a small saucepan with a tablespoon of cornstarch mixed with a tablespoon of water and allow to boil for 2-3 minutes. Cool completely.
What are the white bubbles on top of the jam?
If you have acidic berries, you might see some froth on the top of the jam. It's completely safe to eat and normal, but you can skim this off the top for the best flavor.
Can I use frozen strawberries for the jam?
Yes! Let berries thaw and pat dry. Use the same amount of frozen strawberries as the fresh below.
Print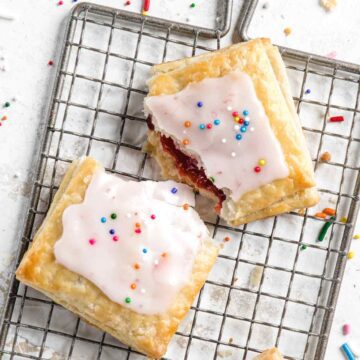 Homemade Strawberry Pop Tarts
Author:

Theresa | Quiet Baking Day

Prep Time:

45 minutes

Chilling Time:

2 hours, 30 minutes

Cook Time:

25 minutes

Total Time:

3 hours, 40 minutes

Yield:

6 pop tarts

Category:

Pastry

Method:

Easy

Cuisine:

American
---
Description
These Homemade Strawberry Pop Tarts hit all the right nostalgia notes with a fresh jam, flaky crust and berry icing.
---
Strawberry Filling
450

g

(1 lb. container) strawberries, leaves removed and sliced

150

g

granulated sugar
Zest and juice of 1/2 lemon

1 tablespoon

cornstarch

1 tablespoon

water
Cream Cheese Crust
270g

all-purpose flour, plus more for dusting

1 teaspoon

salt

2 tablespoons

granulated sugar

1/4 teaspoon

baking powder

227

g

cream cheese, cold and cubed

170

g

unsalted butter, cold and cubed

1 teaspoon

apple cider vinegar (or white distilled vinegar)

45

g

(3 1/2 tablespoons) sour cream
Egg wash (1 egg + 1 tablespoon water)
Strawberry Icing
142

g

confectioners' sugar, sifted

1 tablespoon

light corn syrup

2

–

3

teaspoons whole milk

2 teaspoons

strawberry filling
---
Instructions
Make ahead. Strawberry Filling. Place strawberries, sugar and lemon zest and juice in a medium saucepan. Bring to a boil. Mash strawberries or blend with an immersion blender until smooth. Allow to boil until jam starts to set, stirring regularly. Jam should be 220°F or set using frozen spoon test above. In a separate small bowl, combine cornstarch and water. Add to jam and allow to come back to a boil for 3 minutes. Remove from the heat and chill at least 2 hours or up to 2 weeks in advance.
Cream Cheese Crust. In the bowl of a food processor, or in a medium bowl, place flour, salt, sugar, baking powder. Blend in cream cheese and butter using processor or fingertips until mixture is sandy with some larger bits of cream cheese and butter remaining. Add in vinegar and sour cream and mix until dough starts to come together. Turn out onto a counter and knead lightly just until dough forms. Cut into two rectangles, wrap in plastic, and chill for at least 1 hour.
Once dough and jam is chilled, remove one dough from the fridge and place on a lightly floured surface. Roll dough about 1/8″ thick and into a 10″ x 11″ rectangle. Trim edges and cut out 6 – 3″x5″ rectangles, place on a parchment lined sheet.
Repeat with the second dough, placing the cut dough in the fridge while you work.
Spread 1-1/2 tablespoon of filling in the center of the rectangle (standard cookie scoop), leaving about 1/4″ clean on the edges. Brush the clean edges with egg wash. Top with second rectangle of dough and press firmly around all edges with finger or tines of a fork. Brush the top with egg wash and poke 6-8 holes with a toothpick. Repeat with remaining 5 pop tarts. 
Cover lightly and place in the fridge for at least 30 minutes while oven preheats to 375°F. Bake for 25-27 minutes until golden brown.
Strawberry Icing. Once pop tarts cool, whisk together all ingredients for strawberry icing, starting with the smaller amount of milk and adding more if needed. Spread on pop tarts and allow to set before serving. 
---
Notes
Store in an airtight container for up to three days.
Un-iced pastry can be wrapped, placed in freezer-safe container and frozen. Defrost in fridge overnight or on counter top for about an hour.
Unbaked cream cheese crust can be wrapped, placed in freezer-safe container and frozen. Defrost in fridge overnight.
Keywords: Summer desserts, homemade desserts
Looking for other amazing berry treats? Try these Blackberry Jam Thumbprint Cookies too!