These buttermilk Chai Scones are given a spicy spin with a chai-spiced streusel swirl. Serve with some brown sugar butter, and jam if you dare, for an out-of-this-world brunch treat.
How to Make Scones
Scones are great morning breakfast pastries to make. They don't require any rising time like cinnamon rolls, and don't need to be babysat on the griddle like pancakes. The dough comes together in minutes, and can be made in advance, frozen and baked whenever you like!
Here's what you need to make these chai scones:
All-purpose flour
Baking Powder. This gives these scones that distinctive *pop* of height in the oven.
Spices. Cinnamon, cardamom, and salt for the dough.
Homemade Chai Spice Blend. Used in the filling.
Brown Sugar.
Butter. Use very cold butter. Similar to a pie dough, the cold butter helps to give the scones a flaky texture. When the cold butter hits the hot oven, it creates steam, and that makes little air pockets – or flakes.
Buttermilk. There's a lot of debate if scones should be made with milk, cream or buttermilk. For my money, buttermilk is the way to go for the best texture and flavor.
Egg. If you're thinking these sound a lot like a biscuit, this is where that ends. Scones include eggs for a more cake-like texture.
Vanilla extract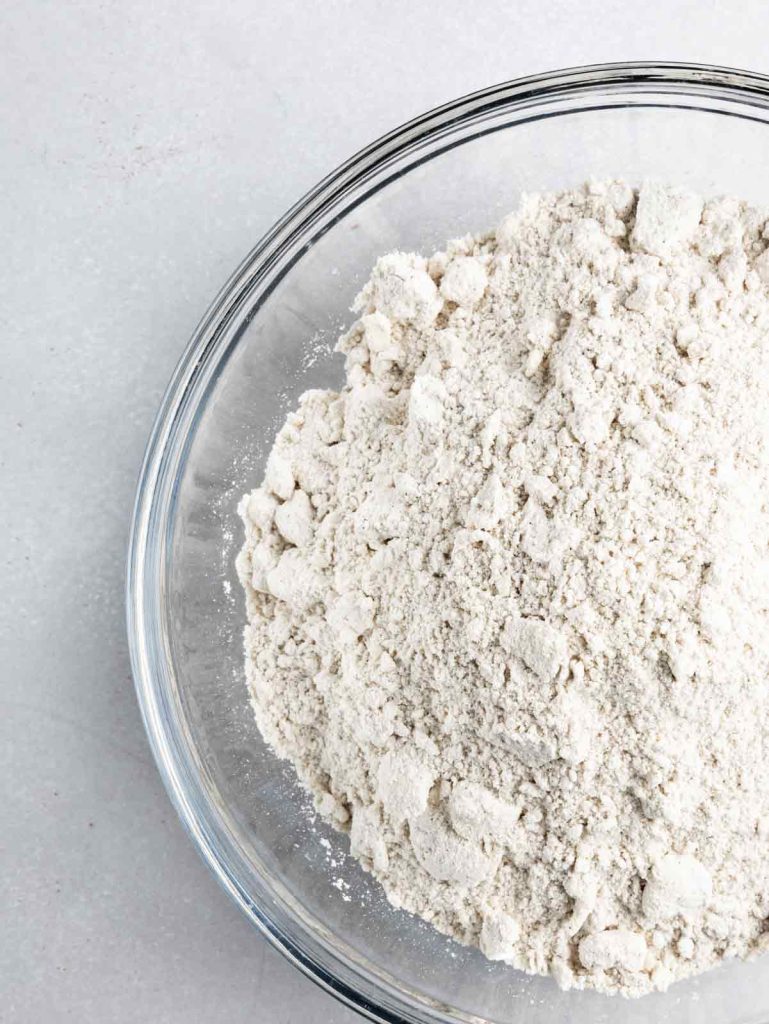 To make the scones, whisk together all the dry ingredients. Rub in cubes of cold butter until you have a sandy texture, but leave a few larger pea- and grape-sized chunks remaining.
Next, we will add our wet ingredients. In this recipe, you will notice that I separate out the amount of buttermilk. That is because you may not need all of it to bring together the dough. Only add enough to create a "shaggy" dough, which means a slightly sticky dough.
How to Make the Chai Swirl
Now comes the showstopper part – the chai swirl. This is similar to a streusel. Flour, sugar, and chai spices get mixed together with cold butter. Our chai mixture includes lots of deep and flavorful spices, including:
Cinnamon
Cardamom
Ginger
Allspice
Cloves
Black pepper
Next, roll out the scone dough on to a floured surface and sprinkle the streusel over the top. Fold the dough over itself like a tri-fold letter and continue to tuck the edges in until all the streusel is sealed in.
This doesn't need to be perfect, the more messy and random the swirls are the better! Cut the dough into two and form two flat discs about 1″ thick. Transfer to a baking sheets with a silicone mat or parchment paper. Slice each disc into 6 wedges and pull apart slightly.
I like to freeze the scones for about 20 minutes before baking if possible. It helps the butter rechill and encourages the dough to rise instead of spread. You can also freeze the scones on the tray and transfer to a freezer-bag to have at the ready.
When you are ready to bake, give the top of the scones an egg wash and sprinkle the top with a spiced sugar mixture.
Brown Sugar Butter
Flavored butters are so, so easy, but so, so impressive for brunch events. Softened butter is whipped with brown sugar and cinnamon. That is it. But now you can serve your chai scones with brown sugar butter instead of regular old butter and make things so much fancier.
Serving Scones
Scones are best served the day they are baked. They are great on their own, with the brown sugar butter, and/or with jam. I love the combination of blackberries with chai spices.
Leftover scones can be placed in an air-tight container and refreshed in the oven. Heat for 5 minutes in a 350° oven for best day-two eats.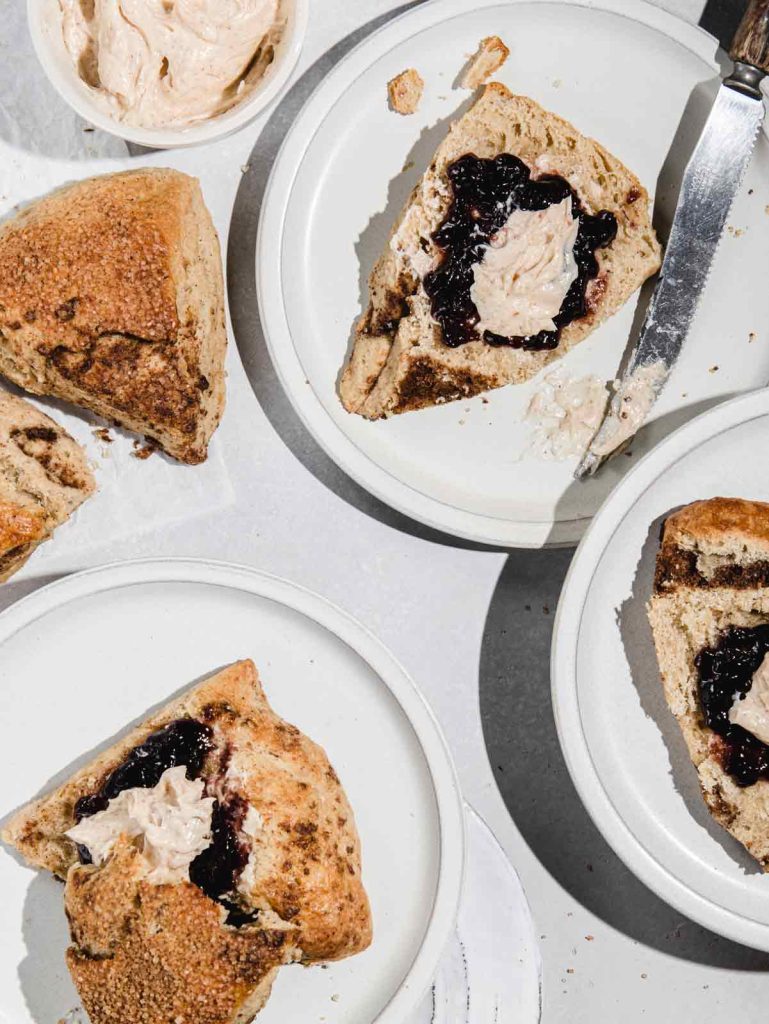 Print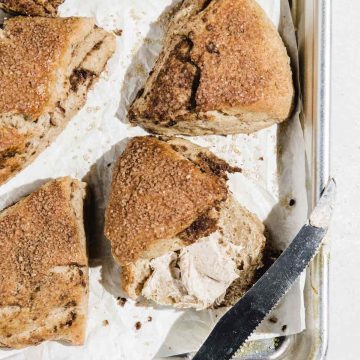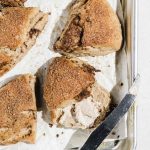 Chai Scones with Brown Sugar Butter
Author:

Theresa | Quiet Baking Day

Prep Time:

10 minutes

Chilling Time:

20 minutes

Cook Time:

20 minutes

Total Time:

50 minutes

Yield:

12 scones

Category:

Pastries

Method:

Easy

Cuisine:

American
---
Description
Swirls of spiced streusel make these chai scones irresistible fresh out of the oven with a pat of brown sugar butter.
---
Chai Streusel Swirl
15

g

all-purpose flour

2 tablespoons

homemade chai spice blend

1/4 teaspoon

salt

25

g

light brown sugar, packed

1 tablespoon

unsalted butter, chilled and cubed
Chai Scones
375

g

all-purpose flour, plus more for dusting

50

g

light brown sugar, packed

1 tablespoon

baking powder

2 teaspoons

cinnamon

1 teaspoon

cardamom

1 teaspoon

salt

150

g

unsalted butter, cold, cubed

1

large egg

1 1/4

cup

buttermilk, divided

1 tablespoon

vanilla extract
Egg wash (1 egg + 1 tablespoon water)
Cinnamon Sugar Topping
2tablespoons

course sugar, like turbinado

1/2 teaspoon

cinnamon

1/4 teaspoon

cardamom
Brown Sugar Butter
113

g

unsalted butter, softened

1 tablespoon

light brown sugar

1/2 teaspoon

cinnamon

1/4 teaspoon

salt
---
Instructions
Chai Streusel Swirl: Whisk together flour, chai spices, salt and brown sugar.
Using your fingers, rub in the cold butter until the mixture resembles a sandy texture. Place in the fridge until ready to use.
Scones: Whisk together flour, sugar, cinnamon, cardamom, baking powder, and salt.
Using a pastry blender or fingers, rub in cubes of cold butter into flour until a sandy texture forms with clumps of butter the size of peas.
In liquid measuring cup, mix together 1 egg, 3/4c. buttermilk and vanilla extract.
Pour wet mixture into flour, mix using wooden spoon or dough whisk. Add remaining buttermilk as needed to just moisten flour to form a shaggy dough. A shaggy dough should be thick and slightly sticky, but not wet and soggy.
Tip dough onto heavily floured surface. Pat or roll out into a rectangle roughly 10″ x 8″. Sprinkle top of the dough with the chai streusel mixture. Fold the dough like a tri-fold letter. Tuck in edges to enclose streusel completely.
Divide into 2- 1″ tall disks and slice into 6 wedges each.
Place on parchment lined baking sheet and allow to chill in freezer for 20 minutes.
While dough chills, preheat oven to 425°F.
Once dough is chilled, brush the top with egg wash. Make sugar topping by combining course sugar, cinnamon and cardamom and sprinkle over the top of each wedge.
Bake 18-20 minutes, turning pan halfway through.
Brown Sugar Butter: Whisk softened butter with brown sugar, cinnamon, and salt.
---
Notes
Scones can be made ahead of time. Unbaked dough in Step 9 can be frozen completely. Transfer to a freezer bag. Bake directly from frozen adding 3-4 minutes to the bake time.
Scones are best served the same day. Store leftover scones in an airtight container and refresh in a 350°F oven.
Keywords: spiced, mixer free
Interested in other recipes that use cardamom?