Add some zest to your weekend brunches with these Homemade Jalapeño Cheddar Bagels! With an overnight dough, lots of cheese and just the right amount of heat, these bagels will impress even your New York friends.
There's one thing that separates bagels from the rest of the worlds' bread, and that is it's classic chew. Bagels are known for their denseness and strong crust, which is not something you typically strive for in a bread. Usually, in fact, it's the opposite – like this Fluffy Pesto Bread for example. To achieve this characteristic chew, there's two things we need to do – have the right dough and boil our bagels before baking.
Basic Ingredients
Bread Flour. Bread flour has a higher amount of protein, which means we can achieve a stronger dough.
Active Dry Yeast. I prefer this over an instant yeast for an overnight dough.
Barley Malt Syrup. More on this later, but it's a classic ingredient for bagels.
Jalapeños. The easiest way to get pepper throughout the dough is a quick blitz in a small food processor. You can also grate the peppers on a cheese grater, or cut up into a small mince. Removing the seeds will take out the sharper heat.
Sharp Cheddar Cheese. Start with a quality block of cheese, skip the pre-grated packages.
Lukewarm Water. Avoid scolding hot water, 90° – 100°F is about right.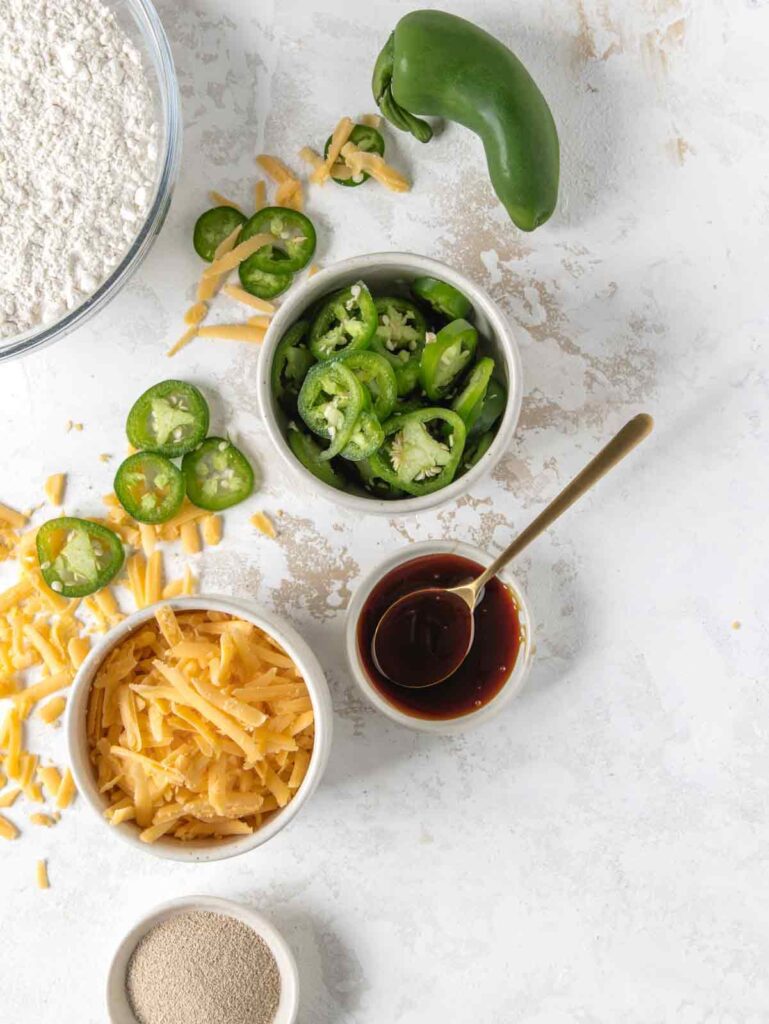 Barley Malt Syrup
Classic bagels have barley malt syrup included in the dough and the water for boiling. It has become easier to find in grocery stores than it used to, but it's still not everywhere. You can easily order it online if your local store doesn't carry the syrup.
I really recommend popping for the malt syrup for the authentic flavor of a great bagel. You can substitute maple syrup or brown sugar, but malt syrup really helps the yeast ferment due to the high amount of maltose – and fermentation equals flavor. I know, this isn't a science class, but just trust the malt syrup!
Adding the syrup to the boiling water also creates a nice shine and crust to the baked bagels.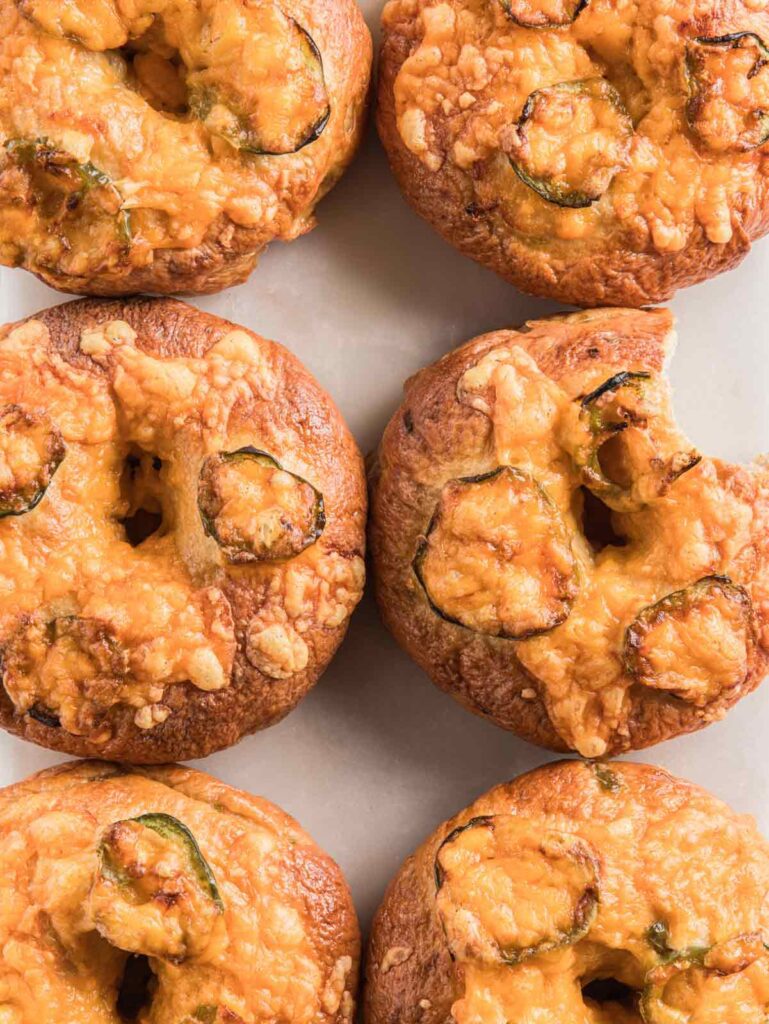 How to Get a Chewy Bagel
Our chewy cheesy bagels start with what is called a "tight dough". A tight dough means that there is a lower percentage of water to flour making it very stiff and not very sticky.
The final baked result is a "closed texture" bread without a lot of big air bubbles. If you think of something like a focaccia bread or a ciabatta bread with lots of big air pockets, that is a very wet dough.
Now that we have our dough, we really need to develop the gluten by kneading the heck out of the dough. And because we use a bread flour, we can really work up the gluten.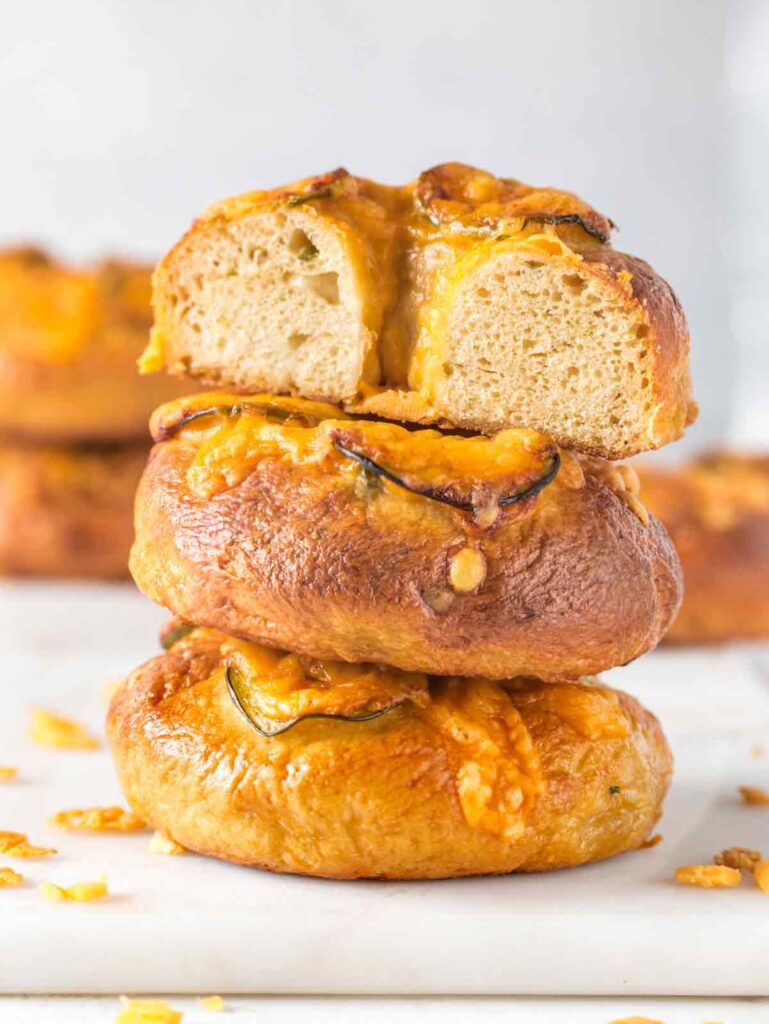 I really recommend a mixer for this because I'd rather sip a cup of coffee and watch something else do the work, however, you can certainly knead the dough by hand too and work out your problems by beating up some dough. You do you.
The final dough texture is very silky, smooth, and elastic – it should not be sticky or wet at all. This dough then gets covered and placed in the fridge overnight to let the yeast develop some flavor. The fridge slows the yeast down so it doesn't overproof, but allowing the yeast to sit and do its work really ups the flavor.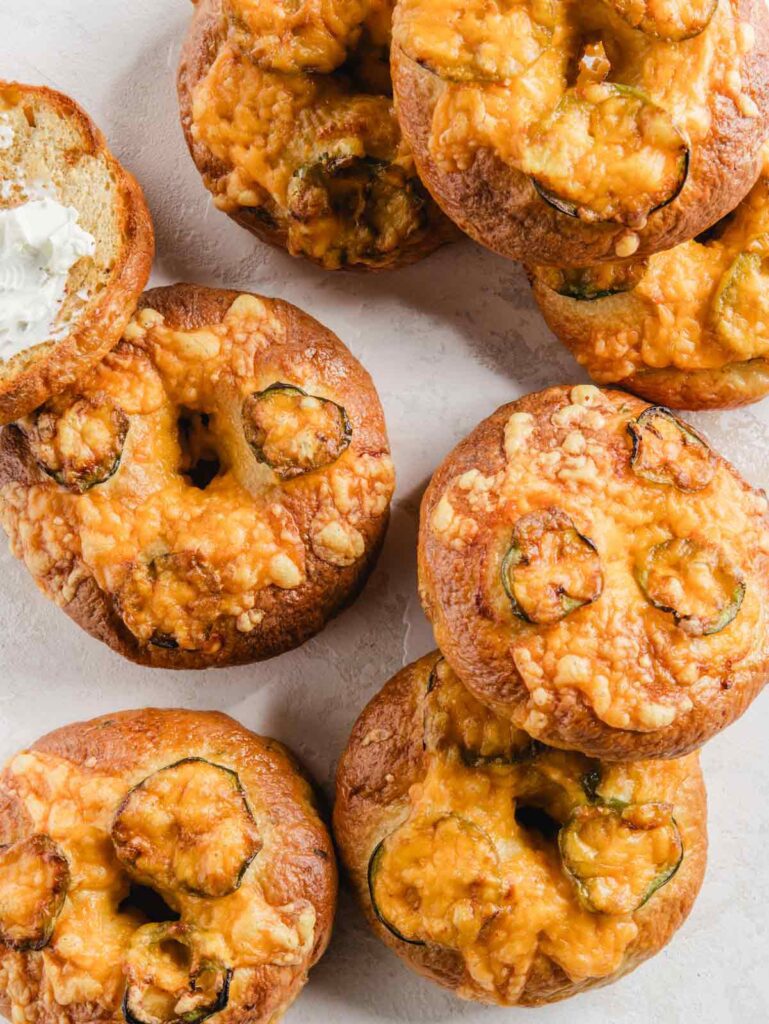 Shaping Bagels
Because the bagel dough is so tight, it's honestly a dream to work with. We've all been there fighting against a soft and sticky dough. This dough is up for the challenge. Divide your proofed dough into 8 equal pieces.
Roll each piece into a ball. You can find your own technique, but I place a rough ball of dough on the counter, cup my hand lightly on top and swirl to create a smooth ball. Let the dough balls rise a second time.
Now comes the fun part, bagels have holes! Literally just poke a hole with your finger through the center of the dough and stretch out a roughly 1″ hole in the center. It's that easy! Let your bagels rest one more time before boiling.
Boiling Bagels
Ok, this part is weird, who seriously boils bread?? It's not something you do every day. But don't skip this step. If you skip it, you end up with a dinner roll, not a bagel.
Boiling develops a glutenous crust that makes us really have to tear through the bagel when we take a bite. That's what we want! The bagels will come out of the boiling water gloopy and rather unappetizing if I'm honest. It's their ugly duckling phase before they bake up lovely and golden brown.
Frequently Asked Questions
What if I don't have malt syrup?
Malt syrup is really needed for the most classic bagel recreation. But if you can't find it near you and didn't have time to order it, you can swap in the same amount of brown sugar. I would also add an egg white wash before baking (1 egg white + 1 tablespoon water).
Why does my bagel dough look deflated?
This means the dough is probably over-proofed. You can continue onward, but the final product will be a bit flat.
Can I make these plain bagels instead?
Absolutely! Leave out the cheese and jalapeños. Boom – plain bagels!
How do I store bagels?
Bagels are best the day of baking. Store leftover bagels in airtight container, or freeze baked bagels in freezer-safe bag. Refresh in the oven for 5 minutes at 350°F.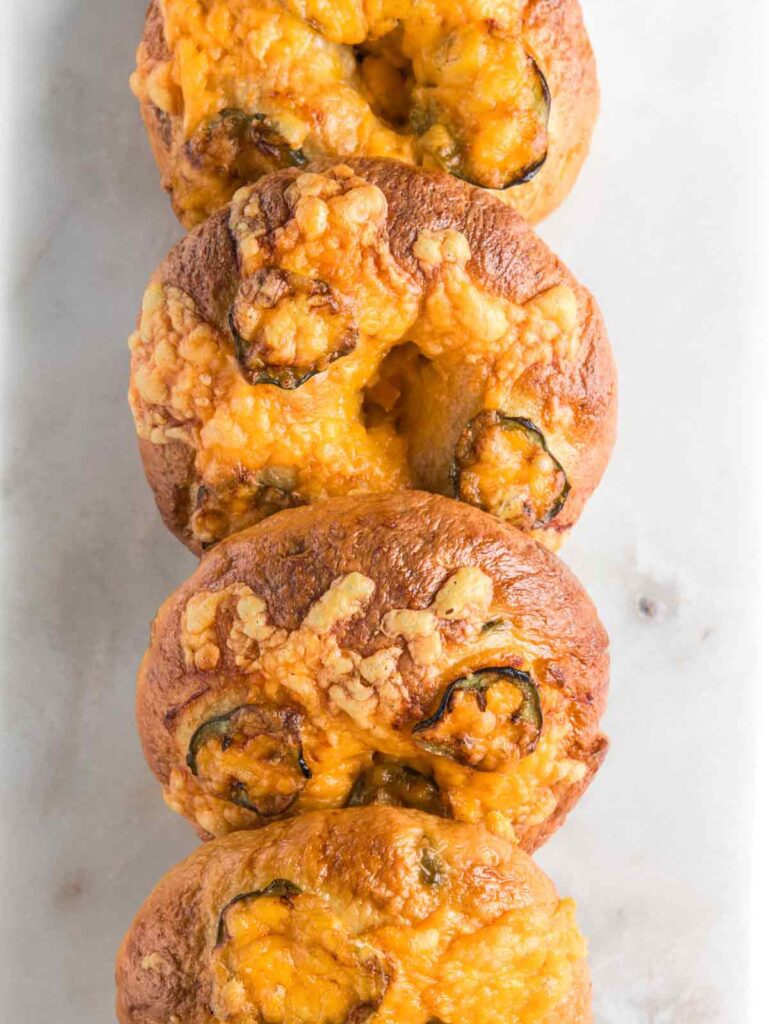 Print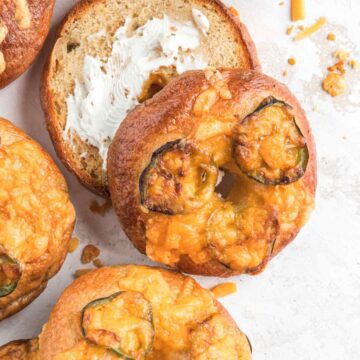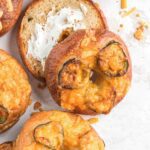 Homemade Jalapeño Cheddar Bagels
Author:

Theresa | Quiet Baking Day

Prep Time:

30 minutes

Proofing Time:

14 hours

Cook Time:

30 minutes

Total Time:

15 hours

Yield:

8 bagels

Category:

Savory

Method:

Intermediate

Cuisine:

American
---
Description
Ready for weekend bakes, these overnight Homemade Jalapeño Cheddar Bagels are golden brown and cheesy and just the right amount of heat. 
Special Equipment: wide dutch oven or pot (6qt+), skimmer, silicone mats
---
Bagels
4

small jalapeños, divided

227

g

(8-ounce block) sharp cheddar cheese, grated, divided

450

g

bread flour

2 1/4 teaspoon

(

1

packet) active dry yeast

2 teaspoons

salt

1 tablespoon

barley malt syrup

1

cup

warm water
Non-stick spray
Water Bath
8

cups

water

2 tablespoons

barley malt syrup

1 tablespoon

granulated sugar
---
Instructions
Blitz in a small food processor, grate, or mince 2 jalapeños, seeds and stems removed. Place in a large bowl or bowl of a stand mixer. Add 100g (1 cup) of grated cheese, flour, yeast, salt, and syrup. Stir to combine. Add water and stir.
Knead with a dough hook on medium-high speed in a stand mixer for 10 minutes, or by hand for 15 minutes, until dough is smooth and elastic.
Spray a large bowl with non-stick spray. Gather dough into a ball, place in the bowl, turn over once to coat sides with spray, cover bowl with plastic wrap and place in fridge overnight – 12 to 24 hours.
Shaping the dough: Remove dough from the fridge, let stand at room temperature 1 – 1 1/2 hours until dough is doubled in size and puffy. Turn dough onto a cutting board, punch down dough to release the air and divide into 8 equal pieces. Roll each piece into a smooth ball, cover lightly with a clean towel and allow to rise for 30-60 minutes until the dough is about 50% larger.
Poke a hole in the center of each piece of dough with fingers. Stretch out to 1″ wide hole. Cover lightly with kitchen towel and let rest while preparing water bath and preheating oven.
Boiling and Baking Bagels: Preheat oven to 425°F. Place all ingredients for the water bath in a wide pot and bring to a boil. Prepare 2 baking sheets with silicone mat or parchment paper.
After 30 minutes, place bagels in pot 2-4 at a time (depending on pot size) and boil for 2 minutes on first side, flip with skimmer, boil for an additional 1 1/2 minutes. Remove and place on prepared baking sheets. Bagels will puff in the water, do not overcrowd the pot.
Continue boiling process until all bagels are done.
Thinly slice 2 remaining jalapeños. Place 3-4 slices of jalapeños on each bagel. Top with remaining grated cheese. Bake 22-24 minutes until golden brown.
---
Notes
Bagels are best the day of. Store leftover bagels in airtight container or freeze baked bagels. Refresh in 350°F oven for 5 minutes.
Substitute barley malt syrup with brown sugar if none is available. Brush with egg white wash (1 egg white + 1 tablespoon water) before placing jalapeños and cheese on top of boiled bagels.
Decrease spice level by leaving sliced peppers off top or halving amount of peppers in dough.
Keywords: cheesy, breakfast, brunch