With a deep apple flavor, these autumn classic Apple Cider Donuts are an absolute winner. Made with scratch-made apple butter, condensed apple cider and just the right amount of cinnamon.
Apple. Cider. Donuts. The king of fall baking projects. Every time the calendar flips to October, I am ready to pull out the flannels, go apple picking in the sea of orange and red leaves, and mow down 1 or 3 fresh apple cider donuts.
Then I remember I live in the deep south and it's still 90° in October and there's no apple trees within 200 miles of me. So, we're going to make them ourselves! With concentrated apple cider and apple butter, these puppies are bursting with apple flavor.
These donuts are a serious weekend baking project which I love on do-nothing weekend. Looking for a shorter autumn baking project? These Apple Cinnamon Scones are quick to put together.
Cider vs. Juice
The base of these donuts is…wait for it….apple cider! Bet you didn't see that coming. Apple cider is typically found in the refrigerated produce section of your grocery store and is only available certain times of the year (at least in the South). So why can't you just grab a bottle of apple juice instead? Well, apple juice is different than cider.
Juice is a filtered and pasteurized product, which makes it conveniently shelf stable, but also much sweeter and less apple forward. Apple cider, on the other hand, is fresh and unfiltered. It's why you will find this in the refrigerated section and why you'll likely see some cloudiness at the bottom of the container. That's the best bits – actual apple.
Even though apple cider is a stronger apple flavor than a juice, apple is still a difficult flavor to bring out in a baked good. So we're going to concentrate the flavor a bit more by boiling down the cider. Taking 2 cups of cider and letting it boil down to 1/2 cup will have triple the amount of apple flavor without having an overly wet dough.
Apple Butter
This recipe also contains apple butter – truly an amazing ingredient. You can purchase jarred apple butter in many places. But it's so easy to make, and honestly, smells amazing through your entire house for the day, so I usually opt to make my own.
The process is very simple, but does take a long time in a crock pot. When I called this a fall baking *project* I wasn't kidding. Best done the day before, thinly slice some granny smith apples and let simmer with sugar and spices for 5 hours in a crock pot.
Then, remove the cover, blend with an immersion blender and let thicken for another hour with the cover off. And you'll have a lovely, silky batch of homemade apple butter. The recipe below will make more than needed for the donuts, but seriously, if I'm going to spend 6 hours making something, I want to use it for a variety of things:
Scones or biscuits
Linzer cookie filling
Cake fillings
Toast
Oatmeal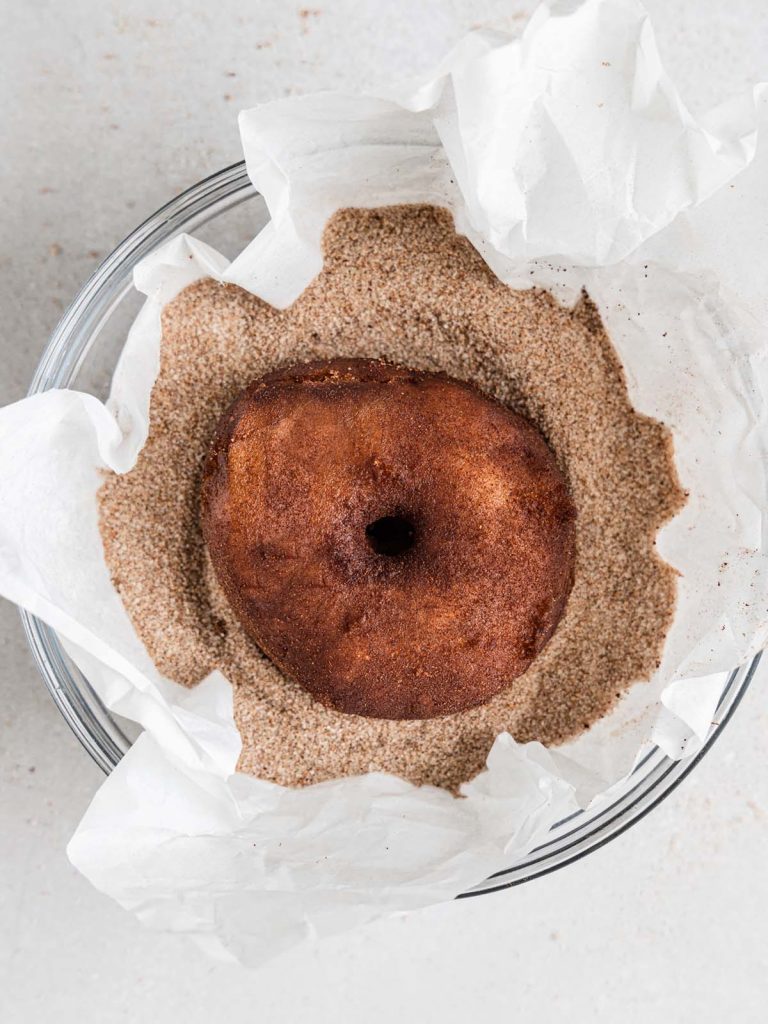 Frying Apple Cider Donuts
This is likely the most intimidating part of making apple cider donuts. Most people are fearful of deep frying – myself included – until I tackled the fear in culinary class. It's really not as scary as it seems. Let me walk you through everything!
Setting up A Frying Station
First, set your station up for success. Don't go looking around for your tools after your oil is heated and you've already got your first batch going. Here's exactly what you need for success:
Gallon of fryer oil. Canola or vegetable oil doesn't impart a flavor into your final product.
A wide, deep Dutch oven or pot. I use this one from Le Creuset. It comfortably holds 3 donuts at a time. Keep the lid nearby juuussttt in case you need to cover the pot quickly. NEVER USE WATER IF THERE IS A FIRE.
Candy thermometer. A thermometer will keep your temperatures exact, so you can adjust the heat as you fry. The oil temperature will naturally rise and fall as you are adding and removing ingredients. This will help keep you in the pocket of ideal temperatures. There's a lot of thermometer options, but this classic does the trick.
Parchment paper sheets. Parchment paper makes it easier to move the donuts around and placing into the oil. The best practice is to cut squares of parchment slightly larger than each donut. You can then lift the paper and donut and place directly into the oil. After about a second, the parchment will naturally release from the donut and can be lifted out of the oil.
Tongs and a spare plate. To lift and collect the parchment paper squares noted above.
Chopsticks, skewers, or forks. Two chopsticks are perfect for flipping the donuts at the halfway point. You can use tongs too, but two chopsticks work perfectly to place on each side and *zoomp* flip over.
Spider or slotted spoon. A spider is best for lifting the donuts out of the oil so all the extra oil dips off. I use this tool for pastas, veggies, and frying – it comes in handier than you might think!
Timer or watch. I use my phone, turning off the sleep mode and open the timer app. Then I just need to hit *repeat* and I don't lose track.
Two sheet pans with racks. Line one rack with paper towels. This will be your landing zone coming out of the pot to help blot the excess oil. The second sheet pan with rack will hold your sugared donuts.
Bowl of cinnamon sugar. Have your sugar topping nearby and ready to go. You will sugar the hot donuts as the next batch is in the oven.
Rag. I keep a rag nearby since my hands will get dirty while coating the donuts in cinnamon sugar.
Funnel and strainer. For what to do with the used oil? I let the oil cool completely to room temperature before touching. I will then pour the oil through a fine mesh strainer to clean out any solid crumbs, then use a funnel to pour the oil back in the original jug. I'll repeat this for 3 uses of frying before I toss the container. Avoid pouring the oil down the drain or it will clog.
Now that your station is set up, you are ready to rock and roll. The rest is really gravy from here. The biggest trick is to keep an eye on your oil temperature – 350°F is ideal, but you will want to keep the oil between 340-360°F as you work. If you need to hold off on a batch to either heat or cool the oil, it's better to take the extra few moments.
The other key is to fry is small batches. If you crowd the pot too much, you will A. drop the oil temperature too much and B. make the donuts stick to one another.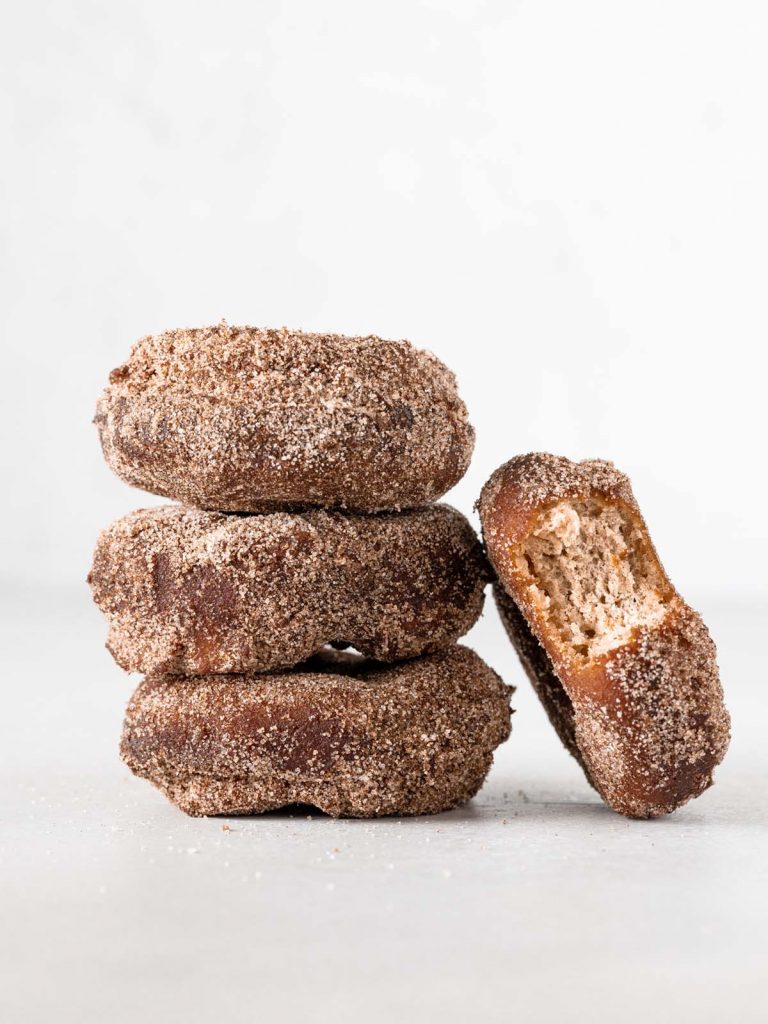 Print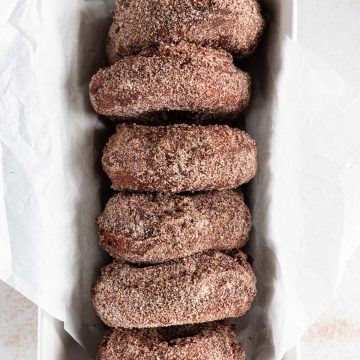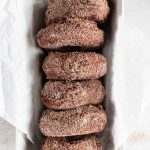 Apple Cider Donuts
Author:

Theresa | Quiet Baking Day

Prep Time:

30 minutes

Cook Time:

6 hours, 30 minutes

Total Time:

7 hours

Yield:

8 donuts

Category:

Pastries

Method:

Expert

Cuisine:

American
---
Description
Nothing says fall baking like apple cider donuts. A deep apple flavor comes from cider concentrate and apple butter with a hint of cinnamon.
---
Apple Butter
3

lb. bag of granny smith apples

100

g

brown sugar, packed

100

g

granulated sugar

2 teaspoons

cinnamon

1 teaspoon

nutmeg

1/2 teaspoon

cloves

1/4 teaspoon

salt
Pinch all-spice

1/2

cup

apple cider

1 tablespoon

vanilla extract
Apple Cider Donuts
2

cup

apple cider

480

g

all-purpose flour, plus extra for dusting

2 1/2 teaspoons

baking powder

1/2 teaspoon

baking soda

2 teaspoons

cinnamon

1/2 teaspoon

nutmeg

1 teaspoon

salt

56

g

unsalted butter, room temperature

50

g

brown sugar, packed

50

g

granulated sugar

2

large eggs, room temperature

1/2

cup

buttermilk, room temperature

130

g

apple butter

1 tablespoon

vanilla extract
Canola or vegetable oil for frying
Cinnamon Sugar Topping
150

g

granulated sugar

2 tablespoons

cinnamon

1 teaspoon

ground ginger

1 teaspoon

nutmeg
---
Instructions
Apple Butter*
Prep day before. Peel, core and thinly slice (1/8th-inch thick) the apples. Combine with sugar and spices in a crock pot. Cook on HIGH, COVERED for 5 hours, stirring occasionally.
After 5 hours, remove the cover and blend apples with an immersion blender until apples are completely smooth.
Add apple cider and vanilla extract, stir to combine. Cook on HIGH, UNCOVERED for another hour.
Cool completely before use.
Apple Cider Donuts
Prep day before. While apple butter is cooking, make apple cider concentrate. Pour 2 cups of the apple cider in a large pot. Boil rapidly until liquid is reduced to 1/2 cup, about 30 minutes.
Prep day before or day of**. Whisk together flour, baking powder, baking soda, and spices. Set aside.
In the bowl of a stand mixture, combine butter and sugars. Mix until light and fluffy, about 5 minutes on medium-high, scraping down the sides as needed.
Add eggs, one at a time, mixing until fully combined before adding the next egg. Mix in the the apple butter and vanilla extract.
Beginning and ending with the dry mixture, add 1/3 of the dry mixture. Mix on low until nearly incorporated. Add 1/2 of the buttermilk and cider concentrate. Repeat dry – wet – dry.
Do not overmix the batter, use a spatula to incorporate the last bits of the flour.
Flour a sheet of parchment paper. Scoop batter onto the parchment, batter will be quite sticky. Sprinkle flour on the top, and with floured hands pat into 1/2″ tall sheet.
Transfer the parchment paper to a baking sheet, wrap with plastic wrap and refrigerate at least 1 hour, or overnight.
Day of. Cut 8- 4″x4″ parchment squares and lay out on baking sheet.
Remove baking sheet from refrigerator. Using a well-floured donut cutter or 3″ cutter and 1″ cutter (I used the large side of a piping tip), cut out donuts and gently place one donut on each parchment square. If you are using the 3″ and 1″ cutters, it's easier to cut the inside holes *after* transporting to the parchment square – it will keep its shape better. Reroll any scrapes and continue cutting. Brush off any excess flour from donuts to prevent burning.
Heat at least 3″ of oil in a large Dutch oven to 350°F. Using a candy thermometer, keep a close eye on temperatures, keeping the oil between 340° and 360°F while frying.
Set up frying station as outlined above.
Working in batches of 2 or 3 donuts, lift parchment squares and lower into the oil, careful to not splash. After about 1 second, the parchment paper can be removed using tongs.
Fry for 1:30 – 2 minutes, flip and repeat until a dark golden brown.
Remove using a spider or slotted spoon and place on paper towel set over a cooling rack.
As soon as cool enough to touch, coat in cinnamon sugar*** mixture outlined above. Transfer to the second cooling rack.
Best served immediately while warm.
---
Notes
*Store-bought apple butter can be substituted. Recipe as written will make more than necessary for donuts.
**Dough can be made the day in advance and refrigerated overnight. Or shorten the time to 1 hour depending on timing preference.
***If donuts are too cool for the sugar to stick to, donuts can be quickly dipped in melted butter.
Keywords: spiced, brunch, fall