This decadent Flourless Chocolate Cake is naturally gluten-free and still ridiculously rich and fudgy. Made with a meringue base that sinks as it cools, you won't even notice the missing flour!
I don't know about you, but chocolate desserts are one of my favorite dessert categories. They are always the most indulgent and when you're having a bad week, a fruit tart just doesn't cut it. This flourless chocolate cake is so over-the-top sinfully chocolatey, I promise it can turn around the worst of weeks with one bite.
With a texture mash-up between a fudgy brownie and soufflé, this pairs well with sweetened whipped cream and raspberries, vanilla ice cream and Homemade Chocolate Syrup, or even just a sprinkle of powdered sugar on top. And best bonus of all, this recipe is flour free! So it's basically a health food, right?
Where's the Flour?
Chocolate, as you know, is basically magic. But not just for the reasons we already know about like saving our butts when we forget about Valentine's Day until the last minute. Chocolate is magic because it's just one ingredient away from being cake.
Sure, we add a little more to it than that for the best outcome, but chocolate contains fat (cocoa butter), sugar, and cocoa particles aka flour-substitute. You just need to add eggs to complete the circle and voilà, you've got cake!
Because the chocolate is so important here, it's really key to use a quality chocolate. A baking chocolate bar is best. Using chocolate chips or even a candy bar has extra additives and stabilizers that are not necessary here and take away from the final chocolate flavor and texture.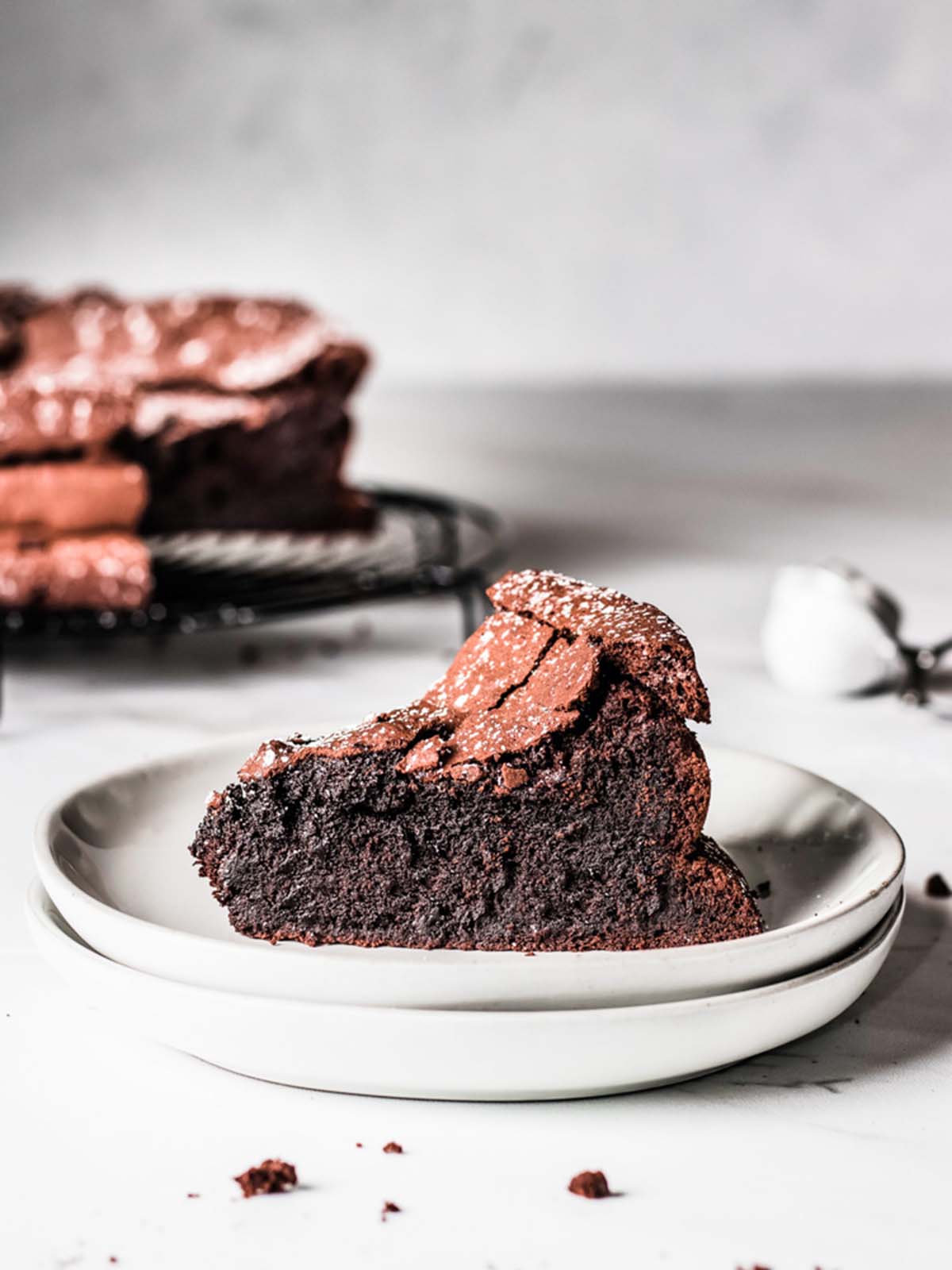 The Rise and Fall of the Chocolate Empire
So why does it look I sat on this cake, you ask? Because only leavener in this cake is whipped egg whites. Separating the eggs and whipping the whites to a frenzy creates little air bubbles that lift the cake as it bakes. But like so many others that reach too high, there is not the structure in this cake to hold those little bubbles, so as it cools, it sinks.
And because we made those whipped egg whites into a beautiful sugary, glossy meringue first, the top of this cake will also get a nice crackly shell on top. So, embrace those cracks, they are the character building definition of this cake.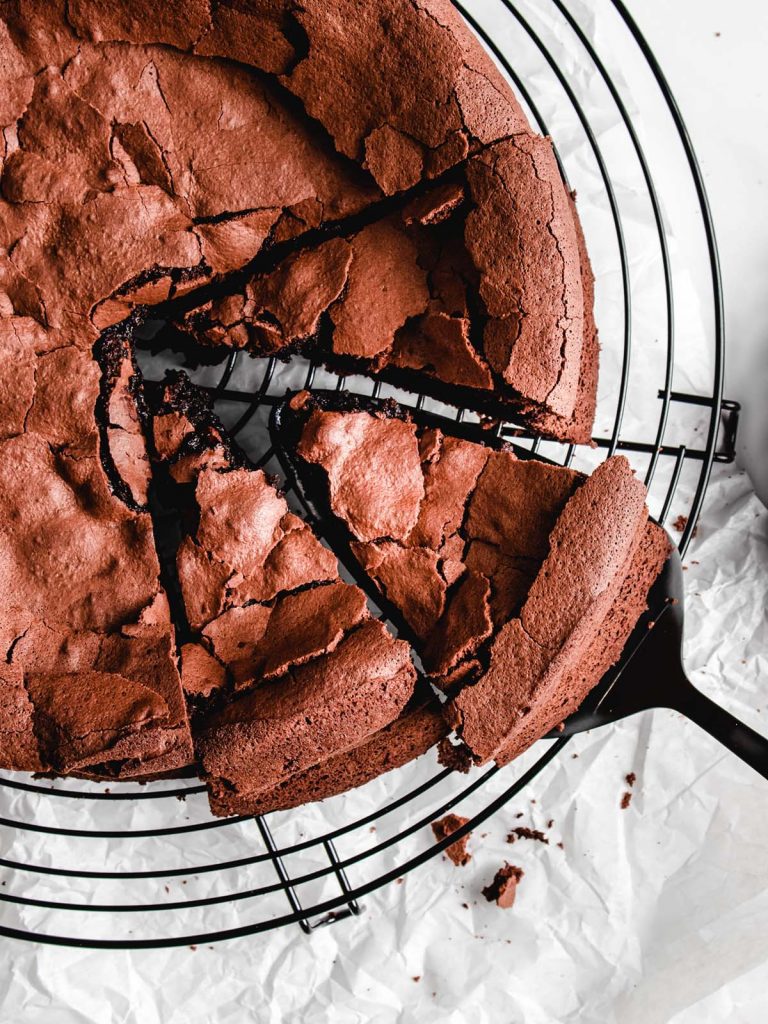 Tips for Meringue Making
Use a completely clean mixing bowl. Make sure there is no leftover grease or butter from a previous bake
Separate eggs one at a time into a small bowl before adding to the larger mixing bowl. That way if a yolk cracks, you do not lose all your eggs!
Make sure there is no speck of yolks in your egg whites
Add your sugar slowly, painfully slowly. One spoonful at a time and make sure the sugar has a few seconds to melt into the eggs before you add the next spoon
Give your egg whites time to whip to truly stiff, glossy peaks. When you pull the beater up, the egg whites should stand up on their own. If you're feeling brave, turn the bowl over your head – if it stays, you're ready!
When you add the meringue to the chocolate batter, you are going to sacrifice a quarter of your meringue to loosen the chocolate batter. You will need to stir this in instead of folding, but still stir gently
To fold in the remaining meringue, draw your rubber spatula down through the center of the batter, gently scoop to the bottom of the bowl and "fold" it on top. Turn the bowl a quarter turn and repeat until no speaks of white remain. It'll take some time and shoulder patience, but keeping the air bubbles is key
Helpful Tools
This cake doesn't want to be flipped out of a traditional cake pan. A Springform Cake Pan will let you easily lift the cake without damage.
Yes, meringue can be made with a hand mixer, but truly, a Stand Mixer will save you a lot of shoulder pain.
Use a Flexible Spatula instead of a rigid spatula to fold the mixture together. A rigid one will break up too many of the air bubbles.
Print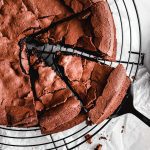 Flourless Chocolate Cake
Author:

Theresa | Quiet Baking Day

Prep Time:

20 minutes

Cook Time:

45 minutes

Total Time:

1 hour, 5 minutes

Yield:

12 slices

Category:

Cakes

Method:

Intermediate

Cuisine:

American
---
Description
Flourless Chocolate Cake is the fudgy cake of your chocolate dreams. Plus, it's naturally gluten-free, making it a slam dunk dessert.
---
339

g

semi-sweet baking chocolate

200

g

unsalted butter

8

large eggs, separated, room temperature

198

g

granulated sugar

42

g

unsweetened cocoa powder, sifted

1/2 teaspoon

salt

1 tablespoon

strong coffee or espresso (optional but recommended)

1 teaspoon

vanilla extract
---
Instructions
Preheat oven to 350°F. Grease a 9″ springform pan.
Place butter and chopped semi-sweet chocolate in a large microwave safe bowl. Microwave on Medium until melted, stirring every 30 seconds. Set aside to cool while preparing meringue.
Place egg whites in a clean mixing bowl. Mix on Medium until frothy. Begin adding granulated sugar one spoonful at a time allowing sugar to fully incorporate before adding next scoop.
Once the sugar is added, turn mixer to Medium-High and whip until stiff peaks form. Set aside.
Whisk egg yolks into chocolate mixture. Add cocoa powder, salt, coffee and vanilla.
Using rubber spatula, add 1/4 of meringue to chocolate mixture, stirring gently, to loosen the batter.
Continue adding 1/4 of the meringue at a time to chocolate mixture, folding gently to retain as many air bubbles as possible.
Once meringue is fully incorporated, carefully pour batter into prepared pan.
Bake for 40-45 minutes until the center is set.
Set aside to cool, cake will fall and crack.
Serve with powdered sugar, cocoa powder, whipped cream or ice cream if desired.
---
Keywords: chocolate, gluten free
Looking for other Chocolatey Recipes?