These Chocolate Zucchini Muffins are packed with secret vegetables, but more importantly also double the chocolate with both cocoa powder and loads of chocolate chunks.
Zucchini is a pretty magical food. It's one of my favorite vegetables (like in this Zucchini Galette), but also, it's an incredible hack for baked goods. Similar to applesauce, zucchini adds loads of moisture to cakes or quick breads. The grated zucchini nearly melts away leaving soft and rich muffins and a unique sweetness that can't be found in sugars alone.
Ingredients
When I make cakes or muffins, much like Ross Gellar, I usually include a "moist-maker" like sour cream, Greek yogurt, or whipped cream. Instead, since these are zucchini muffins, so the zucchini is our moist-maker. The other ingredients we need:
All-purpose flour. Our muffin base!
Cocoa powder. Use natural, unsweetened cocoa powder.
Espresso powder. A little bit of espresso powder helps to deepen the chocolatey flavor. It's optional, but also good to add for all chocolate desserts. You can find a small jar of espresso powder to keep on hand in the pantry.
Baking powder and baking soda. The baking powder will give the muffins a great, classic dome.
Canola or vegetable oil. Oil-based cakes end up with a rich, soft texture.
Granulated and brown sugar. A combination of granulated sugar and brown sugar gives a slight molasses flavor and a slightly softer texture than granulated sugar alone.
Eggs. The muffin structure!
Whole Milk. Brings a richness and soft texture.
Vanilla Extract. Always a great flavor addition.
Chocolate Chunks. Chocolate chips or wafers also work well. Use what you have!
Zucchini. The zucchini doesn't need to be peeled. Especially in chocolate muffins, you will barely see the zucchini. Just trim off the ends and grate. Give the grated a zucchini a squeeze to get out some of the moisture before measuring so we don't end up with a soggy muffin.
Making Zucchini Muffins
Muffins are lovely to make because they don't really require any special tools or time. Muffins require only two bowls and a whisk. In order to get that "bakery-style" muffin, you will need a Jumbo Muffin Pan. These are roughly twice the size of a standard muffin or cupcake pan. I used two ice cream scoops for the muffins shown here.
To make the muffin batter, we're going to first sift together the dry ingredients. Sifting makes sure there's no clumpy flour bits lurking in our dark chocolate muffins.
In a separate bowl, whisk together all of the wet ingredients, including the sugars. Combine the wet ingredients into the dry ingredients.
The important point here, don't overmix the batter. You can quickly overwork the muffins into a tough doorstop. When you still have quite a few streaks of flour left, add in the grated zucchini and chocolate chunks and stir until just mixed through.
Variations
No jumbo tin? No problem! These can be made in a standard muffin/cupcake tin too. Use one ice cream scoop to fill the tin about 7/8 full. Bake for 5 minutes at 425°F, then lower the temperature to 350°F and bake for 12-15 minutes.
Baking
Muffins are unique in that we want a big round dome. For cakes and cupcakes, we fight the pop to get a nice flat surface. But for muffins, we want a seriously impressive muffin top.
For this, we're going to use heat as our friend. Start baking at 425°F and for just 5 minutes. This high heat will create an initial spring reaction of the baking powder to really give us a popped dome. To avoid drying out the muffins, turn the heat down to 350°F to finish baking.
Remove from the tins as soon as possible and on to a cooling rack to avoid carry-over cooking and steaming in the pan.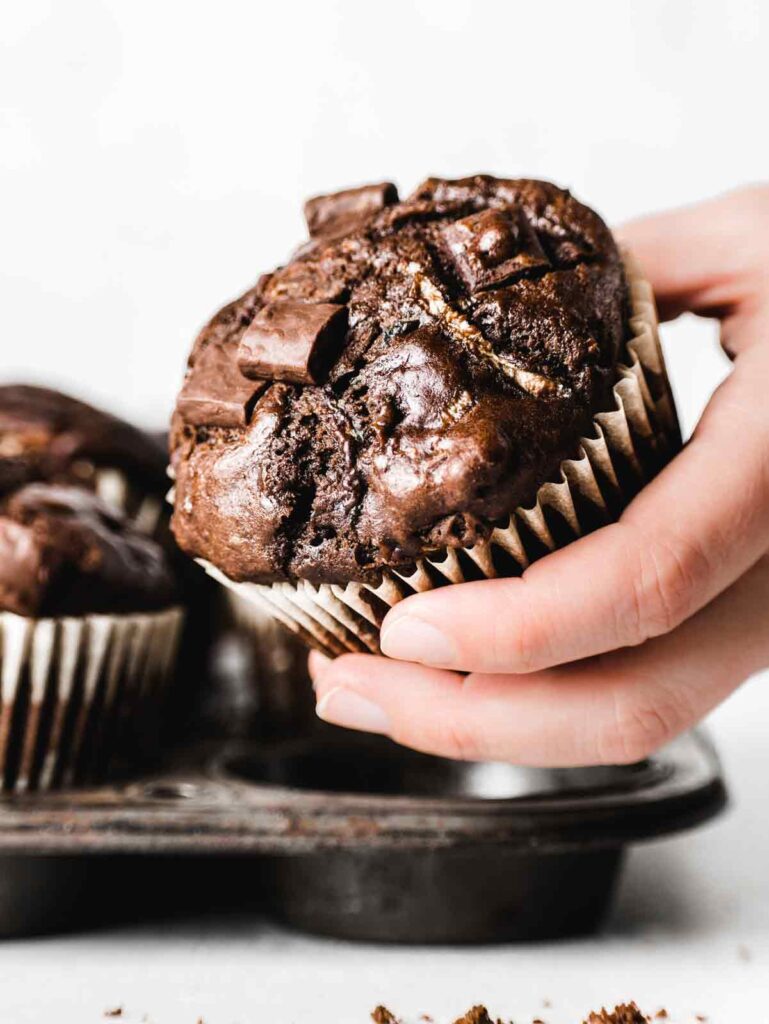 Print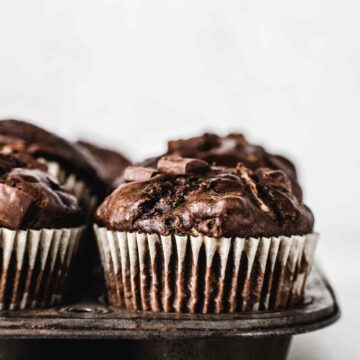 Chocolate Zucchini Muffins
Author:

Theresa | Quiet Baking Day

Prep Time:

5 minutes

Cook Time:

25 minutes

Total Time:

30 minutes

Yield:

9 jumbo muffins

Category:

Cakes

Method:

Easy

Cuisine:

American
---
Description
With a healthy does of grated zucchini hiding in these Chocolate Zucchini Muffins, you'll have no guilt having these every single day.
---
330

g

all-purpose flour

63

g

cocoa powder

1 tablespoon

baking powder

1/2 teaspoon

baking soda

1 teaspoon

espresso powder (optional)

1/2 teaspoon

salt

1/2

cup

canola or vegetable oil

132

g

granulated sugar

71

g

brown sugar, packed

2

large eggs, room temperature

1

cup

milk, room temperature

1 teaspoon

vanilla extract

250

g

(2 cups) shredded zucchini, excess moisture squeezed out

175

g

(1 cup) chocolate chunks or chips
---
Instructions
Preheat oven to 425°F. Line 2 jumbo muffin tins with 9 paper liners.
In a large bowl, sift together flour, cocoa powder, baking powder, baking soda, salt and espresso powder.
In a separate bowl, whisk together oil, sugars, eggs, milk and vanilla.
Pour wet ingredients into dry. Gently stir together with rubber spatula.
Add shredded zucchini and chocolate chunks and stir until just combined.
Divide batter into 9 paper liners, filling each about 7/8 full.
Bake at 425°F for 5 minutes. Turn oven temperature down to 350°F and continue baking for 18-22 minutes when a toothpick comes out clean when inserted into the center.
Remove from the tin once cool enough to handle and transfer to a cooling rack.
---
Notes
Makes 18 standard muffins. Bake at 425°F for 5 minutes, then turn oven temperature down to 350°F and continue baking for 12-16 minutes until toothpick comes out clean.
Store in an airtight container.
Keywords: chocolate, mixer free
Looking for Other Muffin Options?