Perfectly festive and brunch approved, these cranberry orange rolls are light and fluffy rolls packed with plenty of citrus flavor and tart cranberries. A cream cheese icing on top brings everything together.
What makes these Cranberry Rolls special?
Similar to a cinnamon rolls, the dough is extra fluffy and soft, and packs plenty of flavor on its own thanks to added orange zest.
A quick cranberry jam, with fresh or frozen berries, keeps the cranberry flavor bright and fresh.
An orange cream cheese glaze shines on top as the perfect easy glaze.
Ingredients
The base of these cranberry rolls use my favorite enriched bread recipe. I use it in my chai rolls recipe, my pistachio sweet rolls and even an unsweetened version in this cheesy braided bread.
What is an enriched bread? Standard bread usually has only flour, yeast and water. However, an enriched bread has added ingredients to make for a softer and flavorful base – like butter, sugar and eggs. It's the difference between a baguette and a cinnamon roll.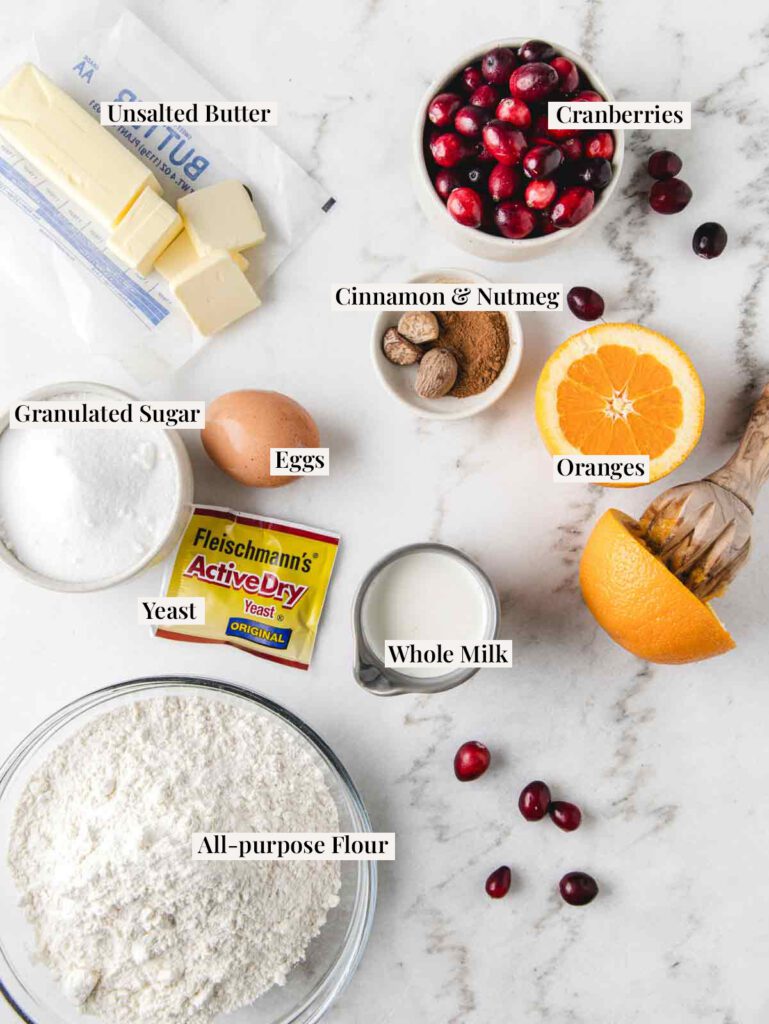 Dough
All-purpose flour. You may find some recipes call for bread flour, but I find that to be a little tough for rolls. All-purpose is the best option!
Active dry yeast. This provides the rise of the dough, making it light and fluffy. Instant yeast also works, but I prefer the active dry variety.
Whole milk. Instead of water, milk provides the flour hydration.
Eggs and egg yolk. Eggs bring a lot of richness to the dough, especially the yolk.
Unsalted butter. Adds flavor!
Granulated sugar. Not only sweetens the dough, but helps to brown the dough when baking.
Orange zest. Carries the orange flavor through the dough.
Heavy cream. This isn't added until just before baking. The heavy cream will soak into the dough and create an extra soft roll. Its a trick of the trade!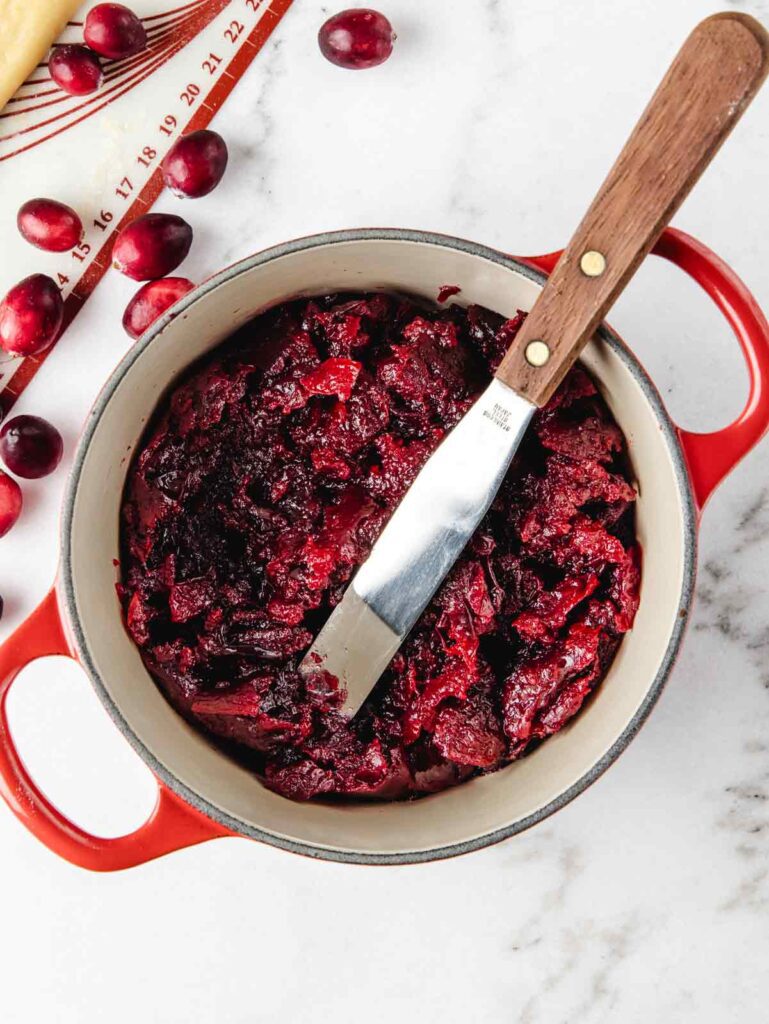 Cranberry Filling
The filling is a quick cranberry jam! Cranberries carry a lot of flavor, but we're adding some orange juice for the fantastic combination together.
Cranberries
Granulated sugar.
Orange juice and zest.
Spices.
Making the Rolls
Begin by making the dough. Because this dough has yeast, we have to plan ahead for time to rise. When yeast is used, we have to allow time for the dough to sit in a nice warm spot for a while. Doing this gives the yeast time to create the gas bubbles that creates a light and airy bread.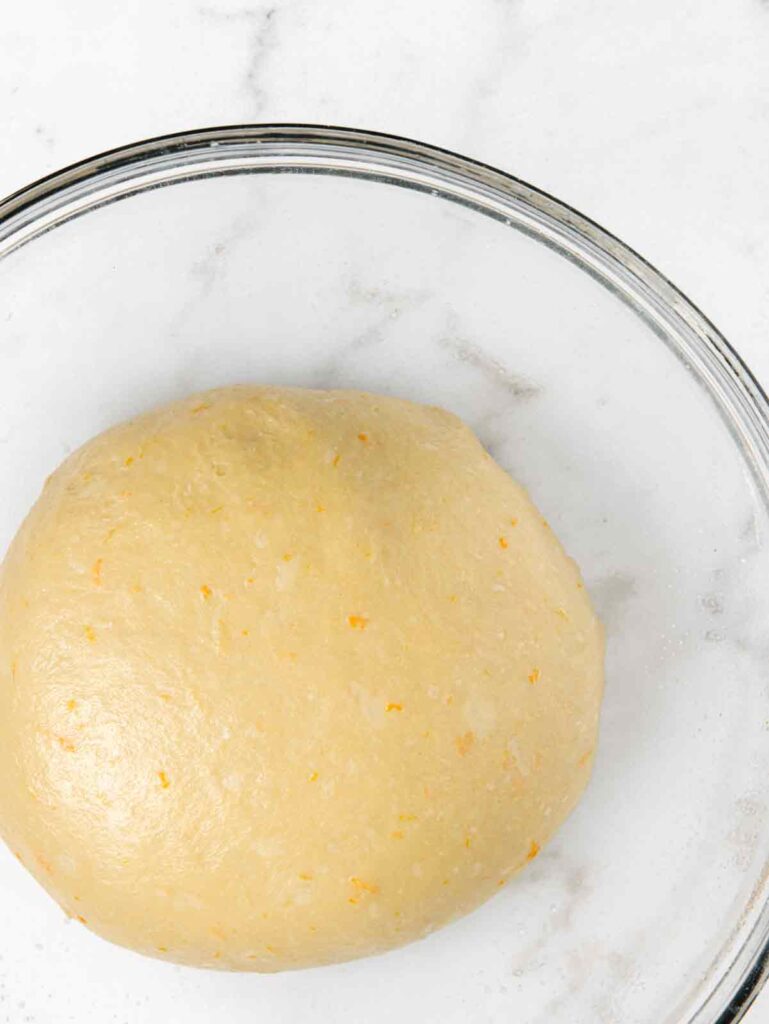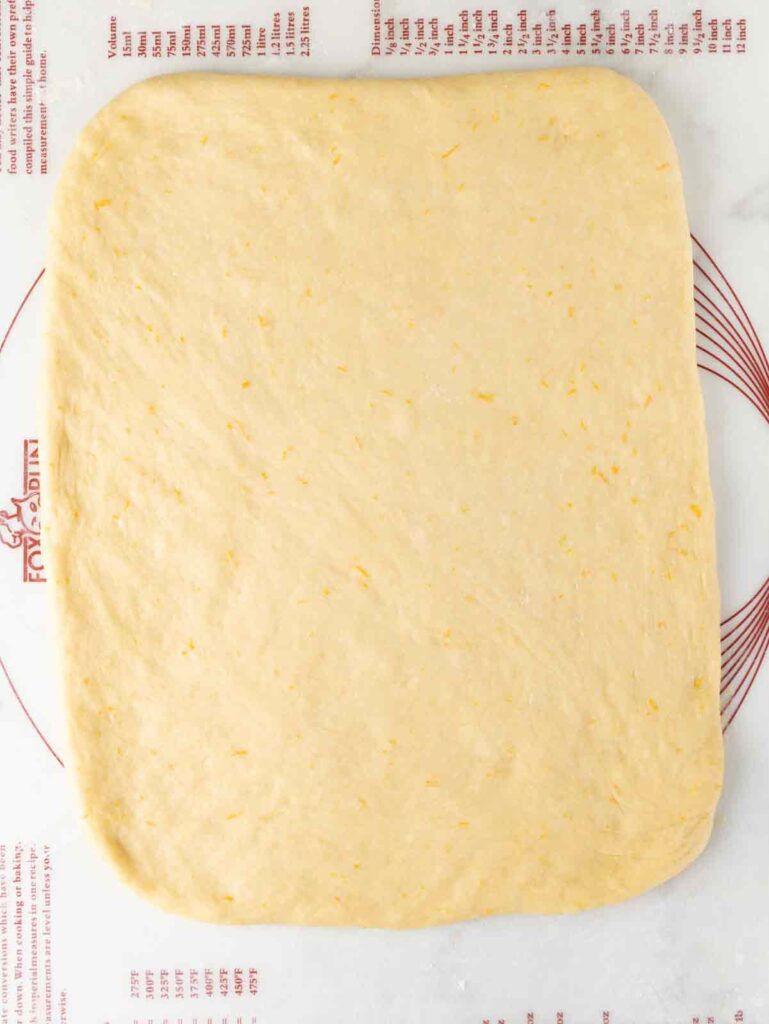 This is called proofing the dough. Skipping or under proofing the dough creates a dense, hard bread. Over proofing can cause too many gas bubbles and cause the bread to sink.
Yeast loves warm (not hot) temperatures and sugar. This is why the first step is to mix the yeast, warm milk and some sugar in your bowl. This is to "wake up" the dry yeast. You should begin to see little frothy bubbles form in a few minutes.
Next, add the remaining ingredients to create a dough. It's better to add as little flour as possible to prevent a dense dough. A wetter dough = an airy dough. This is why I have a range of flour measurements in the recipe. Begin with the smallest amount and add only what is necessary to create a smooth dough.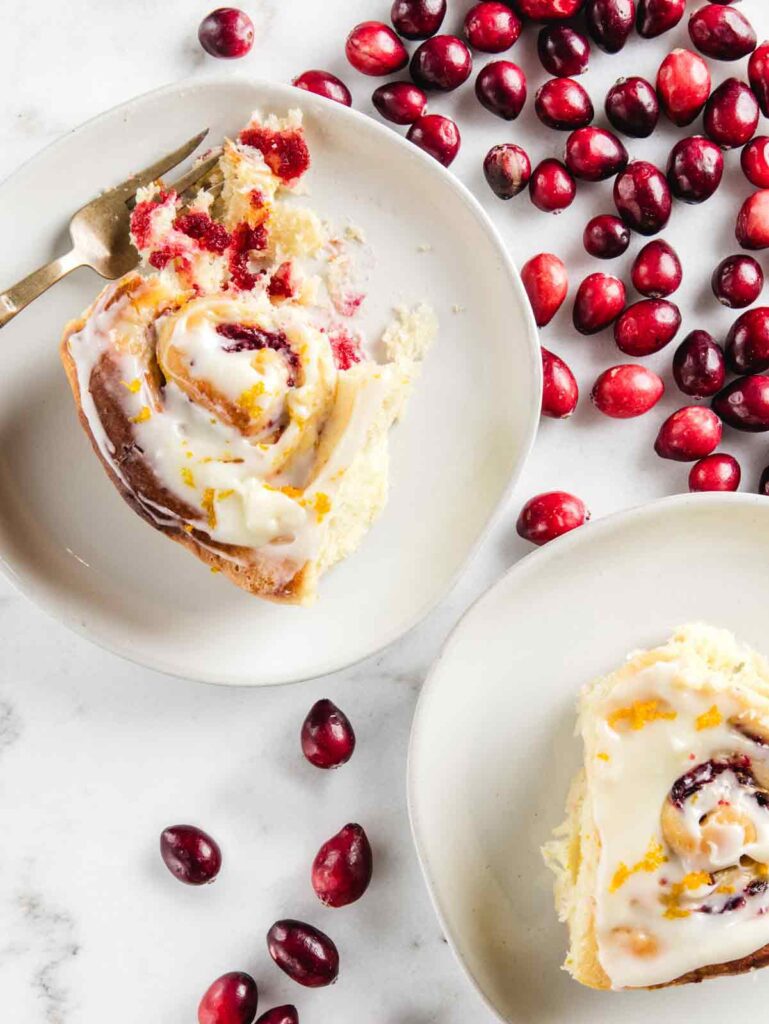 Knead the dough either by hand or with a dough hook in a stand mixer until the dough is smooth and springs back when poked.
Now it's time to let the dough proof. Cover the bowl to create a little warm pocket and place the bowl in a warm spot. I told you, yeast loves warmth. Some options – proof setting if your oven has it, laundry room near the dryer, a sunny window, or just turn the light on in your off oven.
Cranberry Jam
While the dough is proofing, prepare your cranberry jam filling. Place all the ingredients in a small saucepan. Let the cranberries warm through until you see the berries burst. Mash the cranberries down a bit and let the jam continue to simmer until it thickens.
Let it cool in the fridge completely before spreading on the dough.
Assembling the Rolls
Once your dough is risen – it doubled in size and a thumbprint stays when it's poked – roll the dough onto a floured surface.
Shape the dough into a rectangle about 11″x14″. Spread the cooled cranberry jam filling across the entire rectangle, leaving one edge clean. This will let you seal the roll together after you spiral it!
Working from the long, jam-covered edge, begin to lightly spiral the dough into a log shape. Roll lightly to give space for a second proof.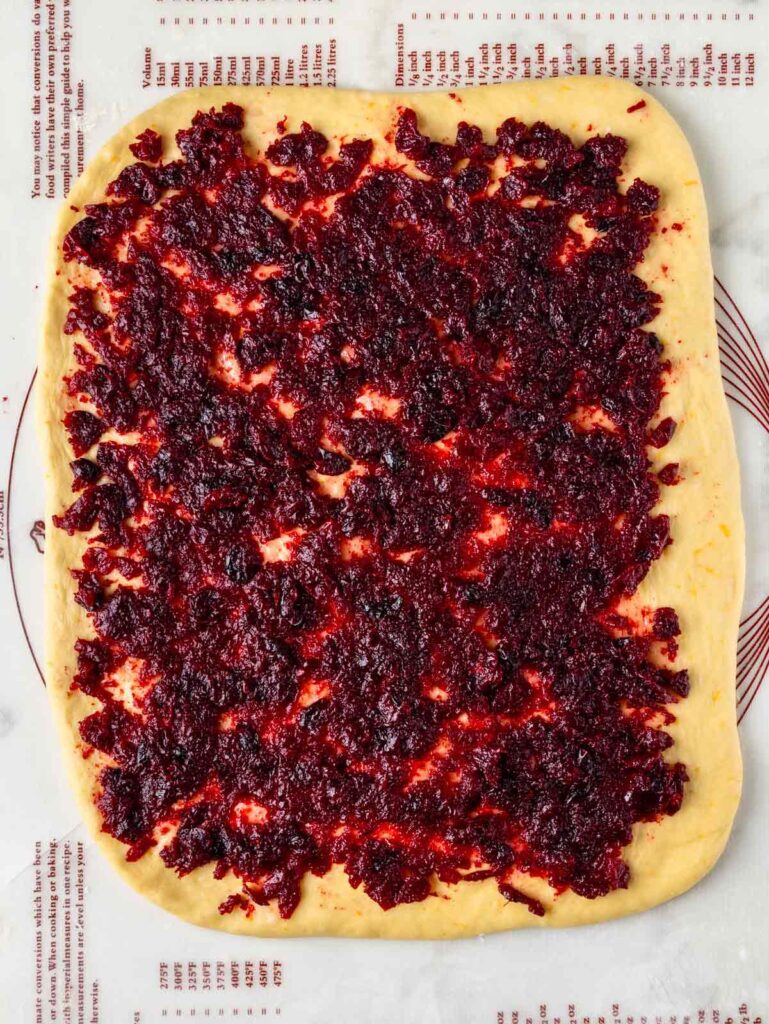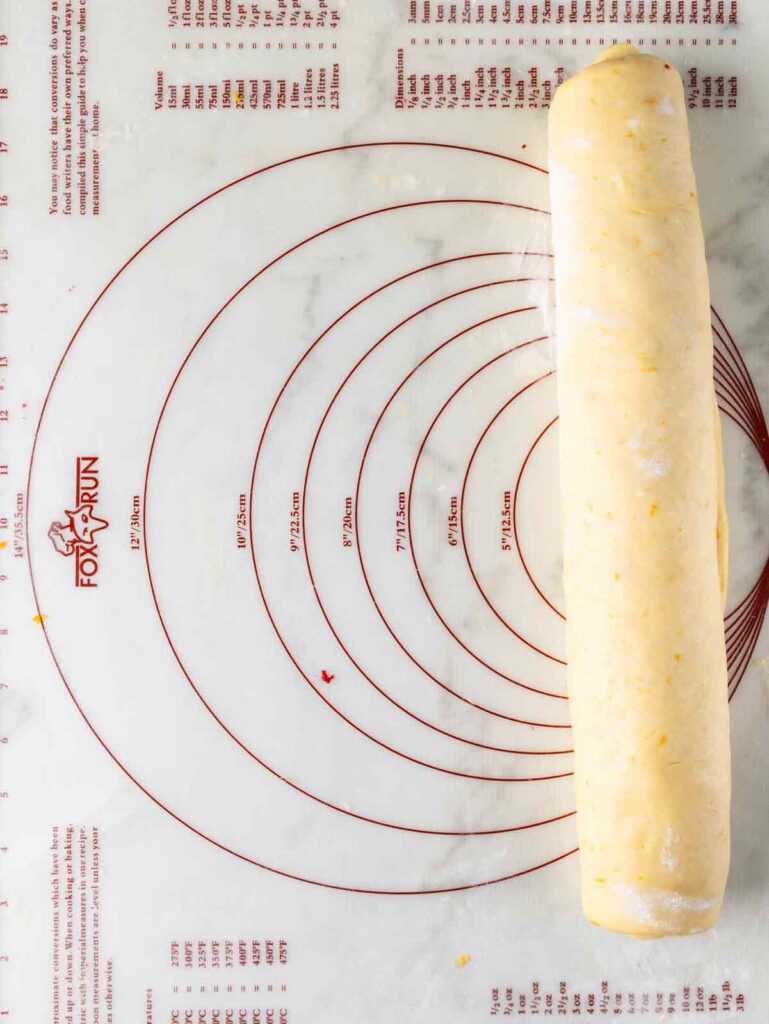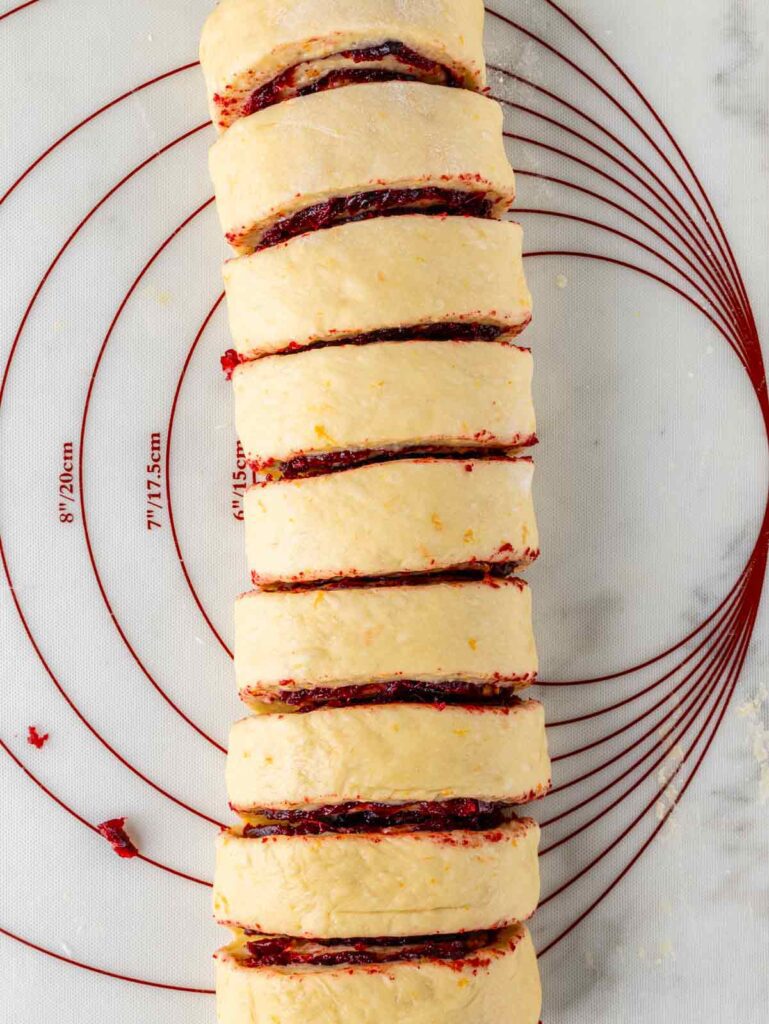 Trim the edges of the log so you have a nice clean swirled side, then cut the log into 9 slices. Arrange them in a greased cast iron pan, leaving a little room between each to allow for a second rise.
Cover the rolls and let them proof again. The rolls should be puffy and just touching. This should take about an hour.
Now is the time to pour the warm heavy cream on top. Yes, this is weird and no, this is not a health meal. But the heavy cream will soak its way into the dough when it bakes to make for an extra soft roll. You can skip it, but trust me!
Bake until you have a golden brown edge!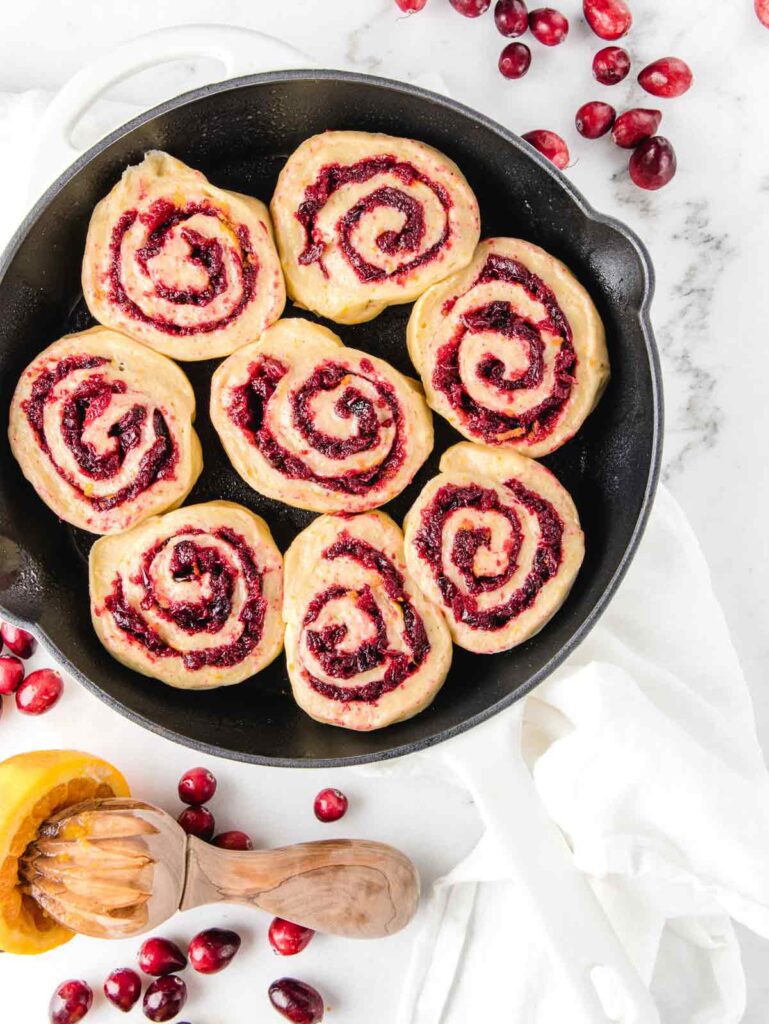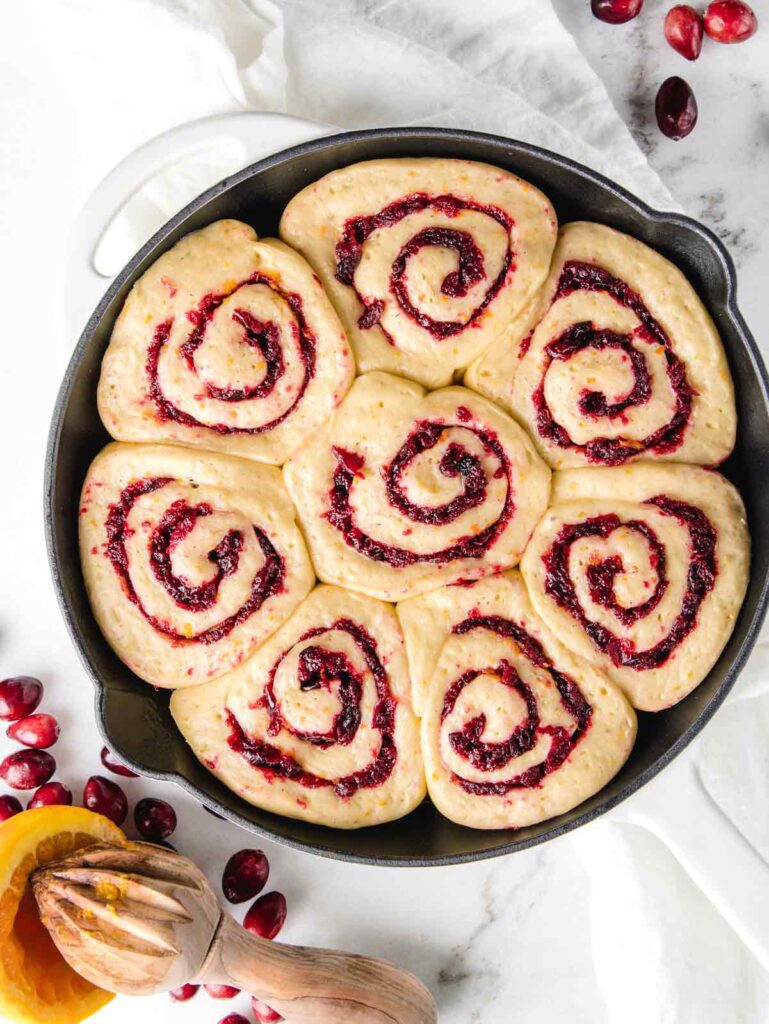 Icing
To make the literal icing on top, beat together the cream cheese and butter until soft. Add the sugar and orange juice until you have a smooth and spreadable icing. Frost those rolls!
Serve immediately. These are best the day of.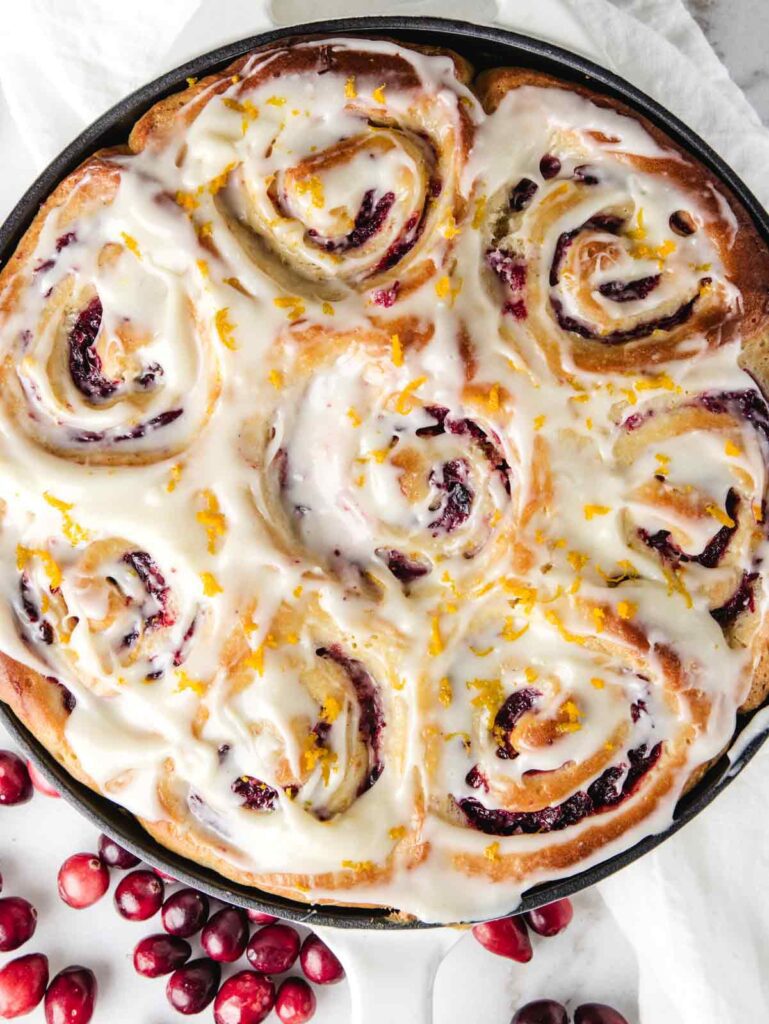 Frequently Asked Questions
Can these be made ahead of time?
You can prep the rolls the day before and finish the final proof and bake the next day. Complete the steps until you place the sliced rolls on the cast iron pan. Cover and place in the fridge. The cold will slow down the yeast – and will create a richer flavor. Remove from the fridge and allow to finish proofing and baking with no change to the rest of the steps.
Why did the center of my rolls pop out?
The rolls were likely spiraled too tight and the dough didn't have room to rise in the center.
Can I use instant yeast instead of active dry yeast?
Yes, you can skip the first step to let the yeast sit in warmed milk to froth. Instant yeast doesn't require this.
Can I use a different jam?
Absolutely, cranberries are fabulous, but if there's another berry in season, use what you prefer!
How do you reheat these cranberry rolls?
Place leftover rolls in a 325°F oven for 5-10 minutes until warmed through.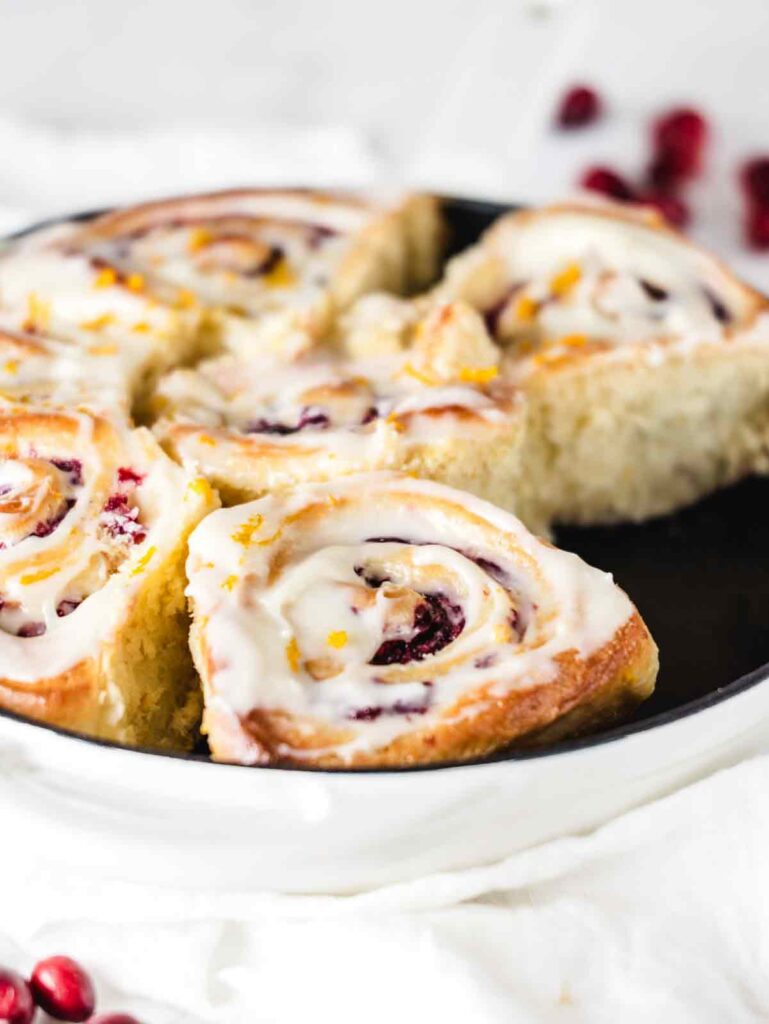 Print
Cranberry Orange Rolls
Author:

Theresa | Quiet Baking Day

Prep Time:

40 minutes

Proofing Time:

2 1/2 hours

Cook Time:

25 minutes

Total Time:

3 hours, 35 minutes

Yield:

9 rolls

Category:

Dessert

Method:

Intermediate

Cuisine:

American
---
Description
These light and fluffy cranberry orange rolls are swirled with a bright cranberry filling and topped with an orange cream cheese glaze.
---
Dough
3/4

cup

whole milk, warmed to 105°-110°F

7

g

(1 packet) active dry yeast

2

large eggs, room temperature

1

large egg yolk, room temperature

56

g

unsalted butter, softened

75

g

granulated sugar

3/4 teaspoon

salt

390

g

– 420g (3 1/4 – 3 1/2 cup) all-purpose flour, plus more for dusting
Zest of

2

oranges

1/4

cup

heavy cream
Cranberry Filling
12 oz

bag (about

3 1/2 cups

) cranberries, fresh or frozen

150

g

granulated sugar
Zest and juice of 1 orange

2 teaspoons

cinnamon

1/4 teaspoon

nutmeg

1 teaspoon

salt
Orange Cream Cheese Glaze
56

g

(1/4 package) cream cheese, softened

1 tablespoon

unsalted butter, softened

85

g

confectioners' sugar, sifted

1/2 teaspoon

salt

1/2 tsp

vanilla extract

3/4 teaspoon

orange juice
Zest of 1/2 orange
---
Instructions
Dough. Stand mixer method: To make dough, sprinkle yeast over warmed milk with a pinch of sugar in the bowl of a stand mixer, let stand until frothy, about 5 minutes. Add eggs and yolk, butter, sugar, salt and smaller amount of the flour to begin (390g, 3 1/4 cups). Stir on low with a dough hook until combined, then turn mixer up to knead until dough is smooth and elastic, about 10 minutes. Only add more flour as needed, the less the better. Transfer dough to a greased bowl, turning once to coat, cover with plastic wrap, and let rise in a warm place until doubled in size, about 1 – 1/2 hours..
By hand method: Place warm milk in a large bowl, sprinkle with yeast with a pinch of sugar, and let stand until frothy, about 5 minutes. Add eggs and yolk, butter, sugar, salt and smaller amount of the flour to begin (390g, 3 1/4 cups). Stir together with a wooden spoon or spatula until dough begins to form. Transfer dough to a floured surface and knead by hand until smooth and elastic, about 15 minutes, only adding enough flour to bring the dough together. Transfer dough to a greased bowl, turning once to coat, cover with plastic wrap, and let rise in a warm place until doubled in size, about 1 – 1/2 hours.
Cranberry Filling*. Combine all ingredients in a small bowl. Simmer over medium-low heat until cranberries burst, about 5 minutes, then mash into a chunky texture. Continue to simmer until cranberries begin to set into a jam consistency, about 10 minutes. Leave to chill completely while dough rises.
Rolling and cutting: Grease 12″ cast iron skillet**. When dough has risen, transfer to a floured surface and roll to approximately 11″x14″ rectangle. Spread cranberry filling evenly across surface, bringing filling to 3 of the edges, leaving one of the long edges clean. Beginning on the opposite edge, lightly roll dough into a spiral.
Trim both edges of the spiral log to remove uneven sides. Slice log into 9 equal slices and place swirl side up in prepared skillet.
Cover and let rise until puffy and rolls fill the skill, about 1 hour. Preheat oven to 350°F. 
Warm the 1/4 cup of heavy cream and pour over the rolls. Bake until lightly golden brown, 24-27 minutes. Remove and allow to cool completely.
Cream cheese glaze: While rolls are cooling, beat together cream cheese and butter. Add confectioners' sugar, salt, vanilla extract, and orange zest and juice. Mix until smooth. Spread over cooled rolls. 
---
Notes
*Cranberry filling can be made up to a week in advance.
**10″ skillet may used, fill with 8 rolls.
Rolls are best served the day of, store leftovers in an airtight container in the fridge.
To make rolls overnight, complete though step 5. Cover and let rest in fridge overnight. Remove from the fridge and allow to rise at room temperature until rolls are puffy and fill the skillet. Continue with step 7.
Keywords: Christmas brunch, fresh fruit baking