This sweet Orange Pull-Apart Bread is layers of orange dough sandwiched between a cinnamon and cardamon spiced filling. A quick cream cheese glaze on top takes this pull-apart bread to the next level.
If an orange roll and monkey bread had a baby, it would be this orange pull-apart bread. Orange, cinnamon and cardamon are just one of my favorite flavor combinations. A little bit of orange zest take a meh dessert into an oh-dang dessert in my opinion, like in these Creamsicle Orange Cupcakes. A little orange zest is also a plus in savory breads, like this Easy No-Knead Olive Bread.
What Makes This Sweet Bread So Delicious?
The dough is an "enriched dough". An enriched dough is a bread dough that is enriched with additional ingredients to make it softer and richer, like eggs and butter. Think of a cinnamon roll or brioche bread compared to a crusty loaf like a sourdough. The former will be soft, fluffy and squishy.
That soft, fluffy dough from above will be sliced and sandwiched together with a sugary filling with cinnamon, cardamon and orange zest. Instead of a short swirl of filling like in a cinnamon roll, this loaf will be layer after layer of delicious filling.
A cream cheese and orange glaze is the literal icing on the cake.
Working with Yeast
This bread requires yeast. And I know yeast can be intimidating if you haven't worked with it before. But yeast is your friend, literally. Yeast is like me, is just chomping away and getting gassy, and creating rise in your bread.
The first thing we need to do is "wake up" our dried yeast. The yeast is those little packets on the shelf is dormant. Yeasts version of a morning latte is a warm environment and sugar. So to wake up our dormant yeast, we will warm up some milk to about 100°F, sprinkle the yeast on top and add a bit of sugar and let it do its thing.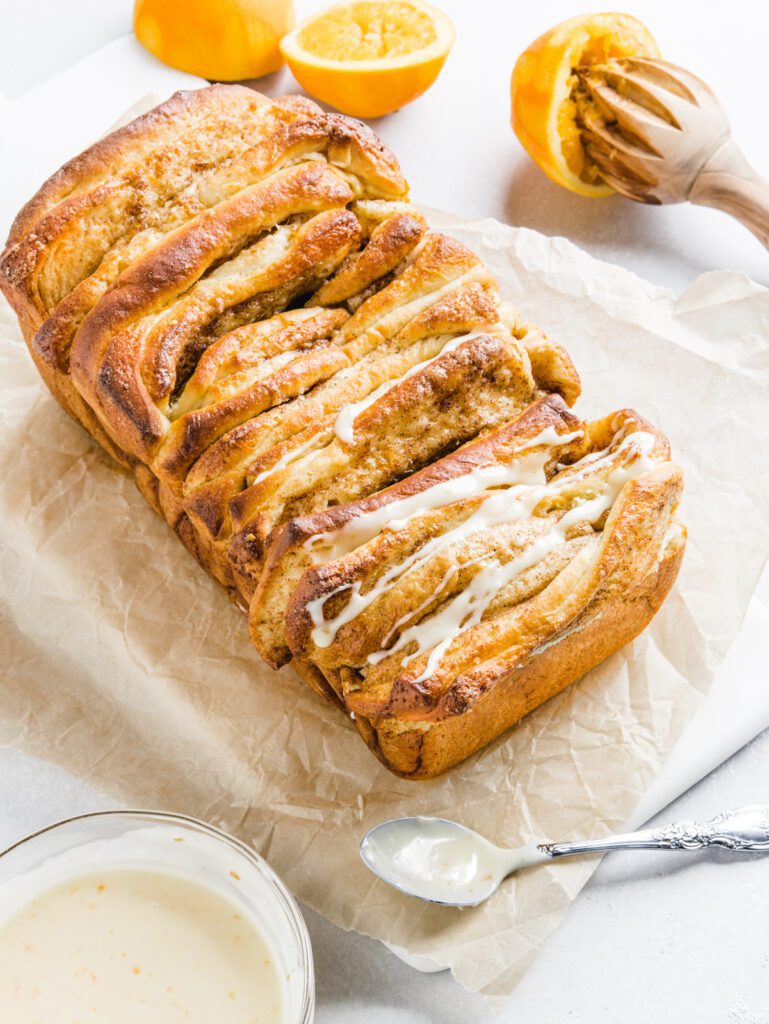 After about 5 minutes, you should see the yeast has started to froth and bubble a bit in the milk. That means your yeast is awake and ready to go!
We will then add the remaining dough ingredients and knead until we have a nice smooth dough.
Now, the yeast needs to a chance to do its thing and help the dough rise and create lots of light air pockets. Place the dough in a warm environment to let rise to in double in size. My oven has a specific "proof" mode which is about 85°F. But a warm spot in your kitchen, in your laundry room with a running dryer, or above the stove are all good options.
This is the first proof of the dough. After we fill and shape the dough into our layered bread, we will let the dough rise a second time.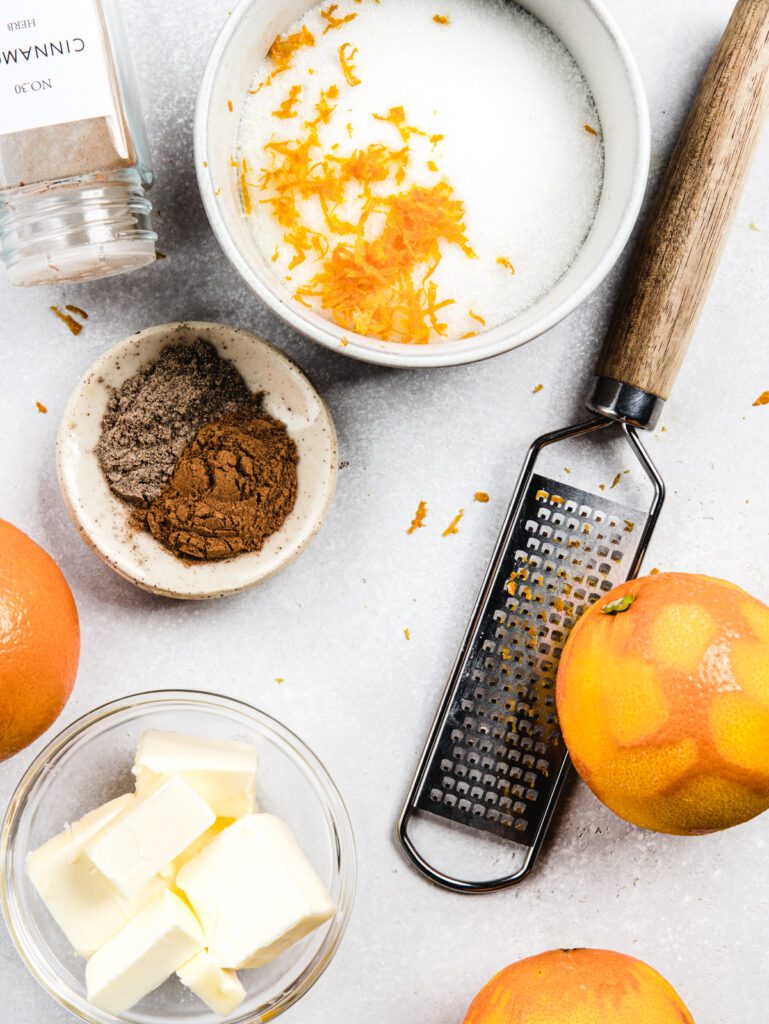 Creating a Pull-Apart Bread
The layers is what makes this orange bread so special. It looks so impressive, but it's really not so complicated.
Here's how to make a pull-apart bread:
Roll out the Dough

After the dough has had a chance to double in size, roll the dough into a rectangle roughly 20″x12″. Don't worry too much about perfection. I love a pastry mat for this. It's non-stick and has a built in ruler for easy measuring.

Create the Filling

Brush the dough with melted butter and cover from edge to edge with a spiced sugar. It's a lot of sugar. And no, it's not too much sugar.

Slice & Stack

Slice the dough into 15 equal-ish squares. They should be about 4″ wide, or as wide as your loaf tin. Fold each square in half and lightly stack into the tin in a row, fold side down. Let rise one more time, and then bake!
Finishing the Bread
After the dough has had a chance to rise in the fridge overnight, let sit at room temperature for 45 minutes – 1 hour. Pour warm heavy cream on top and bake until golden brown. If the top of the bread is browning too quickly, lightly place a piece of aluminum foil on top and continue to bake until the bread is fully cooked through, or reaches 190°F inside.
Making the Glaze
With a hand mixer, whip together the cream cheese and butter until light. Add confectioner's sugar, orange juice, zest, and vanilla. Spread over the orange pull-apart bread once cooled.
Frequently Asked Questions
Why isn't my yeast frothing in the milk?
Three things could be happening:
1. Give the yeast an additional 5 minutes to sit and see if it starts to froth (we're not looking for like a head of beer here, just few little bubbles is all we need).
2. If nothing is happening, you may have dead yeast – check the expiration date.
3. Your milk is not the right temperature. Too cold and the yeast will take longer to wake. Too hot and your may have killed your yeast. The milk should be barely warm to the touch.
Do I need to wait overnight to bake?
Nope! Instead of placing in the fridge, allow the dough to rise in the pan in a warm spot and bake once it has doubled in size, 45 minutes to 1 hour.
How do I store this pull-apart bread?
This is best the day of, but store any leftovers covered in the fridge and allow to come back to room temperature before enjoying.
What is the heavy cream for?
Pouring heavy cream over the top of the bread gives an extra bit of soft, ooey-gooey-ness. I use the same trick in my cinnamon rolls!
Can I make this with a smaller loaf pan?
This recipe is made for a 9″x5″ loaf pan. If you have a standard 8 1/2″ x 4 1/2″ pan, you can totally still make this, you may just not need all the dough. You don't want to cram the squares into the pan as you want some room to rise and bake without spilling over the top. Leave one or two squares out of a smaller pan to have the dough fit loosely in the tin initially.
Print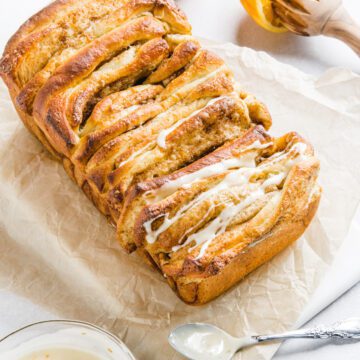 Orange Pull-Apart Bread
Author:

Theresa | Quiet Baking Day

Prep Time:

20 minutes

Proofing Time:

11 hours

Cook Time:

40 minutes

Total Time:

12 hours

Yield:

9″ Loaf

Category:

Pastry

Method:

Intermediate

Cuisine:

American
---
Description
This Orange Pull-Apart Bread is light and soft with a sweet orange and cinnamon filling and an easy cream cheese glaze.
Equipment: 9″ x 5″ Loaf Pan*
---
Pull-Apart Bread Dough
3/4

cup

whole milk, warmed to 105°-110°F

7

g

(1 packet) active dry yeast

2

large eggs, room temperature

1

large egg yolk, room temperature

56

g

unsalted butter, softened

75

g

granulated sugar

3/4

teaspoon salt

390

g

– 420g (3 1/4 – 3 1/2 cup) all-purpose flour, plus more for dusting
Zest of 2 oranges
Filling
99

g

granulated sugar
Zest of 2 oranges

2 teaspoons

cinnamon

1 teaspoon

cardamom

56

g

unsalted butter, melted and cooled

1/4

cup

heavy cream, slightly warm
Orange Cream Cheese Glaze
56

g

cream cheese, softened

2 tablespoons

unsalted butter, softened
Zest of 1 orange

113

g

confectioners' sugar, sifted

3 tablespoons

orange juice

2 teaspoons

vanilla extract
---
Instructions
To make dough in a stand-mixer: Place warmed milk in the bowl of a stand-mixer. Sprinkle yeast on top and a pinch of the sugar. Let stand for 5 minutes until frothy. Add in eggs, butter, remaining sugar, and salt and mix with a dough hook until combined. Add smaller amount of flour and orange zest and mix on medium-high for 8-10 minutes until smooth and elastic. Only add more flour if needed, dough should be sticky.
To make dough by hand: Place warmed milk in a large bowl. Sprinkle yeast on top and a pinch of the sugar. Let stand for 5 minutes until frothy. Add in eggs, butter, remaining sugar, and salt and mix with a wooden spoon until combined. Add smaller amount of flour and orange zest and mix until dough comes together with spoon, transfer to a floured board and knead until smooth and elastic. Only add more flour if needed, dough should be sticky.
Place dough in a greased bowl and cover lightly with clean towel. Let rise until doubled, about 1-2 hours depending on temperature.
To make filling: While dough is rising, place sugar in a small bowl and add orange zest and rub together with finger tips to release the oils. Stir in cinnamon and cardamom and set aside. 
Filling & slicing dough: Once dough is doubled, tip onto a floured surface and roll into a 12″x20″ rectangle. Brush dough from edge to edge with melted butter. Sprinkle evenly with spiced sugar mixer. Slice into 15 – 4″x4″ squares: 3 rows and 5 columns.
Working one square at a time, fold in half, sugared sides together, and place folded edge in the bottom of a loaf pan sprayed with non-stick spray. Repeat with each square, placing in a row across the pan. Cover with plastic wrap and let rest in fridge overnight.
In the morning, pull loaf out of fridge and let come to room temperature, about 45 minutes.
Baking:  Meanwhile, preheat oven to 350°F. Once ready to bake, pour heavy cream over the top of the loaf. 
Bake 40-50 minutes, until golden brown and a knife comes out clean, or 190°F. Keep an eye on the loaf, if it browns too quickly, cover lightly with aluminum foil after 15 minutes.
Let cool in pan, then turn out onto cooling rack. 
To make glaze**: Whip together cream cheese and butter. Add orange zest and confectioners' sugar. Add orange juice and vanilla extract. Drizzle over cooled loaf.
---
Notes
*If you have a smaller 8 1/2″ x 4 1/2″ loaf pan, you may not need all the dough. When placing squares of dough into the tin, they should loosely fit to allow for rising. Leave 1-2 squares out of a smaller pan.
**This is enough glaze for a drizzle on top, plus some extra for serving on slices.
To make same day: Do not place filled loaf pan in fridge. Cover in plastic wrap and let rise on counter for 45 minutes – 1 hour. Continue with step 7 as above.
Store glazed loaf covered in the fridge. Unglazed loaf can be stored in an airtight container on counter, or wrapped and frozen for up to 2 months.
To adjust glaze consistency: add more confectioners' sugar to thicken, add more orange juice to thin.