Cranberries make the apples tarter, apples make the cranberries sweeter. Perfect for any Thanksgiving, Christmas, or just Sunday, you will be sure to love this twofer Apple Cranberry Pie.
Sure, apple pie is a classic, and a Homemade Pumpkin Pie is a staple on any thanksgiving table. But why enjoy just one type of pie when you can have a two-in-one bonus deal. Apples and cranberries come together to make one amazing pie in this recipe. If you like a more traditional apple pie, try this Apple Slab Pie with Salted Caramel too!
Making the Pie Dough
Here's the thing about pie dough, the more you work it, the less delicious it becomes. So the trick is to try less. Overworking the dough can make it tough and rubbery. This is why I prefer to make the dough by hand instead of a food processor, I think it can be overworked way too quickly.
First, whisk together your dry ingredients. This includes a little cinnamon and nutmeg. Why not add some flavor to the crust as well?! Then comes the two most important steps:
First, you want to keep you fat cold and in large pieces. Add cubes of cold butter and shortening to the flour mixture. Using your finger tips or a pastry blender, rub the fat in leaving some pieces a bit larger than peas throughout. You'll notice I use both butter and shortening here.
Butter has all the flavor, shortening has the structure and flake. Leaving larger pieces of both in the dough will result in a flaky crust. When the cold fat hits the hot oven, it will create steam that will lift and create a flaky layer.
Second, don't go crazy on the water. The amount of water you need will vary from day to day, flour brand to flour brand, etc. You only want to add the minimum water necessary to make the dough come together. Add icy cold water one tablespoon or two at a time.
Mix after each addition and stop once the dough starts to hold together. Give the dough a quick few kneads just to bring everything together, then divide the dough into three separate disks, wrap in plastic and chill for at least 1 hour. Letting the dough rest and relax will reduce toughness.
Making the Fillings
It's well known by now that wetness is the doom of pastry dough. But we don't want a dry pie either. We need to strike the balance between the two, avoiding a soggy bottom while creating a silky filling. So we're going to do a little prep work in advance.
For the cranberries, we're going to cook them down first to release their juices and thicken up the filling. Combine cranberries, sugar, orange juice and spices in a small saucepan and simmer until the cranberries have burst.
Then we'll add a cornstarch slurry (cornstarch mixed with water) to thicken the juice. Continue to let it simmer for 15 or so minutes until the mixture is thickened. Transfer to a sieve and let any thin juices drain away until completely cooled.
Similarly, we will release the juices from the apples as well. Mix together your sliced apples, sugar, spices and cornstarch and let sit for at least 30 minutes. You should see a load of liquid at the bottom of the bowl when you return.
Leave it in the bowl and away from your pastry! Why didn't we just cook the apples and cranberries together you might ask? Cranberries are much tougher to break down than apples. If we tried to cook them at the same time you would have either apple mush or hard cranberries. I don't like extra steps for nothing!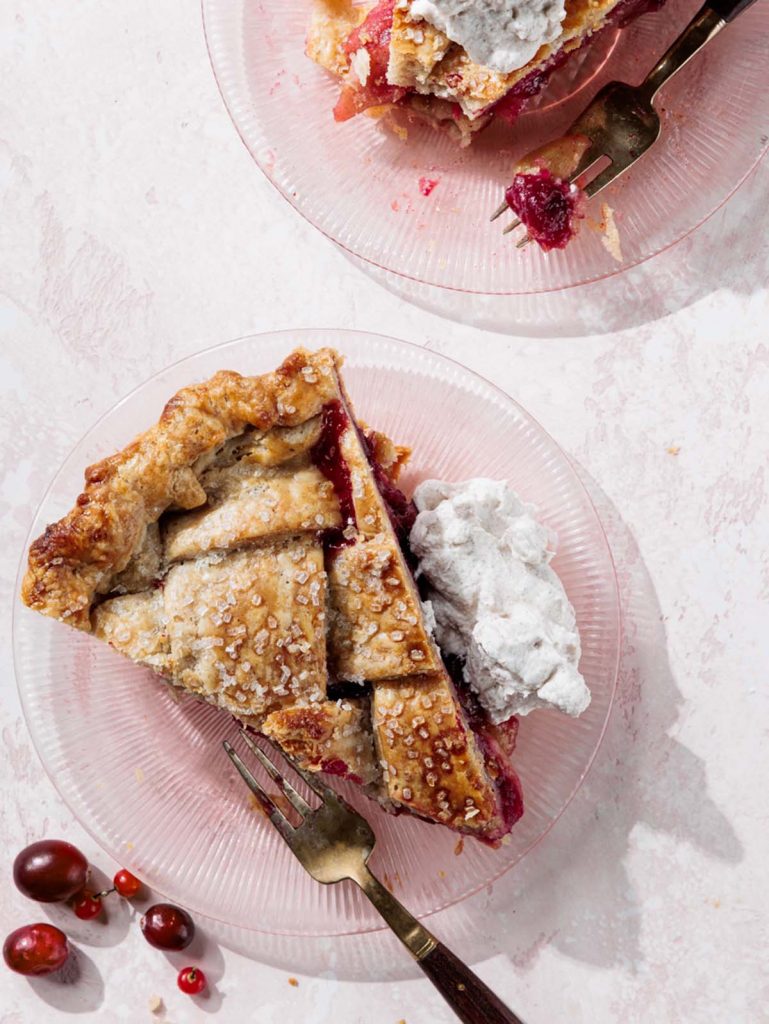 Shaping Apple Cranberry Pie
For the pie you see here, I used a classic wide lattice. Don't want the hassle? You can absolutely use a solid crust on top, cutting a few slits to allow the steam to escape. If you want to try the lattice design, follow along below.
Roll each disk of dough into a roughly 11″ circle, 1/8″ thick. Take the first round and place it in the bottom of a lightly greased 9″ pie tin. Press into the edges.
Brush your dough with a little egg white to create a seal against any lingering moisture. Spoon your apple mixture into the bottom, discarding the released water. Spread the cranberry mixture on top.
Now, slice each of your other two circles of dough into 1-1/2″ wide slices. Take the slices of the first circle and place on top of the filled pie. Leave them in just the same circle shape and nearly touching. Now, fold every other strip down at about the middle.
Place the middle strip from the third circle of dough down perpendicular to the strips on the pie. Replace the folding strips down. Fold the opposite strips down, place any strip of dough, and replace the folded strips. Repeat until you get to the edge of the dish. Follow the same pattern down the bottom half.
Press together the top and bottom layers of dough and trim the edges for a perfect circle. Use the knuckle from one hand and press the dough between the finger and thumb of the other hand to create the fluted edges.
In full transparency, my fluted edges are never that pretty. The secret? It really doesn't matter if your flutes are perfect. Egg wash the top of the crust and bake per the instruction below!
Helpful Tools
Pastry Cutters are great for blending in butter to flour without overworking the dough
A Pie Shield is so helpful for avoiding crust edges. Yes you can use foil, but it's always such a bugger to get to stay on the pie. This is a life saver.
Looking for Other Apple Recipes?
Give this Apple Layer Cake a try if you love apple pie filling. Or these Apple Cider Donuts for a true autumn classic.
Print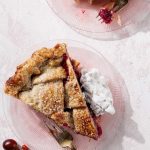 Apple Cranberry Pie
Author:

Theresa | Quiet Baking Day

Prep Time:

30 minutes

Chilling Time:

1 hour, 30 minutes

Cook Time:

1 hour, 10 minutes

Total Time:

3 hours, 10 minutes

Yield:

1-9″ pie

Category:

Desserts

Method:

Intermediate

Cuisine:

American
---
Description
Busting with the flavors of winter, this apple cranberry pie is the perfect combination of tart and sweet.
---
Pie Dough
540

g

all-purpose flour

3 tablespoons

granulated sugar

1 1/2 teaspoons

salt

1 1/2 teaspoons

cinnamon

1/2 teaspoon

nutmeg

170

g

unsalted butter, cold, cubed

207

g

shortening, cold, cubed

3/4

cup

ice-cold water
Cranberry Filling
12

ounces

fresh cranberries

150

g

sugar
Zest and juice of 1 orange

2 teaspoons

cinnamon

1/4 teaspoon

nutmeg

1 teaspoon

salt
Cornstarch slurry (1 tbsp. cornstarch mixed with 1 tablespoon water)
Apple Filling
3

Granny Smith apples, peeled, cored and sliced in 1/4″ slices

2 tablespoons

lemon juice

2 teaspoons

vanilla

2 tablespoon

cornstarch

50

g

granulated sugar

50

g

brown sugar, packed

2 teaspoons

cinnamon

1/2 teaspoon

nutmeg
1

egg, separated
Coarse Sugar, optional
---
Instructions
Pie Dough: Whisk together all dry ingredients.
Add cold butter and shortening, cut in using pastry cutter or fingers, until mixture becomes sandy with some pea-sized bits of butter/shortening remaining. If the butter begins to warm, place the bowl in the fridge for 10-15 minutes, then resume mixing.
To make ice water, fill a glass with water and ice, stir until water becomes icy cold, then measure 1/2 cup into a separate glass, straining out ice cubes.
Slowly incorporate 1-2 tablespoon of water at a time to flour mixture. Mix with wooden spoon each time before adding more. Only add enough water to just bring the dough together. You may need a little more or a little less water than the 3/4 cup so add slowly!
Turn dough out onto a sheet of plastic wrap, knead a few times to bring dough together. Divide into three equal discs, wrap each with plastic wrap and chill for 1 hour.
After an hour, begin to prep your fillings.
Cranberry filling: Place all ingredients expect cornstarch slurry in small saucepan. Simmer on low until cranberries start to burst and release juices, about 10 minutes, stirring occasionally. Stir in slurry and let simmer until thickened, stirring occasionally, for about 15 minutes more. Transfer for a sieve and let strain while cooling.
Apple filling: Coat apple slices in lemon juice and vanilla. Mix together remaining ingredients in a separate bowl, sprinkle over apples and turn to coat. Let sit for 30 minutes.
Rolling the dough: Preheat oven to 425°F. Remove each disc of dough from the fridge one at a time. Roll the first disc into an 11″ circle, about 1/8″ think on a lightly floured surface. Be sure to lift and turn the dough frequently to avoid sticking. Place in a lightly greased 9″ pin tin. Cover lightly with plastic wrap and return to fridge.
Roll the two remaining discs in another 11″ circle. Cut into 1 1/2″ thick slices. Lay on a sheet pan, cover with plastic and return to the fridge.
Forming the pie: At this time, your cranberries and apples should have had at least 30 minutes to set, and the dough have 10 minutes to rechill in the fridge.
Remove your pie tin from the fridge.
Separate your egg, *keeping both the egg white and egg yolk*
Brush the bottom of your pie dough with the egg white. Spoon the apple filling on top, discarding the liquid at the bottom of the bowl. Spread the cranberries on top of the apples.
Cover the top of the pie with the lattice design outlined above, if desired.
Mix together the remaining egg white with the separated egg yolk, and 1 tbsp of water to create an egg wash. Brush the top of the crust and sprinkle with coarse sugar if desired. Place the pie tin on a parchment lined baking sheet.
Bake for 20 minutes at 425°F, then turn the temperature down to 375°F for another 40-50 minutes. The filling should be bubbling and drizzling over the top.
If your crust is beginning to darken too quickly after about 30 minutes, cover with a pie shield or aluminum foil.
Let cool completely before slicing.
---
Notes
Serve with Spiced Whipped Cream if desired: Whisk together 1 cup of heavy whipping cream with 1/3 cup of powdered sugar and 2 tsp. cinnamon.
Store at room temperature.