Pavlova is a meringue dessert that has a crunchy outer shell with a marshmallowy center, and in this case, topped with fluffy clouds of peanut butter whipped cream, and a strawberry topping.
If you are like me, eating a fluffernutter sandwich in your 30s makes you feel a little not-super-adult. Not that you don't still eat the fluffernutter (or make these fluffernuttery Peanut Butter Whoopie Pies) but you know, it's not the most "grown-up" food. Welcome to the solution — the PB & J pavlova. This is just one option for your pavlova, but this dessert is not only completely versatile, it's also naturally gluten-free, making it the perfect dinner party dessert!
Endless Possibilities
Because I love peanut butter in everything, I chose to make this riff on a childhood favorite, but don't be afraid to play around with your own flavors! The base of the pavlova can be used for an endless option of toppings:
Lemon curd
Whipped cream
Fresh fruits
Chocolate
Nuts
Think about making a s'mores version with chocolate syrup and crushed graham crackers, or a lemon curd and whipped cream option, a version with peaches and blueberries in the summer. This is the perfect seasonal dessert, use what's available near you!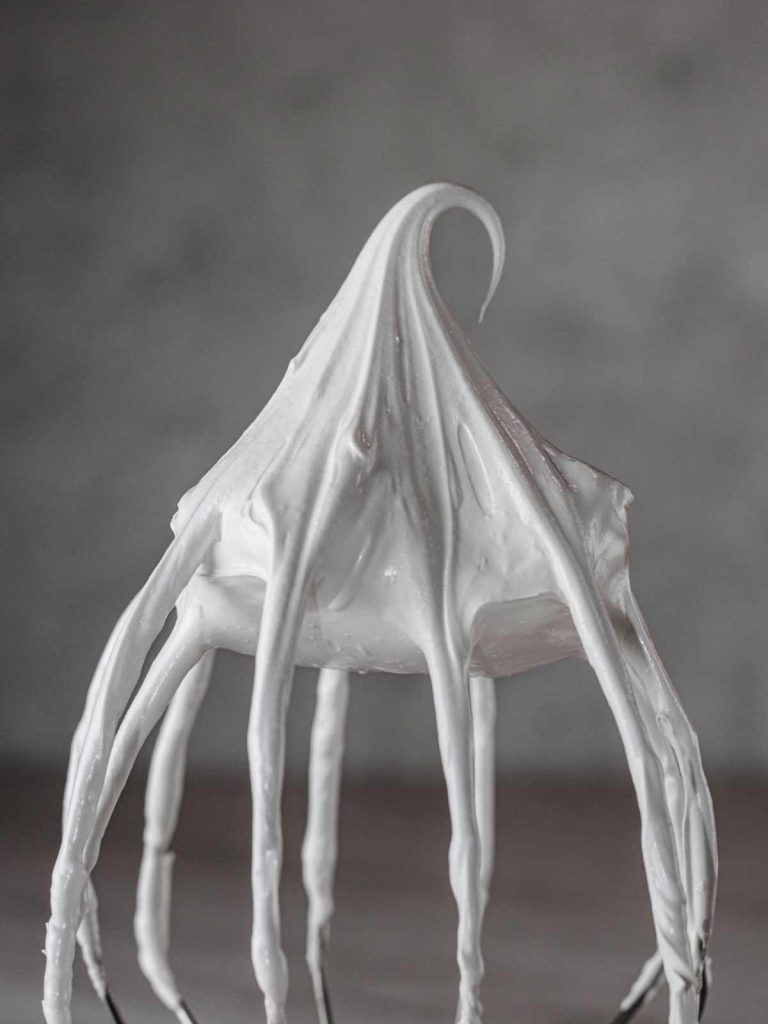 What is a Meringue?
The Science of Meringue
Meringues are nothing more than egg whites and sugar. When you whisk air into an egg white, the protein structure of the whites change. The protein coils unwind and and join hands with other nearby protein coils and hug the air bubbles – it's a very loving process.
Through this process of change and growth, the light can't pass through the egg whites anymore, so the once translucent whites now become opaque. After adding the sugar, the whipped egg whites become stable (and delicious). Sugar helps draw water from the egg whites and prevents the meringue from draining.
Making a Meringue
This dessert relies fully on the meringue. Meringue takes a lot of patience, not always my strong point, but the effort is worth it for the end result. First things first, you need to prep correctly. Clean your mixing bowl and whisk using a little distilled white vinegar and a paper towel to remove any traces of grease.
Make sure you are using a glass or metal bowl, not plastic, for the best result. Separate the eggs making sure you don't have even a speck of egg yolk remaining—I like to crack a single egg into a separate small bowl before adding to the mixing bowl as an insurance policy.
Pro tip – It's easier to separate cold eggs. So separate your eggs, then leave the whites to come to room temperature.
Now that you have your eggs prepped and the remaining ingredients measured out and ready, it's time to make the meringue! Add the cream of tarter and start your mixer. Let it run on medium until you have reached soft peak stage – meaning your meringue will come to a point, but fall onto itself. You are ready to add your sugar – very. slowly. – one scoop at a time. This helps the sugar melt into the eggs completely before adding more.
Once you've added all your sugar, turn your mixer to medium-high and whisk until you have glossy, stiff peaks. The meringue should hold a hook shape when you pull the whisk out. Add your vanilla and fold in the cornstarch and salt. The cornstarch prevents the egg whites from over-coagulating and becoming too hard while baking, leaving a soft and fluffy interior.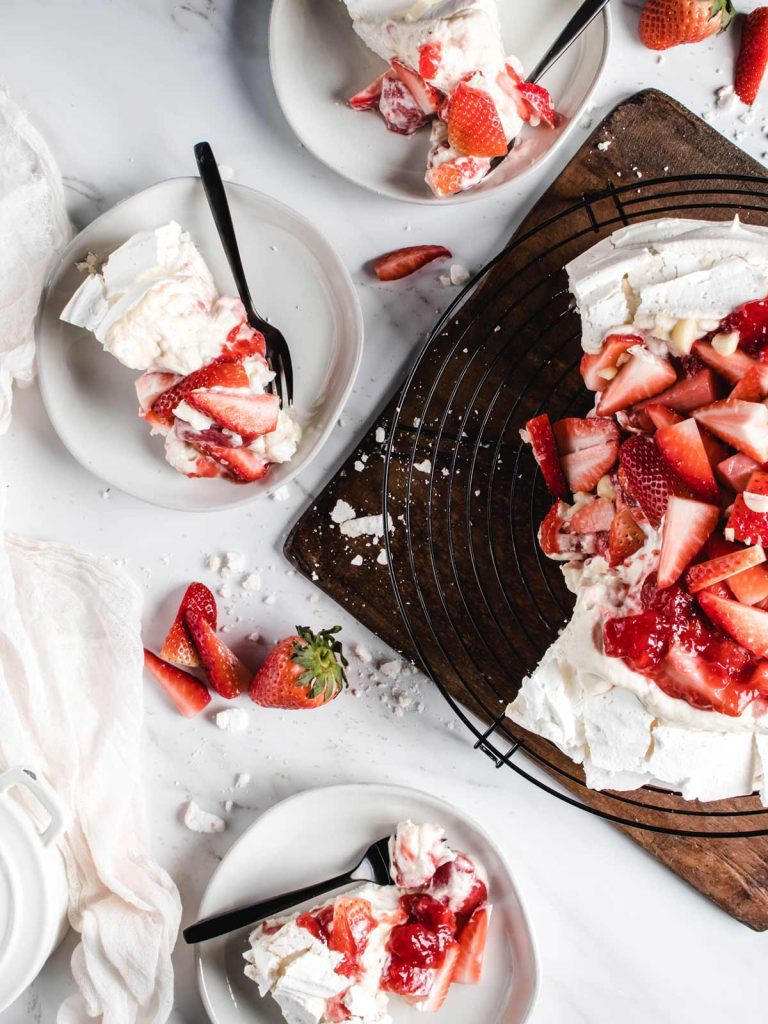 Let's Add the Fun Flavors!
While your meringue is baking, start your strawberry sauce topping for the PB & J pavlova. Thick slices of the berries will retain some of the texture after cooking, but you can also blend the sauce if that's your preference.
The cornstarch in this recipe will help to thicken the sauce and a little bit of lemon juice will brighten your flavors and help the sauce further set.
Place your sauce over the peanut butter whipped cream. In a chilled mixing bowl (for quickest whipping), add your whipping cream, peanut butter, and sugar and whip, baby, whip, until you have a nice fluffy whipped cream.
In full disclosure, a peanut butter like Jif or Skippy is best here. Using a natural peanut butter has too much oil and will not set quite right.
Add on a few fresh chopped strawberries and crushed peanuts for some final texture, and you are ready to serve!
Helpful Equipment
Meringue needs to be whipped, and whipped…..annndd whipped. A Stand Mixer is really a requirement unless you are a whole lot more patient than I am.
Offset Spatulas are great for smoothing the meringue into just the right shape.
Print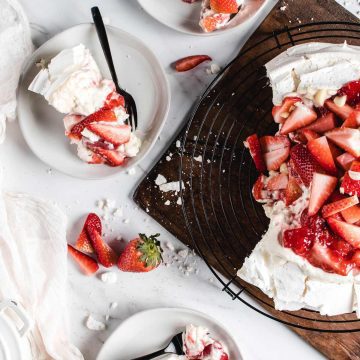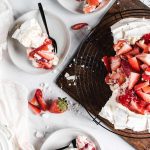 PB & J Pavlova
Author:

Theresa | Quiet Baking Day

Prep Time:

35 minutes

Drying Tme:

1 hour

Cook Time:

2 hours, 30 minutes

Total Time:

4 hours, 5 minutes

Yield:

8 slices

Category:

Desserts

Method:

Intermediate

Cuisine:

American
---
Description
A meringue dessert with a new spin on peanut butter and jelly and fluffernutter sandwiches – PB & J pavlova – combines two classics together.
---
Meringue
6

(approx 200g) large egg whites, room temperature

380

g

superfine sugar

3/4 teaspoon

cream of tartar

1 1/2 teaspoons

vanilla extract

2 teaspoons

cornstarch

1/2 teaspoon

salt
Peanut Butter Whipped Cream
1

cup

heavy whipping cream

1 tablespoon

creamy peanut butter

2 tablespoons

powdered sugar
Strawberry Topping
1

pound

fresh or frozen strawberries, hulled & quartered

1/4

pound

granulated sugar

2 teaspoons

lemon juice

1 tablespoon

cornstarch mixed with 1 tbsp. water
---
Instructions
Meringue: Prepare glass or stainless steal mixing bowl and whisk by wiping with distilled white vinegar or lemon juice to ensure no residual grease remains.
Preheat oven to 250°F.
Draw 8″ circle on piece of parchment using a cake round or plate as a guide. Turn parchment over and place on baking sheet.
Place egg whites and cream of tartar in mixing bowl. Whisk on medium speed until soft peaks form.
Add sugar, one tablespoon at a time, to mixer while still on medium speed. Allow sugar to fully incorporate before adding the next spoonful.
Continue whisking until firm peaks form. Add vanilla and whisk until combined. The meringue should form a sturdy "hook" on the whisk when removed from bowl.
Sift cornstarch and salt over meringue. Fold to combine using rubber spatula.
Transfer meringue to prepared parchment paper. Using the template as a guide, smooth sides and create a slight dip in the center to hold toppings. Note: the meringue will cooks as it looks – pipe, swirl or smooth for desired appearance.
Bake for 1 hour. Reduce heat to 200° and back for another 1.5 hours. The outside should be hard and crunchy, the inside should be dried but still springy (like a marshmallow).
Resist the temptation to open the oven while baking. While some cracks will occur naturally, the fewer drastic temperature changes will limit the cracks.
Turn oven off, leaving the baking tray inside. Set the door slightly ajar with a wooden handle until the meringue is cool – about 1 hour.
Peanut Butter Whipped Cream: Place heavy cream, peanut butter and powdered sugar in a chilled mixing bowl.
Whip until soft peaks form.
Strawberry Topping:

Combine all ingredients in small saucepan.

Heat over medium. Simmer for 5 minutes stirring occasionally.
Cool completely before use.
Garnish with fresh strawberries and chopped peanuts if desired.
---
Notes
Meringue can be served immediately after cooling or stored in an airtight container until ready to served.
Top pavlova immediately before serving
Keywords: marshmellow, fruit, nutty, strawberry