Highlight the best of apple season with this Apple Layer Cake. Not only are these light and fluffy cake layers made with a flavor-packed apple butter, but each layer is topped with a spiced-bourbon-apple compote and a rich cinnamon buttercream.
A match made in heaven – apples and cinnamon. Much in like these apple cinnamon scones and this apple swirl pound cake, there's a reason it's a classic combination. This layer cake highlights both so beautifully!
What Makes This Cake Great
A quick apple compote filling really makes apple the star of the show. Warm spices and a splash of bourbon enhance the apples for a good-enough-on-its-own filling similar to an apple pie filling.
Apple butter in the cake not only makes for a moist and fluffy cake texture, but it adds a rich concentrated apple flavor throughout.
A super silky cinnamon buttercream brings everything together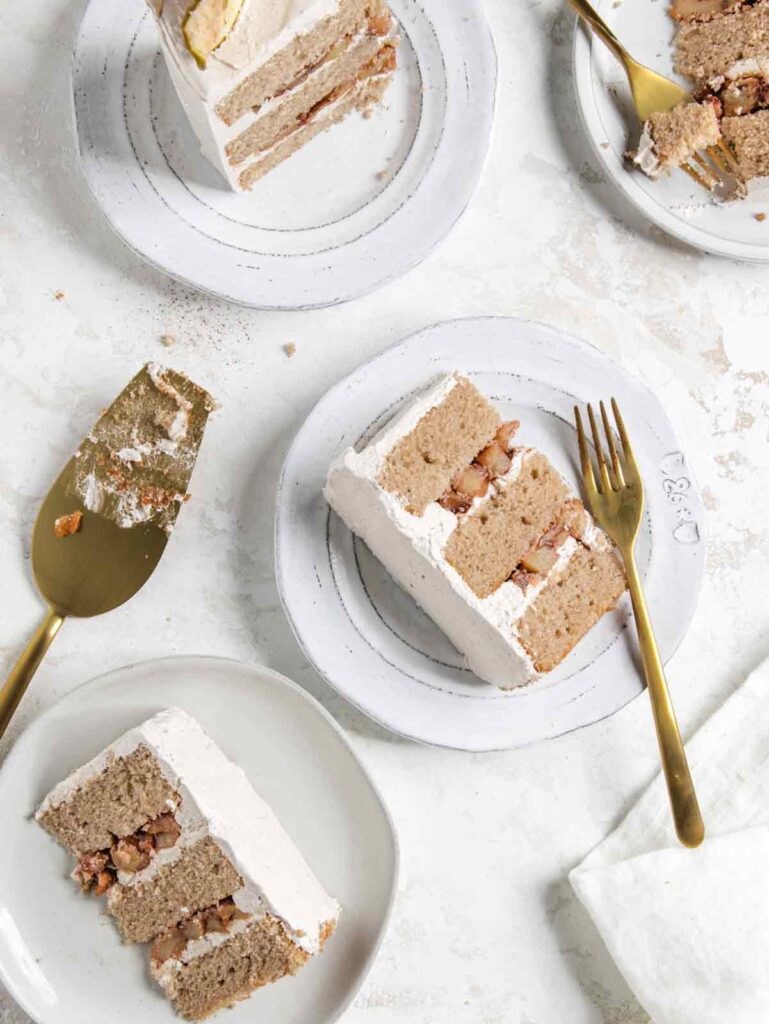 Making Apple Butter Cake
Instead of chunks of apple dotted here and there, this apple butter cake has a deep apple flavor throughout! Apples themselves can have a lot of moisture and can be tricky to mix into a cake as is successfully.
What is Apple Butter?
Apple butter, on the other hand, is really just super-duper concentrated apples – apples are simmered for hours until most of the water is evaporated out and what is left is this thick, buttery apple spread.
I make my own apple butter (you can find the recipe here, in my apple cider donuts recipe) for a few reasons:
It's ridiculously easy if you have a crockpot. Throw everything in and let it sit for hours until the apples are ready for a quick blend.
I can adjust the amount of spices and sugar to create a balanced apple flavor.
It makes the house smell absolutely incredible. There's no better way to celebrate apple season than your whole house filled with apple cinnamon for the day. When you say "fall vibes" it's this.
Make a big batch and use it in a few different bakes, or just as a topping on some toast. But if you don't have the time, patience, or interest in making your own apple butter, there is a variety of options available at the store! Skip the simmering and get straight to the cake making!
Making the Cake Batter
This apple cake uses a similar ratio to my standard golden cake batter, with a few small adjustments:
Because apple butter has sugar as well, I decreased the amount of sugar in the cake base for better balance.
Apple butter also takes the place of my cake "moist-maker" ingredient. I always add something that ups the soft and fluffy quality of a cake – whether it is sour cream, yogurt or whipped cream, I refuse to have a dry cake.
Start by sifting together your dry ingredients, including the cake flour, leavening agents and cinnamon. I love to use cake flour for a lighter and fluffier final cake texture.
Whip together room temperature butter and the sugar. Add the oil and vanilla, then the eggs.
Next, alternate adding the dry ingredients and the whole milk. Start by adding 1/3 of the dry mixture, when that is nearly mixed in, add 1/2 of the milk – repeat the process until finished: dry – milk – dry – milk – dry.
The reason to alternate is to avoid splitting the batter and overmxing into a tough cake.
Apple Compote Filling
This apple pie style filling is just a quick apple compote! To make the compote, combine diced apples, sugar, spices and a splash of bourbon or whiskey (if you like, not a requirement!) in a small pot and let simmer on low just until the apples are softened, but not completely falling apart.
If we simmer too long, we get apple sauce, which is lovely, but I like still having a bit of texture.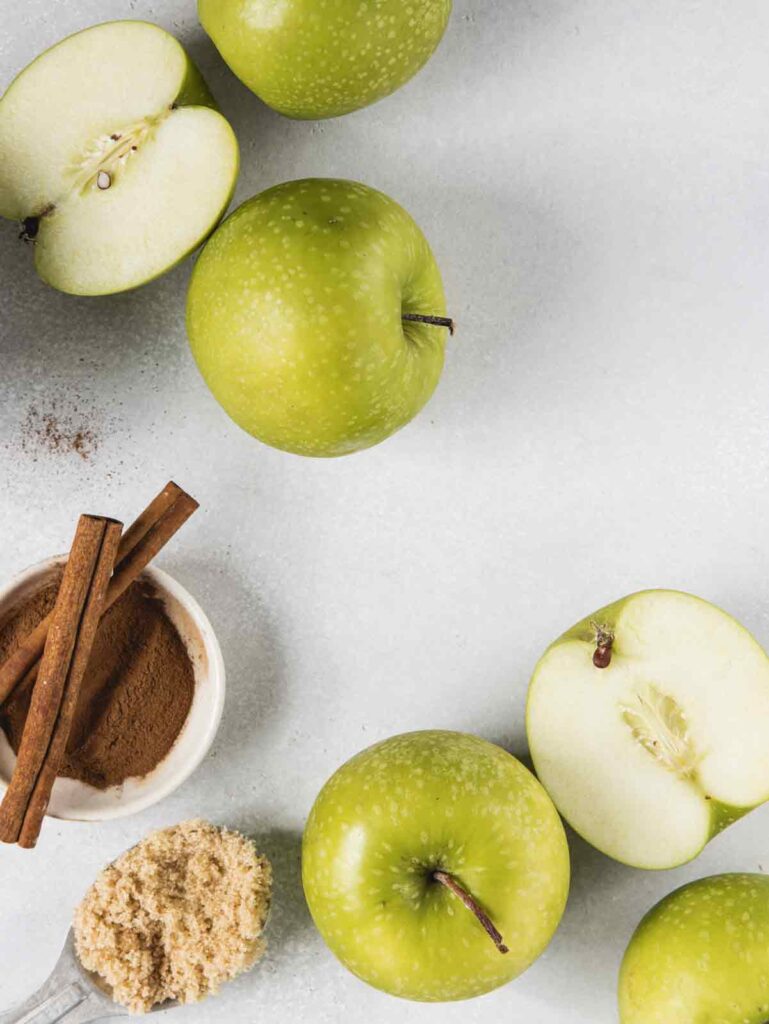 Cinnamon Buttercream
I use my tried-and-true Swiss meringue buttercream recipe here. It's my go-to for a reason: the buttercream is silky smooth, not too sweet and is a great counterpart to the cake and filling.
Because the this standard buttercream recipe is a great blank canvas for flavoring, I added a bit of cinnamon to complement the apples throughout.
Creating the Layer Cake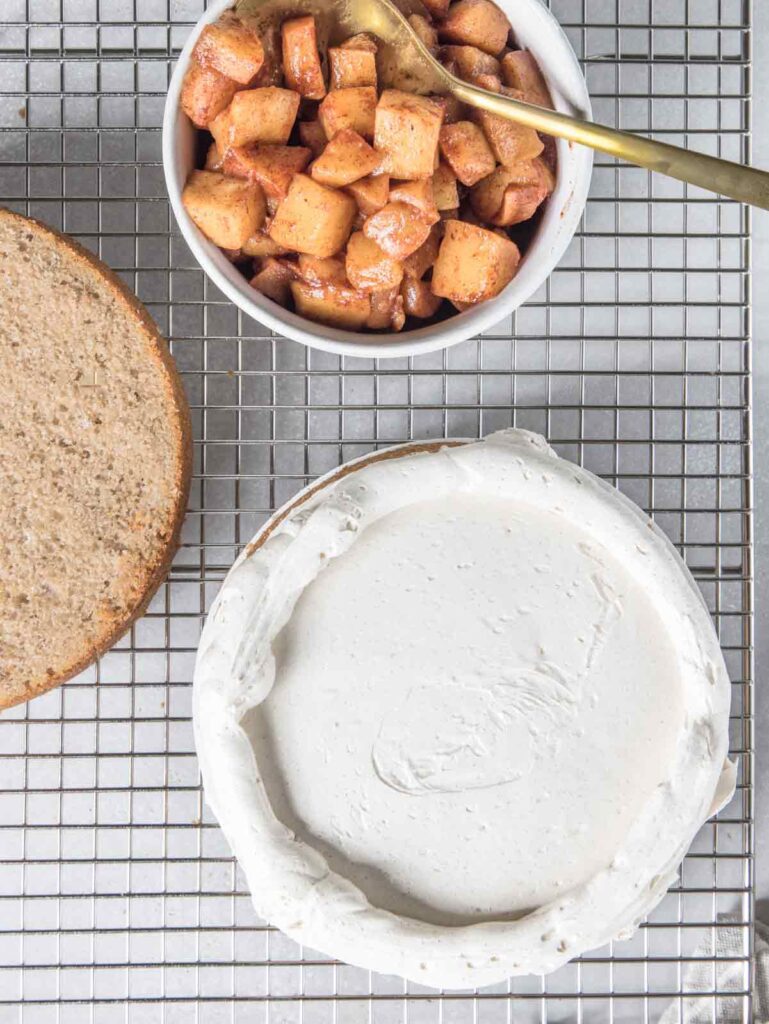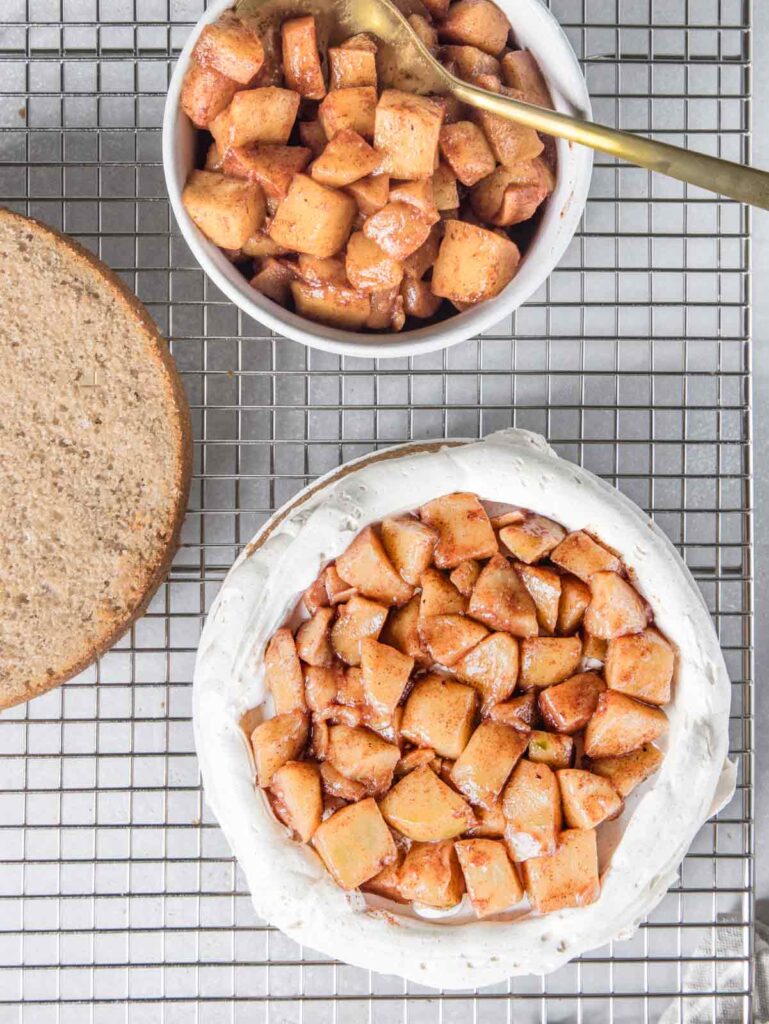 Layer cakes can be slightly intimidating if you haven't made one. There are a few tools that help make the job easier, but are not required:
Cake turntable: A turntable is really key for a smooth, clean-lined buttercream finish. I like this one with a cast-iron base because it's more sturdy. Without one, I skip that super-smooth finish and just go for a "painted" knife design. Don't fight for a finish that's harder than necessary!
Bench scraper: Along with a turntable, a bench scraper is really key to that crisp buttercream finish. I like a style like this without a separate handle extending beyond the edge. Having the flush handle means I can set it against the table at a 90° angle. Hold the scraper straight-up and down parallel to the cake. Rotate the turntable and gently press the scraper into the cake until the buttercream smooths out.
Piping bags/Ziplock bags: In order to create a barrier "dam" for the apple compote, pipe a ring of buttercream on the outside edge. This is done with a piping bag or a Ziplock bag with the corner trimmed off.
Offset spatula: An offset spatula is really helpful for a flat layer of buttercream between layers and on the top of the cake. Once you have smoothed out the sides of buttercream, level out the top with the offset spatula. It's best to work from the outer edge inward with a clean spatula on each swipe for a clean corner.
Long serrated knife: Having a long knife is easiest to trim the cakes into a perfectly flat layer. Even when they baked pretty level, I still trim the tops when I stack the cakes for the most finished look.
Again, this is just how I achieved the finish shown here. Is it necessary for a delicious cake? Absolutely not in the slightest! When I'm not taking photos, my cakes are much more casual.
How to Make Apple Chip Decorations?
Slice cored apples into 1/8″ slices (a mandoline slicer is great here!) Toss the slices in a 50/50 mix of granulated sugar and cinnamon and bake on an oven-safe baking rack set over a baking sheet. If you don't have an oven-safe rack, flip the slices halfway through baking. Bake at 200°F for 1-1 1/2 hours until the apples crisp up when set at room temperature.
Full transparency: I did not core my apple slices in the photos for pure aesthetics.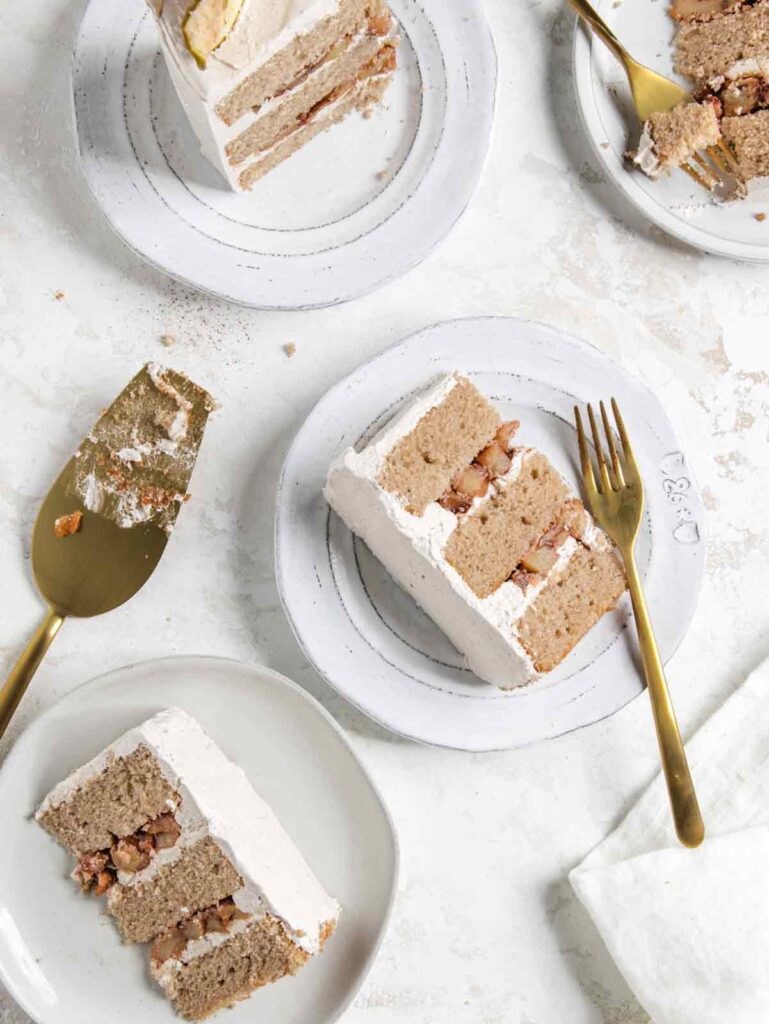 Frequently Asked Questions
Can I use store-brought apple butter?
Absolutely! Use a brand that you love and skip making your own.
What do I do if I don't have cake flour?
You can make your own version of cake flour in a pinch. Measure out the needed amount of all-purpose flour – 210g (1 3/4 cup) – and replace 3 tablespoons of the flour with 3 tablespoons cornstarch.
Why is there butter and oil in the cake recipe?
I love using both oil and butter in golden cakes. The butter brings flavor, and the oil brings a light and fluffy texture. Balancing the two is a great combination for a final cake.
How do I get level, flat cake layers?
The trick is to use cake strips around the pans! Domed cakes happen because the edges cook faster than the center, so the center continues to rise longer than the outside. To combat this, you can use a cake strip soaked in water which is slow down how fast the edge set. You can find cake strips in the store, or make your own by cutting up an old kitchen towel in strips as wide as your cake pans. Soak the strips in water and secure (I use an all-metal binder clip!)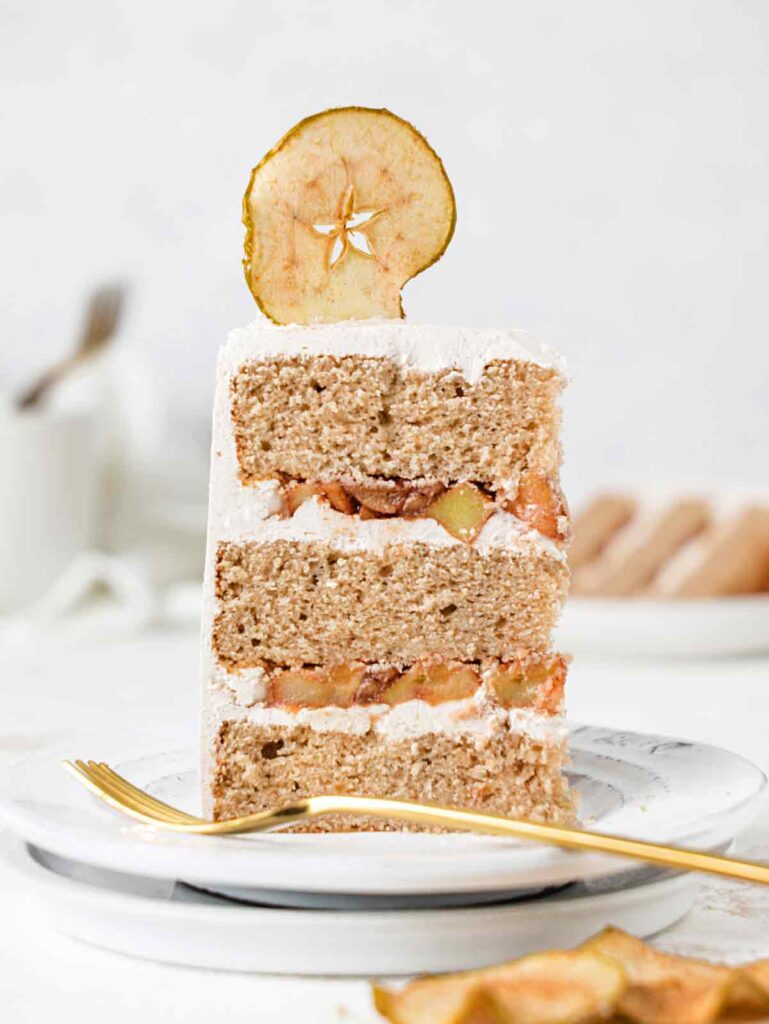 Print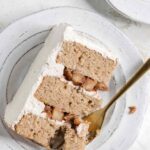 Apple Layer Cake
Author:

Theresa | Quiet Baking Day

Prep Time:

40 minutes

Cooling Time:

1 hour

Cook Time:

45 minutes

Total Time:

2 hours, 25 minutes

Yield:

8 Slices

Category:

Cakes

Method:

Intermediate

Cuisine:

American
---
Description
Perfect for apple season, this Apple Layer Cake serves up moist apple butter cake layers with a spiced apple compote and cinnamon buttercream.
---
Apple Compote
4

cups

1/2″ diced Granny Smith apples, peeled and cores removed (about 4 apples)

3 tablespoons

brown sugar
Juice of

1/2

lemon

1 tablespoon

bourbon or whiskey (optional)

2 teaspoons

cinnamon

1/4 teaspoon

nutmeg

1/3 teaspoon

salt
Apple Cake
210

g

cake flour

2 teaspoons

cinnamon

1 1/4 teaspoons

baking powder

1/4 teaspoon

baking soda

1/2 teaspoon

salt

100

g

unsalted butter, room temperature

225

g

granulated sugar

1/4

cup

canola or vegetable oil

2 teaspoons

vanilla extract

2

eggs, room temperature

1/2

cup

whole milk, room temperature

90

g

(1/4 cup) apple butter (homemade or store-bought)
Cinnamon Buttercream
---
Instructions
Apple Compote: Combine all compote ingredients into a small saucepan. Simmer on medium-low until apples are softened, stirring occasionally, about 20 minutes. Cool completely.
Apple Cake: Preheat oven to 350°F. Grease and line 3-6″ pans with parchment paper. Sift together cake flour, cinnamon, baking powder, baking soda and salt. Set aside. 
In the bowl of a stand-mixer with a paddle attachment, or a large mixing bowl, whip together butter and sugar until light and fluffy, about 5 minutes. Scrape down sides of bowl as needed. Add oil.
Add eggs one and a time, then vanilla. 
Alternating between the dry ingredient mixture and milk, add 1/3 of the dry, then 1/2 of the milk, waiting for the previous ingredient to be almost incorporated before adding the next. 
Stir in apple butter. Divide evenly between prepared pans. Tap once on countertop to release any large air bubbles. Bake for 25-29 minutes, until cake starts to pull away from pans and a toothpick comes out clean. Allow to cool enough to touch before transferring to a cooling rack. Cool completely before icing. 
Cinnamon Buttercream: Add cinnamon to prepared buttercream.
Create Layer Cake: Trim top of cake layers to create a flat layer with long serrated knife. Place a layer of buttercream on the first cake layer. Using a piping bag or Ziplock bag, pipe a 1/2″ border of buttercream around the outer edge of the cake. Fill with compote to the top of the border, pressing down slightly to create a sturdy layer. Repeat with second layer.
Top with final layer of cake. Cover outside in buttercream. Decorate using apple slices, pecans, or dusted cinnamon as desired. 
---
Notes
Cakes can be baked the day before and wrapped tightly once cooled completely.
Baked, unfilled cakes, can be wrapped tightly and frozen for up to 3 months. 
Store layer cake in airtight container in fridge. Allow to sit at room temperature for at least 30 minutes before serving.
Keywords: apple season, fall baking