Take a spin on a Christmas cookie classic with these Chocolate Gingerbread Cut Out Cookies! With the subtle addition of cocoa to the classic gingerbread flavors, these chewy cookies will stand up to your favorite cookie cutters and are ready to decorate for your next party.
Gingerbread is such a classically Christmas flavor. And while you can have fantastic spins like this gingerbread cake or these ginger molasses cookies, seriously, try to think of a more iconic cookie than the gingerbread man! This version has all the same familiar spices but with just a hint of chocolate cocoa for a unique modern tradition!
Chewy Chocolate Gingerbread
The ingredients for these chewy chocolate gingerbread cookies are very similar to a traditional gingerbread. I did adjust the ginger down from my usual over the top amount to help balance out the flavor and to not overwhelm the cocoa. Ginger is a very powerful spice on its own!
Ingredients
All-purpose flour. The flour amount has been reduced to compensate for the addition of the cocoa powder.
All natural cocoa powder. Skip the special dark/dutch-processed varieties, the all natural version is best here.
Baking soda. Because the molasses is acidic, it will activate the baking soda for just a light lift. The amount is minimal to keep the cut out shapes in tact!
Ground spices. Quality ground spices are the best here. Like mentioned above, the amount of ginger is reduced from what I would typically use in a gingerbread to not overpower the cocoa.
Unsulphured molasses. This is the classic molasses, do not use blackstrap molasses that is much more bitter.
Dark brown sugar. Brown sugar contains molasses, and dark brown sugar contains a bit extra, so we are doubling down the molasses flavor. Using only brown sugar makes for a hearty and chewy cookie texture.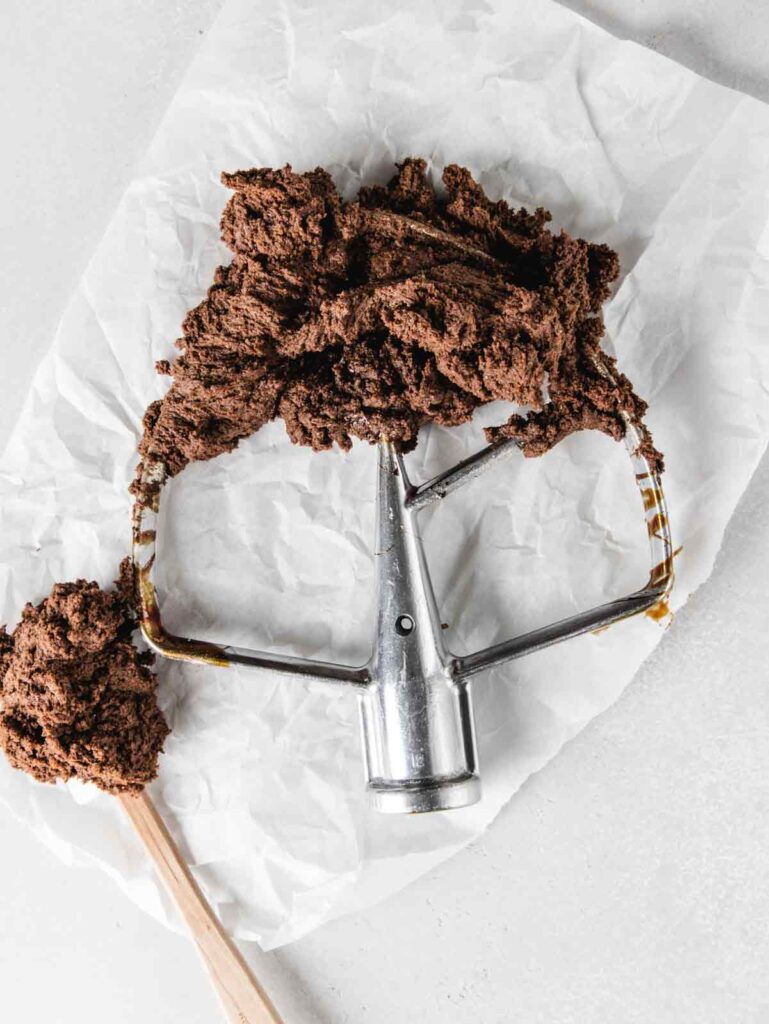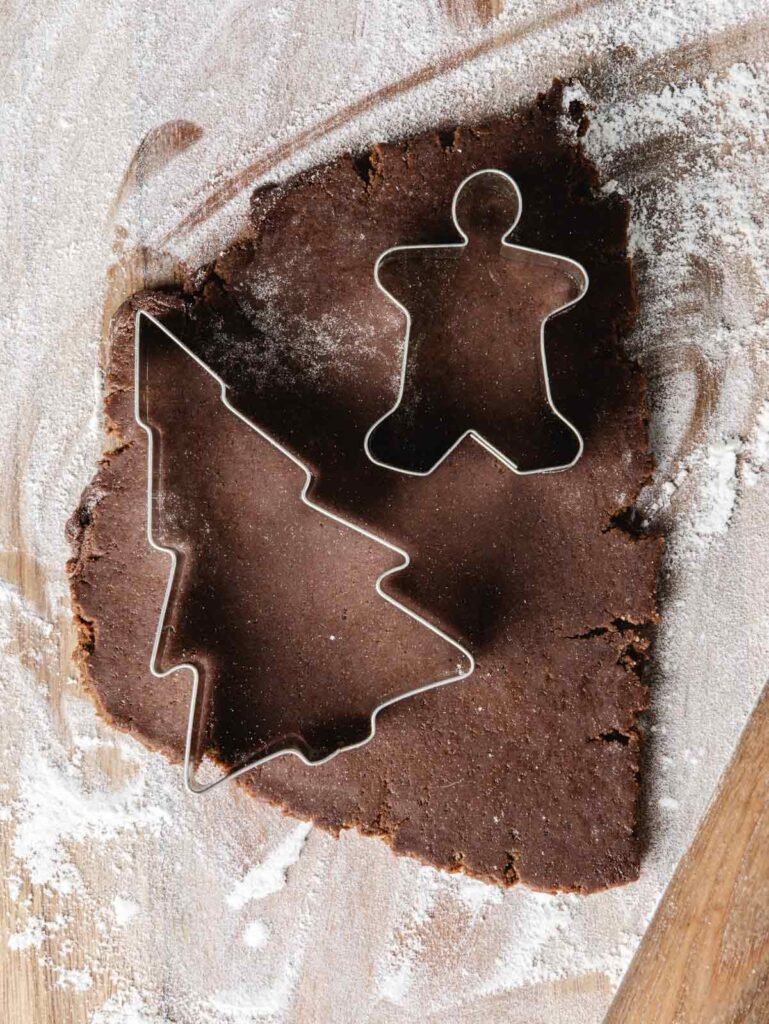 Making Gingerbread Cookie Dough
This gingerbread cookie dough comes together in a snap. Like most cookies, the first step is to really whip some air into the butter and sugar mixture. It's important to not skip this step, really let the mixer do the work and whip the mixture to be light and airy.
From there, it's adding the rest of the ingredients until just combined! Add the molasses into the butter/sugar mixture, then the egg.
Slowly incorporate the flour mixture that is sifted with the flour, cocoa, baking soda, and spices. Wrap the dough in plastic wrap and refrigerate until chilled. The only is better to let the spices hydrate and let the flavors meld together!
Shaping and Baking Cut Out Cookies
The trick to great cut out gingerbread cookies is not relying on too much flour for rolling! Added lots of flour will make your cookies tough and dry.
A silicone rolling mat is a great idea because it prevents sticking. But pick up and move the dough frequently while rolling to avoid sticking without a lot of extra flour.
I also like to use a rolling guide and a straight rolling pin for the most uniform and even cookies. This will let you place a guide on either side of your dough and the rolling pin on top so you stay at the same thickness as you roll.
Baking time can be tricky because the dough is so dark already! For a chewy chocolate cookie, bake until the edges are set to the touch, the cookies will continue to bake after removing from the oven.
Decorating Cut Out Cookies
Royal icing is the traditional icing for cut out cookies because you can control the consistency and the icing will set to a hard crust (so no smooshed decorations in tins!)
The trick is to adjust the amount of egg white to confectioners' sugar to the consistency for the type of design you prefer. A very thick icing is good for skinny straight lines. A thinner icing is best for softer designs and filling in areas. It's best to test the icing on a piece of parchment first and see how it reacts!
Below is a how different a few drops of egg white will change the consistency. The tree on the left has a much softer look compared to the tree on the right where the icing holds the shape of the piping tip.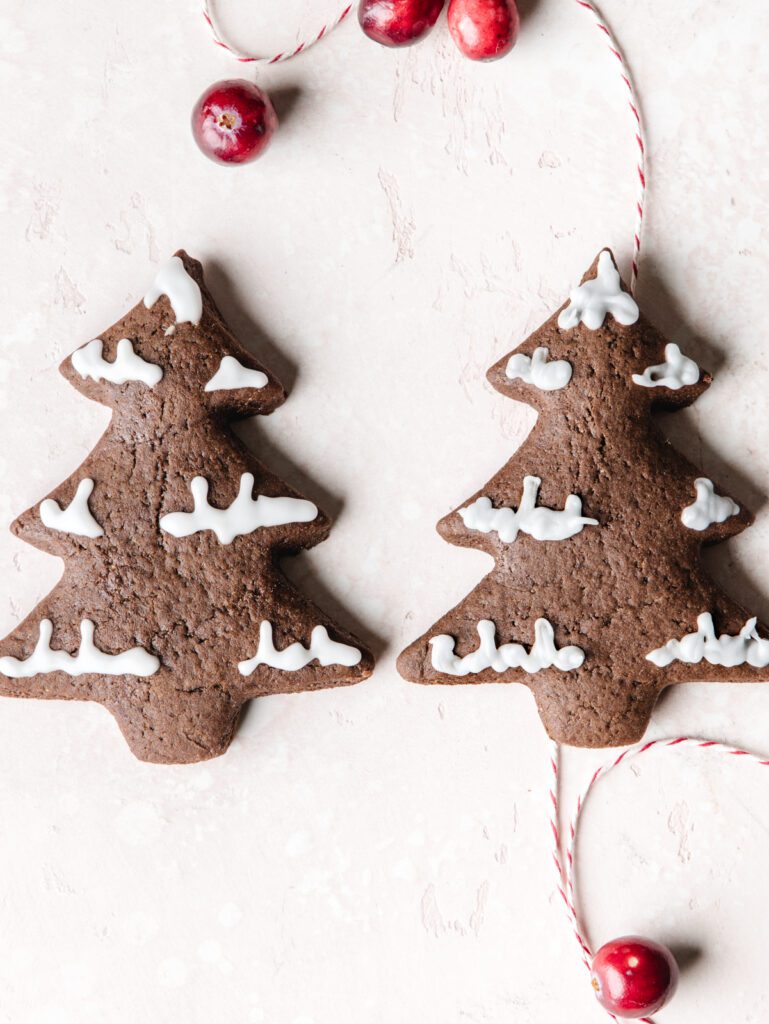 A proper piping bag is best for intricate designs because you can cut a very, very small hole for piping. But a ziploc bag will work in a pinch!
Pro tip: If you hate how the decorations come out on the cookie, wait until the icing is completely dried and scrape it off. It will be much easier to remove than wet icing!
If you prefer colored icing, I recommend to use a gel coloring (available at craft stores and some grocery stores) instead of a liquid dropper kind. The gel coloring will mix better into the icing.
Here's the biggest thing to remember! This is a cookie, it is something fun! Do not stress over the *perfect* decorations, enjoy the creativity and the experience, then eat the evidence!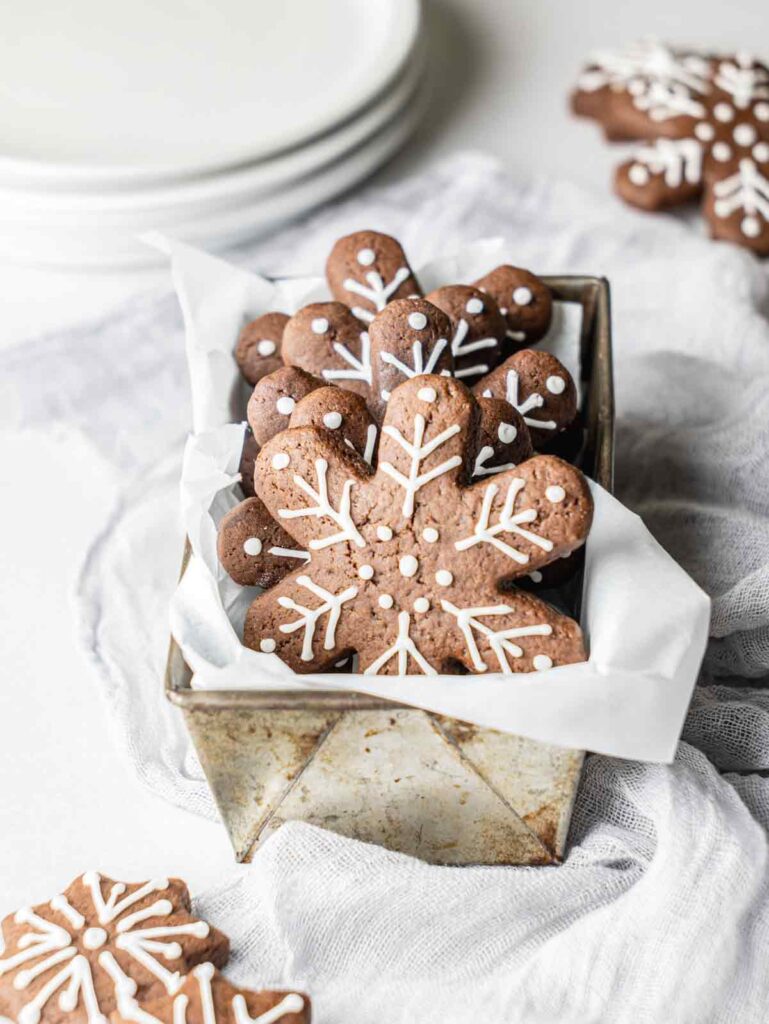 Frequently Asked Questions
Can the cookie dough be made in advance?
Absolutely, it's actually better to let the dough sit longer for better flavor! The dough can be refrigerated for up to 3 days, or frozen up to 3 months.
Why does royal icing harden?
It's because of the egg whites. Egg whites combined with the confectioners' sugar will create a meringue that sets into a hardened icing and is the traditional royal icing recipe.
Are raw egg whites safe to consume?
I only recommend to use the packaged pasteurized egg whites (available at standard grocery stores). The high ratio of sugar in royal icing will stifle any unwanted contaminants.
What can I use as an alternate to egg whites?
If you prefer to not use egg whites, meringue powder (not powdered egg whites) and water can be substituted. Egg whites will yield a slightly glossier finish.
Print
Chocolate Gingerbread Cut Out Cookies
Author:

Theresa | Quiet Baking Day

Prep Time:

15 minutes

Chilling Time:

3 hours

Cook Time:

8 minutes

Total Time:

3 hours, 23 minutes

Yield:

Approx 18-3″ cookies

Category:

Cookies

Method:

Intermediate

Cuisine:

American
---
Description
These Chocolate Gingerbread Cut Out Cookies are the perfect spin on the Christmas classic combining spiced gingerbread and subtle cocoa!
---
Chocolate Gingerbread Cookies
180

g

all-purpose flour

21

g

cocoa powder

1/4 teaspoon

baking soda

1 1/2 teaspoon

ground ginger

1 teaspoon

ground cinnamon

1/4 teaspoon

ground nutmeg

1/4 teaspoon

ground cloves

1/2 teaspoon

salt

56

g

unsalted butter, room temperature

71

g

dark brown sugar, packed

85

g

unsulphured molasses

1

large egg, room temperature
Royal Icing Decoration
56

g

confectioners' sugar, sifted

1 1/2

–

2

teaspoons pasteurized liquid egg whites
---
Instructions
Chocolate Gingerbread Cookie Dough. Sift together flour, cocoa, baking soda, spices and salt. Set aside.
In the bowl of a stand mixer with paddle attachment, or with a hand mixer, beat together butter and dark brown sugar until mixture is light and fluffy, about 5 minutes. Scrape down sides of bowl as needed.
Mix in molasses until well mixed. Add egg. Slowly add in flour mixture until no streaks remain. Wrap dough in plastic wrap and refrigerate at least 3 hours or overnight.
When ready to bake, preheat oven to 350°F and line 2 – 3 baking sheets with parchment paper.
Lightly flour countertop and roll cookies out to 1/4″ thick, moving and turning dough frequently to prevent sticking and reduce extra flour required. Cut out desired shapes and transfer to prepared baking sheets. Recommend to only shape and re-roll the dough once for best consistency.
Bake for 7-9 minutes until edges are set, re-chilling dough before baking if starting to warm.
Royal icing. Mix together confectioners' sugar and egg white to desired consistency, adding a little at a time. Decorate cookies using a piping bag or ziploc bag.
---
Notes
Store in airtight container for up to 1 week.
Unbaked cookie dough can be wrapped tightly and frozen for up to 3 months. Defrost in refrigerator when ready to use.
1 teaspoon meringue powder and 1 1/2 – 2 1/2 teaspoons water can replace egg whites in royal icing
Keywords: Christmas cookies, cutout cookies, decorated cookies