Combining the best of both worlds in this modern classic dessert, this Gingerbread Latte Cake lets a rich and gooey gingerbread cake with a velvety coffee whipped cream for an easy dessert that impresses with ease.
I'm not afraid to admit I adore a good seasonal latte every now and again. And gingerbread lattes are no exception. With this spin on the coffee shop staple, I have taken a fantastically rich gingerbread cake and topped it with a ridiculously thick layer of coffee whipped cream.
Because this cake is only one layer, it's easy to assemble with no fancy tools required. It's perfect as is with a dusting of cinnamon on top, or get creative with sugared cranberries, crumbles of molasses cookies or even these cocoa gingerbread cookies for a real centerpiece.
Gingerbread Snack Cake
I call this a gingerbread snack cake because it's a single layer cake. It would stand up perfectly on its own with no icing (but why would anyone do that??) The process to making this cake is similar to a chocolate cake so we get that ooey gooey final texture. The best part – no mixer is required for this cake – so it comes together in a snap!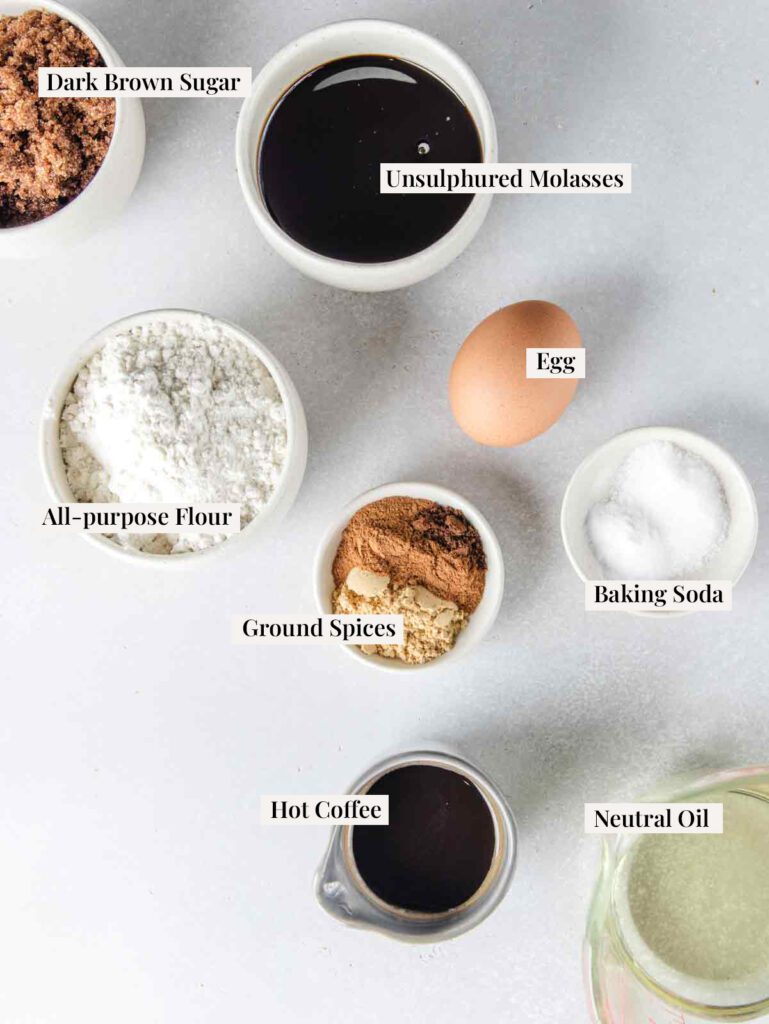 Ingredients
All-purpose flour. It's a classic go-to flour! An alternate like cake flour would be too light for the heaviness of the molasses
Spices. And lots of them! Do not skimp on the ginger (it is a gingerbread cake after all!) Cinnamon and nutmeg help to round out the flavor and cloves bring that warm background spice to the party.
Unsulphured Molasses. This is the standard molassees in the grocery stores. You might find other recipes use "blackstrap" molasses, which is a bit sharper and more concentrated. For this recipe, the classic unsulphured molasses has a better balance of flavor. Read about it here.
Baking Soda. Baking soda provides the lift to the cake. It is activated by acidity in recipes which molasses certainly is acidic!
Hot Coffee. Traditionally, hot water is used in gingerbread cakes, but why not waste an opportunity to bring flavor to the party!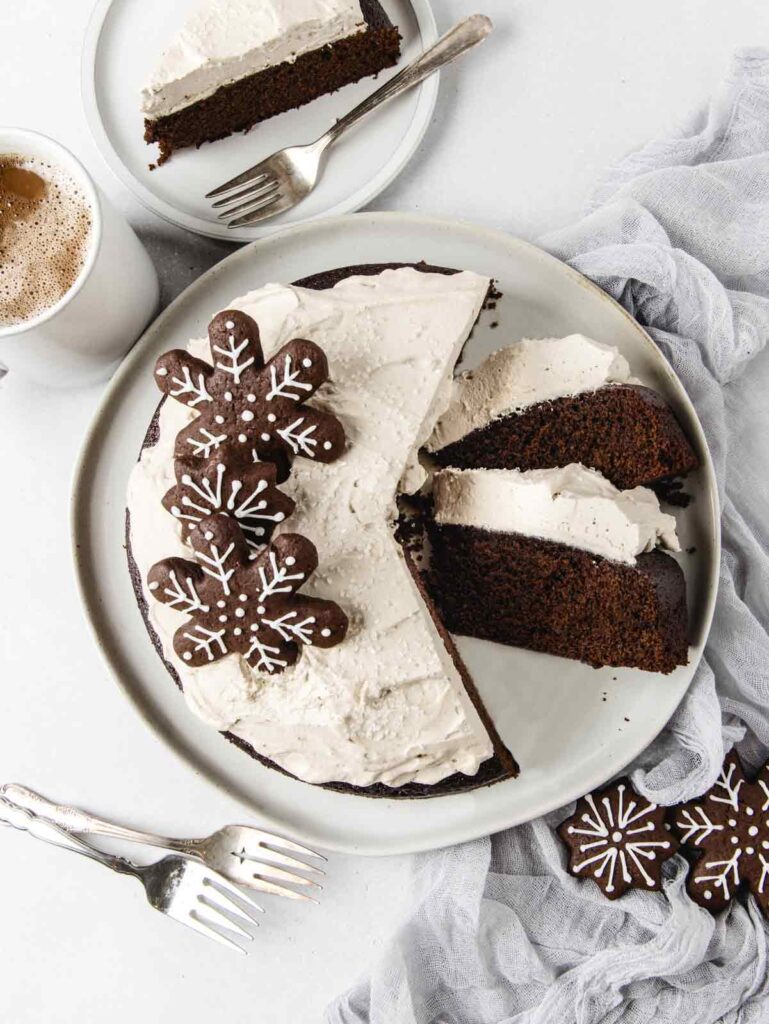 Making the Cake
This gingerbread cake is so easy to make! I like to use a springform pan for this because it's an ease to remove and keeps the pretty domed top in tact instead of flipping it over to remove the cake.
This process is as simple as mixing all the dry ingredients in one bowl, and all the wet ingredients in a second and combining them together.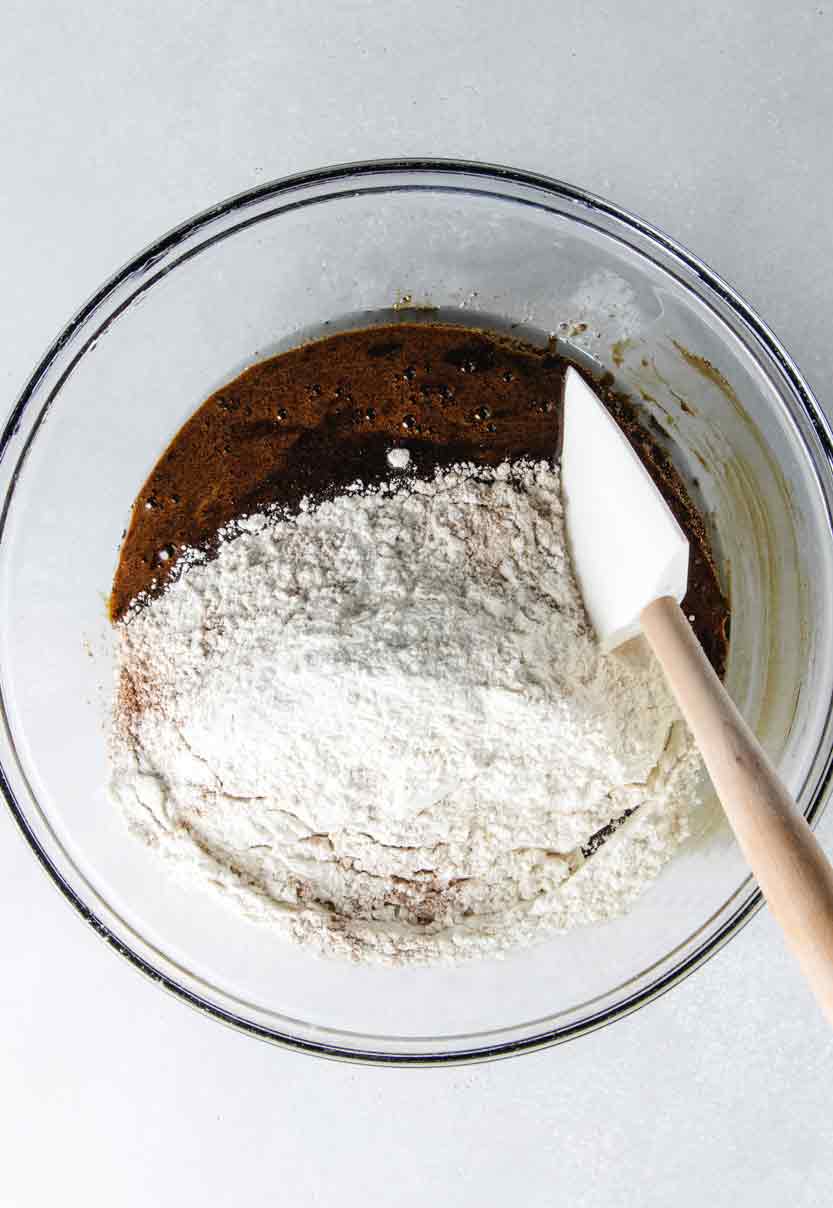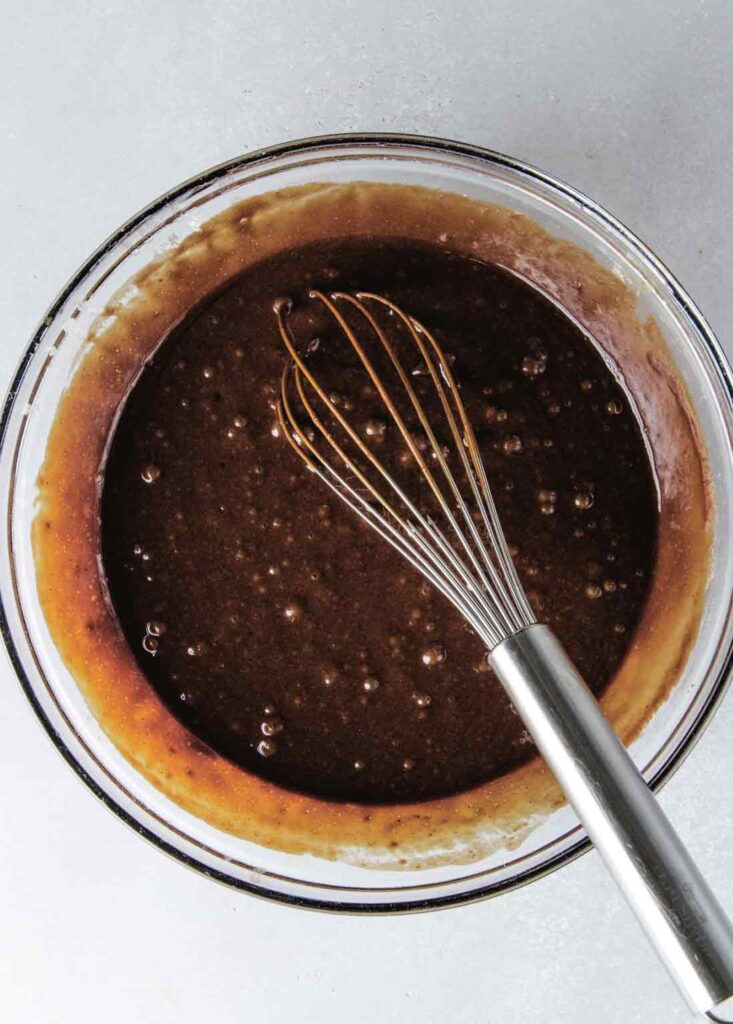 I have seen a variety of reasons why hot water (or coffee) is used in gingerbread recipes, but really, I think it's all the reasons combined.
The heat from the liquid helps the molasses incorporate into the batter because it is so thick. Adding liquid to the batter releases the gluten and makes for a light and fluffy cake. And spices "bloom" or become more aromatic when warmed.
Combined, all those things are perfect for our gingerbread cake.
As you are making the cake, you might worry about the consistency, but stick with me. Before adding the hot coffee, the mixture is going to look more like a cookie dough than a cake batter.
Then, as you add the coffee, you are going to think "woman, this is WAY too much liquid". Stick with me, it comes together into a cake batter, I promise!
Bake that batter until it springs back when you touch the top and a toothpick comes out with only a few moist crumbs, but not liquid batter.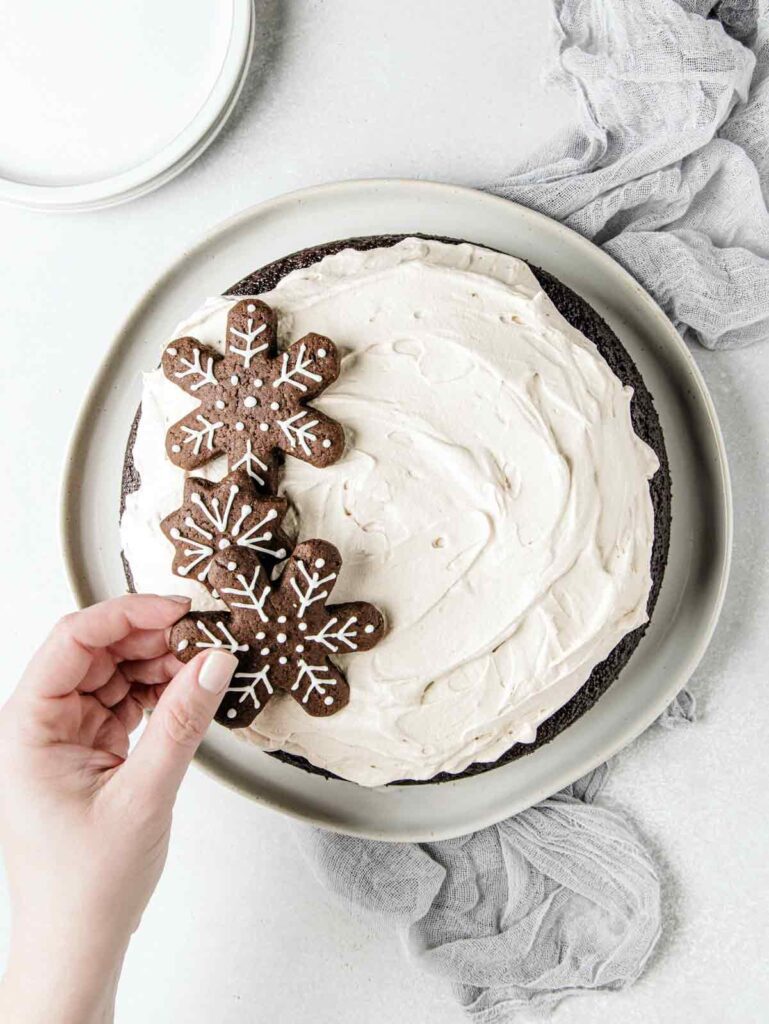 Coffee Whipped Cream Icing
The last component is the coffee whipped cream icing. Leaning into the gingerbread latte cake theme, whipped cream felt like the right choice since it mirrors what is on the latte already! As a bonus, the ginger cake is a cake that loves a lift of a lighter icing topping.
In order to make this coffee flavored without thinning down the icing, I recommend to use espresso powder which provides great flavor without any extra liquid.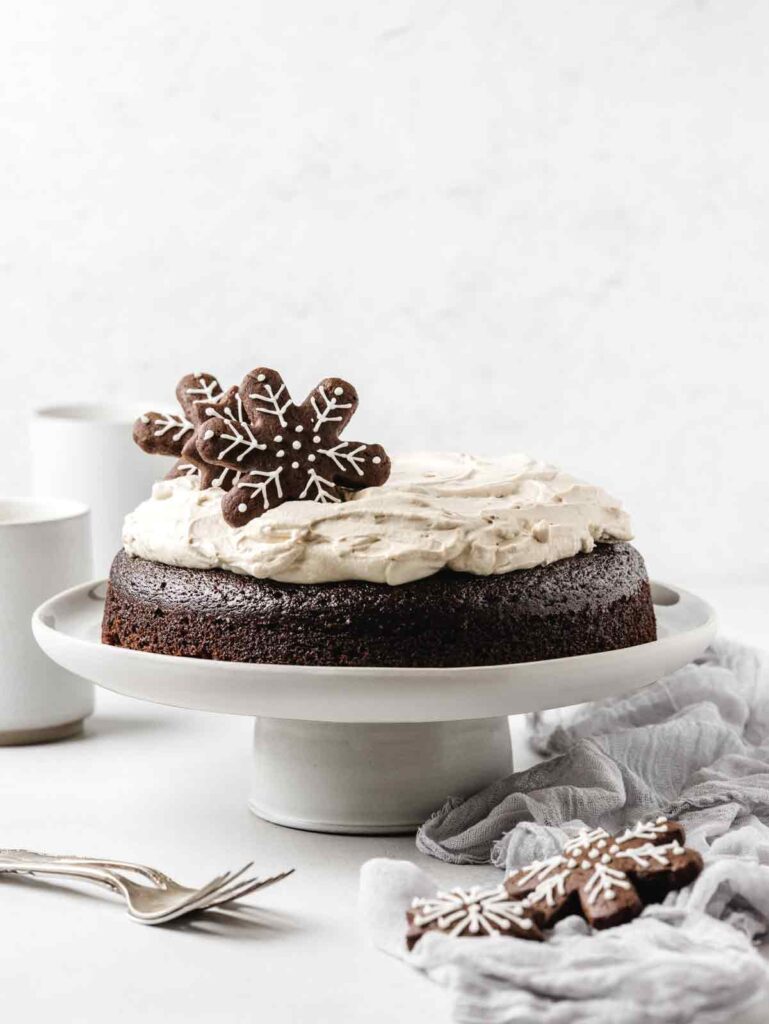 I tested this with just stirring the espresso powder into the cold whipping cream, but it didn't completely dissolve. So it's better to warm up the cream just enough to heat the espresso powder (not boiling hot or curdled).
Rechill the cream to cold to whip up the icing so that it is nice and fluffy!
Frequently Asked Questions
Can I use blackstrap molasses instead of unsulphured molasses?
I don't recommend switching the molasses. Unsulphured will provide a better flavor for this cake as it is less bitter.
What is the best way to measure molasses?
I recommend to measure the molasses with the canola oil to prevent sticking to the measuring cup!
Can the gingerbread cake be made in advance?
Yes, you can make the cake in advance and wrap it tightly and freeze until ready.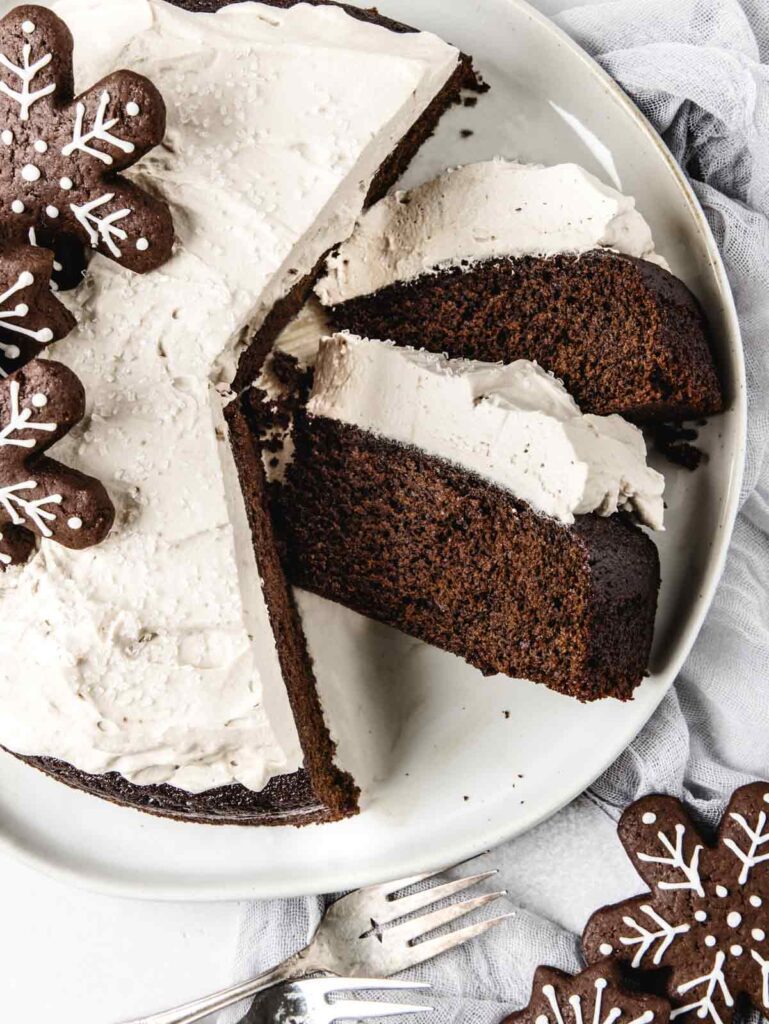 Print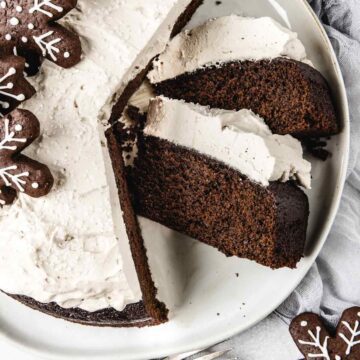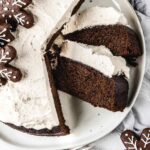 Gingerbread Latte Cake
Author:

Theresa | Quiet Baking Day

Prep Time:

15 minutes

Cook Time:

40 minutes

Total Time:

55 minutes

Yield:

12 slices

Category:

Cakes

Method:

Easy

Cuisine:

American
---
Description
This gingerbread latte cake, combining the best gingerbread snacking cake and coffee whipped cream, is sure to impress your holiday guests.
---
Gingerbread Cake
300

g

all-purpose flour

3/4 teaspoon

baking soda

1 tablespoon

ground ginger

2 teaspoons

ground cinnamon

1/2 teaspoon

ground nutmeg

1/4 teaspoon

ground cloves

1 teaspoon

salt

1/2

cup

canola oil

160

g

dark brown sugar, packed

170

g

unsulphured molasses

1

large egg, room temperature

1

cup

hot strong coffee or instant espresso (1 cup hot water + 3 tablespoons espresso powder)
Coffee Whipped Cream Icing
1 1/2

cup

heavy whipping cream

1 1/2 teaspoon

espresso powder

84

g

confectioners' sugar

1 teaspoon

salt
---
Instructions
Gingerbread Cake. Preheat oven to 350°F. Line a 9″ round springform or standard cake tin with parchment paper.
Sift together flour, baking soda, spices, and salt in a large bowl. Set aside.
In a separate bowl, whisk together canola oil, dark brown sugar, molasses and egg. Pour wet ingredients into the dry mixture, stir to combine. Mixture will be very thick.
Pour in hot coffee, stir until mixture loosens into a thin batter. Pour into prepared baking pan. Bake for 35-40 minutes until a toothpick comes out dry. Let cool completely.
Coffee Whipped Cream Icing. Warm up heavy whipping cream and dissolve espresso powder. Chill completely in fridge before continuing.
Add confectioners' sugar and salt to whipping cream mixture, whip on high with hand mixer (or by hand with whisk) until stiff peaks hold.
Top cooled cake with coffee whipped cream.
---
Notes
Prepare cold coffee whipping cream in advance – chill while cake is baking or the day before.
Store leftovers in airtight container for up to 3 days in fridge
Top with a sprinkling of cinnamon, crumbled ginger cookies or iced gingerbread cookies
Keywords: holiday desserts, spiced desserts, mixer free cakes
Looking for other wintery favorites?
Try this cranberry orange sweet roll!