Let's take a spin on the classic Italian dessert – tiramisu! Our layer cake version features vanilla cake, coffee syrup and a mascarpone whipped cream. Once you try this vanilla tiramisu cake, you'll never go back to the original!
Hi, I'm Theresa, and I'm a recent coffee convert! After years of only enjoying the smell of coffee, but never the taste, my taste buds grew up and I have fully transformed into a coffee connoisseur. The good news is, not only am I more caffeinated than ever, but a whole new world of baking options has opened up, like this gingerbread latte cake!
What makes this Tiramisu Cake better than the original?
Well, I don't know if I can call it "better" than the classic version made with ladyfingers and a mascarpone cream. That is pretty darn good, I have no notes. But why does this revamp work?
Ultra moist and fluffy vanilla cake layers are the perfect base for the rest of the flavors.
A quick coffee syrup soak brings even more moisture and flavor to the cake
The cake is topped with a mascarpone whipped cream that brings a tangy creaminess to balance out of the bitterness of the coffee.
A dusting of cocoa powder completes the flavors
Allowing the cake to chill after assembling will let all the flavors meld together.
Ingredients
The cake layers use my go-to vanilla cake recipe. If it's not broke, don't fix it! The overall ingredients list can look a bit overwhelming at first, but trust me, it's worth the effort.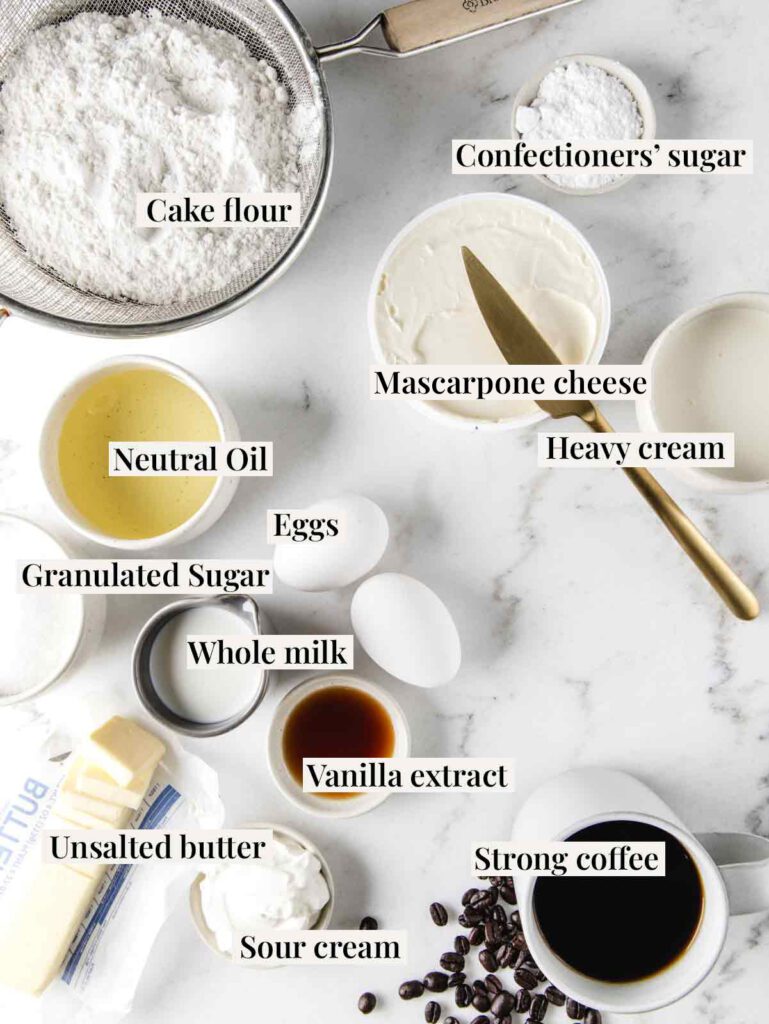 Cake flour. Keeps the cake light and airy.
Unsalted butter and neutral oil. Butter brings flavor to cake, while oil keeps the texture moist.
Eggs. Helps to bring structure to the cake.
Granulated sugar. Sweetens the cake and helps to caramelize the color.
Whole milk and sour cream. Ensure a soft cake texture.
The mascarpone whipped cream is simple to make, but big on flavor thanks to the mascarpone cheese itself!
Heavy whipping cream. When whipped up, it brings a lightness to the icing.
Mascarpone cheese. The classic option for tiramisu, this Italian version of cream cheese is sweet, tangy and slightly acidic.
Confectioners' sugar. Sweetens the whipped cream.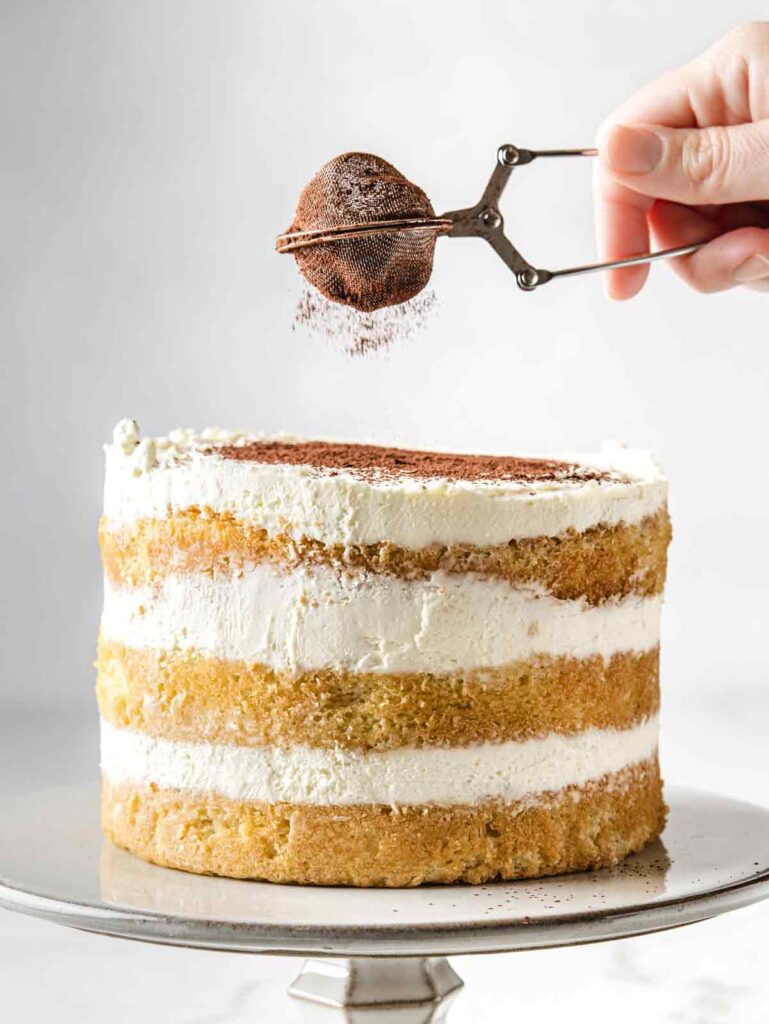 Our coffee syrup is intended to soak into the cake flavors, much like the classic dish dips ladyfingers in coffee.
Strong coffee. I used a extra strong french press, but a great drip or espresso also work!
Granulated sugar. While warm, I added just a touch of sweetener to the coffee. Base it on your personal coffee preferences, it's totally optional.
The final flourish is a dusting of cocoa powder.
Unsweetened cocoa powder. I recommend using a dark or dutch-processed quality cocoa powder for the best flavor!
Making Tiramisu Cake
To make our vanilla tiramisu cake, the first step is to make the vanilla cake base! Begin by whipping the butter and sugar on high until light and fluffy. It's important not to skip this step too quickly.
This is called "creaming" the butter and sugar and it's necessary for a light and fluffy cake. Devote a few minutes to this!
Next add in the oil, eggs and vanilla extract. The key here is to reduce the speed of the mixer and let each item fully incorporate before adding the next. This will make sure everything emulsifies nicely and avoids splitting the mixture.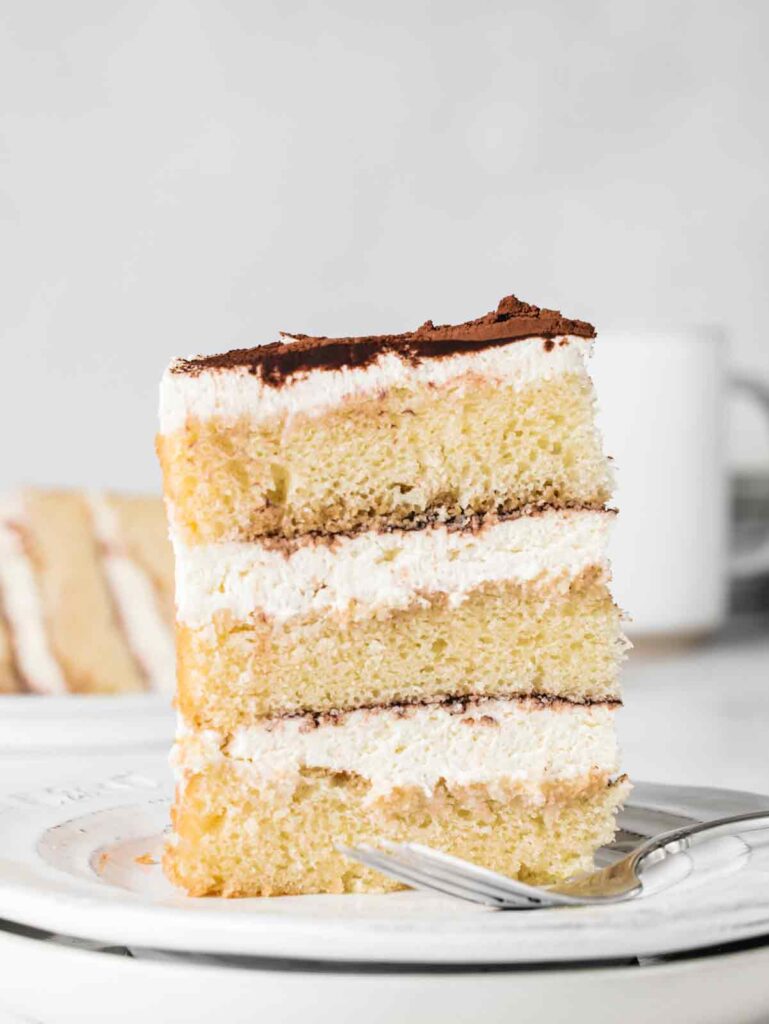 Next, it's time to slowly add the dry ingredients and milk. Once your dry ingredients are sifted together, alternate adding the flour mixture with the milk – flour, milk, flour, milk, flour.
By slowly incorporating this way, the cake doesn't overmix and become tough and the ingredients blend together better. Finally, stir in the sour cream.
Divide the batter between your cake pans and bake until the layers spring back to the touch and a toothpick comes out without batter!
Pro tip: When baking cakes, I always recommend using a cake strip to help bake even layers. Wetting the strips before placing around the cake tins creates an insulation that prevents the outside from setting too quickly while the center continues to rise – creating a dome. No strips? You can cut up an old towel and create the same effect!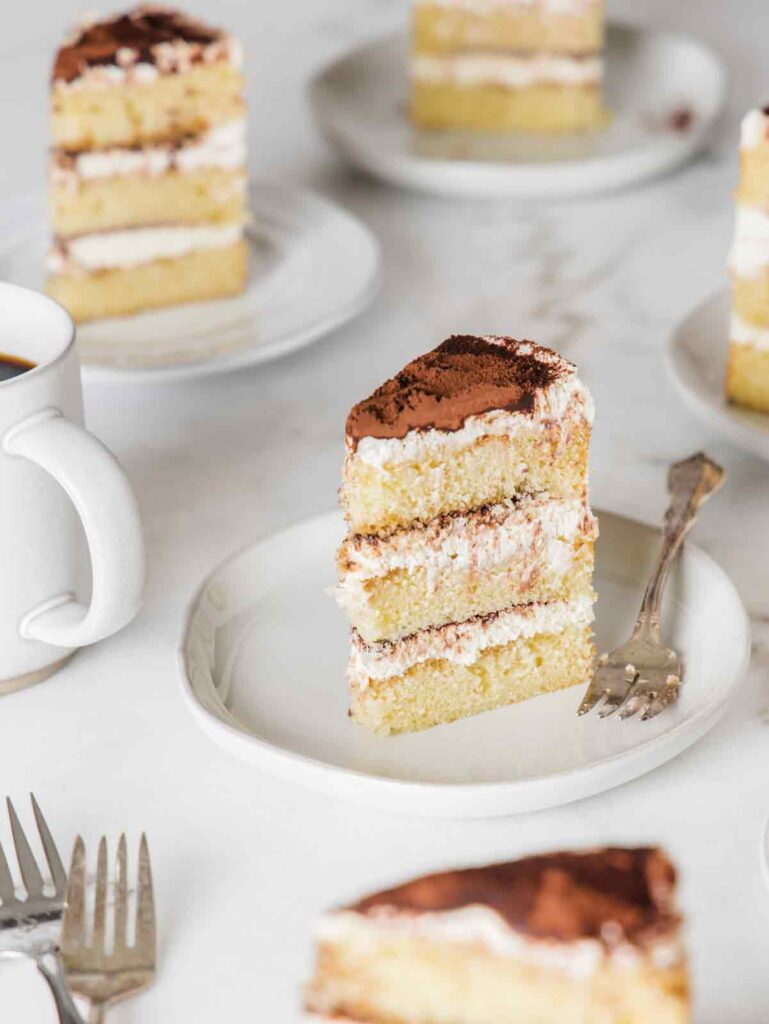 Making the Icing
This mascarpone whipped cream is a quick and easy icing! In one bowl, properly whip the heavy cream and confectioners' sugar to make a whipped cream. *Gently* stir in the mascarpone cheese. It's important to gently stir in the mascarpone to avoid any graininess.
Assembling the Cake
Tiramisu is a traditionally layered dessert, similar to a trifle. We are going to assemble our cake in a similar method.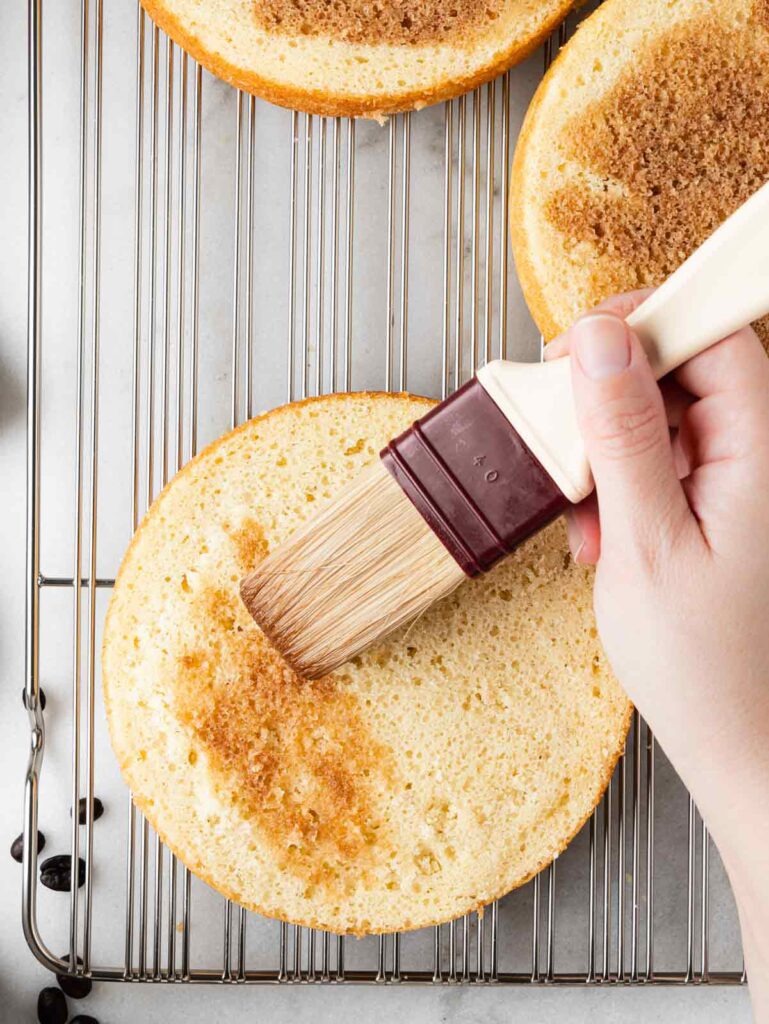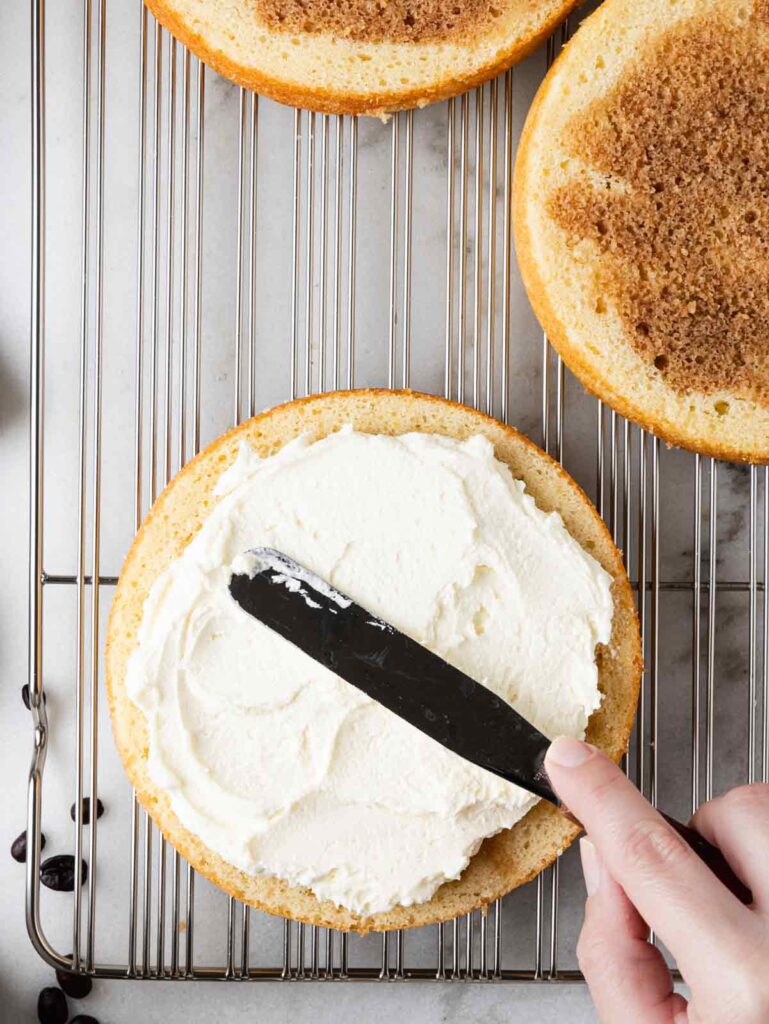 Begin by cutting the top of the cake layers off. This will not only create an even cake layer, but it allows for the coffee to soak into the cake. I like to use a long serrated knife and a turntable for this.
Dab the coffee onto the cake layers. A pastry brush is great for this to evenly distribute. But a spoon will do the trick too!
Place a cake layer on your plate, top with 1/3 of the whipped cream, and sprinkle the top with a hearty coat of cocoa powder.
Repeat with each cake layer.
The mascarpone whipped cream does not lend itself to completely coat the cake. This is tailor-made for the "naked cake" design with exposed edges. To achieve the style in the photos, I generously let the whipped cream hang over the edges when topping, then smoothed out the sides with a spatula.
If you want a fully iced cake, I recommend switching to a Swiss meringue buttercream for the outside, though I don't personally find it necessary for this cake.
Make sure to allow the cake to chill for at least 2 hours before serving. This will allow the coffee to fully soak into the cake and allow the whipped cream to meld with the layers.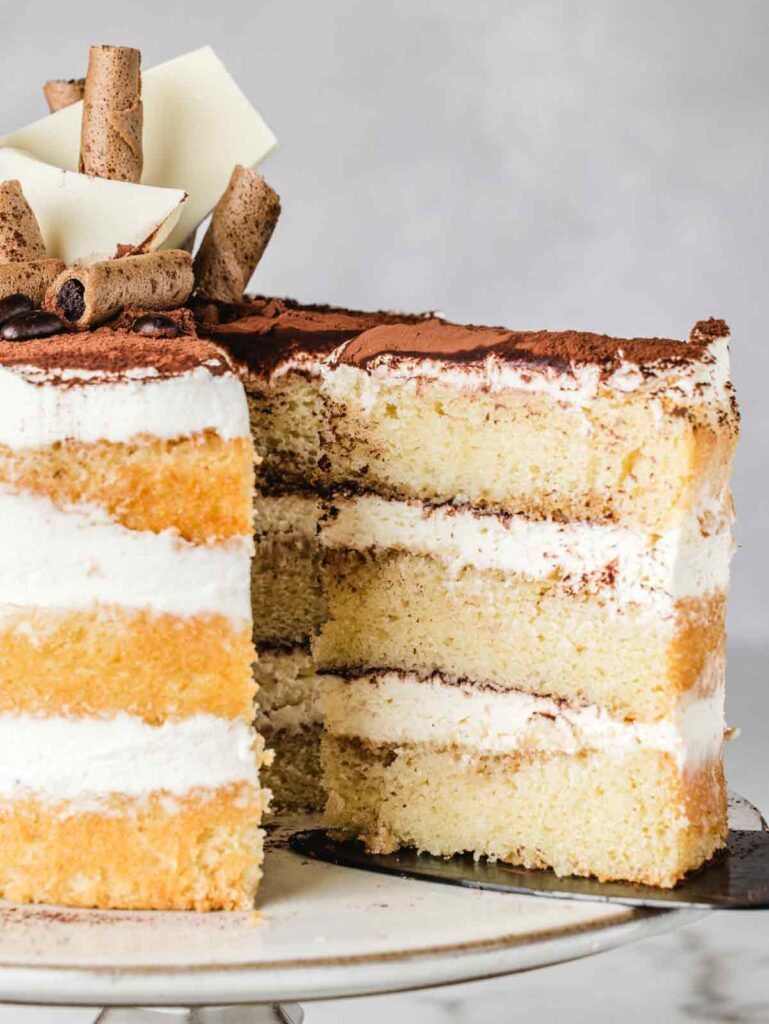 Frequently Asked Questions
What can I substitute if I can't find mascarpone cheese?
Mascarpone cheese is available in most grocery stores in the specialty cheese area. It's difficult to replicate the flavor completely with any substitute, so if you really want the tiramisu experience, it's worth looking for. However in a pinch, cream cheese will work.
Why is my mascarpone whipped cream grainy?
It's easy to split mascarpone. It's important that both the whipped cream and mascarpone are cold when you combine them and don't over mix! This is why we whip the heavy cream separately then gently stir it into the mascarpone. As soon as it comes together, stop mixing! If the texture gets a bit grainy, you can try letting it rest in the fridge for a bit and try to mix again. It's still completely safe to use if it does go grainy.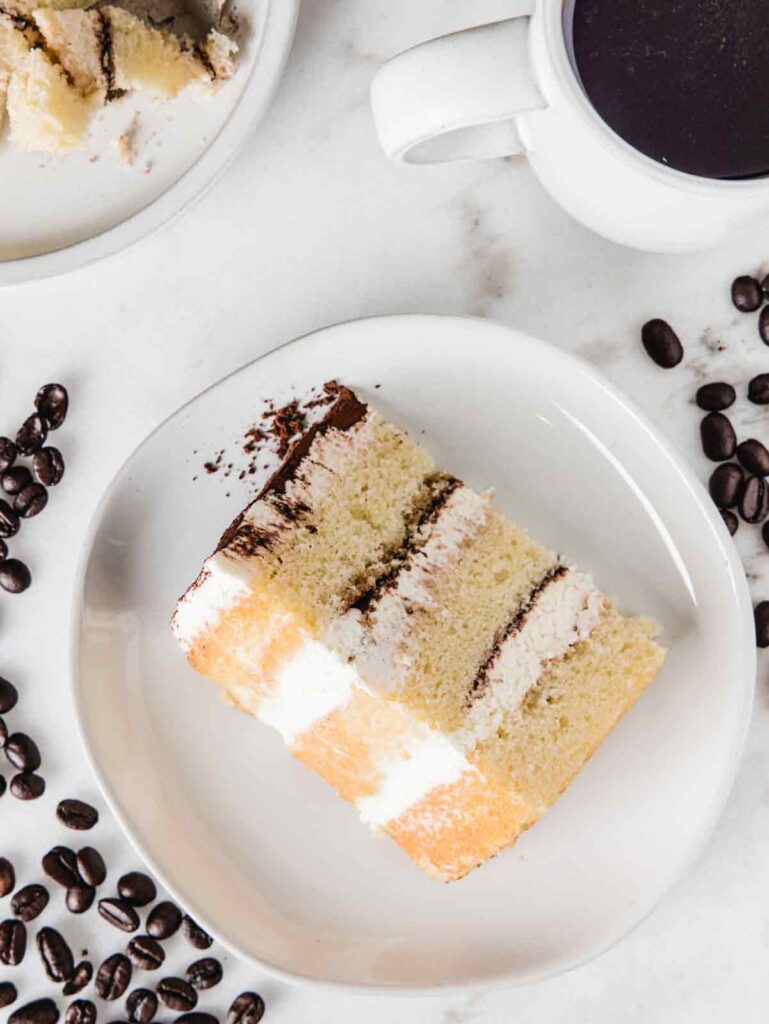 Print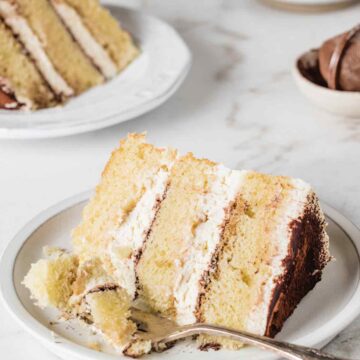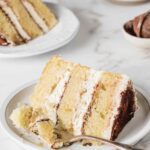 Vanilla Tiramisu Cake
Author:

Theresa | Quiet Baking Day

Prep Time:

25 minutes

Chilling Time:

2 hours

Cook Time:

25 mintues

Total Time:

2 hours, 50 minutes

Yield:

8 slices

Category:

Cakes

Method:

Intermediate

Cuisine:

Italian
---
Description
This Vanilla Tiramisu Cake is a spin on the Italian classic – but with vanilla cake layers, mascarpone whipped cream and a coffee syrup soak!
Equipment Needed: 3-6″ cake tins
---
Vanilla Cake
210

g

cake flour

1 1/4 teaspoons

baking powder

1/4 teaspoon

baking soda

1/2 teaspoon

salt

100

g

unsalted butter, room temperature

225

g

granulated sugar

1/4

cup

canola or vegetable oil

1 tablespoon

vanilla extract

2

eggs, room temperature

1/2

cup

whole milk, room temperature

56

g

sour cream, room temperature
Mascarpone Whipped Cream
3/4

c

heavy whipping cream, cold

3 tablespoons

confectioners' sugar

1/2 teaspoon

salt

339

g

(1 1/2-8oz packages) mascarpone cheese, cold
Coffee Syrup
3 tablespoons

strong coffee, sweetened to liking
Dark or Dutch-processed cocoa powder for dusting
Decorations (optional): ladyfingers, Pirouette cookies, white chocolate
---
Instructions
Vanilla Cake. Preheat oven to 350°F. Grease and flour 3 – 6″ cake tins and line with parchment paper.
Sift together cake flour, baking powder, baking soda and salt. Set aside.
In the bowl of a stand mixer fitted with paddle attachment, or with a hand mixer, beat together butter and sugar on high until lighter in color and fluffy. Scrape down sides of bowl as needed. Mix in oil.
Add eggs, one at a time, with mixer on low. Add vanilla.
Alternating between the flour mixture and milk, incorporate 1/3 of the flour, then 1/2 of the milk. Repeat until fully mixed. Stir in sour cream.
Divide batter between prepared pans. Tap on counter a few times to release air pockets. Bake 24-27 minutes until cake springs back when touched and cake begins to pull away from the sides, or a toothpick comes out clean. 
Cool in tins until cool enough to handle, then transfer to cooling rack.
Mascarpone Whipped Cream. While cake is cooling, whip together heavy cream, confectioners' sugar, and salt until stiff peaks form. Gently stir in mascarpone cheese with rubber spatula until just combined. Be sure not to over mix.
Assembly. When cakes are fully cooled, slice tops of cake layers to create an even surface. Dab coffee on cakes using pastry brush or spoon.
Begin to stack cakes as 1 cake layer, 1/3 of the mascarpone whipped cream, and a heavy sprinkling of cocoa powder. Repeat for the 3 layers.
Allow to chill for 2 hours before serving. Decorate as desired.
---
Notes
Cakes may be made in advance, wrapped tightly and stored in freezer for up to 3 months. 
Store leftover cake in airtight container in refrigerator.
Keywords: italian desserts, layer cakes