You'll fall in love with your childhood all over again with with rich vanilla Homemade Confetti Cake with an upscale cream cheese Swiss meringue buttercream.
Sometimes you want a really old school cake style cake. There's nothing more old school than rainbow sprinkles. Perfect for all types of celebrations, like birthdays, holidays, New Years, baby showers and Sundays, this homemade confetti cake will bring back the memories of your childhood, but just a bit grown up.
We're going to make an ultra moist 3-layer cake with a cream cheese buttercream. To give it a little more sophistication, the buttercream is a Swiss Meringue buttercream, so it's super silky and not too sweet. You'll be so glad you ditched the box stuff after one bite.
How to Make the Cake
For our homemade confetti cake, we're going to make 3 layers baked in separate tins. This recipe is made for 8″ tins, but you can also bake in 9″ tins. I tend to prefer the 8″ pans because I like a skinny, tall cake…maybe because I'm neither!?
The base of the cake uses cake flour which yields a very soft, light texture sponge cake. If you don't have cake flour available, you can make your own with all-purpose flour and cornstarch.
Per 1 cup of cake flour: Measure 1 cup of all-purpose flour. Remove 2 tablespoons of flour and replace with 2 tablespoons of cornstarch. Sift together thoroughly.
With the cake flour, whisk together baking powder, baking soda, and salt and set aside while you cream together your butter and sugar. It's important to really whip these until they are light and fluffy or you will end up with a rubbery cake. So really whip the butter and sugar together for a good 5-7 minutes on high. Add in your oil and whip thoroughly again.
You might wonder why there's both oil and butter in this cake. Butter has lots of flavor, but the oil adds moisture to avoid a dry cake. Using a balance of both will give us a delicious and moist cake — a requirement for a celebration cake!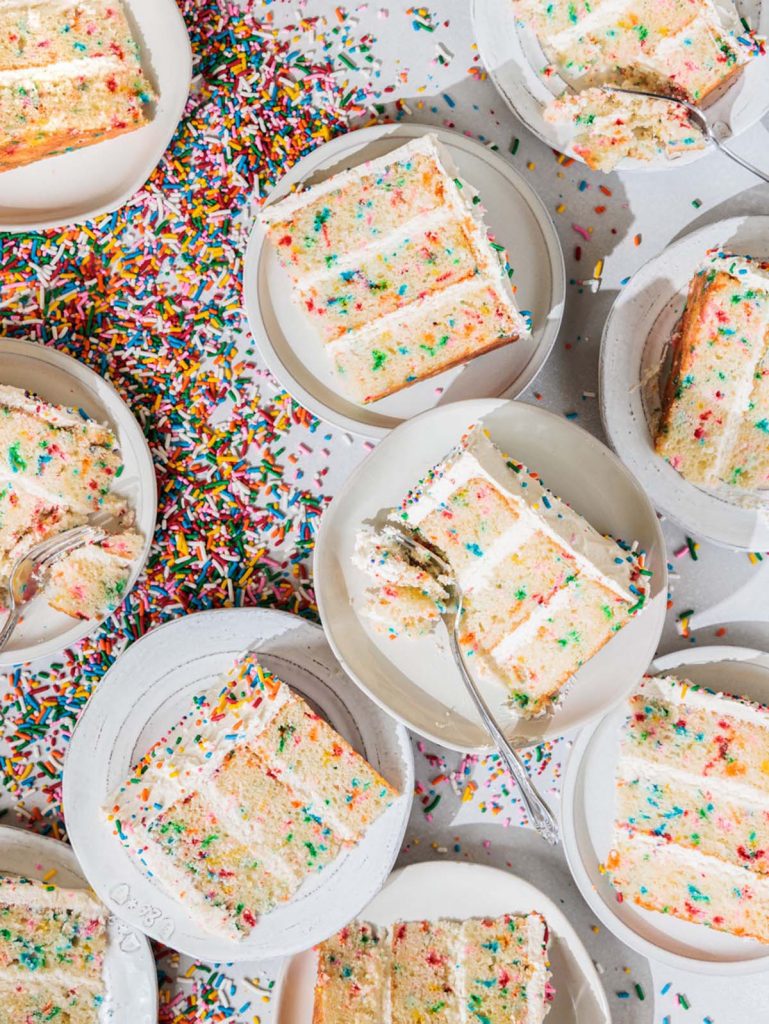 Next, add in your eggs, on low, and one at a time. Be sure to allow each egg to fully incorporate before moving on to the next egg.
Now, we're going to add the dry and liquid ingredients using the dry-wet-dry method. It's a classic system for cakes to ensure everything emulsifies together without overmixing. Start by adding 1/3 of your dry ingredient mixture.
Add 1/2 of your milk once most of the flour is mixed in. Add another 1/3 of your dry ingredients. 1/2 of your milk and the final 1/3 of your dry. You are alternating dry and wet ingredients, beginning and ending with the dry.
Once your flour is *almost* incorporated, switch to a rubber spatula. You do not want to overmix and get a rubbery cake. When there is still some streaks of flour, add the sour cream and sprinkles and gently incorporate both until just combined.
Why sour cream? It's extra fat which is makes a moister cake, and the acidic tang will give your baking soda a burst for a taller, fluffy cake.
Best Types of Sprinkles?
I find the best sprinkles for our homemade confetti cake is classic rainbow jimmies. They will melt just slightly into the cake batter and give that classic colorful confetti look. If you don't like the slightly "blurry" look for the jimmies melting into the cake batter, you can also use "quins spinkles." Those are the small coin style sprinkles. They hold their shape during baking, but I find them a bit hard in the cake. You want to avoid the larger circles and nonpareils varieties. They are just too hard for cake batter.
Baking Tips
When baking a layer cake, there's a few tips that make the final result a bit better:
Divide the cake batter evenly between 3 tins using an ice cream scoop
Use a damp cake strip to help the layers bake flat. Don't have cake strips? An old towel cut into strips (as tall as your cake pans) dampened and attached using a metal binder clip works too! The physics of this – having the damp cloth around the outside of the cake will stop the edges from getting hot quickly and setting before the inside as it keeps rising.
A long, serrated knife and a cake turntable are useful for getting a very evenly cut layer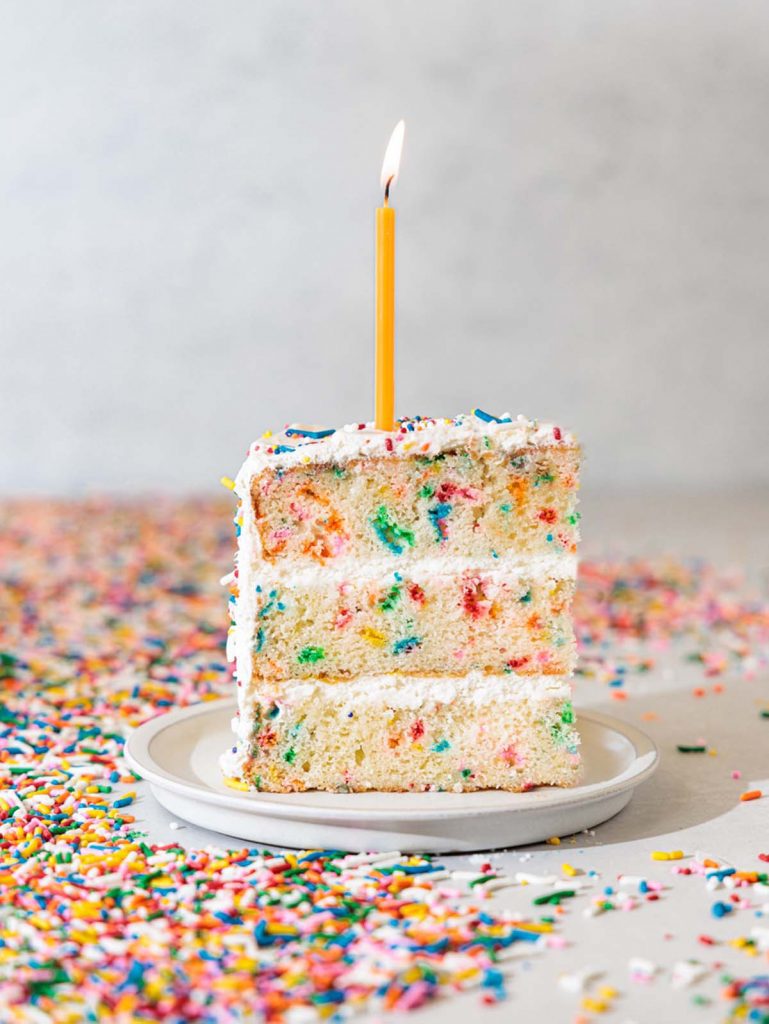 Cream Cheese Buttercream
In order to elevate the buttercream for our confetti cake, we're going to go all out and make a Swiss meringue buttercream. It's the only kind of icing I use for my cakes, and I go into thorough detail in my Swiss Meringue Buttercream post. It's much less sugary sweet and "dry" than the classic American buttercream with butter and powdered sugar.
Our Swiss Meringue buttercream has an egg white meringue base. To start, we are going to place our egg whites and granulated sugar in the bowl of your mixer and set that on top of a simmering pot of water. This will slowly heat the egg whites to a safe temperature while avoiding scrambled eggs. Whisk the mixture continuously until it reaches 160°F.
Then transfer to your mixer and keep whisking until you have a stiff meringue and the temperature is barely just room temperature – not hot!
Add a tablespoon of very much room temperature butter at a time. Let it whip until it's soft and silky. Then add the vanilla and the room temperature cream cheese in tablespoons. This process will take a little bit of time. If the butter is not the right temperature, it might take a few minutes to incorporate fully into the meringue. If it looks split, do not panic! Just keep whipping it on high until it comes together.
After 10 minutes or so, if the mixture still looks split, feel it. If it's warm, pop it in the fridge for 10 minutes and continue to whip. If the mixture is cold, let it sit at room temperature for 10 minute to warm up before whipping again.
Spread the completed buttercream onto the cake using an offset spatula or knife and decorate as desired!
Helpful Tools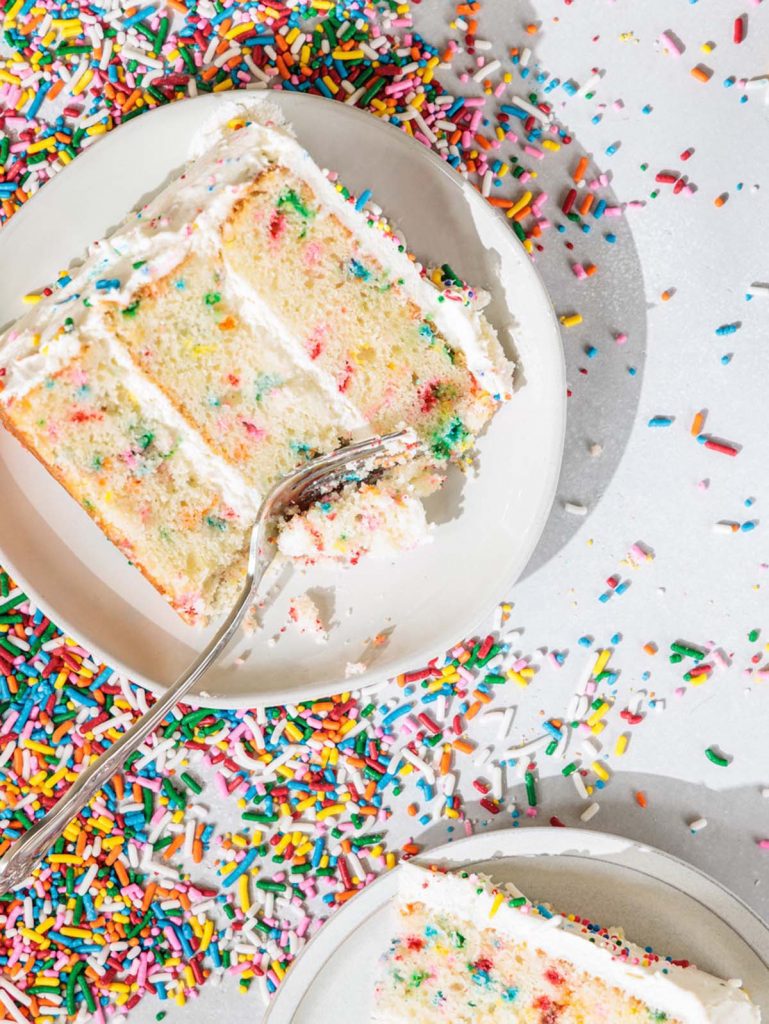 Print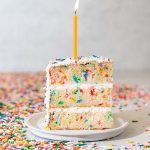 Homemade Confetti Cake
Author:

Theresa | Quiet Baking Day

Prep Time:

15 minutes

Assembly Time:

30 minutes

Cook Time:

30 minutes

Total Time:

1 hour, 15 minutes

Yield:

8″ layer cake

Category:

Cake

Method:

Intermediate

Cuisine:

American
---
Description
A true celebration cake, through and through. This homemade confetti cake is made for special occasions like birthdays and holidays.
---
Confetti Cake
420

g

cake flour

2 1/2 teaspoons

baking powder

1/2

teaspoon baking soda

1 teaspoon

salt

200

g

unsalted butter, room temperature

450g

granulated sugar

1/2

cup

canola or vegetable oil

1 tablespoon

vanilla extract

1

tablespoon almond extract

4

eggs, room temperature

1

cup

whole milk, room temperature

113

g

sour cream, room temperature

150

g

(3/4 cup) sprinkles, plus extra for decoration if desired
Cream Cheese Buttercream
1/2

cup

egg whites, room temperature

250

g

granulated sugar

300

g

unsalted butter, cubed, room temperature

2 teaspoons

vanilla extract

1 teaspoon

salt

8

ounce

package cream cheese, room temperature
---
Instructions
Confetti Cake: Preheat oven to 350°F. Grease and line 3-8″ cake tins with parchment paper.
Sift or whisk together cake flour, baking powder, baking soda and salt in a medium bowl.
In the bowl of a stand mixer, combine butter and sugar and whip on high until light and fluffy, scraping down the sides of the bowl as needed. About 5-7 minutes. Add oil and extracts and whip until incorporated.
Add eggs one at a time on low, letting each fully incorporate before adding the next.
On low, add 1/3 of the dry mixture. Once it's almost mixed fully, add 1/2 of the milk. Repeat every other until just a few streaks of the flour remain.
With a rubber spatula, gently fold in the last streaks of the flour with the sour cream and sprinkles by hand.
Divide evenly among prepared cake tins. Bake for 30-34 minutes until the top springs back when touched and a toothpick comes out evenly.
Let stand for 5 minutes before turning out on to a cooling rack to cool completely.
Cream Cheese Buttercream: While cake is baking and cooling, add egg whites and sugar to the bowl of a mixer. Set over a pot of simmering water, making sure the bottom of the bowl does not touch the water. Whisk continuously until the temperature reaches 160°F.
Transfer the bowl to the stand mixer and whip on high until you have stiff peaks and the meringue is almost cool.
Add one tablespoon of butter at a time, and let whip on high until a smooth mixture forms.
Add vanilla and tablespoons of cream cheese at a time. Whip until fluffy.
Assembly: Slice the top of the cakes for an a flat surface if desired. Spread the buttercream evenly across the two layers and the sides and top with an offset spatula or knife. Decorate as desired with sprinkles.
---
Notes
Cake can be made in advance, wrapped in plastic wrap and foil and frozen
Buttercream can be made in advance. Buttercream will harden when placed in the fridge. Leave on counter until room temperature and rewhip when ready for use. If the mixture is not coming together when whipping. Place a few spoonfuls in a microwave-safe bowl and microwave for a few seconds until melted. Add back into the mixing bowl and continue to whip. This will help to emulsify the mixture again, even if it is very odd!
Keywords: layer cake, celebration