My go-to buttercream recipe is silky, buttery and subtly sweet. This Swiss Meringue Buttercream recipe is made with a cooked meringue base and loaded with lots of butter that will turn any cake into a showstopper.
What is a Swiss Meringue Buttercream?
There are three classic buttercream versions: American, Italian Meringue and Swiss Meringue. American buttercream is a mix of butter and powdered sugar (I find it tends to be a bit sweet.)
Italian meringue buttercream is made with a hot sugar syrup that gets whipped into eggs whites and butter is added (this tends to be a little *too* silky and buttery for me).
And third, is Swiss meringue buttercream, which is the best combo of both by my preference – it's both the right balance of buttery and sweet, and stable enough for cute decorations. I use it in many of my cake recipes, such these Creamsicle Orange Cupcakes or my Honey Cake with Blackberry Jam Icing. Let's talk about how to make this go-to buttercream recipe!
Ingredients
This buttercream requires only a few ingredients:
Egg whites. Freshly separated eggs or cartoned egg whites work well here.
Granulated sugar
Unsalted butter
Vanilla extract
Salt
I know, egg whites in a buttercream sounds totally crazy at first glance, but trust me on this. When you think of a meringue, you would classify it as smooth, marshmallowy and silky, right? Sounds pretty good for a buttercream, right?? Yes! Once we make a meringue, we add in a shocking amount of butter. Like, a lot, but again, trust me! It's a buttercream! That's what gives it that buttery zing and gives the icing stability.
Process
First things first, egg whites are technically not safe to consume straight out of the gate. That's why we need to heat them to a certain temperature (165°F) to make them a-ok. The trick is to heat them slowly…we don't want a scrambled egg buttercream.
Place the egg whites and granulated sugar in the bowl of your stand mixer. (And seriously, I really recommend a stand mixer for this one, the hand-held will take ages to whip up.) Next, place your bowl over a pot of simmering water to create a bain marie.
A bain marie is a way to slowly warm an ingredient without directly placing on heat. It's used commonly for delicate ingredients like chocolate. To make a great bain marie, the bowl holding the ingredients should fit snugly into the pot of water, but the water should not be touching the bottom of the bowl. Keep them a few inches apart.
Slowly whisk the mixture as it heats up over the bain maire. Keep it moving the entire time to avoid the eggs setting, but you don't need to whip the mixture. Just gentle swirls. Using a digital thermometer, watch the temperature closely, if it gets too hot, no amount of gentle swirling will avoid scrambled eggs.
Once the mixture heats up to 165°F, place the mixing bowl into the stand mixer and start whipping! The goal is to cool the mixture down and make stiff meringue peaks. Whip on high for approximately 5-6 minutes until you feel the outside of the bowl is room temperature.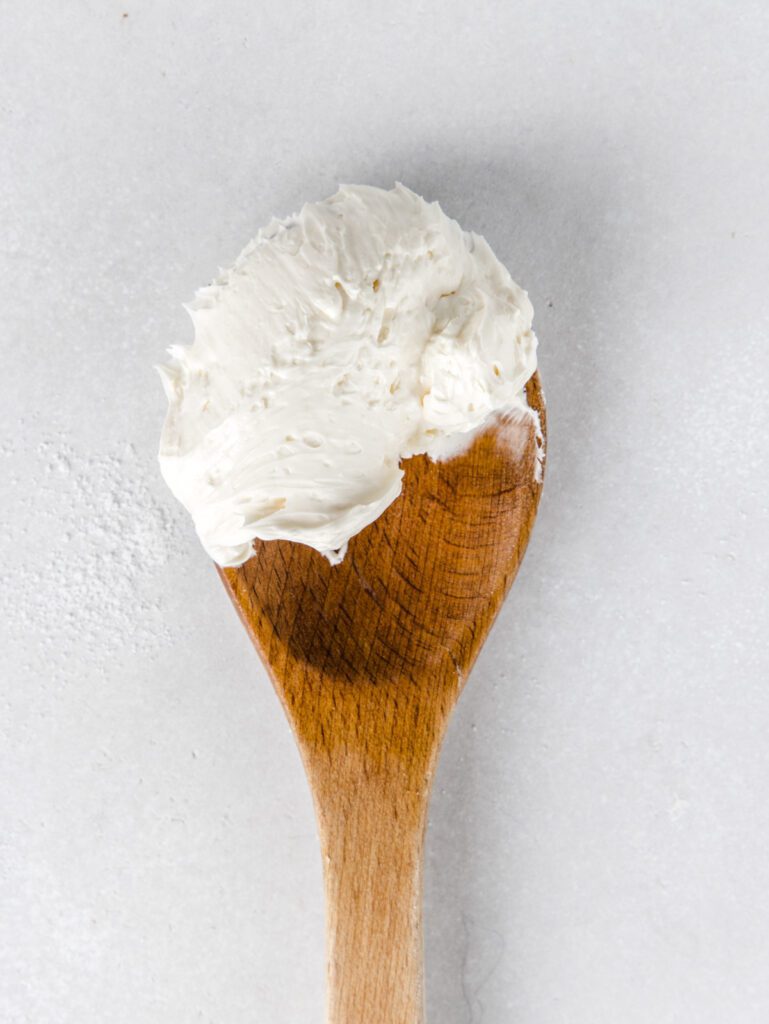 Turning the Meringue into Buttercream
Now it's time to add the butter. Bring the mixer to low, and working in tablespoon-sized chunks start whipping in soft, room temperature butter, one piece at a time. Once all the butter is added, turn the mixer back up to medium-high and let it whip until the butter is fully emulsified.
This will take a little time to properly come together. Your mixture may even look curdled while the butter is incorporating. This is totally, totally normal. Just keep whipping.
You will see, and hear, the mixture transform into a silky, smooth buttercream before your eyes. Once everything is emulsified, it's time to add the flavors. For all buttercream flavors, still add in salt and vanilla extract, and you are ready to roll. Time to ice that lovely cake!
Troubleshooting
I have some pieces of cooked egg after removing from the bain maire. What do I do?
This happens to the best of us! The water likely got a bit too hot below the bowl, but not to worry. If there's just a few small pieces of cooked egg, you can strain the mixture to remove and continue to whip into a meringue. If it's more than a few little pieces, I'm afraid it's best to start over.
My mixture isn't coming together, it still looks curdled after whipping for 10 minutes?
Feel the outside of the bowl. It could be one of two reasons:
1. The bowl feels cold to the touch. Allow your buttercream to warm up at room temperature for 10 minutes. Continue whipping again.
2. The bowl feels warm to the touch. Pop the mixing bowl in the fridge for 10 minutes to cool down. Continue whipping again.
I chilled the buttercream for use later, and now it doesn't come together again when rewhipping?
Remove a few spoonfuls of buttercream and place in a small microwave-safe bowl. Heat on low power in the microwave until the mixture is warm and melted. Add back into remaining buttercream and continue to rewhip. Repeat if necessary to bring the mixture back together.
Flavor Variations
There's no shortage of different flavor combinations from here. Have some fun with it! A few ideas are below and start
Swap the vanilla extract for vanilla paste or vanilla bean seeds for a more pronounced vanilla flavor
Peanut butter
Melted and cooled chocolate
Sprinkles
Crushed Oreos
Pistachio or hazelnut paste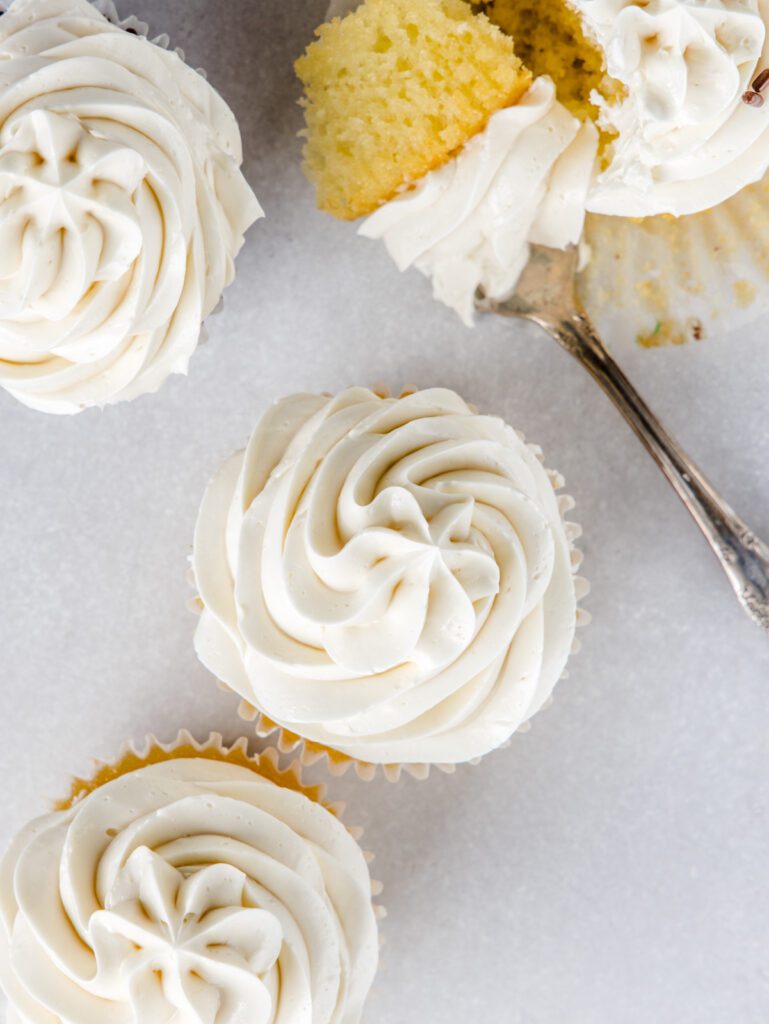 Helpful Tools
A digital thermometer is really helpful for this. You can guess the temperature of the egg whites by smooshing some between your finger and thumb to test if the sugar has dissolved and the mixture is warm, but this isn't a fool-proof method, and I like to make sure the egg whites are properly warmed to a safe temperature. Digital thermometers are very cheap and go a long way in the kitchen.
Print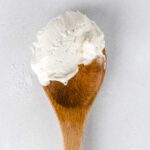 Swiss Meringue Buttercream
Author:

Theresa | Quiet Baking Day

Prep Time:

10 minutes

Cook Time:

5 minutes

Total Time:

15 minutes

Yield:

5 cups

Category:

Desserts

Method:

Intermediate

Cuisine:

Swiss
---
Description
Perfect for any cake icing, this Swiss Meringue Buttercream is silky, buttery, not-too-sweet and can be made into a variety of flavors!
---
150

g

(2/3 cup) egg whites, room temperature

297

g

granulated sugar

452

g

unsalted butter, cubed, room temperature

1 tablespoon

vanilla extract

2 teaspoons

salt
---
Instructions
Place egg whites and sugar in the bowl of a stand mixer. Set bowl over a pot of simmering water. Ensure the bowl fits snugly in the pot, but that the water does not touch the bottom of the bowl.
Whisking gently, continuously keep the egg whites moving while the mixture heats to 165°F, about 5-6 minutes. If you allow the mixture to sit or heat too high, you will end up with scrambled eggs.
Once the mixture is a safe temperature, remove from the simmering water and place on the stand mixer fitted with a whisk attachment. Whip on high until a meringue with stiff peaks form and the outside of the bowl is room temperature to the touch, about 5 minutes.
Working with tablespoon-sized pieces, start adding the butter one piece at a time with the mixer on low. Once all the butter has been added, turn the mixer back up to medium-high and let whip until the mix emulsifies and a smooth buttercream forms, about 5 minutes.
Add vanilla extract and salt. Add any additional flavoring as desired.
---
Notes
Makes enough to cover 8″ 2-layer cake
Cover and refrigerate up to 2 weeks or transfer to a freezer-safe plastic bag and freeze for up to 3 months. Bring to room temperature and rewhip before use.