Paired with a sweet, and subtle honey cake, the blackberry jam buttercream is really to star of the show for this cake.
I know just how clichéd, and food blogger-y this sounds, but I recently went wild blackberry picking in the parks of Charleston and I couldn't wait to create a cake around these tart and seedy berry gems. A couple of strolling hours and a few cuts from thorns later, I had an impressive amount of wild blackberries ready to be made into a jam and I couldn't resist putting together this amazing cake.
Blackberry Fields Forever
I love blackberries, they are tart, sweet and full of flavor. Personally, the seediness is part of the charm of these berries, but if the seeds aren't your jam (get it, not your jam?!? I'll see myself out) you can blend the berries briefly in a food processor, then strain out the seeds before making your jam.
The wild blackberries I used were on the more tart side, so I used towards the higher amount of recommended sugar, but taste your berries first. You still want some of the berry flavor to come through, not just the sugar. The honey cake will also lend some extra sweetness to the overall final flavor.
We'll use all of the jam in our buttercream, but you can easily scale up the batch to make extras. Use it on these Chai Scones or in this Blackberry & Coconut Pound Cake as just a few options.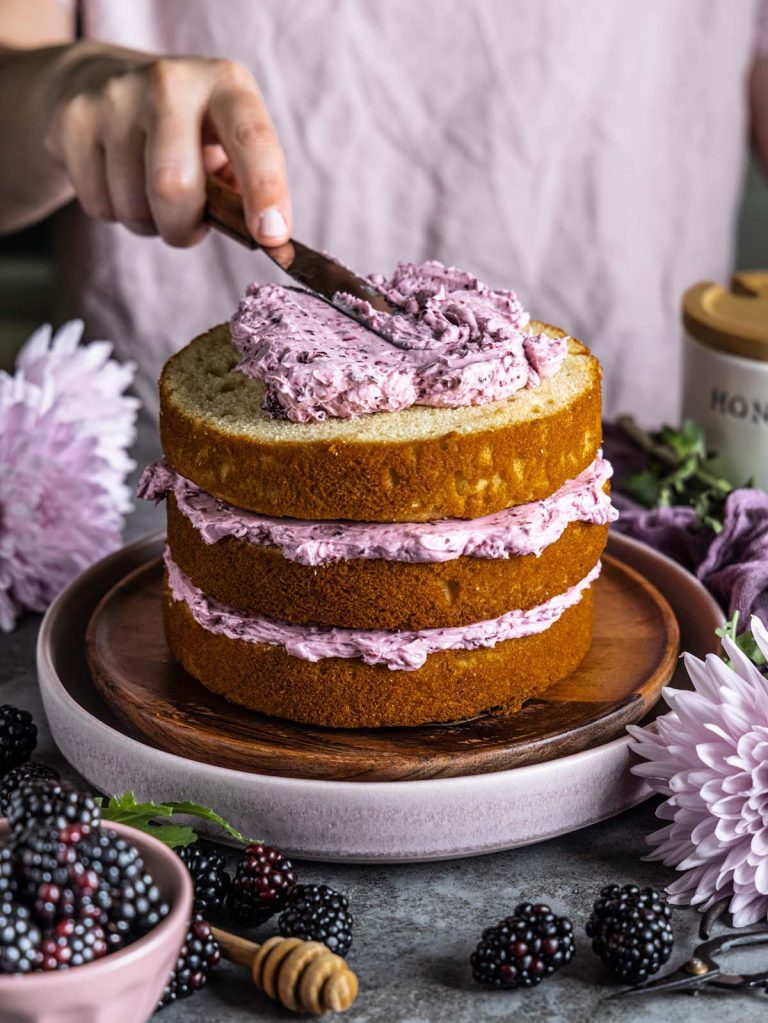 Jam Buttercream
This buttercream is a Swiss Meringue Buttercream, and my favorite cake icing. There is a few extra steps over a classic American buttercream, but the final silky, buttery texture is worth the effort.
The first step is to heat the egg whites enough to make them safe to eat, but not so much that we get scrambled eggs. Warming them slowly with the sugar over a simmering water bath, and stirring constantly to 160°F is our goal for the meringue base.
Once your eggs are heated enough, it's time to whip the meringue. The bowl will be hot when you start, and you want to whip until those eggs come down closer to room temperature and they are light and fluffy. Slowly add the butter in pieces at a time then let your buttercream whip some more.
And maybe some more, it will take time for the butter to fully incorporate. It may even look a little weird and curdled and soupy for a few minutes. Don't freak out, just let it do its thing, and keep whipping. In a blink, you will get a silky, shiny, lovely buttercream.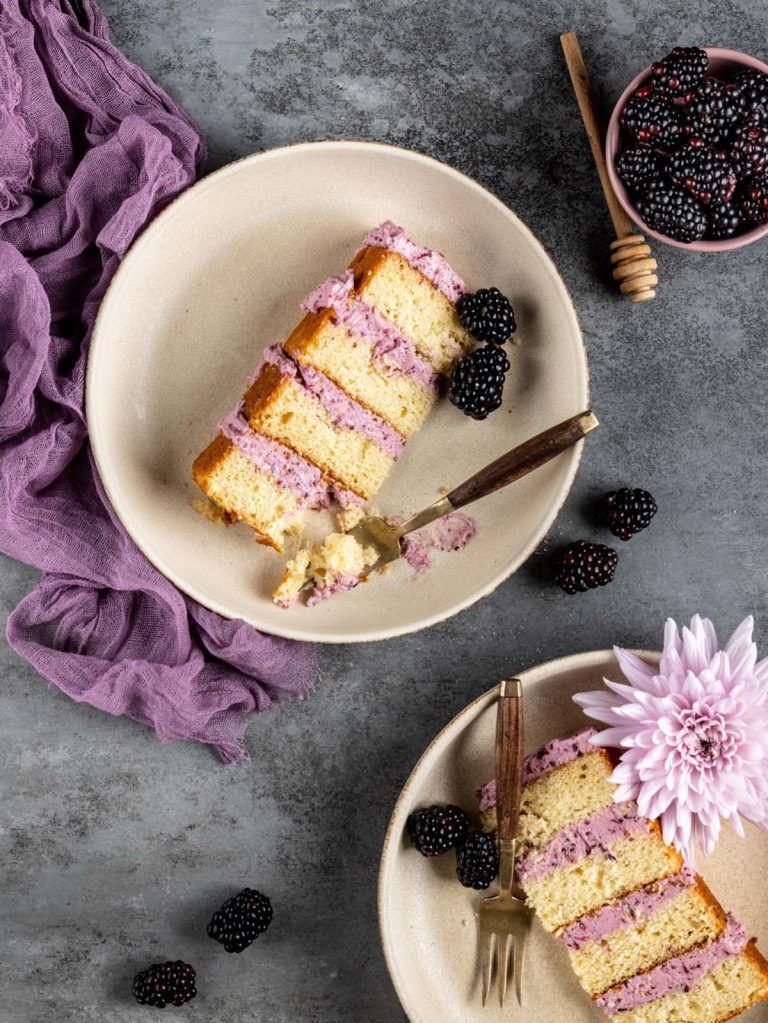 Buttercream Troubleshooting Tips
When heating the egg whites, if some bits get a little too hot and overcook, you may strain out any cooked egg whites before beginning to whip.
If, after adding the butter and letting it whip for 10-15 minutes, your buttercream has not fully emulsified, you may need to adjust the temperature:

If the mixture feels colder than room temperature, stop whipping and allow to sit on the counter for 15-20 minutes, then proceed to whip again
If the mixture feels warmer than room temperature, stop whipping and set the bowl in the fridge for 15-20 minutes, then proceed to whip again
Let's Decorate!
I had fully intended to create a standard "semi-naked" cake when I began this journey, smoothing out the icing on the sides of the cake to cover some of the sides. But as I went, something about the natural icing look appealed to the wild blackberry vibe of this honey cake.
I added a few extra commercially sourced blackberries (these are about 15x larger than the wild ones used in the jam) and a matching lavender mum because I love a color theme. Always let yourself play and make the decorating your own. Sometimes you just "see it" and sometimes it works out as you go.
Honey Cake Useful Tools
Print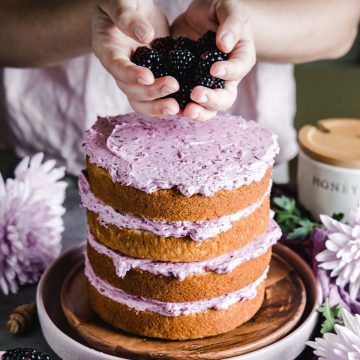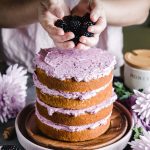 Honey Cake with Blackberry Jam Icing
Author:

Theresa | Quiet Baking Day

Prep Time:

30 minutes

Chilling Time:

2 hours

Cook Time:

50 minutes

Total Time:

2 hours, 20 minutes

Yield:

8 slices

Category:

Cakes

Method:

Intermediate

Cuisine:

American
---
Description
Paired with a sweet, and subtle honey cake, the buttercream jam is really to star of the show for this summery honey-based cake.
---
Blackberry Jam
165

g

fresh blackberries

3

–

6

tablespoons granulated Sugar
Juice of

1/2

lemon
Honey Cake
360

g

cake flour

2 teaspoons

baking powder

1/2 teaspoons

baking soda

1 teaspoons

salt

170

g

unsalted butter, room temperature

198

g

granulated sugar

99

g

canola or vegetable oil

170

g

honey

4

eggs, room temperature

2 teaspoons

vanilla extract

56

g

whole milk, room temperature

113

g

sour cream
Blackberry Jam Swiss Meringue Buttercream
150

g

egg whites,

room temperature

297

g

granulated sugar

452g

unsalted butter

, room temperature

2 teaspoons

vanilla extract

1 teaspoons

salt
---
Instructions
Blackberry Jam: Mash blackberries with a fork in a small saucepan.
Taste berries and add sugar according to tartness, and lemon juice.
Simmer on low until jam thickens, about 15 minutes. Scrape bottom on pan with a wooden spatula frequently to avoid burning. 
To test if jam is ready, place a metal spoon in the freezer for a few minutes, then set a drop of jam on the back of the cold spoon. If it stays in place, your jam is set.
Remove from heat and allow to cool completely in fridge. At least 2 hours.
Honey Cake: Preheat oven to 350°. Spray and line 4 – 6″ cake pans with cooking spray and parchment paper. 
Sift together cake flour, baking powder, baking soda, and salt in a medium bowl.
In the bowl of a stand mixer, cream together butter and sugar using the paddle attachment until light and airy, scraping down the sides of the bowl frequently, about 5-7 minutes.
Add eggs one at a time, fully mixing before adding the next. Add vanilla. 
Beginning and ending with the dry ingredients, alternate adding the dry ingredients and milk on low speed. Dry-wet-dry-wet-dry.
Stir in sour cream.
Divide evenly among 4 cake tins. Bake for 23-26 minutes, until golden brown and toothpick comes out clean.
Allow to cool to the touch before removing cake from pans.
Blackberry Jam Swiss Meringue Buttercream: In the bowl of a stand mixer, combine egg whites and sugar.
Whisk constantly until the sugar is melted and egg whites reach 160°F.
Transfer mixing bowl to mixer. Whip on high until meringue forms and cools to room temperature.
Once cooled, reduce speed to low and add cubes of butter slowly. After all of the butter is added, return speed to high and continue whipping until butter is fully incorporated and buttercream is a light and silky texture. Do not be worried if the mixture appears to be curdled, this is part of the emulsifying process! This may take 10 minutes or so. 
Add blackberry jam, vanilla, and salt, mix until combined.
Assembly: Using a serrated knife, level the tops of cake as necessary.
Divide icing between layers. 
If desired, use palette knife or bowl scraper to smooth sides.
Place mixing bowl over a small pot of simmering water to slowly heat the egg whites.
---
Notes
Cakes may also be baked in 3 – 8″ cake tins. Bake at 350° for 23-26 minutes. 
Store leftovers in the fridge
Keywords: layer cake, berries, honey
This icing is everything. So summery and delicious with the honey cake!