With a flaky crust and a cinnamon-packed apple filling, this apple slab pie is baked in a sheet pan for golden brown perfection. A salted caramel sauce on top takes this to the next level!
Apple pie is as classic as, well, apple pie! But it's fun to play with the classic a bit, like this apple cranberry pie. In this version, we are making a perfectly sliceable, sheet-pan-style, slab pie!
This recipe came courtesy of my grandmother's handwritten stack of recipes, with a few slight changes. As I was looking for a way to use some leftover apple cider from my apple butter cake, I came across this and it seemed like destiny!
What makes this Slab Pie Great?
A shortening-based crust makes for flaky and sturdy crust that can stand up to slicing.
A pre-cooked apple filling, with apple cider and plenty of spices, stays together when sliced.
A quick salted caramel sauce over the top gives the pie a final flourish!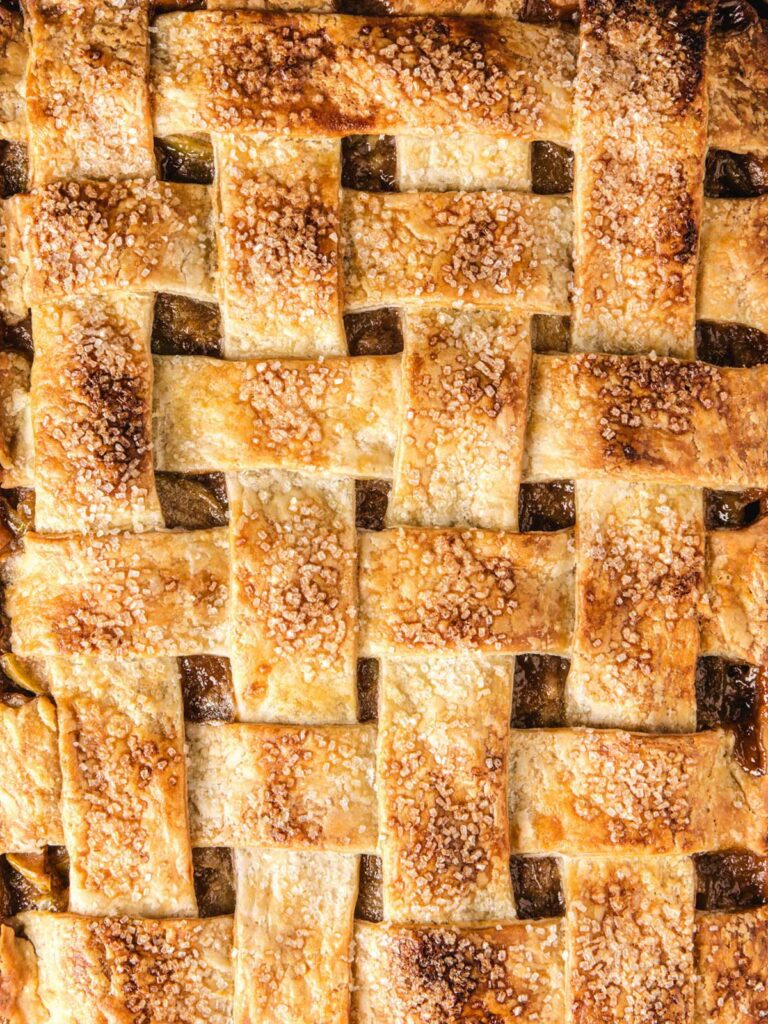 Ingredients
There are three main elements to this apple pie: the crust, the apple filling and the salted caramel sauce (and some vanilla ice cream if you know what's up!)
For the Filling:
Sliced granny smith apples. A great choice for pies, these apples are flavorful and hold up well to baking
Apple cider. Makes for a quick, flavorful filling
Lemon juice. Brightens the flavor.
Granulated Sugar.
Spices. Cinnamon, nutmeg, cloves.
Cornstarch. Thickens the filling to prevent runny pies.
For the Crust:
All-purpose flour.
Granulated sugar. For flavor and browning of the crust
Baking powder. Gives a crust just a touch of lift.
Shortening. This is a divide, some people love an all-butter crust, some a shortening crust, some a mix of both. In this recipe, I went with a full-shortening crust to eliminate any soggy bottom!
Lemon juice. A little acidity keeps the crust tender and flaky.
Egg yolks. Makes for a rich and sturdy crust
For the Caramel Sauce:
Granulated sugar.
Unsalted butter.
Heavy cream.
Flaky salt.
What is a Slab Pie?
A slab pie is a pie baked in a sheet pan instead of a pie dish. There is less filling to crust ratio so you always get a nice flaky crust texture with every bite.
Plus, a slab pie can be scaled up to serve a larger crowd! This recipe as written is best for a quarter sheet pan (13″ x 9.5″), but the recipe can be easily doubled for a half sheet pan size.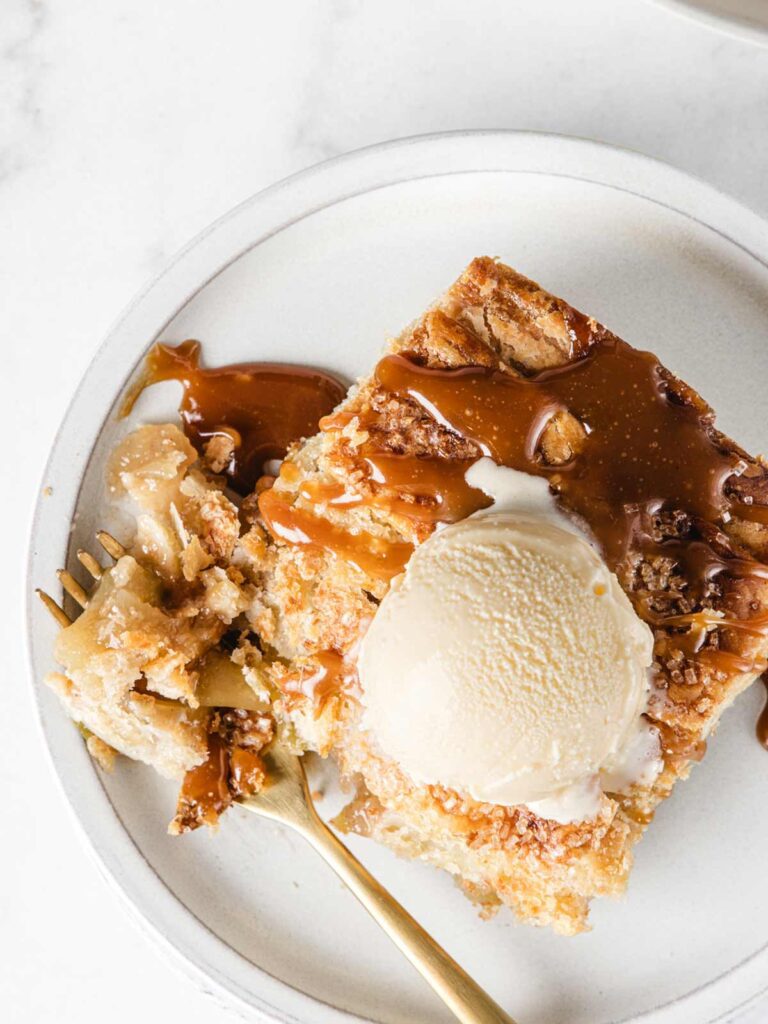 How to make a Slab Pie?
First things first, we need to prepare our filling. When apples are cooked, they release a lot of moisture. If we put raw apples in a pie and bake, that's how we get a runny and soggy pie.
To avoid that sad day, we precook our apples, only slightly, to get ahead of this. Bring your apple cider, granulated sugar and lemon juice to a boil. Toss sliced apple with the spices and add to the cider mixture. Allow to cook until the apples are just tender, about 10 minutes.
At this time, we are going to add a cornstarch slurry. This is a bit of cornstarch mixed with liquid to make a paste. If we add a straight spoonful of cornstarch to the apples, you will clump of cornstarch that doesn't mix in properly.
A cornstarch slurry will stir in beautifully, and after bringing to a soft boil for a minute, you will see the mixture thicken. It's important to give the cornstarch that minute to really cook out or you will taste the raw cornstarch and it won't thicken.
Set aside your mixture to cool completely.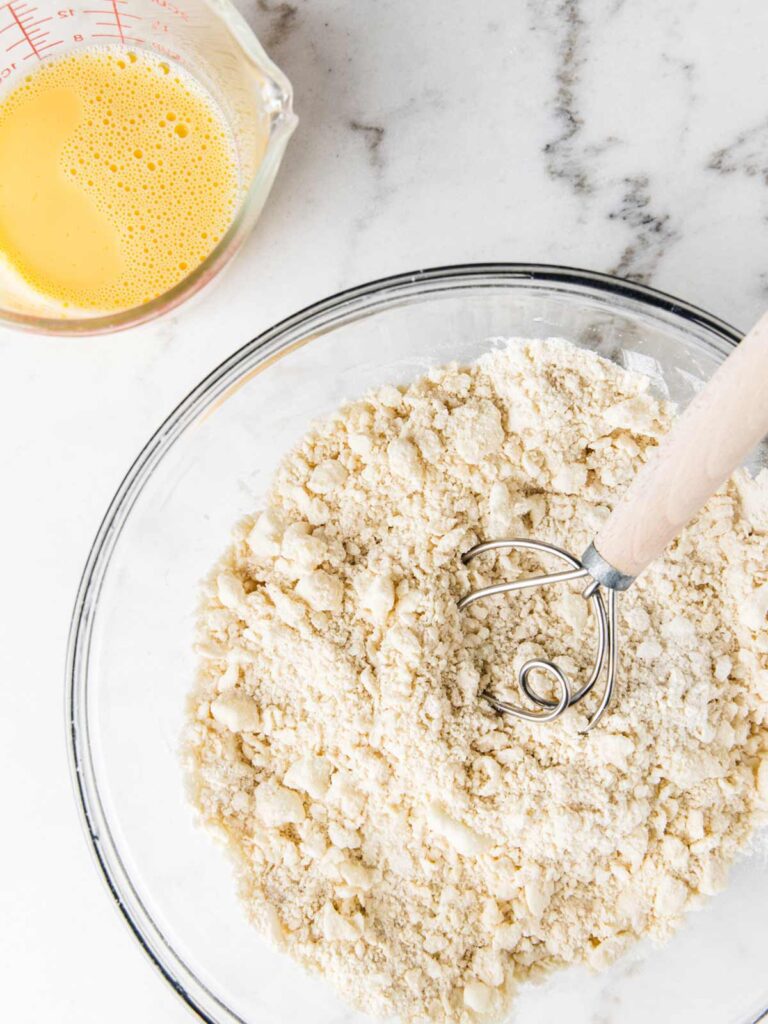 Making a Shortening Pie Crust
A shortening-based pie crust is a bit more forgiving than an all-butter crust. Butter crusts are great because of the flavor that it provides, but they less flaky and more prone to sogginess and melting. You can buy "butter-flavored" shortening, but that honestly never really excited me.
To add some extra richness and flavor that shortening falls short on, this recipe adds a few egg yolks.
Begin by whisking together the flour, granulated sugar, baking powder and salt. Add cold, cubed shortening and mix with you finger tips until the mixture is sandy in texture with some larger pieces of shortening left.
There is an important reason to keep the shortening cold and leaving some pieces larger – this creates our flaky crust! When cold shortening meets a hot oven, it will immediately steam. That steam creates a little pocket of air that turns into a flake! And flakes are the goal in pie crusts!
Separately, whisk together cold water, lemon juice and egg yolks until smooth. Pour into the flour mixture and stir just until the dough comes together. Bring the dough together with your hand with a few quick kneads, then wrap and chill the dough.
Cold dough will be easier to roll and bake flakier.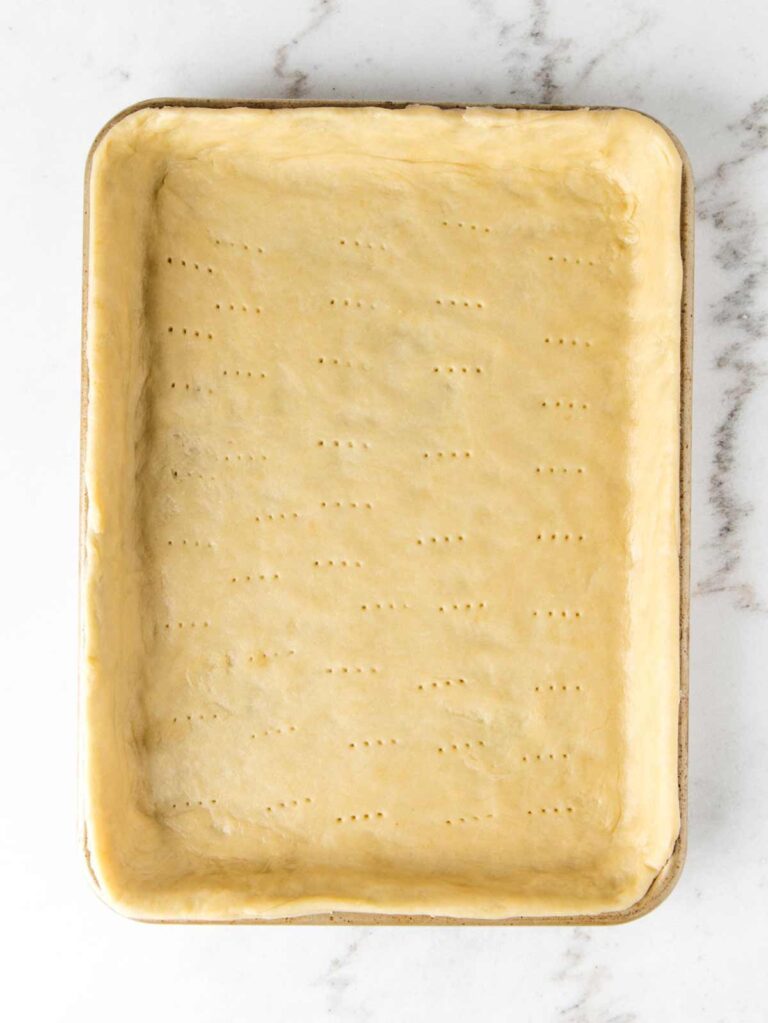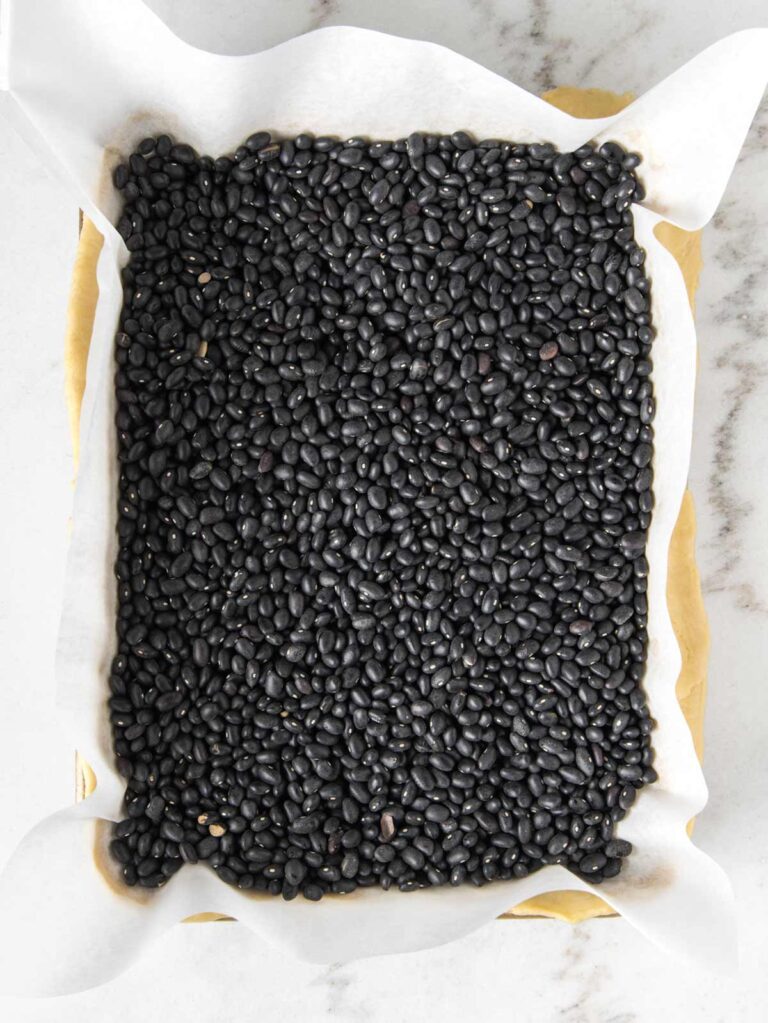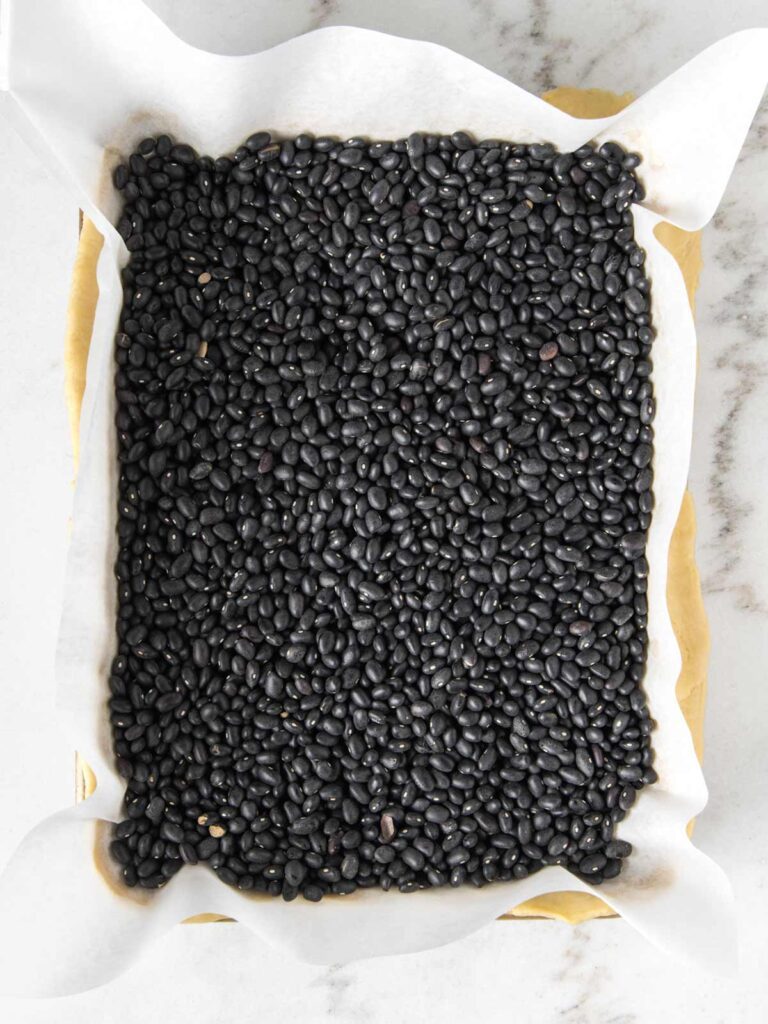 Blind Baking and Assembling the Pie
This pie uses a blind bake, which means we will bake the bottom of the pie crust, unfilled, first to make sure we get a nicely baked, non-soggy crust.
Roll 1/2 of your pie dough into a roughly 13″ x 10″ rectangle, just big enough to line your quarter-sheet pan up the edges. Trim to the top of the pan and poke the bottom with a fork all over to allow steam to escape and stop the crust from puffing up.
Place a sheet of parchment on top of the crust and fill with dried beans or pie weights. Baking with this will trick the crust into thinking there is a filling so it stays in place. After a baking long enough for the crust to set in place, we can remove the pie weights and brush the bottom of the crust with an egg wash and return to the oven.
I know, it's unusual to put an egg wash on the bottom crust. But by adding this step to the blind bake, we create a barrier between the crust and filling, again to avoid a soggy crust!
Allow the prebaked crust to cool a few minutes, add your apple filling and top with the second crust. Slice with decorative cuts to allow the steam to escape and bake until you have a beautiful apple pie!
How to Create a Lattice Top
A lattice top is not a requirement, ever. But it is easier than it looks! Follow the steps below:
Roll the second half of the dough to approximately 15″ x 12″.
Cut long strips, about 1.5″ wide. Some strips may need to be cut in half.
Place 4 long strips lengthwise (horizontally) over the filling.
Pull back every other horizontal strip and place 1 strip vertically, replace the horizontal strips. The goal is to place the vertical strip under every other horizontal one.
Next, pull back the *other* two horizontal strips, place a vertical strip, and replace the horizontal. This strip should now be under the opposite strips as step four.
Continue alternating this way to lay vertical strips across the length of the pan. Trim to the outside edge of the bottom crust and press with your fingers to seal.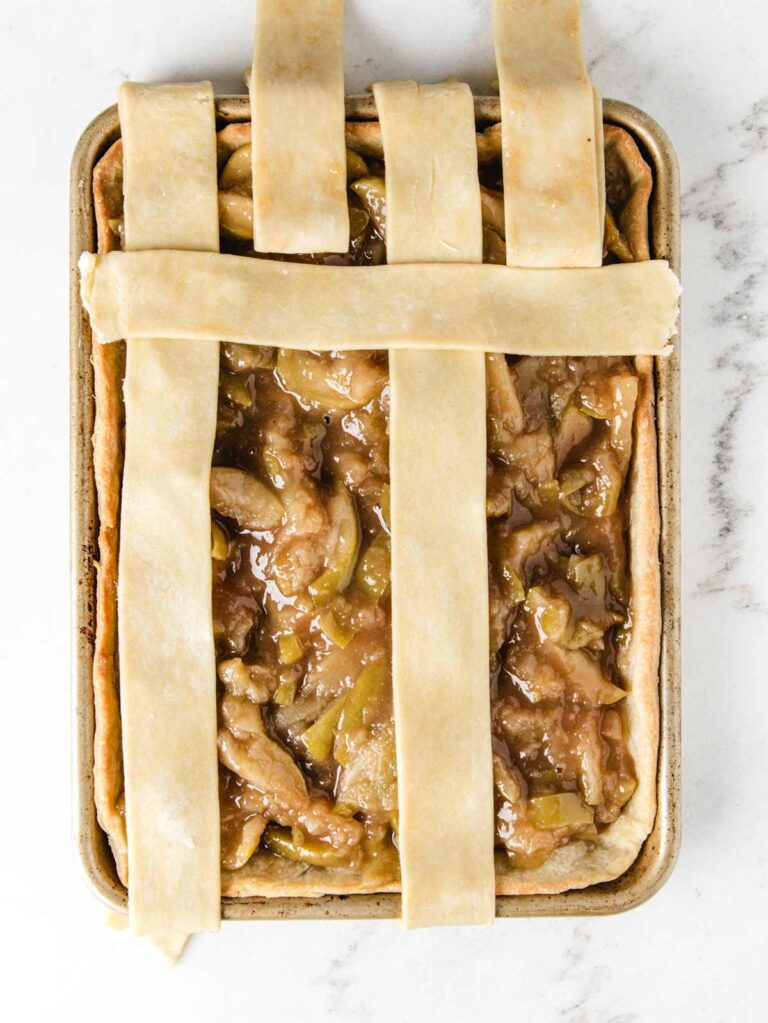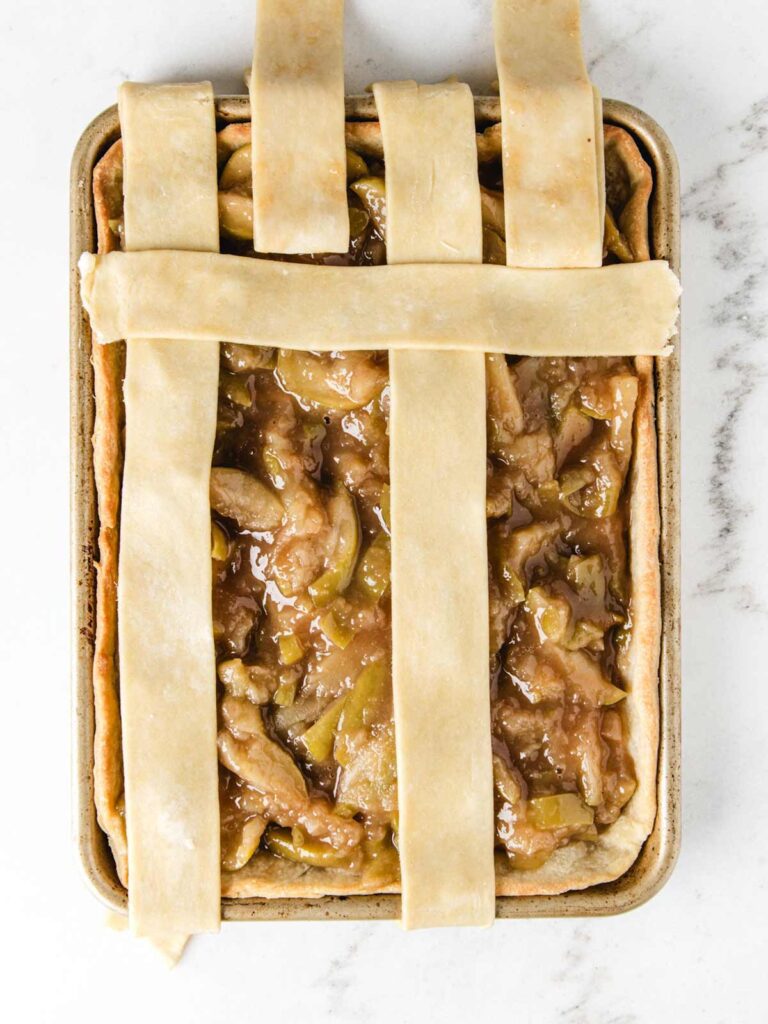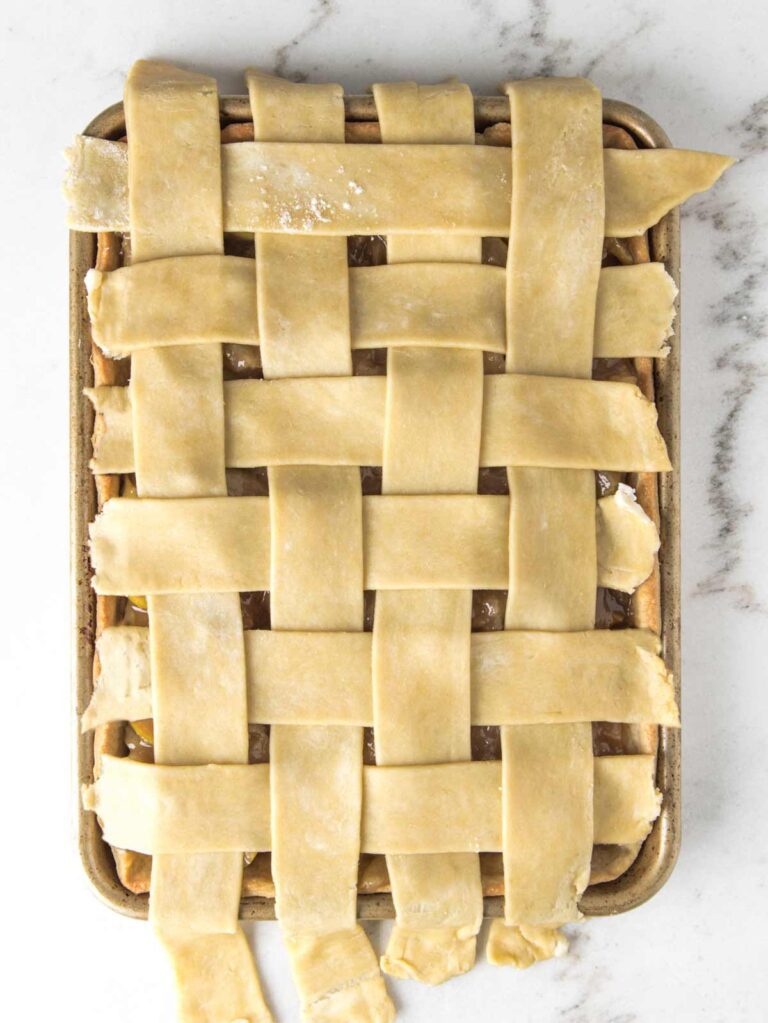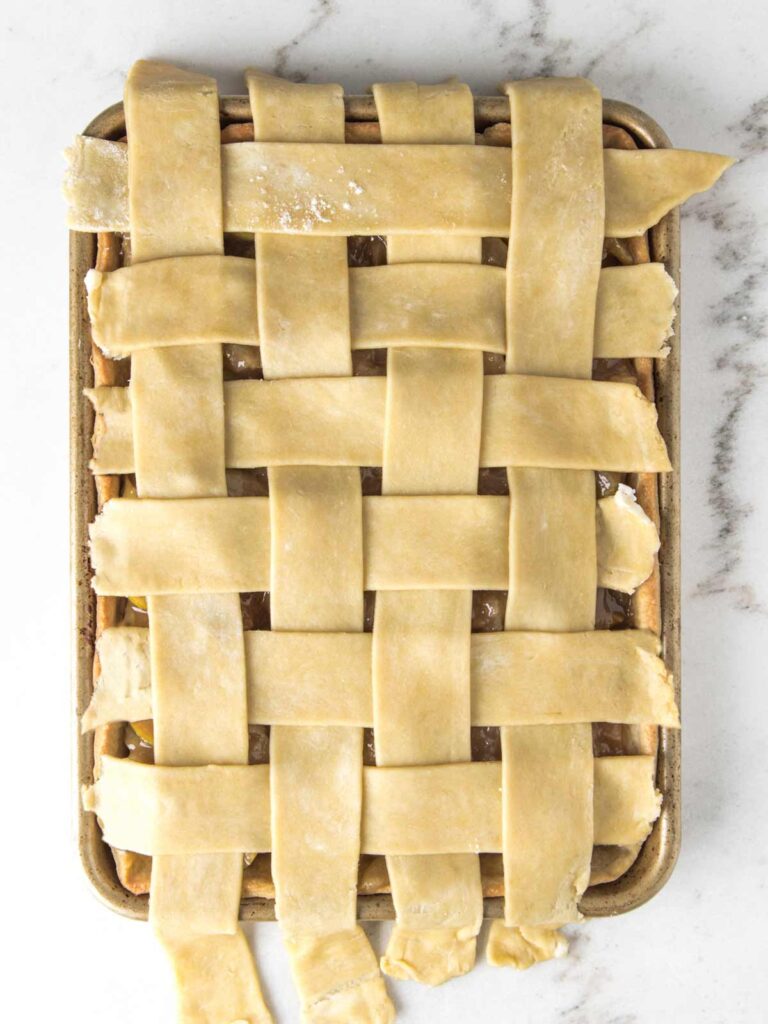 Making Salted Caramel Sauce
The final flourish of this apple slab pie is definitely this salted caramel sauce. Is it optional? Totally, skip it if you are not a caramel fan.
It doesn't take long for this salted caramel to come together, but you do have to baby it, so don't walk away!
To make the caramel, begin by heating granulated sugar in a pretty large, stainless pot (avoid non-stick if possible, 3 quart at least). Gently stir with whisk until the sugar melts and begins to bubble. Keep an eye on the color, giving the pan an occasional swirl, let the sugar darken to a deep amber color. Leaving too long will result in burnt sugar. Pulling too soon will not have that true caramelized flavor.
Add in cold, cubed butter. The mixture will bubble up quite a bit as soon as the cold butter hits the hot caramel. This is why we are using a long pot. Whisk vigorously until the butter is incorporated fully. If the mixture looks like it has split, remove from the heat and keep whisking until the butter completely mixes in. This could take a few minutes. Return to the heat when you have a smooth caramel.
While stirring, slowly pour in the heavy cream. Again, you will see the mixture bubble rapidly. Whisk until you have a smooth sauce. Remove from the heat and add the salt.
Frequently Asked Questions
Can I make this in a half-sheet pan?
Yes, double the recipe for a half-sheet pan!
What do I do with a sticky pie dough when rolling?
Add more flour as you roll, only as much as needed to prevent dough from sticking.
Can I use a store-brought caramel sauce?
Totally, no judgement here if making caramel isn't your preference! You can also skip it entirely.
How do I reheat the caramel sauce?
The caramel sauce will harden when cold (leftover sauce should be stored in the fridge). To return to sauce consistency, I prefer to slowly heat over low heat in a pan, whisking constantly. You can also heat in 30 second bursts on low in the microwave, stirring between, though it's more likely the caramel will split from heating too quickly. If it splits, return to a pan and whisk vigorously over low heat until the sauce comes back together.
Print
Apple Slab Pie with Salted Caramel
Author:

Theresa | Quiet Baking Day

Prep Time:

25 minutes

Chilling Time:

1 hour

Cook Time:

1 hour, 10 minutes

Total Time:

1 hours, 35 minutes

Yield:

9 slices

Category:

Pastry

Method:

Intermediate

Cuisine:

American
---
Description
Serve up a crowd with this apple slab pie! The cinnamon-spiced apple filling and flaky pie crust gets perfectly salted caramel topping!
Equipment Needed: Quarter sheet pan, Pie weights (or uncooked, dried beans)
---
Pie Crust
390

g

all-purpose flour

2 tablespoons

granulated sugar

3/4 teaspoon

baking powder

3/4 teaspoon

salt

240

g

(1 1/4 cup) vegetable shortening, cold and cubed

3/4

cup

cold water

1 1/2 teaspoon

fresh lemon juice

3

large egg yolks
Egg wash (1 egg + 1 tablespoon water)
Sparkling coarse sugar
Apple Filling
1 1/4

cup

apple cider
Juice of 1 lemon

250

g

granulated sugar

3

pounds

granny smith apples, cored and sliced into 1/4″ slices

1 tablespoon

ground cinnamon

2 teaspoons

ground nutmeg

1/4 teaspoon

ground cloves

1/4 teaspoon

salt

2 tablespoons

cornstarch
Salted Caramel Sauce
200

g

granulated sugar

6 tablespoons

unsalted butter

1/2

cup

heavy cream

2 teaspoons

quality flake salt
---
Instructions
Pie crust. Whisk together flour, sugar, baking powder and salt. Rub shortening in with fingers until mixture is sandy with some clumps of shortening left. In a separate bowl, whisk together water, lemon juice and egg yolks. Stir into flour mixture with wooden spoon until dough is just combined. Divide into two disks, wrap in plastic wrap and chill at least 1 hour.
Apple filling. Place 1 cup apple cider, lemon juice and sugar in large saucepan. Bring to a low boil. Toss apples with cinnamon, nutmeg and cloves, and add to boiling mixture. Simmer for 10 minutes, stirring occasionally until apples are just fork-tender, about 10 minutes. Combine remaining 1/4 cup cider and cornstarch, add to apple mixture and boil for 1 minute, stirring constantly. Set aside to cool.
Blind baking. Preheat oven to 450°F. Roll 1 disc of dough to a rectangle large enough to fill sheet pan and up the sides, about 12″x 15″. Trim any excess. Pierce bottom of crust with a fork, top with a sheet of parchment and fill with unbaked, dried beans or pie weights. If crust feels warm, rechill in fridge before baking. Bake for 10 minutes. Remove pie weights and parchment, brush with egg wash and return to oven and bake another 5 minutes, until light golden brown.
Pie assembly. Allow blind-baked crust to cool slightly. Fill with apple mixture (leaving any juices behind). Roll second disc to size of sheet pan. Trim to meet the edge of the bottom crust. Press firmly with finger all around to seal. Slice at least 4 large cuts in top to allow steam to escape. Alternately, you can create a lattice top as described above.
Brush with egg wash and sprinkle with sparkling sugar. Bake at 450°F for 20 minutes, reduce heat to 350°F and bake another 20-25 minutes, until top is deep golden brown and filling is bubbling.
Salted caramel sauce. Place granulated sugar in a large saucepan (3 quart minimum, avoid non-stick). Whisk sugar until dissolved and begins to bubble. Stop whisking. Let bubble until color darkens to a deep amber color, only swirling the pot occasionally. Add butter (mixture will bubble rapidly). Whisk vigorously until combined. If mixture looks split, remove from the heat and continue whisking rapidly. It may take a few minutes for butter to fully combine.
Return to heat and slowly add heavy cream while stirring constantly. Mixture will bubble rapidly again when heavy cream hits the caramel. Boil for 1 minute while stirring. Serve warm.
---
Notes
Unbaked pie crust and filling may be made in advance. Store up to two days and stored in fridge before continuing with step 3.
Store leftover pie in airtight container in fridge.
Store leftover salted caramel in fridge. Reheat in pan over low heat, whisk constantly.
Keywords: mixer-free, fresh fruit dessert, holiday desserts