These Chocolate Crinkle cookies are a deeply chocolatey brownie-like cookie that is coated in powdered sugar before baking for that amazing crackle top. It's a classic cookie that is always a fan favorite!
These Chocolate Crinkle Cookies are the perfect addition to your cookie trays, great for Christmas cookie baking and are so easy to make! The dough takes just minutes to come together and can be made ahead of time. If you are looking for other chocolate fan favorites, also give these Chewy Chocolate Peanut Butter Cookies a try with a marbled cookie effect. Or these equally fudgy Oreo Stuffed Brownies! Or make these portable Chocolate Peppermint Whoopie Pies.
What Makes these Cookies a Classic?
Brownie-esque: The center of these cookies are super fudgy delicious, nearly the texture of a brownie. The process to make these cookies shares some attributes to making brownies even. Melted butter is more common is brownies than cookies, but using this process here gives us a very fudgy cookie texture. The brown sugar doesn't hurt either! The extra molasses in the brown sugar makes the filling extra ooey-gooey.
Chocolatey. A dutch-processed cocoa powder lends a deeper chocolatey flavor. A bit of extra espresso powder really amps up the chocolate flavor. You can use a natural processed cocoa as well, but I'm really crazy about the richness of the Dutch-processed cocoa. If you are interested in a more in depth discussion to two cocoa varieties, check out King Arthur's article on the topic. Because these cookies don't have much baking soda, the acidity is not an issue here!
Built-in Prettiness: A confectioners' sugar, aka powdered sugar, coating before baking not only adds a sweetness, but the end result is a glamorous black-and-white crackle design that looks beautiful with basically zero effect.
How to Get the Crackle Top?
We can't have a Chocolate Crinkle Cookie without the distinguishing crackle top! I tested a few methods to yield a really distinctive black-and-white contrast, which is what we are looking for, right!? Coating the rolled cookie dough in confectioners' sugar before baking is what gives us this crinkle effect. As the cookies spread in the oven, the coating of sugar will crack, exposing the fudgy chocolate below.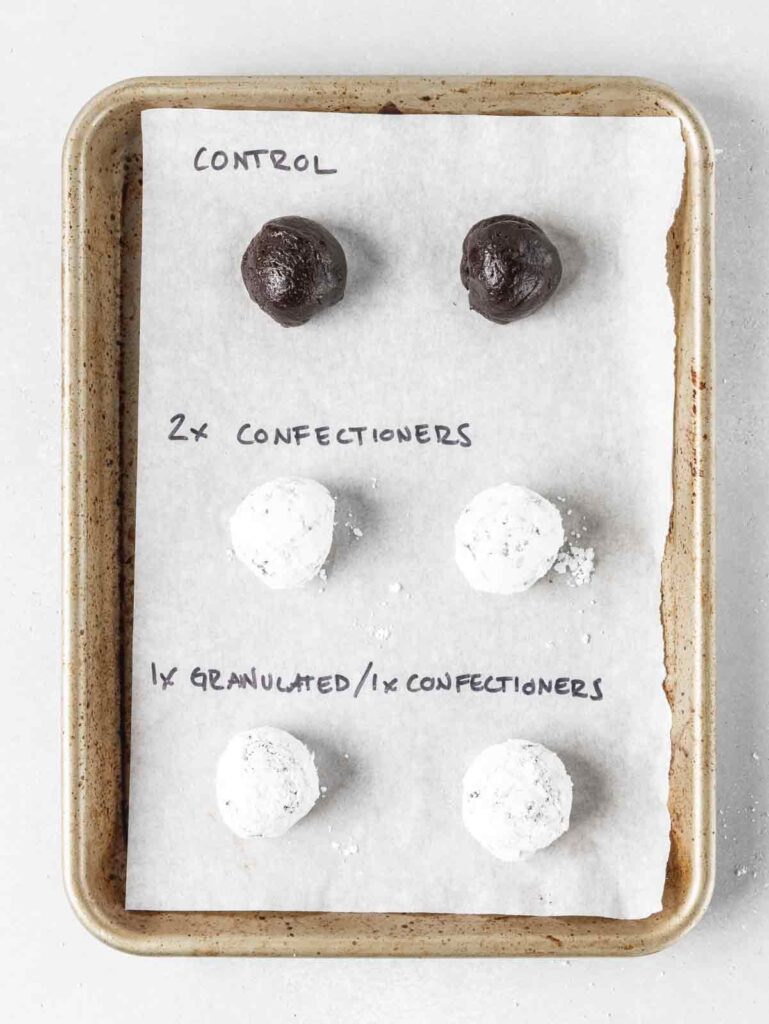 You can see in the below, I tested one control cookie without any sugar coating, a single coating of confectioners' sugar, a double coating of confectioners' sugar, and a two-style coating of sugars. Here's my super very scientific results:
Control Cookie: No coating was added to these before baking. Super delicious test and basically a brownie cookie. Oh noooo (she said sarcastically, they were still devoured.)
Single Coat: I rolled these in one heavy coating of confectioners' sugar. Confectioners' sugar tends to melt when it hits moisture. Have you ever made a glaze of sugar and milk and watched all the powdery sugar disintegrate into nothing? It's sorta the same theory here. The sugar is touching the moisture in the cookie dough and melting into the dough. Still tastes delicious, but not so pretty.
Double Coat: For these, I rolled all the cookie dough scoops in one heavy coat of confectioners' sugar, then started back at the beginning and repeated it a second time. This gave the first layer a few minutes to "set" into dough while I worked through the remaining scoops and creates a barrier to the final layer so it stays gorgeously intact through baking.
1 Coat Granulated, 1 Coat Confectioners': For this method, I tried an initial coating of granulated sugar, and a second layer of confectioners' sugar on top. The theory was the granulated sugar would create a non-melting barrier between the cookie dough and the confectioner's sugar. It was very successful in the end!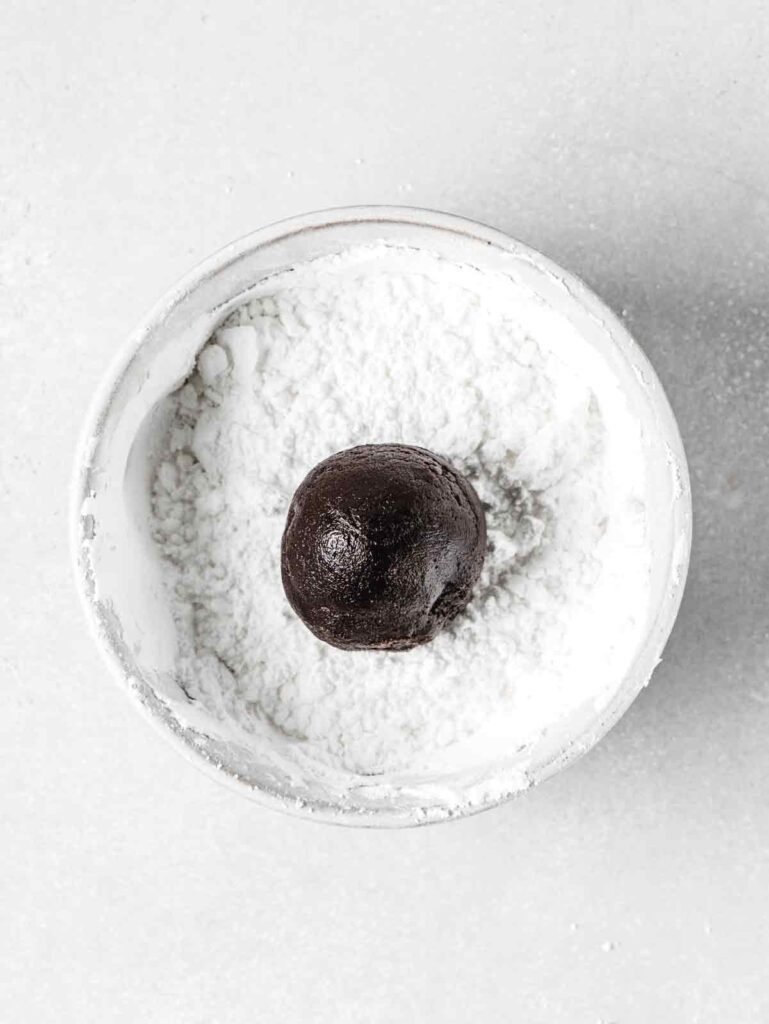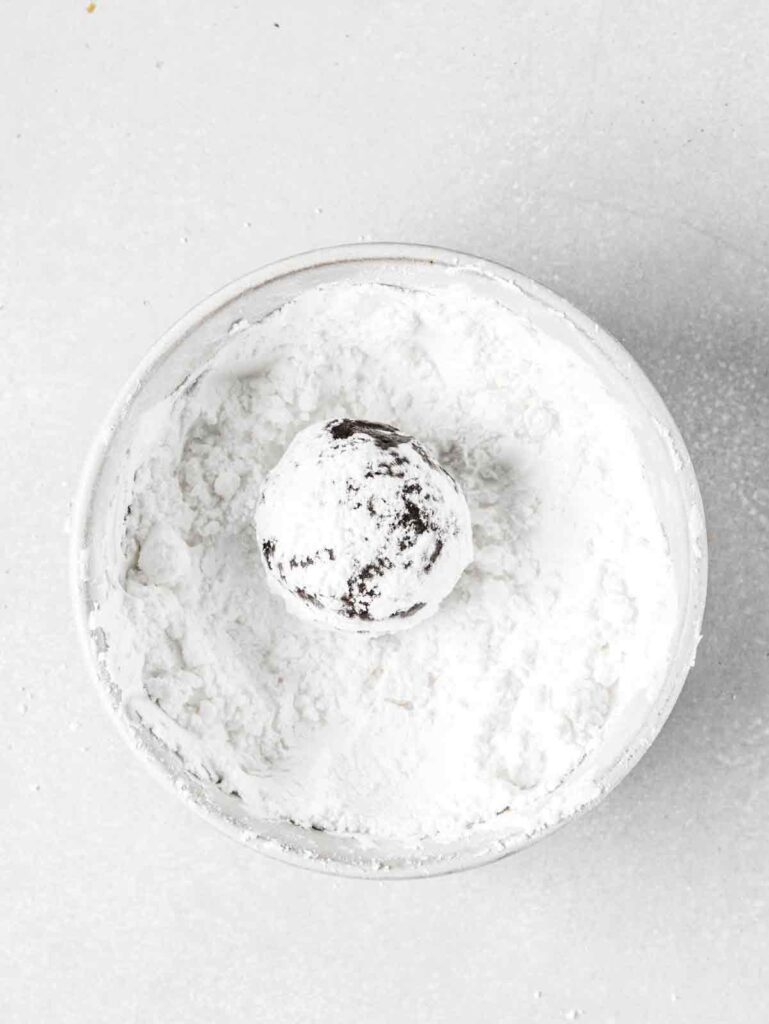 The final results? Both the double coating of confectioners' sugar and the mixed sugar technique were equally successful in a very delicious sweet coating of sugar with a lovely crinkle. Since we are not using granulated sugar anywhere else in the recipe, I didn't think it was worth bringing another product to the party without a good reason, so double coat wins!
Frequently Asked Questions
Can I substitute natural cocoa powder for the Dutch-processed cocoa?
You can use natural cocoa powder here as well, absolutely, it would be a 1:1 swap. However, it's easy to find Dutch-processed cocoa at the grocery store and it really amps up the chocolate factor here. These cookies really depend on a strong chocolate flavor. Look for Dutch-processed or "special dark" at the stores.
Why is there espresso powder in the recipe?
The espresso powder is completely optional. A bit of coffee will only enhance the chocolate flavors, not create a "mocha" flavor.
Why isn't the "crackle" isn't very distinctive?
You need two very heavy-handed layers (see above) of the confectioners' sugar to create a great crinkle. Don't be shy while rolling.
Why is the dough so sticky?
The melted butter in the recipe makes for a great cookie texture, but it will be quite sticky right after making. You really need at least 3 hours for the dough to become easy to handle. This also helps the flavors to develop, so win-win!
Print
Chocolate Crinkle Cookies
Author:

Theresa | Quiet Baking Day

Prep Time:

5 minutes

Chilling Time:

3 hours

Cook Time:

13 minutes

Total Time:

3 hours, 18 minutes

Yield:

20 cookies

Category:

Cookies

Method:

Easy

Cuisine:

American
---
Description
These Chocolate Crinkle Cookies are a classic! A brownie-like cookie is coated in powdered sugar to create its distinctive crackle top.
---
210

g

all-purpose flour

1 teaspoon

baking soda

1/2 teaspoon

salt

113

g

unsalted butter, melted and cooled

42

g

Dutch-processed cocoa powder

2 teaspoons

espresso powder (optional)

160

g

brown sugar, packed

2

eggs, room temperature

85

g

confectioners' sugar, for coating
---
Instructions
Sift together flour, baking soda and salt and set aside.
In the bowl of a stand-mixer fitted with a paddle attachment, or with a hand-mixer, beat together melted butter, cocoa powder, espresso powder (if using) and brown sugar until mixture is shiny. About 1-2 minutes. Add eggs one at a time until combined. Slowly stir in the flour mixture, scraping down the sides of the bowl as needed. Cover and refrigerate for at least 3 hours or up to 2 days.
When ready to bake, preheat oven to 350°F and line two baking sheets with parchment paper. Using a standard, 1 1/2 tablespoon cookie scoop, scoop the dough into 20 cookies. Quickly working with your hands, give the cookie scoops a quick roll into a ball, then dredge in confectioners' sugar with a heavy first coating of sugar.
Repeat for all cookies. Then roll each cookie a second time in a heavy coating of confectioners' sugar again, starting back at the beginning with the first cookie. Place on prepared baking sheets with at least 2″ between each cookie to allow room for spreading.
Bake for 11-13 minutes, until the outside is just set and center is still slightly soft but not gooey. Let cool 5 minutes before transferring to a cooling rack.
---
Notes
Unbaked cookie dough can be frozen. Scoop chilled cookie dough onto baking sheet and freeze in a single layer (do not coat in confectioners' sugar yet). Transfer to a ziplock bag once fully frozen. Defrost cookie dough in the fridge, in a single layer, the day before using, continue with coating in confectioners' sugar and baking as above.
Store baked cookies in an air-tight container for up to 1 week.
Keywords: easy dessert, christmas cookies