Nothing says summer more than s'mores and ice cream. This homemade s'mores ice cream is sure to bring all the summer vibes with a chocolate ice cream, fudge ripple, marshmallow swirl and some graham cookie bits to really top it off! The best part, this is an easy make-ahead dessert that doesn't require any special equipment!
The basics of s'mores are simple. A graham cracker, piece of chocolate, and a toasty marshmallow. But, if you're like me, I sometimes find the textures laking. The chocolate never melts quite right. The marshmallow is either not melted enough or too toasted. This s'mores ice cream takes the great flavors and turns them into an amazing, no-fail, summery dessert.
You can also try these Ultimate S'mores Cupcakes for another great variation.
No-Churn Ice Cream
Traditional ice cream is made with an egg custard base that is slowly frozen in a machine. And it's delicious. But I seriously do not have space in my kitchen for an ice cream maker. There's only so many cabinets and that certainly doesn't make the cut.
Instead, we're going to do a little cheat. A combination of sweetened condensed milk and whipped cream will give us a really great ice cream. The whipped cream will provide some lightness and the sweetened condensed milk will give a silky smooth sweetness. The final result is a perfectly easy substitute for a machine-made ice cream!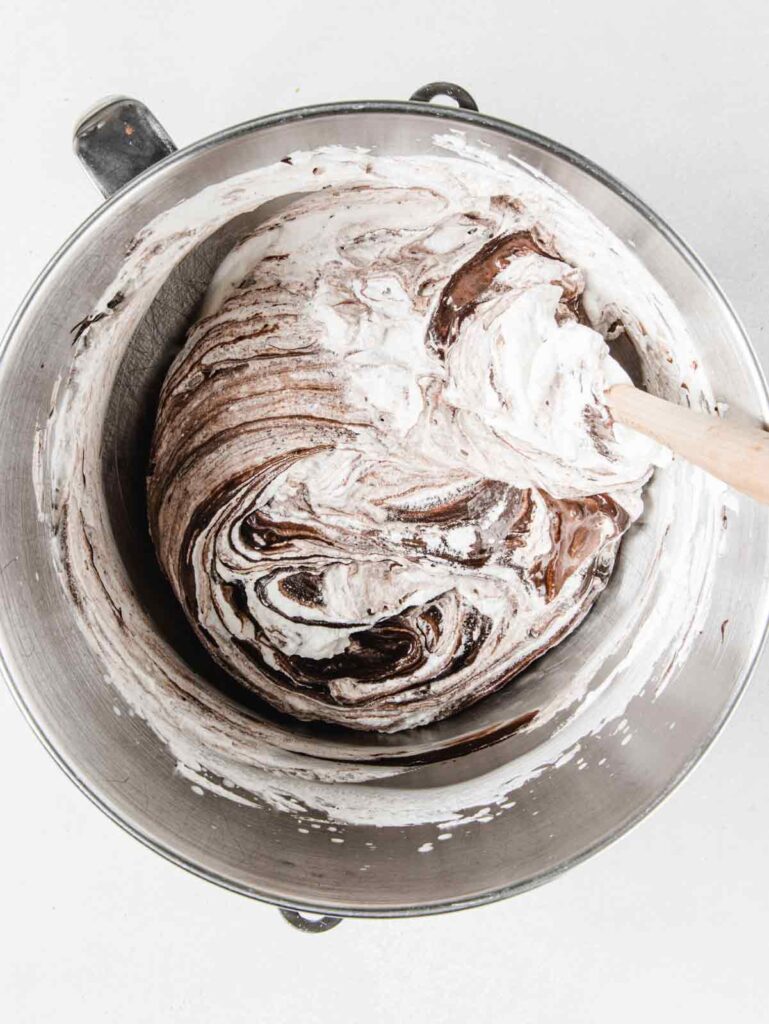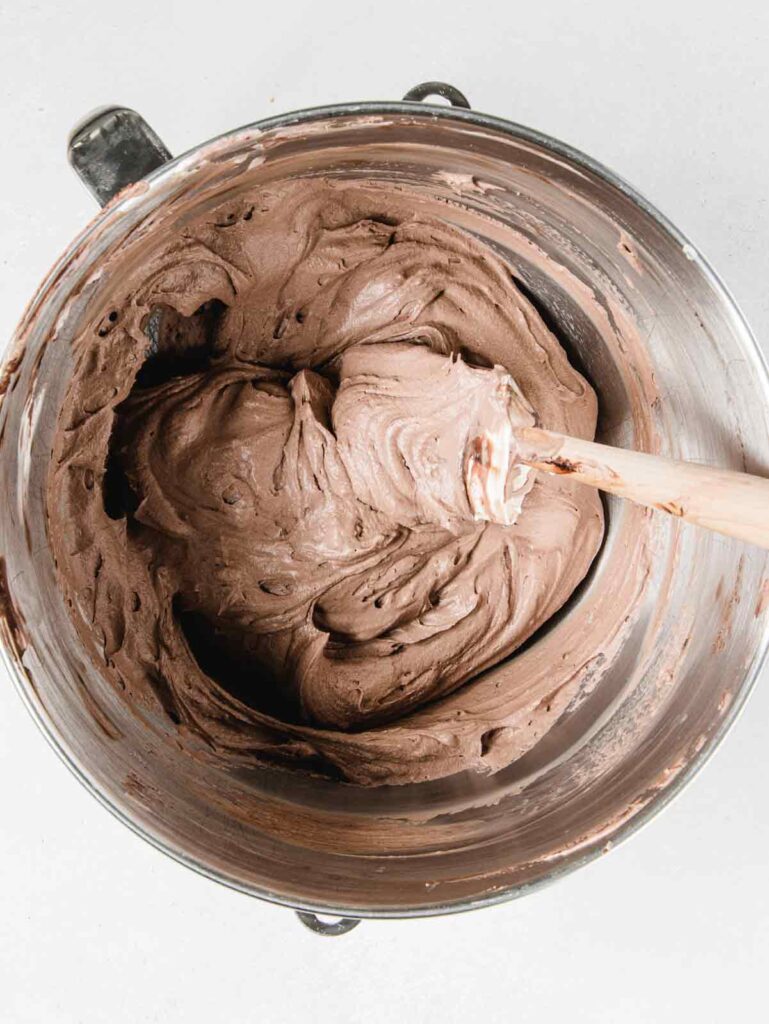 S'mores Toppings
We can't make a s'mores ice cream without some s'mores toppings! Of course we have a chocolate ice cream base, because it's obviously delicious, but we're just getting started. We'll make a quick fudge ripple sauce, some graham cookie crumbles, and there will of course be marshmallow swirls!
Fudge Ripple
This fudge ripple is a spin on a chocolate syrup. There's one small difference, this has golden syrup added. The syrup will give the fudge a sturdier texture and help it hold its shape while swirled into the cream.
Here's my tip, use a larger pan than you think to make the fudge! The mixture will really bubble and froth as you are simmering in the pan. Other than that, it couldn't be easier to make your own fudge syrup! Let the mixture simmer down for a few minutes to thicken, then cool.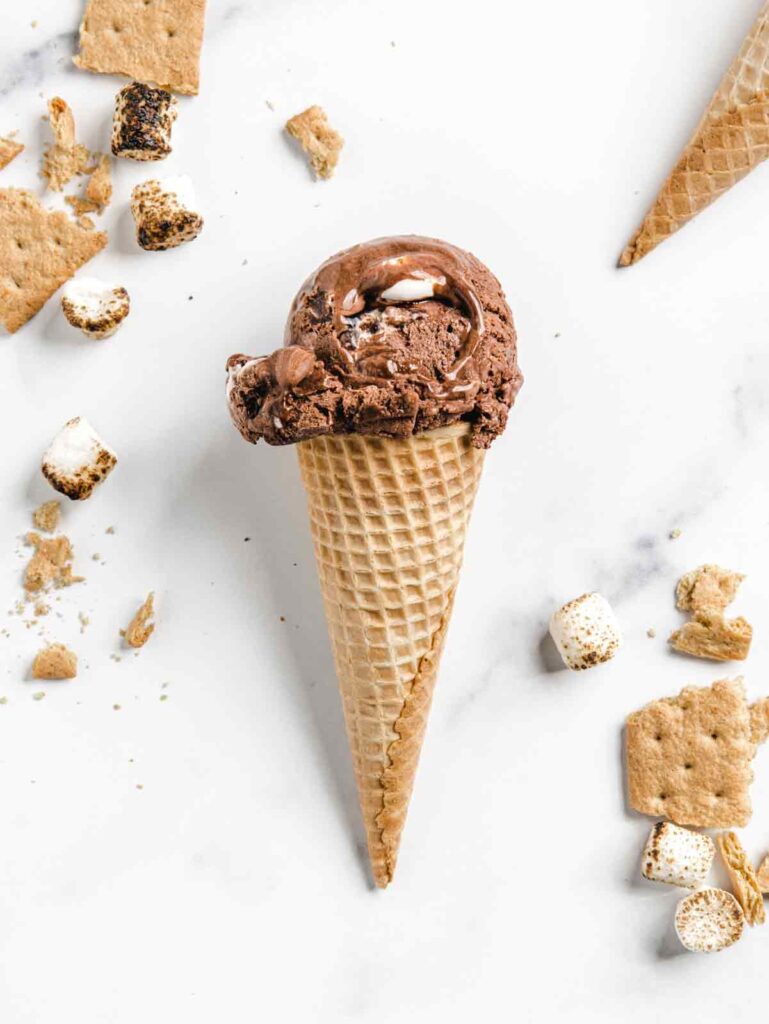 Second tip, add the vanilla at the end of cooking so the flavor doesn't burn away.
This will make a larger batch than you need for inside the ice cream – you need some for topping on the scoops too! Plus it stores in the fridge beautifully, so you can easily make this well in advance.
Graham Crumbles
To give little cookie bits throughout the mixture, we'll create a quick cookie crumble. Just some graham cracker crumbs, sugar and melted butter. Using a fork is the best way to get the crumbly texture. You want some larger bits of cookie to stir through the ice cream so you can really taste it throughout.
If the crumbles aren't holding together right away, you might need to let the butter in the mixture cool a bit longer. Let it sit a few minutes before coming back to create the crumble again.
Creating the Ice Cream
Ice cream is best when you can see the swirls of ingredients, so a light touch is key! Instead of mixing in all the toppings in a big batch, instead we will layer and delicately swirl them in.
Place a layer on the bottom of your pan with 1/3 of the chocolate ice cream base. Drizzle spoonfuls of fudge on top and small dollops of the marshmallow cream. Holding a knife straight up and down, give a light swirl, just enough to still see the toppings clearly.
Repeat this with two additional layers. Now comes the tough part, you need to let it freeze into an ice cream! It will need at least 8 hours to set through, making this a great make-ahead option for any event!
Looking for other great summer ice cream recipes? Give these Strawberry Ice Cream Sandwiches a try!
Frequently Asked Questions
What if I don't have a 9″ x 5″ loaf pan?
Technically, anything freezer-safe will work! Use what you have. A large cake pan, glass storage containers, get creative!
Can I use store-bought fudge instead?
Absolutely! Use what you like!
Print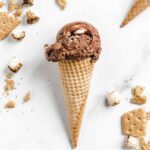 Homemade S'mores Ice Cream (No Churn)
Author:

Theresa | Quiet Baking Day

Prep Time:

20 minutes

Chilling Time:

10 hours

Cook Time:

5 minutes

Total Time:

10 hours, 30 minutes

Yield:

About 16 scoops

Category:

Desserts

Method:

Easy

Cuisine:

American
---
Description
This homemade s'mores ice cream gives all the summer s'mores vibes, with a chocolate base, fudge and marshmallow swirl and graham crumbles!
Equipment: 9″ x 5″ loaf tin
---
Fudge Ripple*
1/2

cup

water

1/4

cup

golden syrup or corn syrup

1/2

cup

granulated sugar

1/2

cup

unsweetened cocoa powder**

1/2 teaspoon

salt

1/2 teaspoon

vanilla extract
Graham Crumbles
5 tablespoons

graham cracker crumbs

2 tablespoons

brown sugar

1/2 teaspoon

ground cinnamon

1/4 teaspoon

nutmeg

3 tablespoons

unsalted butter, melted
Chocolate Ice Cream
1

14

–

oz

. can sweetened condensed milk

42

g

unsweetened cocoa powder**

2

cups

heavy cream, chilled

1 teaspoon

salt

2 teaspoons

vanilla extract

54

g

marshmallow creme
Optional toppings: mini marshmallows, graham crackers
---
Instructions
Make ahead. Fudge Ripple. In a medium sauce pan, combine water, syrup, sugar, cocoa powder and salt. Bring to a boil, then reduce heat to a simmer for about 5 minutes. Whisk consistently. Mixture will be frothy as it simmers. Remove from heat and add vanilla. Allow to chill and thicken in fridge for a least 2 hours or up to two weeks in advance.
Graham Crumble. Mix together dry ingredients with fork. Stir in melted butter. Create crumbs with fork, set aside.
Chocolate Ice Cream. In a small bowl, stir together sweetened condensed milk and cocoa powder. And a separate bowl, whip heavy cream until stiff peaks form. Blend in cocoa powder mixture, salt and vanilla. Stir in graham crumbles
Assembly. Spread 1/3 of the ice cream into the loaf pan. Drizzle fudge ripple and dollops of 1/3 of the marshmallow creme. Using a knife, lightly swirl together. Repeat with 3 total layers.
Wrap in plastic and freeze for at least 8 hours before serving.
---
Notes
*This will yield more fudge than needed in the ice cream. Keep the remaining as a topping!
**I prefer special or Dutch-processed, but natural cocoa powder will also work
Store in freezer
Keywords: summer desserts, no bake desserts