Bring the campfire indoors with this S'mores Cupcake. A graham cracker cake is filled with a smooth chocolate ganache filling and topped with a marshmallowy meringue buttercream.
S'mores are the pinnacle of summertime treats. But seriously, who has a campfire on hands at all times to cure those cravings at any given moment? These s'more cupcakes are the answer! No fire is needed to make these babies. Using a variation of a classic Swiss Meringue Buttercream to give that quintessential marshmallow texture on top, these s'mores cupcakes hit all the right summer notes. Go crazy and top them with a little extra Homemade Chocolate Syrup to really take things to the next level.
Ingredients for S'mores Cupcakes
S'mores are pretty simple on their own: graham crackers, chocolate bar, and marshmallow. We will need a few extra for our s'mores cupcakes, but the end result is so much better than the original. And my motto is – don't bother reinventing it if it's not better. These are better.
Cupcakes
Graham cracker crumbs. You can buy these already crumbled, but if you have a food processor available, I think blitzing down the original crackers into a flour is better – both texture and flavor-wise.
Cake flour. If you used only graham crackers, you'd end up with a hockey puck of a cupcake. The light and airiness cake flour provides balances out the crumbs nicely.
Unsalted butter and vegetable oil. Using butter and oil is the best of both words. You get all the flavor of butter, but the extra moisture oil brings to the party.
Baking Powder. For the rise! Baking powder helps baked goods pop up, so you get that classic lightly domed top of a cupcake.
Granulated Sugar.
Eggs. Eggs help to add richness to the cake, but also structure.
Salt, cinnamon, vanilla extract. Our flavors! I don't know why, but I always want to add a pinch of cinnamon to graham crackers. so I added it here. You can omit it if you are normal and don't have these urges.
Whole milk and sour cream. These guys bring the moisture and moisture brings a soft and fluffy cupcake.
Filling
A ganache makes for a great cupcake filling. Ganache is made with just heavy cream and chocolate. We are going to use a 1:1 ratio of the two for a softer cooled filling (you don't want to bite into a cupcake and hit a block of hardened chocolate!)
Chocolate bars. Classic s'mores are made with milk chocolate candy bars. I opted for a semi-sweet chocolate, but you can use a dark chocolate if you prefer the more bitter varieties. The most important thing is to get a quality baking chocolate bar – not chocolate chips or a candy bar. These are made with emulsifiers that are meant to prevent melting and we want a nicely melted chocolate.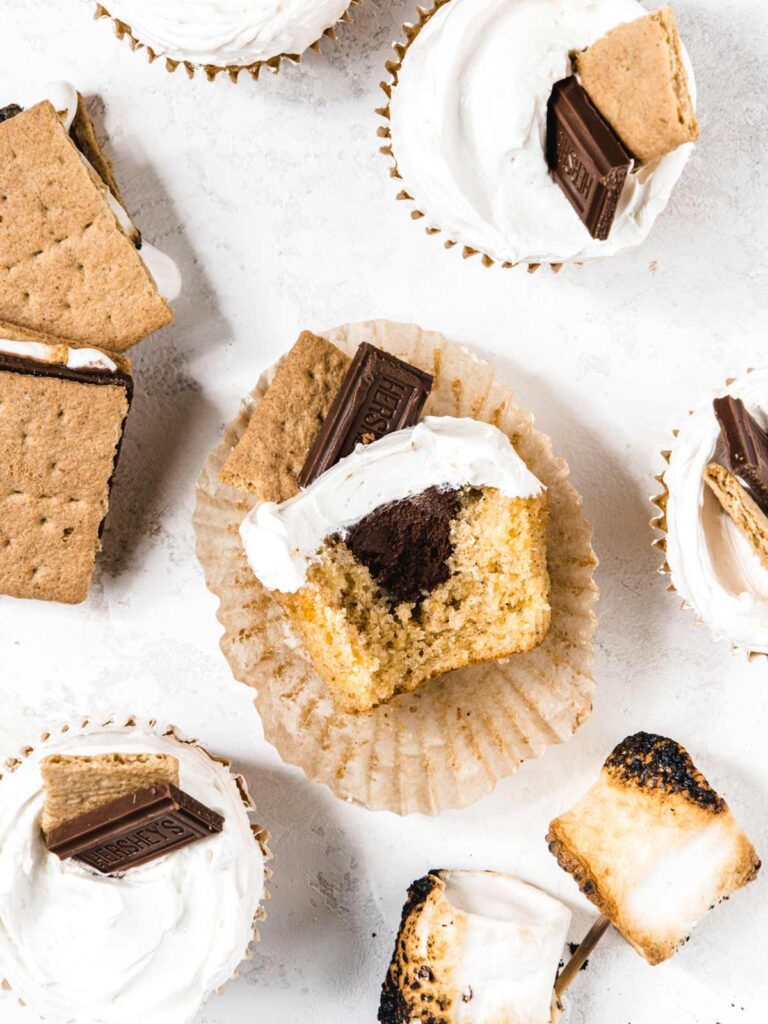 Buttercream
S'mores have marshmallows. Marshmallows are meringue with a gelatin added so they become stable. Instead, we're using a Swiss meringue buttercream, which has the same meringue base, but with butter added to make it A) slightly more like a typical icing and B) more stable so they last longer. Meringue on its own can start to break down pretty quickly, especially if you live in a warm and humid area. This recipe has less than a typical Swiss meringue buttercream so the meringue can shine a bit more.
Egg white and granulated sugar. The basis of all meringues.
Unsalted butter.
Salt and vanilla extract. For flavor!
Making Cupcakes
To Make the Cupcakes
The process to make these cupcakes follow my standard cake recipe, but some of the flour is swapped for graham cracker flour. So easy! Start by whisking together all your dry ingredients and set aside. In the bowl of a mixer, whip together the butter and granulated sugar until light and fluffy.
Add the oil, then the eggs and vanilla until thoroughly mixed. Alternate adding the dry ingredients and the milk, starting and ending with the dry ingredients. Stir in the sour cream by hand with a rubber spatula. This process of alternating dry and wet ingredients ensures the mixture doesn't split and the flour doesn't overwork and become tough.
Mixing the last few stirs by hand not only ensures you get all the doodle off the bottom of the bowl, but again prevents overmixing.
To Make the Filling
While your cupcakes are baking, make the ganache. Warm the heavy cream until just simmering and pour over the finely chopped chocolate. Let sit for 2-3 minutes minutes to allow the chocolate to melt.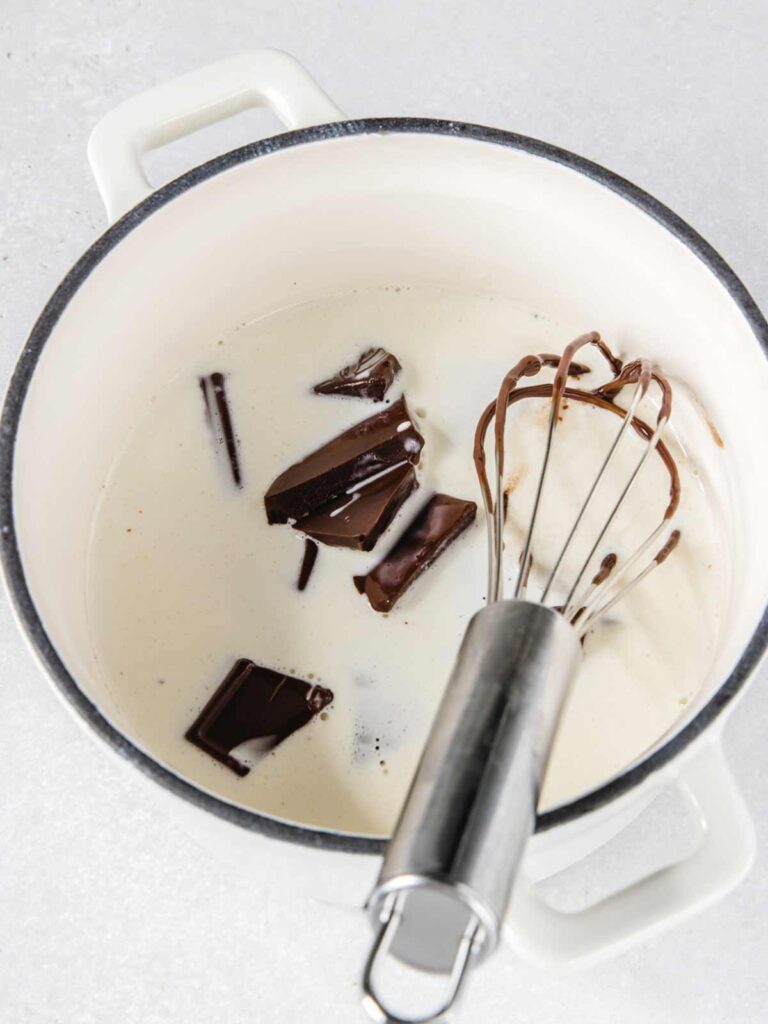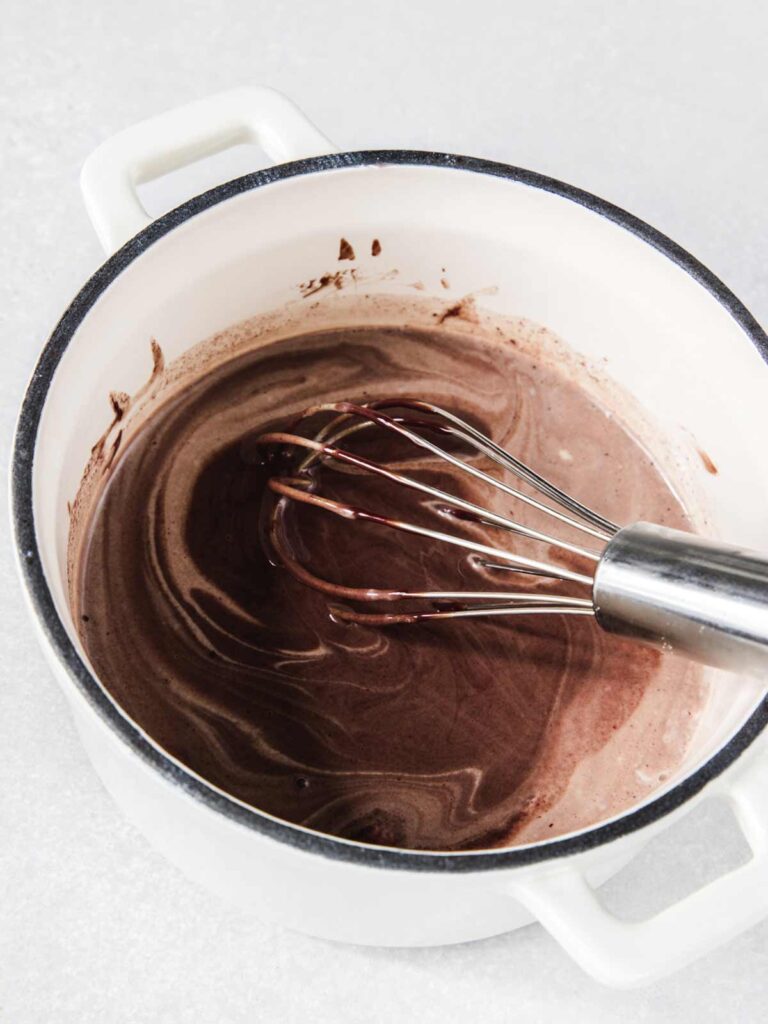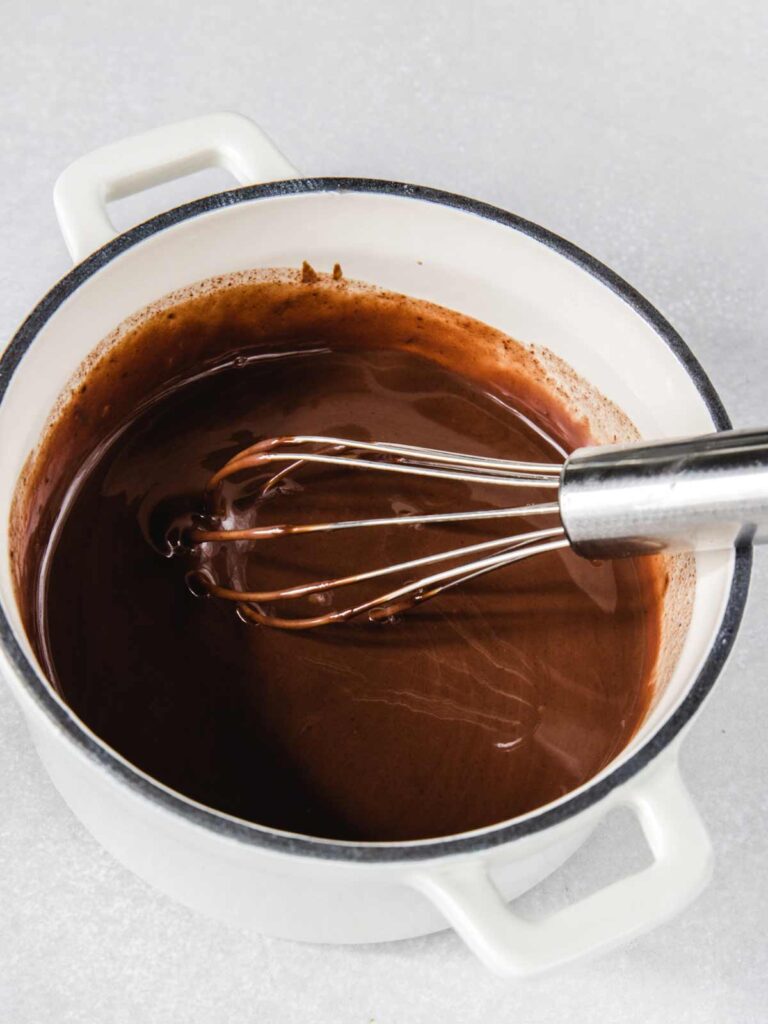 With a whisk, start in the center with very small concentric circles, gradually getting larger as you see the chocolate and heavy cream come together in a silky chocolatey ribbon. Set aside to cool completely.
To Make the Buttercream
Next, make the buttercream! You can find a more thorough discussion on my Swiss Meringue Buttercream recipe page, but here are the highlights! Place your egg whites and sugar in the bowl of a stand mixer.
Set the mixture over a small pot of simmering water, making sure the water doesn't touch the bottom of the bowl. Whisk the egg whites constantly and gently until the mixture reads 165°F on an instant thermometer.
This process will gently warm the eggs to a safe level to consume without making scrambled eggs.
Transfer the bowl to the stand mixer and let whip until room temperature and egg whites are light and airy, about 10 minutes. Slowly add one tablespoon of softened butter at a time.
Whip until the mixture comes together, do not fret if it looks curdled! This is normal! Once the butter has fully incorporated and you have a silky buttercream, add the vanilla and salt.
Assembly
Once the ganache is cooled to room temperature. Whisk together to create a pipeable chocolate. Using a sharp knife, cut the center of the cupcake out, going only about halfway down. Using a small spoon, or place the ganache in a Ziploc or piping bag, fill the center of the cupcake.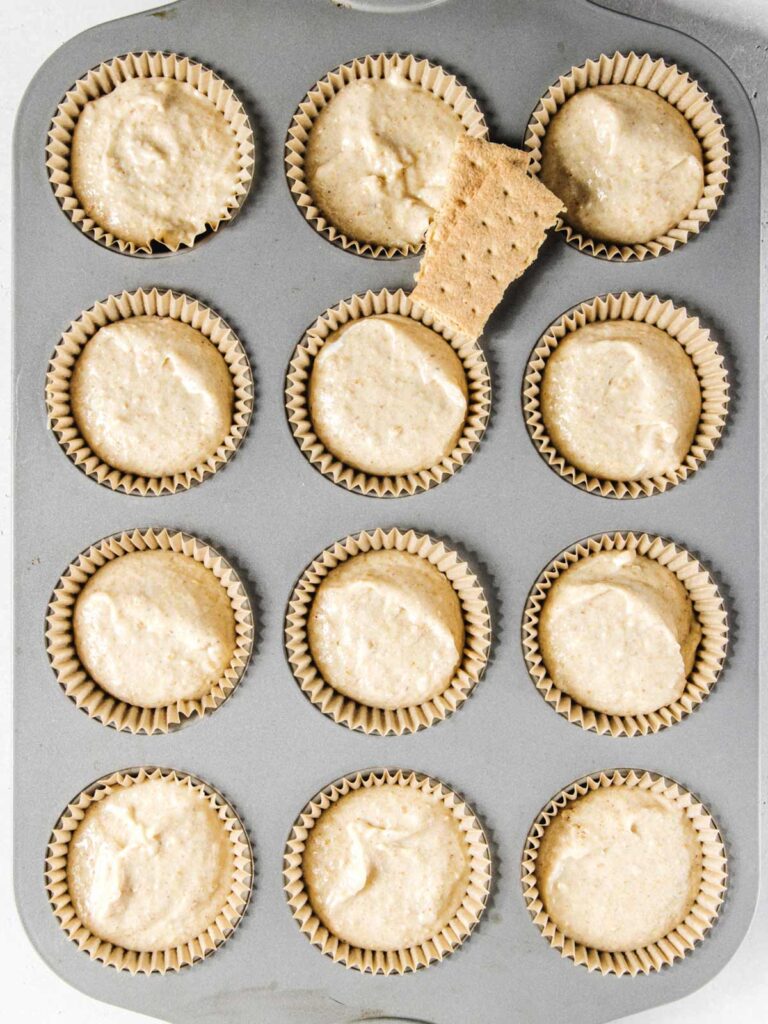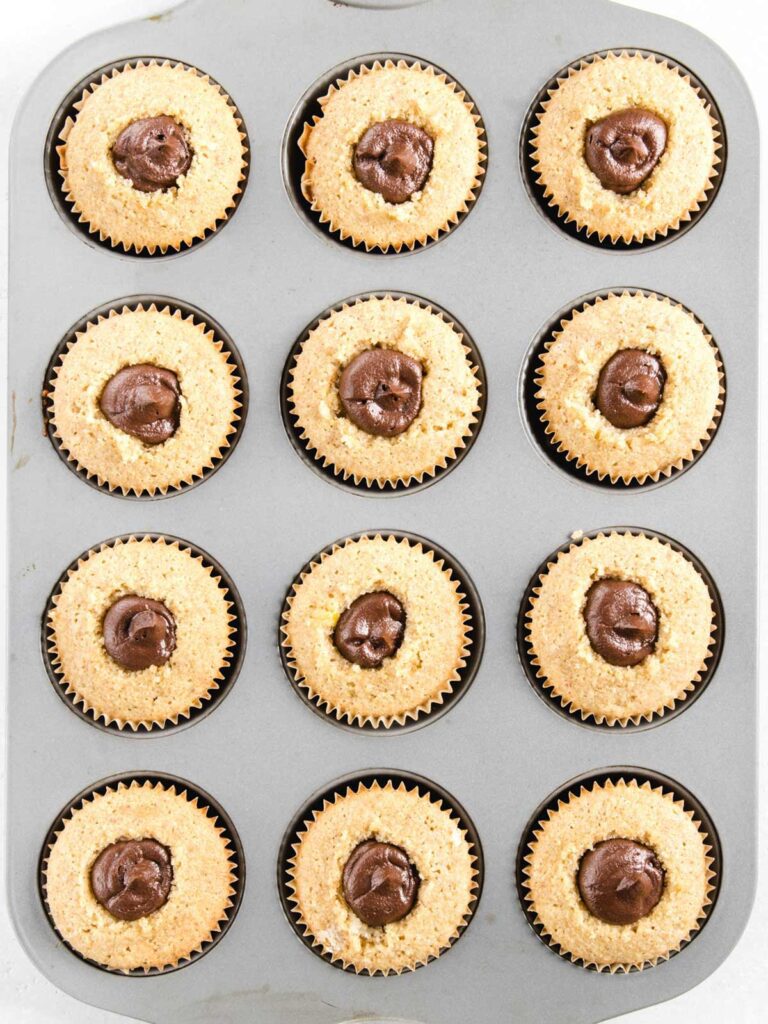 Pipe or spread the icing on the cupcakes as desired (I used an offset spatula) covering the ganache. Top with chocolate squares, graham crackers, mini marshmallows or chocolate syrup as you choose!
Storage
Cupcakes are always best enjoyed the day off. Store any extra cupcakes covered in the fridge for up to 3 days and allow to come to room temperature before enjoying.
Un-filled and un-iced cupcakes can be stored in the freezer, tightly wrapped for up to 3 months. Allow to thaw overnight in the fridge before filling and icing.
Frequently Asked Questions
Can I substitute all-purpose flour if I don't have cake flour?
You sure can! Measure out the amount of flour and swap two tablespoons of flour for two tablespoons of cornstarch. And voilà! You've made a DIY cake flour!
Can I just top the cupcakes with meringue?
Absolutely! Follow the same process to make the buttercream, stopping before you add the butter. Just whip the warmed egg whites and sugar until cool, and add the vanilla extract and salt, top the cupcakes and serve! I recommend doing this right before serving as the meringue can start the wilt over time.
Why does my buttercream look curdled?
This is TOTALLY and COMPLETELY normal! It takes a few minutes for the fat in the butter to come together with the meringue, never fear, just keep whipping away and it'll come together. If it hasn't come together after 10 minutes of heavy whipping, feel your bowl. If it feels cold to the touch let it warm up for 10 minutes before continuing to whisk. Alternatively, if the bowl feels warm, pop it in the fridge for 10 minutes before coming back to rewhip again.
What do I do if my eggs get too hot and start to scramble?
Remove from the heat immediately. If you have just a few bits of cooked egg, strain it out and continue along. It happens to the best of us.
What do I do if my chocolate isn't fully melted after letting it sit for 3 minutes?
Pop the bowl in the microwave on LOW for 10 seconds at a time. Whisk until smooth and silky.
Looking for other summer vibed desserts? Try these Brown Butter Rice Krispie Treats or this No-Churn S'mores Ice Cream too!
Print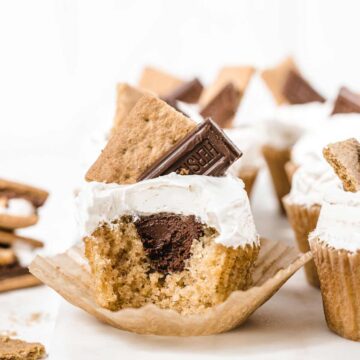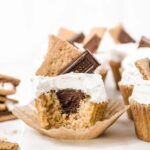 The Ultimate S'mores Cupcake
Author:

Theresa | Quiet Baking Day

Prep Time:

25 minutes

Cooling Time:

1 hour

Cook Time:

20 minutes

Total Time:

1 hour, 45 minutes

Yield:

16 cupcakes

Category:

Cake

Method:

Intermediate

Cuisine:

American
---
Description
A light and fluffy graham cupcake is filled with chocolate and topped with a marshmallowy icing for the Ultimate S'mores Cupcake experience.
---
Cupcake
120

g

cake flour

120

g

graham cracker crumbs

1 3/4 teaspoons

baking powder

1/2 teaspoon

salt

1/2 teaspoon

cinnamon

113

g

unsalted butter, room temperature

248

g

granulated sugar

1/4

cup

canola or vegetable oil

3

eggs, room temperature

2 teaspoons

vanilla extract

1/2

whole milk, room temperature

113

g

sour cream, room temperature
Ganache Filling
1/2

cup

heavy cream

113

g

semi-sweet chocolate, chopped finely
Swiss Meringue Buttercream
150

g

(scant 1/2 cup) egg whites, room temperature

297

g

granulated sugar

339

g

unsalted butter, cubed, room temperature

1 tablespoon

vanilla extract

2 teaspoons

salt
Optional Toppings: chocolate squares, graham cracker squares, homemade chocolate syrup
---
Instructions
Cupcakes: Preheat oven to 350°F. Line 2 cupcake trays with 16 cupcake liners. Sift together flour, graham cracker crumbs, baking powder, salt and cinnamon, set aside.
Whip together butter and sugar in the bowl of a stand mixer with paddle attachment or with a hand mxier on medium high until light and fluffy, scraping down the bowl as needed, about 5 minutes. Add oil, then eggs and vanilla extract, mixing on low until combined.
Add dry mixture and milk, alternating dry-milk-dry: Add 1/3 of the dry ingredients. 1/2 of the milk, repeating to add the next portion once the previous is almost combined. Stir in the sour cream until fully combined by hand.
Fill the cupcake liners 2/3 full. Bake 20-22 minutes until the cupcakes spring back when touched and a toothpick comes out clean.
Ganache: While cupcakes are baking, make the ganache. Heat the heavy cream until just simmering. Pour over the chopped chocolate and let sit for 2-3 minutes. With a whisk, start whisking in the center of a bowl in small concentric circles. Increase the size as the chocolate begins to mix with the cream and becomes shiny. Set aside to cool completely before using, about 1 hour.
Swiss Meringue Buttercream: Place egg whites and sugar in the bowl of a stand mixer. Set the bowl over a pot of simmering water, ensuring the bowl does not touch the water. Constantly stir until the egg whites reach a temperature of 165°F. Once warmed, transfer to a stand mixer and whip with the whisk attachment on high until the mixture is room temperature and the meringue to light and silky.
Add one tablespoon of butter at a time and whisk until fully incorporated (mixture may look curdled while butter is mixing, this is normal). Once the buttercream comes together, add vanilla and salt.
Assembly: Once all components are completed and cooled, use a sharp knife or cupcake corer to cut the center of the cupcake out, making sure not to cut through to the bottom. Whisk the ganache to loosen to a pipeable consistency, fill the center of the cupcake with a spoon or piping bag. Top with the buttercream and toppings as desired.
---
Notes
Cupcakes are best served the day of. 
Store leftover cupcakes in fridge for up to 2 days in an airtight container. Allow to come to room temperature for an hour before enjoying. 
Baked, unfilled and un-iced cakes can be frozen in freezer-safe bag. Defrost overnight in fridge.
Keywords: summer recipes, campfire recipes