With a deep, rich pumpkin cake, a swirl of cinnamon in the center, and a big ol' brown sugary crumb topping, this Pumpkin Coffee Cake screams autumn!
Everyone can agree that fall baking is, in itself, a whole vibe. The warm spices, the pumpkin flavors, the smells of cinnamon throughout the house – it really cannot be beaten. Like these Apple Cinnamon Scones or Apple Cider Donuts, this pumpkin coffee cake is all those amazing fall baking pieces mixed into one.
Pumpkin Cake
This coffee cake is fantastic for an early morning baking project. No fancy equipment is needed and comes together easily. I've called out for several individual spices in the recipe, but if you have some pumpkin pie spice blend on hand, please feel free to swap that in place (see notes for details).
Whisk the spices together with your flour and rising agents – the baking soda and baking powder.
In a second bowl, we will whisk together the wet ingredients, including the pumpkin. It's important to use pumpkin puree, and *not* pumpkin pie filling. I use the same filling in this pumpkin cheesecake.
They sit next to each other in the baking aisle and the two cans look exactly the same, so pay close attention when grabbing.
Not that I would ever admit to making the mistake of grabbing the wrong one, but let's just say, it can happen. Want to skip the canned version and roast and puree your own pumpkin? Canned pumpkin is one of the few times I think the canned version is better and easier, to be honest, but I won't stop you!
The pumpkin replaces a lot of the oil and eggs traditionally found in cake, to create moisture and richness on its own. So we're going to add a small amount of eggs for structure and a little oil. You might also be surprised to find whipped cream in the recipe.
You might even think I've lost my mind. But this is a little trick I picked up from Shirley Corriher's cookbook Bakewise (a fantastic book for those who are interested in the science behind the bakes). The whipped cream makes the cake super moist, but whipping it first helps to lighten the cake too. It's really a win-win and worth the extra step.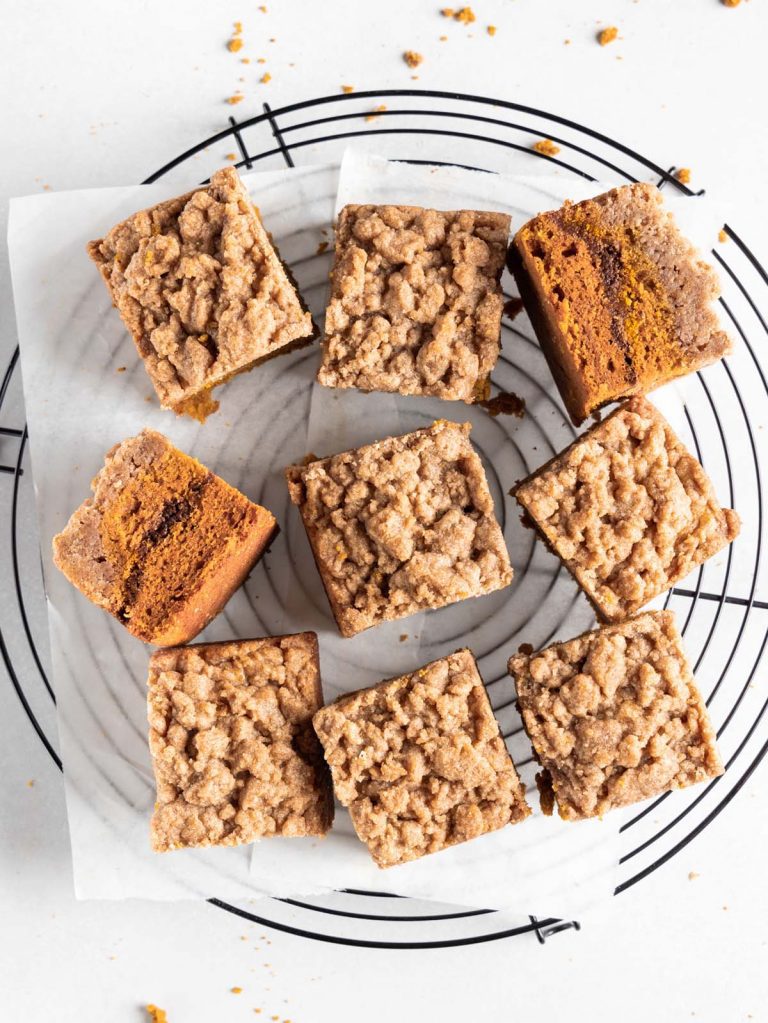 Cinnamon-izing
You will noticing there is cinnamon throughout this recipe, but not a lot within each step. This is to make sure the cinnamon supports the pumpkin, not overpowers it. The center of the cake has a cinnamon swirl for that classic coffee cake addition and a big crumbly topping.
Cinnamon Swirl Streusel
To make the center swirl filling, we're going to use some cold butter and create a very fine sandy crumb with brown sugar, cinnamon and a little flour. This will be scattered on top of half of the pumpkin cake batter.
Crumb Topping
On the other hand, the crumb topping will use melted butter. This will pull the brown sugar, cinnamon and flour into a solid dough. Once set, the dough will break apart into large crumbs for the topping.
Really it's a personal preference, but I love those large grape-sized crumbs. But feel free to break apart the dough as much as you like.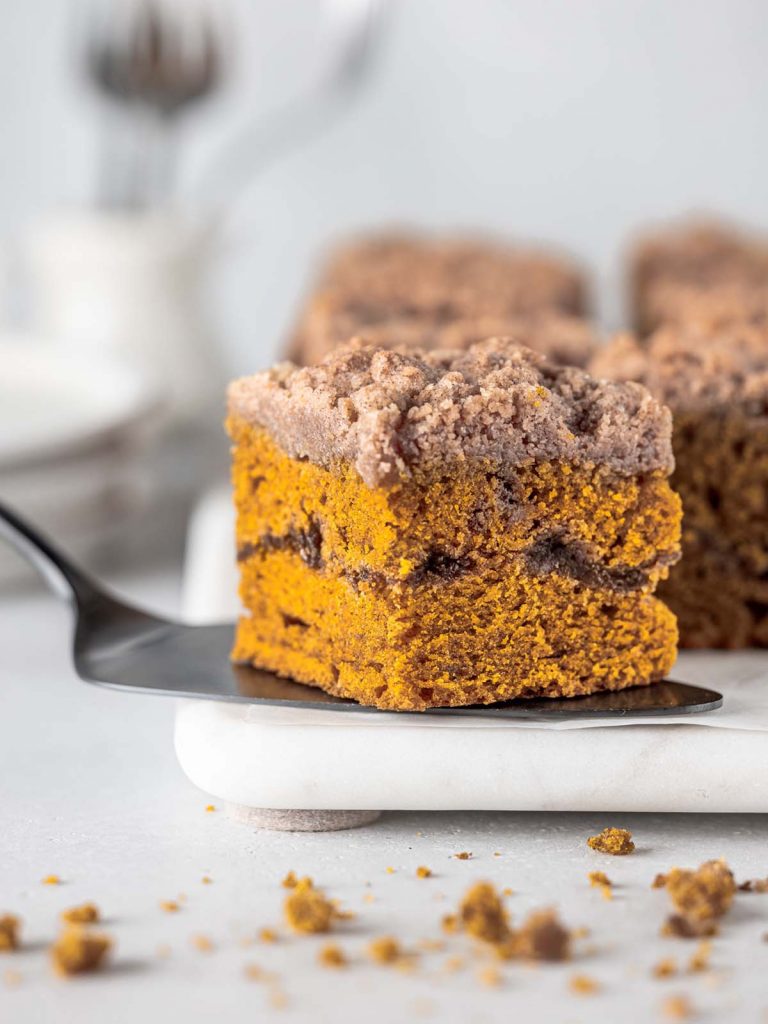 Helpful Tools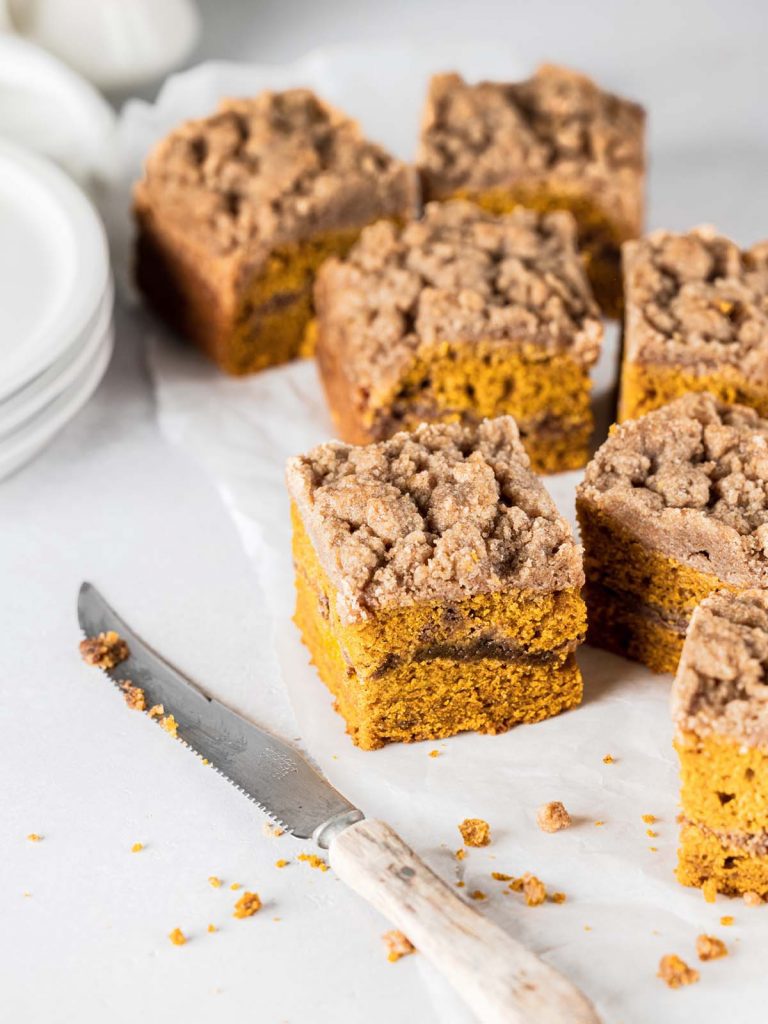 Print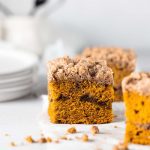 Pumpkin Coffee Cake
Author:

Theresa | Quiet Baking Day

Prep Time:

20 minutes

Cook Time:

35 minutes

Total Time:

55 minutes

Yield:

9 slices

Category:

Cakes

Method:

Easy

Cuisine:

American
---
Description
Pumpkin coffee cake is the perfect fall baking project. With notes of cinnamon and a serious crumble topping, it's made for a cup of coffee.
---
Streusel Swirl Filling
30

g

all-purpose flour

1 teaspoon

cinnamon

1/2 teaspoon

salt

53

g

light brown sugar, packed

2 tablespoons

unsalted butter, chilled and cubed
Crumb Topping
120

g

all-purpose flour

2 teaspoons

cinnamon

1/4 teaspoon

salt

106

g

light brown sugar, packed

114

g

unsalted butter, melted and cooled
Pumpkin Cake
180

g

all-purpose flour

1 teaspoon

baking powder

1/2 teaspoon

baking soda

1/2 teaspoon

salt

2 teaspoons

cinnamon

1/2 teaspoon

ground ginger

1/2 teaspoon

nutmeg

1/4 teaspoon

cloves

1/8 teaspoon

allspice

106

g

light brown sugar, packed

2 teaspoon

vanilla extract

170

g

pure pumpkin puree (not pumpkin pie filling)

1/3

cup

vegetable or canola oil

1

large egg

1/3

cup

heavy cream, whipped to soft peaks
---
Instructions
Streusel Swirl Filling: Mix together flour, cinnamon, salt and brown sugar.
Using your fingers, rub in the cold butter until the mixture resembles a sandy texture. Place in the fridge until ready to use.
Crumb Topping: Mix together flour, cinnamon, salt and brown sugar
Pour in the melted butter and stir until a ball of dough forms using a wooden spoon or spatula. Set aside on counter until ready for use.
Pumpkin Cake: Preheat oven to 350°F. Grease and line an 8″ x 8″ baking pan with parchment paper. The parchment should be longer than the tin to allow for easy lift out.
Whisk together flour, baking powder, baking soda, and spices in a large bowl.
In a second bowl, whisk together brown sugar, vanilla, pumpkin, oil, and egg.
Pour the wet ingredients into the dry and stir until just combined with a rubber spatula. Gently fold in the whipped cream, carefully leaving as much of the airiness as possible.
Spoon 1/2 of the batter into prepared baking tin. Spread evenly.
Sprinkle streusel mixture evenly across the top of the batter.
Top with the remaining 1/2 of the cake mixture. It's easiest to spoon dollops across the top, then spread evenly to keep the streusel in place.
Using your fingers, break apart the crumble topping dough into small pieces and scatter evenly across the top.
Bake for 35-40 until the crumble is just beginning to brown and a toothpick comes out clean.
Allow to cool in the baking pan before lifting the cake out using the parchment edges.
---
Notes
Want to skip the individual spices? Replace with 1 tablespoon of pumpkin pie spice in the cake.
Store in an airtight container on the counter
Keywords: Spicy, autumn, pumpkin