Filled with fresh chopped apples, and layers of cinnamon streusel, these fall-forward Apple Cinnamon Scones. Best of all, these scones come together in a snap, no mixer needed!
With the changing of leaves, the crisp morning air and the exciting thoughts of heading into the last section of the year (and the best section), the flavors and scents of autumn are hard to deny.
And this time of the year, all I want to do is bake with apples and cinnamon, like this Apple Layer Cake. I need that smell to spread through the house at all times of the day.
These apple and cinnamon scones fits the bill for that smell perfectly. Not to mention how much you will love these for your next brunch day. And pro-tip – you might want to add a little apple butter on top to really kick it into the next stratosphere.
Scone Dough Recipe
Scones are an incredibly versatile base for all types of flavors and themes. After much testing, I have created what I think is just the right Buttermilk Scones recipe. It's not too cakey or muffin like in texture, but it's also not too dry and tasteless.
These scones can stand up on their own, but also makes sense with a jam or butter like you might find at an English tea shop.
Using ingredients you probably have in your pantry already – flour, buttermilk, eggs, brown sugar – these scones are great for a last minute whim, especially if your house is stocked to the gills with apples like mine is.
I used the apples I had on hand, but you can use any variety of apple you prefer. Granny smith, honeycrisp, and golden delicious are all great choices, similar to what you would use for a pie.
I left the peel on, but that is a personal preference. Some people don't like like the tougher skin texture, but I enjoy the little bit of crunch.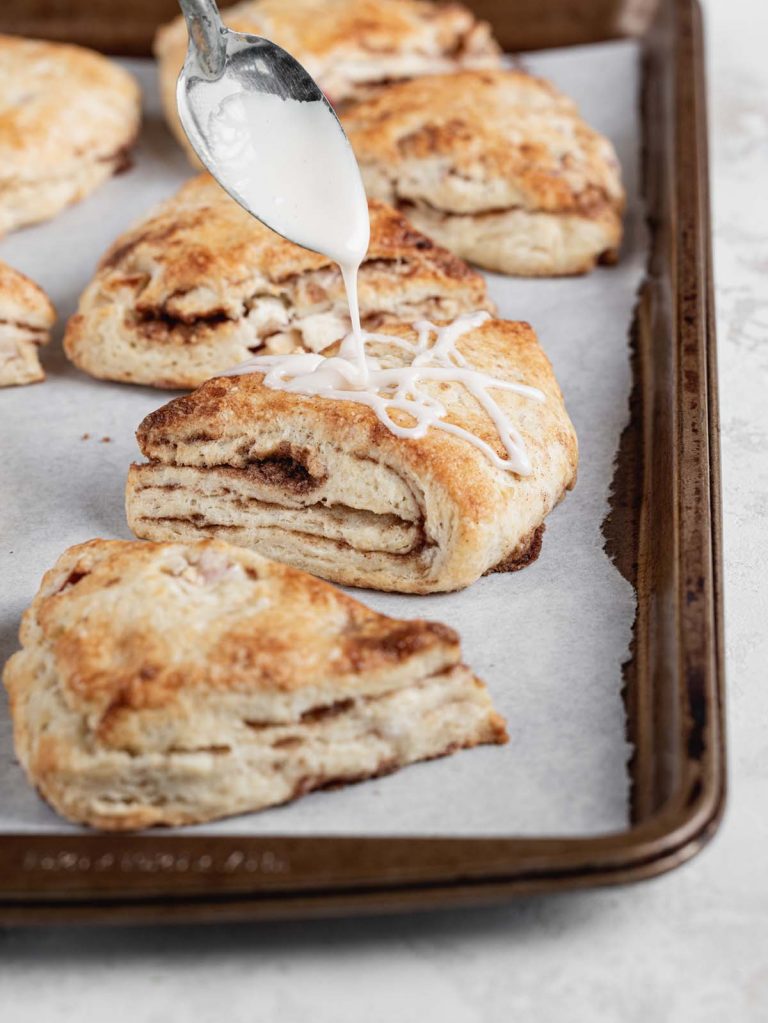 Making Scone Dough
To make your scone dough, you will first whisk together all your dry ingredients in a large bowl. Then, using your fingers, you will rub in your very cold butter. This means you are going to pinch the pieces of butter with your fingers and literally rub it together with the flour.
After repeating this process for a few minutes, you will end up with with a sandy texture. Stop when you have mostly sand with a few larger chunks of butter still in clumps.
Now is the time to add any flavor ingredients, in this case, our diced apples.
Next, we will add the wet ingredients. Scones, similar to biscuits or pie dough, need different amount of moisture depending on the day. Depending on the humidity, flour type, or temperature the dough might need a little more or a little less buttermilk.
This is why we start with part of the buttermilk instead of dumping the whole jug in at once. Starting with 3/4c. you only want to add more buttermilk to barely hydrate the flour.
When it's just starting to get sticky and come together (this is called a shaggy dough), stop adding! You never want a soupy dough. I've been there, done that, you get a flat blob of a scone. This is better.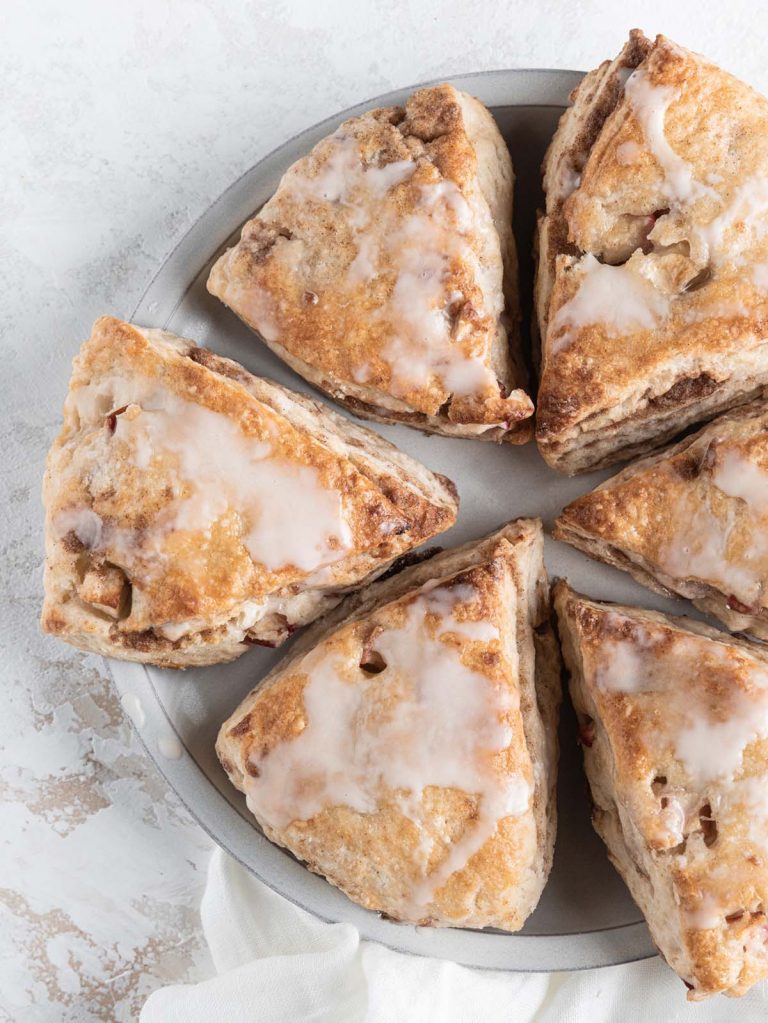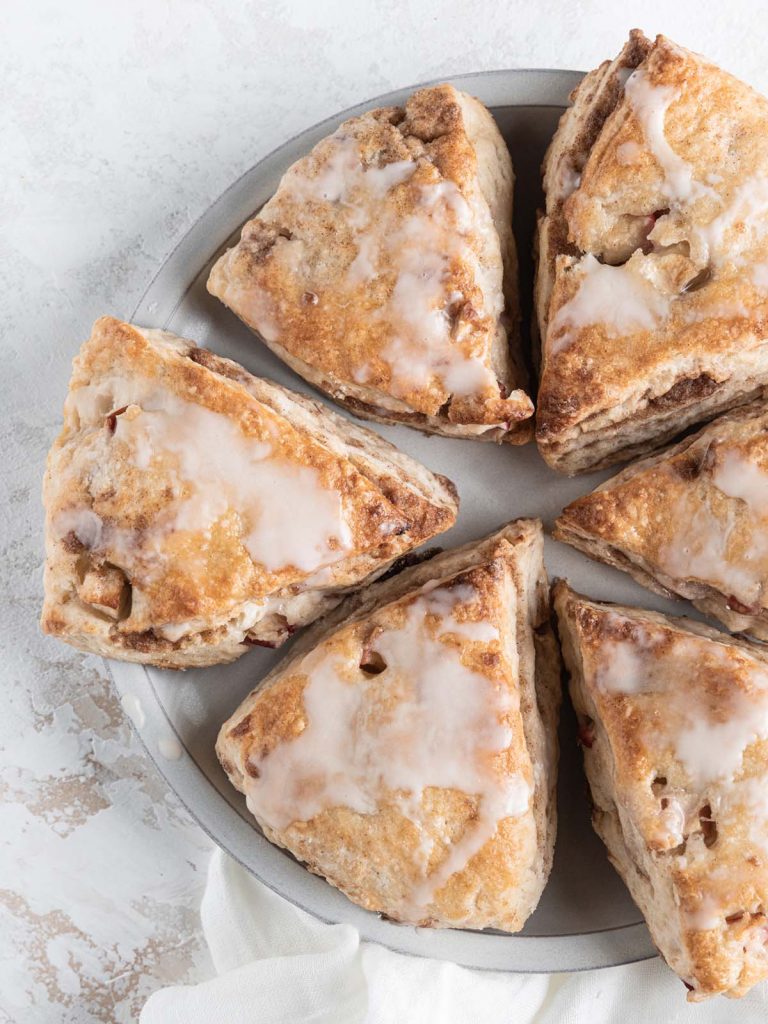 Apple Cinnamon Scone Swirling
This apple cinnamon scone recipe is unique to a standard scone. Instead of cinnamon chips or ground cinnamon mixed into flour, we are going to create a cinnamon swirl (yaasssss!) This process isn't cute or graceful, but an effective final result.
Flour a countertop or cutting board. Tip your scone dough on top and give it a quick couple of pats to flatten it just enough to sprinkle the top with the cinnamon swirl mixture described below.
We are now going to give the dough a few folds and kneads. But only a few. We want the dough to just come together but still keeping the swirls of the cinnamon in tact.
Separate your dough into two circles, 1″ tall, and slice into 6 wedges each. Now is the most important part. We are going to freeze the dough for at least 20 minutes before baking (you can also freeze overnight or for up to three months).
After all the rubbing and kneading, the butter is going to naturally warm up a bit. And we want that butter to be icy cold so when it hits the hot oven, you create a quick *poof* of steam. That poof of steam means tall lovely scones.
The only thing left is drizzle a quick glaze and some face stuffing.
Helpful Tools
I finally broke down and bought a Danish Dough Whisk. I don't know what took me so long because they are so perfect for combining these shaggy doughs.
A Silicone Baking Mat is great for easy baking and avoiding burned bottoms.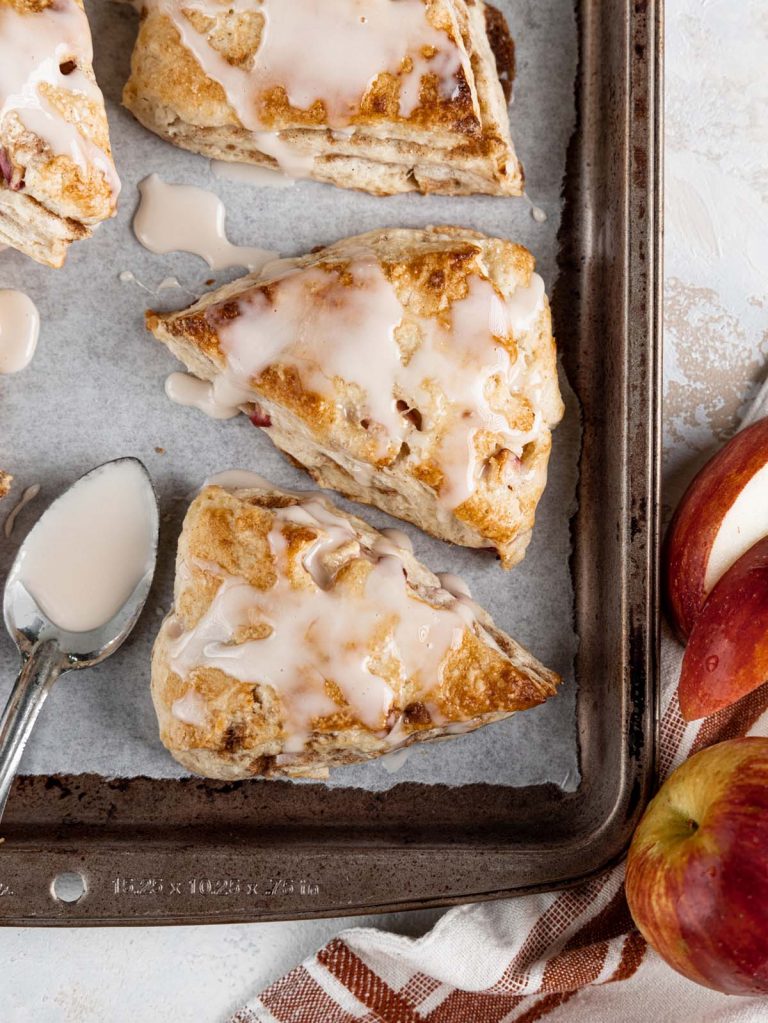 Print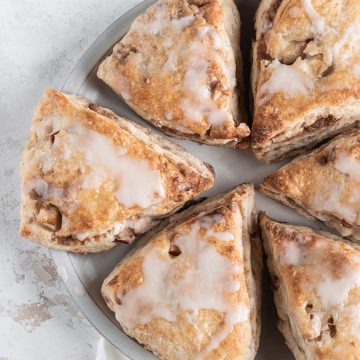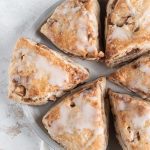 Apple Cinnamon Scones
Author:

Theresa | Quiet Baking Day

Prep Time:

10 minutes

Chilling Time:

20 minutes

Cook Time:

20 minutes

Total Time:

50 minutes

Yield:

12 scones

Category:

Pastry

Method:

Easy

Cuisine:

American
---
Description
Packed with swirls of cinnamon and fresh apples shouts flavors of fall in this apple cinnamon scone recipe.
---
Cinnamon Swirl
15

g

all-purpose flour

1 teaspoon

cinnamon

1/4 teaspoon

salt

25

g

light brown sugar, packed

1 tablespoon

unsalted butter, chilled and cubed
Scones
375

g

all-purpose flour, plus more for dusting

50

g

light brown sugar, packed

1 tablespoon

baking powder

1 teaspoon

salt

150

g

unsalted butter, cold, cubed

100

g

diced apples, 1/4-1/2″ cubes, any preferred variety (about 1 small apple)

1

large egg

1 1/4

cup

buttermilk, divided

1 tbsp

. vanilla extract
Egg wash (1 egg + 1 tablespoon water)
Apple Glaze
150

g

powdered sugar, sifted

3

–

4

tablespoons apple cider or apple juice
---
Instructions
Cinnamon Swirl: Mix together flour, cinnamon, salt and brown sugar.
Using your fingers, rub in the cold butter until the mixture resembles a sandy texture. Place in the fridge until ready to use.
Scones: Whisk together flour, sugar, baking powder, and salt.
Rub cold butter into flour until the size of peas.
Add diced apples.
In separate measuring cup, mix together 1 egg, 3/4c. buttermilk and vanilla.
Pour wet mixture into flour, mix using wooden spoon or dough whisk. Add remaining buttermilk as needed to just moisten flour to form a shaggy dough.
Tip dough onto heavily floured surface. Sprinkle top of the dough with the cinnamon mixture. Fold and knead the dough only enough to bring dough together, leaving layers of the cinnamon throughout.
Separate into 2- 1″ tall disks and slice into 6 wedges each. Alternately, use cookie cutters for round scones.
Place on parchment lined baking sheet and allow to chill in freezer for 20 minutes.
While dough chills, preheat oven to 425°F.
Once dough is chilled, brush the top with egg wash and coarse sugar.
Bake 18-20 minutes, turning pan halfway through.
Glaze: Whisk together powdered sugar and apple cider or juice
Drizzle over cooled scones
---
Notes
Unbaked scones can be wrapped and frozen until ready to bake
Keywords: brunch, spice, cinnamon, apple