Making cardamom the star, these cardamom snickerdoodles take the classic cookie and bring a new interest. A touch of orange zest really makes these chewy, crackled cookies pop off the plate (and into my mouth!)
There's nothing like a great chewy snickerdoodle cookie. Snickerdoodles get a spiced sugar coating before baking. The sugar coating makes for a light crisp on the edges and the inside is fabulously chewy. Much like these pistachio and white chocolate cookies, these feature another of my favorite ingredients.
Cardamom is the main spice found in a chai spice blend (as seen in these chai scones )and frankly it doesn't get enough attention. It's a unique flavor that I put in the same category as cinnamon, but once you try it for the first time, it will because your new flavor obsession.
You can read more about the history of cardamom here, but honestly, just trust me and try it.
Ingredients
The ingredients for these cardamom snickerdoodles are relatively traditional. With a few exceptions to take them to next level.
All-purpose flour. A classic cookie flour.
Unsalted butter. For great flavor.
Cream of tartar and baking soda. This is the traditional way to make snickerdoodles. The cream of tartar adds the acidity needed to make the baking soda rise.
Granulated and brown sugar. Traditional snickerdoodles use only granulated sugar. I have used brown sugar for a chewier texture.
Egg and egg yolk. Eggs are needed to set the cookies, the extra egg yolk gives a richer flavor and texture.
Cardamom and cinnamon. Typically, spice is not added inside the cookie dough, only on the coating, but whyyy? I want spice throughout!
Orange zest. Orange and cardamom are a match made in heaven. The orange zest isn't a requirement here, but it is so darn good with the cardamom, people will gobble these cookies up!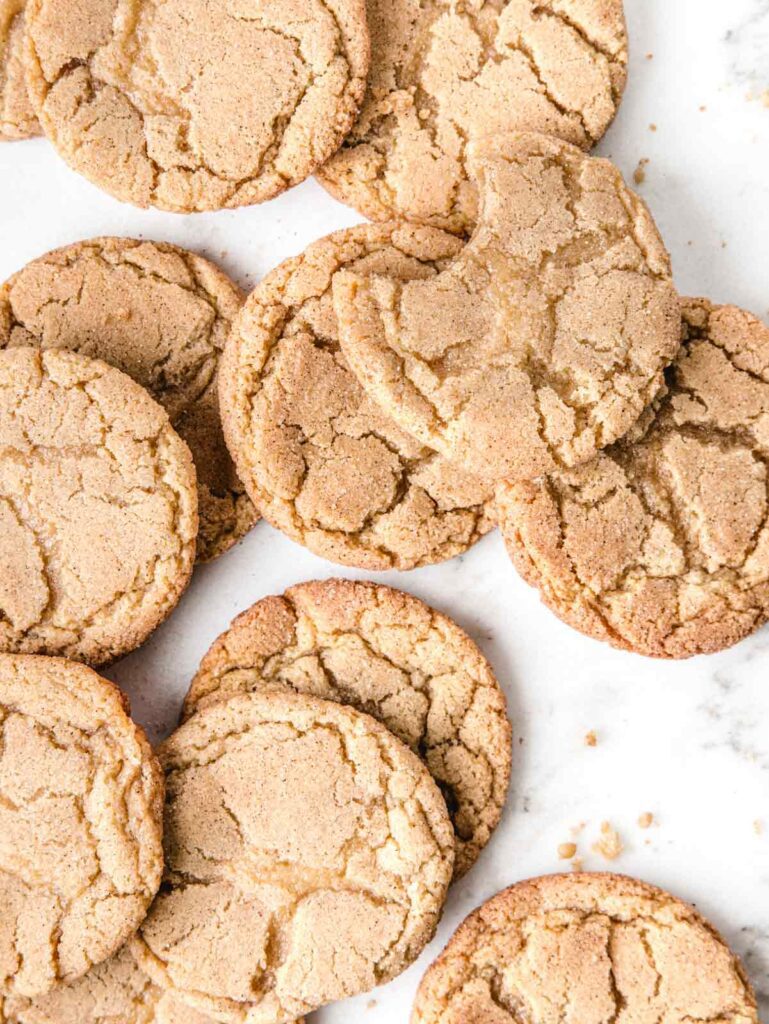 Making Snickerdoodles
These cookies are fantastic because they come together quickly and can be made ahead of time! The dough can be made in advance and chilled or frozen until you are ready to bake. And even better, these cookies last for days after baking, staying just as soft and chewy on day 1 as on day 5.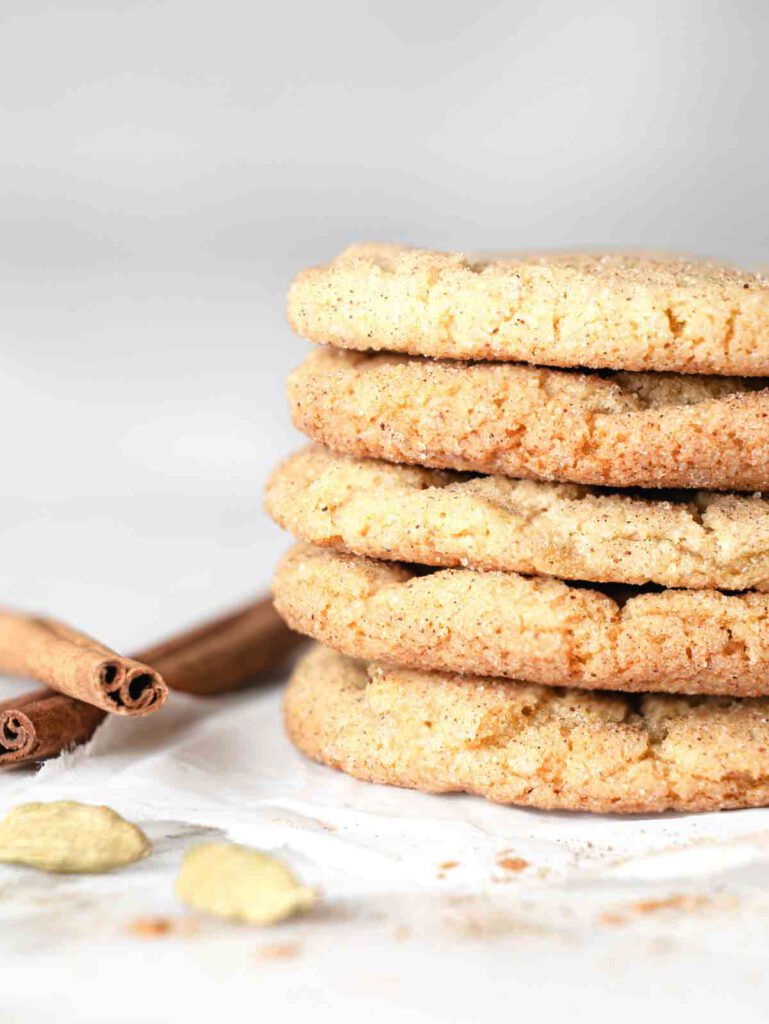 To make the cookie dough, we always start with whisking together the dry ingredients. This has two purposes:
It prevents clumps of flour in the cookies. When flour sits in the bag or container, it will naturally settle and clump up a bit. Baking rule 101 is to loosen that flour!
Whisking the dry ingredients together ensures that everything is evenly distributed. If you ever bit into a pocket of baking soda in a cookie, you know that's not a fun time. Whisking first makes for a consistent batch of cookies.
Next, cream together the butter, sugars and orange zest. The zest is best added at this time because it will release the oils from the zest and really bring out the orange flavor. Whip the butter and sugars until they are well combined, but it doesn't have to be quite as light and fluffy as in a cake.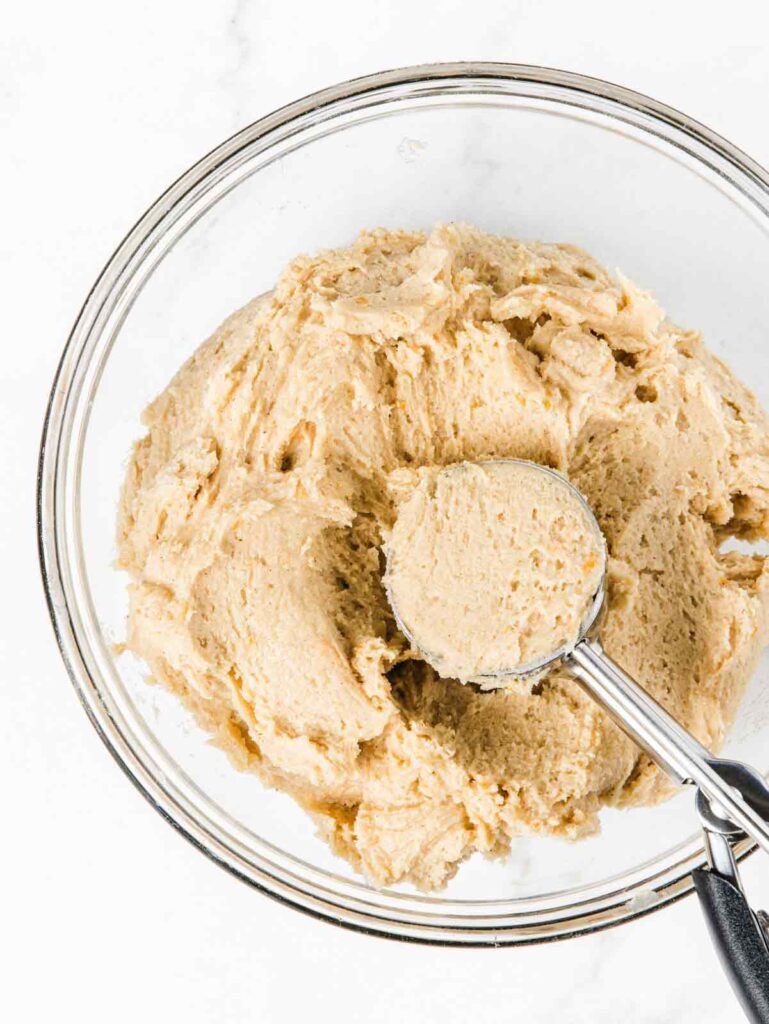 In fact, over whipping will cause too much air in the cookies and can create a cookie that rises too fast and then fall flat.
Once the butter and sugars are well mixed, add the eggs and vanilla, then slowly incorporate the flour mixture.
Chill at this point. Your butter is currently room temperature. A cold butter will spread less in the oven because it takes longer to melt. Plus, letting the dough sit for a bit only improves the flavor.
Topping and Baking
Once your snickerdoodle dough is thoroughly chilled, scoop out about 1 1/2 tablespoon – sized dough balls. I use this cookie scoop, it has been my go-to for years, but you can also use a standard kitchen utensil tablespoon.
I then give the balls a quick roll in my hands to create a smooth texture and then roll them thoroughly in a cardamom sugar mixture.
Bake at a slightly higher temperature than usual, 375°F – this will help the cookie edges set quickly while the interiors stay soft.
Frequently Asked Questions
Can the dough be made in advance?
Yes, it's actually better! The dough can be chilled for up to two days. Or scoop the dough, sugar and freeze on a baking sheet until solid. Then transfer to an airtight container for three months. Bake from frozen adding 2-3 minutes to the bake time.
Can I bake multiple pans at once?
Technically, yes, you can. But it's better to bake one pan at a time. The cookies will get a more even heat and bake better. I never bake more than one pan at a time, even if my home oven has a convection setting. If you are in a time crunch, be sure to swap the pans half way through baking for a more even bake.
Can I make these a traditional cinnamon snickerdoodle?
Yes, absolutely! Remove the cardamom (and orange zest if you like) and double the cinnamon quantities.
Print
Cardamom Snickerdoodles
Author:

Theresa | Quiet Baking Day

Prep Time:

10 minutes

Chilling Time:

2 hours

Cook Time:

10 minutes

Total Time:

2 hours, 20 minutes

Yield:

20 cookies

Category:

Cookies

Method:

Easy

Cuisine:

American
---
Description
Take a spin on the classic, these cardamom snickerdoodles feature a unique spice and a bit of orange zest in a fantastic chewy cookie.
---
Cookie Dough
210

g

all-purpose flour

1 teaspoon

cream of tartar

1/2 teaspoon

baking soda

1/2 teaspoon

salt

1/2 teaspoon

ground cardamom

1/2 teaspoon

ground cinnamon

113

g

unsalted butter, room temperature

75

g

granulated sugar

160

g

light brown sugar, packed
Zest of

1

orange (optional)

1

large egg, room temperature

1

large egg yolk, room temperature

1 teaspoon

vanilla extract
Cardamom Sugar Topping
99

g

granulated sugar

2 teaspoons

ground cardamom

1 teaspoon

ground cinnamon
---
Instructions
Cookie Dough. Whisk or sift together flour, cream of tartar, baking soda, salt, cardamom and cinnamon. Set aside.
In the bowl of a stand mixer fitted with paddle attachment or with a hand mixer, whip together butter, sugars, and orange zest until well mixed – about 2-3 minutes – scraping down sides of bowl as needed. Add egg, egg yolk, and vanilla extract.
Slowly add in flour mixture. Stir until combined and no streaks of flour remain. Cover and chill for at least 2 hours or up to 2 days.
Cardamom Sugar. Mix ingredients for cardamom sugar in a small bowl. Preheat oven to 375°F. Line 2 baking sheets with parchment paper.
Using a standard cookie scoop, or a rounded tablespoon, portion cookie dough into approximately 20 cookies. Gently roll each scoop into a ball, coat in prepared cardamom sugar, and place on baking sheet with at least 3 inches of space between. Rechill if cookie dough is getting warm before baking.
Bake 9-11 minutes, until edges and browned and set, and the inside is still slightly soft.
Let cool on baking sheet 5 minutes, transfer to cooling rack.
---
Notes
Sugared scoops of raw cookie dough may be made ahead of time, stored in an air-tight container, and frozen. Bake from frozen, adding 2-3 minutes to bake time. Cookie dough will keep for up to 3 months.
Store leftover cookies in airtight container for up to one week.
Keywords: spiced cookies, classic cookie, chewy cookie