The classic flavor combination of zingy dijon mustard, mild gruyere cheese and bright asparagus is not revolutionary, but it is amazing (why mess with perfection) plus these Classic Asparagus Tarts have the added bonus of a homemade pastry dough.
I don't know about you, but there are few things I love more than a buttery, flaky, cheesy pastry. Add some delicious spring veggies like the asparagus here and you have an amazing combination. Serve this room temperature in slices with a glass of white wine for a Saturday afternoon get-together.
Even better, serve these asparagus tarts warm with a poached egg on top with a mimosa for a beyond brunch treat. Don't get scared, I'll talk you through all the steps to accomplish this classic asparagus tart.
Laminated Dough – What Now?!?
For these classic asparagus tarts, we are using puff pastry. Puff pastry, the kind you see in the store in those little cardboard boxes in the freezer section, you know the ones, are a kind of "laminated dough." A laminated dough is any dough made by a process of creating layers of chilled butter in dough (called laminating) to produce a buttery, flaky pastry.
Think croissants, pane au chocolat, danishes, kougin amann, really anything delicious at a french bakery. All of the ice cold layers of butter in the dough will release steam as soon as they hit the heat of the oven.
When the steam is released, your dough will puff up and you will see those lovely layers emerge. You can 100% absolutely, zero judgment use a frozen puff pastry for this recipe. Grab a version made with all-butter for the best flavor and continue along with the rest of the recipe outlined for a quick and delicious tart.
If you like a little bit of lazy day project and want to impress your friends with your mad laminating skills, this is the recipe for you.
Basics of Laminated Dough
Laminated dough does not require a lot of ingredients. Some doughs like croissant use yeast to create a more bready texture. But for our classic full puff pastry, we are using only the butter as our leavening agent. A little lemon juice helps tenderize the dough and a little sugar assists with browning.
To make the dough base, we throw all the ingredients together and let the mixer do the work if you have one. (Pro tip: never turn your back when mixing dough in your mixer. I can't tell you how many times my Kitchenaid has almost danced off the counter while kneading dough when I wasn't looking).
Now that we have the dough prepped for the classic asparagus tart, it's time to tackle the beurreage aka a big old block of butter. This is your magic maker, plus you get to get out out some aggression at the same time.
Take you chilled, rock hard butter, and place it between two sheets of parchment with just a very light dusting of flour. The flour is going to help your butter block stay workable (our workable goal is chilled but still malleable. You should be able to bend the butter).
Now, take a rolling pin and really whack the heck out of that butter. Show it who's boss. Once you get a nice flat layer, dust a little more flour on top and fold the butter in on top of itself and start whacking away again. Continue this until your butter hits that perfect workable consistency, or until all that pent up rage is released – a few extra whacks isn't going to hurt anything, I promise not to squeal on you.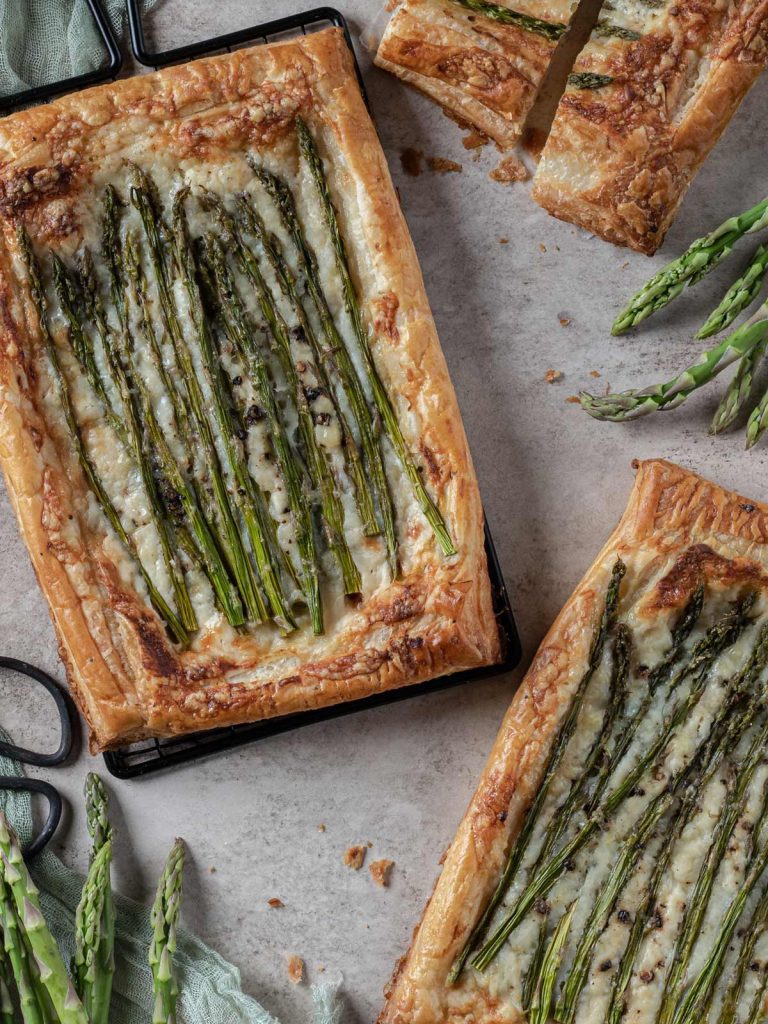 Creating Laminated Dough
With our two components ready, the dough and the beurreage, it's time to begin laminating – making all those layers of butter-dough-butter-dough. Roll the dough out and seal in that block of butter inside – this is your first layer of lamination.
But just one big layer of butter isn't going to work well, we need dozens if not hundreds (ok, not hundreds, but we need lots and lots of layers). To achieve all those layers, we need to start folding that dough.
The first fold is a "tri-fold". Picture folding a piece of paper in three to place in an envelope. Roll your dough out to a rectangle, and brush the dough very lightly with ice cold water. The water will help the dough hold together.
Fold one short side over 1/3. Fold the other short side on top to meet the edge. Literally just like a sheet of paper with three layers. Rotate your dough 90° and give it just a slight roll to smooth it out.Wrap the dough tightly and place in the fridge to chill for at least 30 minutes.
This is an important step, please, please, please don't skip these chills. It doesn't take much for the butter to start melting into the dough and you will start to lose all those layers you worked so hard to create. The end result will be more like a brioche bread than a puff pastry. Still delicious, but not our goal here.
The steps above – rolling, folding, rotating – are called a "turn". You've just completed your first "turn". We will do a total of 4 turns on this dough.
Creating Laminated Dough Layers
Our second turn will incorporate a "book fold". Using a book fold will give us additional layers, but using all book turns can be too stressful on our beautiful butter. To create a book fold, roll the dough out to a rectangle. The short edge should be opposite from the previous turn so that the folds will criss-cross. Brush lightly with water.
Take one short edge and bring it to the center of the dough. Take the opposite short edge to the center to meet it in the middle. Now fold the whole thing in half like you are closing a book. You should have created four folds in your dough. Turn the dough 90° wrap tightly and chill again.
Repeat a tri-fold for your third turn.
Repeat a book fold for your forth and final turn.
That's it! You have successfully created loads of butter layers (it's math I can't do, ok, just know we've made a lot layers) and are now ready to use your dough for any puff pastry recipe out there, including our asparagus tarts.
If you'd like to prepare the dough in advance, I prefer to finish the final turn then wrap tightly and freeze. Then I can pull the dough out and defrost just like those packaged doughs. You can also freeze right after the first turn then defrost and continue the rest of the folds. I find it more different to get the butter the right temperature for folds this way, but it can be done.
Tips for Success
Keep your dough as "square" (as is 90° corners and straight edges) as possible. The more straight your sides, the better your layers will turn out. I like to use two rolling pins for this:

This Dowel Rolling Pin is great for bulk rolling into a flat, even layer.
And this little pin is a trick thought to be by a French culinary teacher. A Mini Tapered Pin is perfect to squaring up the corners.

If you butter gets too warm while working, stop everything and place it in the fridge to rechill. Butter melted into the dough doesn't do us any good here.
If your butter gets a little too cold, you will see it start to shatter as you roll. Again, stop what you are doing and let the butter warm up. If you chill for more than 30 minutes between each turn, you will need to let the dough sit out on counter for a few minutes before you can begin to roll.
Practice patience. Don't skimp on folds or skip the chilling times. It just won't be worth the trouble for the end result of this classic asparagus tart.
If you want to see other laminated doughs in action, check out my Basic Danish Dough recipe in action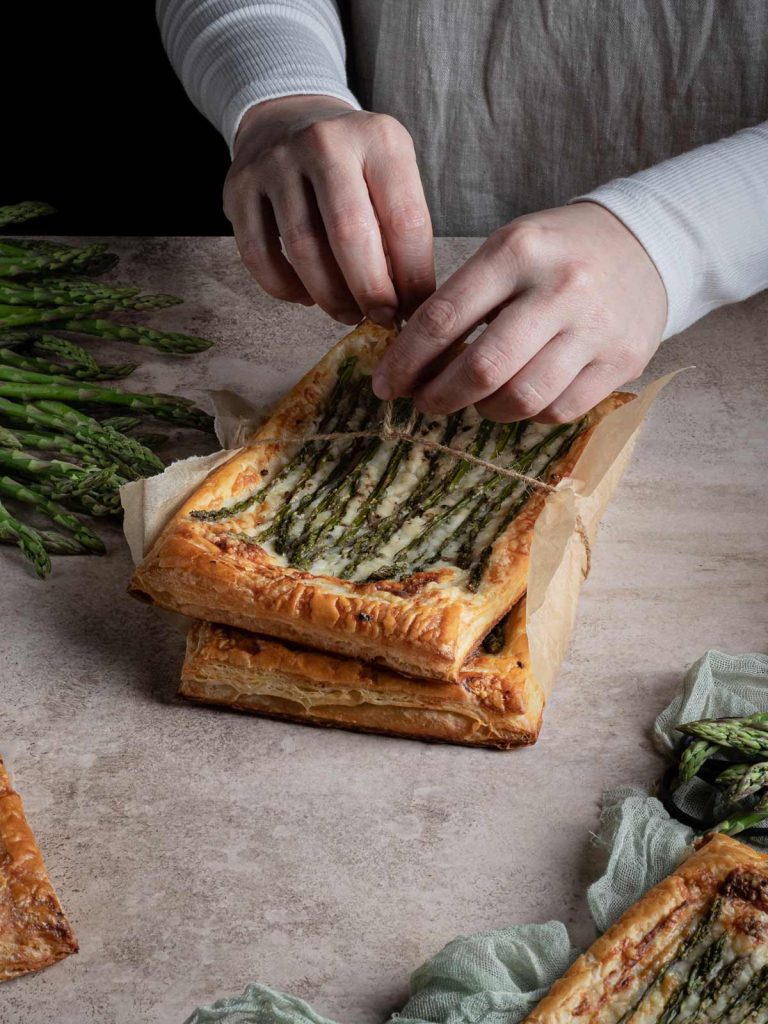 Print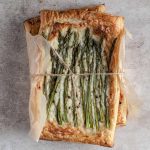 Classic Asparagus Tarts
Author:

Theresa | Quiet Baking Day

Prep Time:

45 minutes

Chilling Time:

2 hours

Cook Time:

30 minutes

Total Time:

3 hours, 15 minutes

Yield:

4 tarts

Category:

Pastries, Savory

Method:

Expert

Cuisine:

American
---
Description
This classic asparagus tart is importantly buttery, cheesy and also has some great asparagus – it's the perfect brunch dish!
---
Puff Pastry
360

g

bread flour, plus more for dusting

1

cup

water, ice cold

36

g

unsalted butter, softened

2 teaspoons

salt

1 teaspoon

granulated sugar

1 teaspoon

fresh lemon juice

282

g

unsalted butter, chilled
Tart
1

bunch baby asparagus

2 teaspoons

dijon mustard

6

ounces

gruyere cheese, shredding
Parmesan cheese
Red pepper flakes
Olive Oil
Salt + pepper
Egg wash (1 egg + 1 tbsp. water)
---
Instructions
Puff Pastry: In the bowl of the stand mixer fitted with a dough hook, place all puff pastry ingredients (except chilled butter) and mix on low speed until ingredients come together. Increase speed to medium-high and mix for an additional 3-4 minutes until dough is smooth and elastic.
If mixing by hand, mix all ingredients together with a wooden spoon, then knead for 6-8 minutes until the dough is smooth and elastic.
Place the bowl in the fridge to rest for 10-15 minutes.
While resting, create the butter block (or beurrage). Place chilled butter on a sheet of parchment and dust lightly with flour. Top with a second sheet of parchment. Using a rolling pin, pound butter down into a flat sheet. Sprinkle with a little more flour, fold the butter over and pound it down flat again. Continue until the butter is malleable and roll into a 5″ x 8″ rectangle. Place in the fridge to chill while continuing to the next step.
Once dough is rested, remove from fridge and place on a lightly floured surface. Roll to a 10″ x 18″ rectangle.
Place the chilled butter block on one side of the dough, leaving about a 1/2″ border on three sides. Gently wet the border and the other side of the dough with cold water, then fold dough over the butter and seal the edges. This should fully encase the butter creating your first layer of dough-butter-dough.
Roll dough out to a 12″ x 18″ rectangle and create your first "tri fold". Brush the dough lightly with cold water. Take one short end of the dough and fold it in 1/3 of the way. Fold the other short end to the edge. This should create a fold like a sheet of paper.
Wrap the dough in plastic wrap and chill for 30 minutes. Have patience during these chilling steps. The butter should remain chilled but still malleable while rolling. If is starts to melt, rechill immediately. If it starts to break apart, let the butter warm slightly.
After 30 minutes, turn the dough 90° and reroll the dough to a 12″ x 18″ rectangle. You want the long side to be the opposite direction as the first fold.
Create your second fold, a "book fold". Brush the dough lightly with cold water. Take one short edge and fold to the center of the dough. Take the other short edge and fold to meet at the center of the dough. Fold the dough in half, like closing a book, wrap and chill for 30 minutes.
Repeat steps 6 and 7, turning the dough again 90°. Wrap and chill for 30 minutes.
Repeat steps 8 and 9, turning the dough again 90°. This is your forth and final turn. You should have completed a tri-fold, book fold, tri-fold, book fold, for 4 total turns. Your dough is now laminated and ready to use!
Making the Tart: Preheat oven to 400°F.
Roll the dough to 1/8″ and cut 4 rectangles 5″ x 8″ in size. Place on two baking sheets lined with parchment paper.
Using a sharp knife, score a 1/2″ border around each  tart. Do not cut all the way through. This is create your crust.
"Dock" the dough inside the border by piercing with a fork several times across the surface.
Brush the dijon mustard across the four tarts, staying inside the border. Sprinkle red pepper flakes as desired.
Divide the gruyere cheese evenly among the tarts, sprinkling evenly across the dough, staying within the border.
Cut asparagus to 7″ long (the length of the long inner edge) and place in an even layer across the tarts. Brush lightly with olive oil and top with salt and pepper.
Sprinkle with parmesan cheese.
Brush borders with egg wash.
Bake for 25-30 minutes, until pastry is golden brown and dough is cooked through.
---
Notes
Dough can be frozen after the first turn or last turn. Wrap tightly in plastic wrap. Defrost dough thoroughly before rolling.
Pre-made puff pastry sheets can easily be substituted. Using two sheets, roll out slightly and build the tart as before.
Keywords: cheesy, savory, brunch